As the world scrambles to find enough raw materials to supply the transition to electric vehicles (EVs), explorers are searching everywhere and using every tool available to discover and develop new prospects.
One newly emerging US lithium project is Galvanic Energy's Smackover prospect in southwest Arkansas, which is close to multiple EV and battery manufacturers (see map). This potential resource is not a conventional hard rock mine or dry salt lake, where most of the world's lithium currently originates. Ironically, the Smackover is better known for its historic oil and gas production. Today, it produces half of the world's bromine from a brine reservoir that was once rich in oil, but it is now becoming known for its abundance of lithium.
Several years ago, with the growing demand for lithium becoming more evident, Galvanic's team set out to find the largest, most concentrated domestic lithium reserve. Using its knowledge of deep, continental reservoirs from decades of petroleum exploration and groundwater studies, the team combed through vast amounts of data and evaluated multiple locations before settling on the Smackover in southern Arkansas. However, their hard work did not stop there.
Brent Wilson, CEO of Galvanic Energy, said: "Once our geoscientists and data analysts identified Galvanic's Smackover prospect, our land team secured the resource through an exhaustive mineral leasing campaign. If that hadn't happened, all our other efforts would have been moot."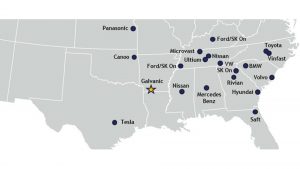 Unlike the mining areas leased by the U.S. Bureau of Land Management in states like Nevada, the minerals in Arkansas are privately owned, with lease tracts ranging from tens of acres to less than one. However, oil and gas companies regularly put together large lease areas, though it can sometimes be time consuming.
According to a recently completed Inferred Resource report, Galvanic currently holds mineral leases covering 120,000 acres (490 km2) and contains an estimated 3.7 million tonnes of lithium carbonate equivalent (LCE) within a lithium 'hot spot' of the Smackover. With test wells yielding 290-520 mg/L lithium within Galvanic's top tier area and the entire prospect averaging 325 mg/L lithium, this prospect is one of the most concentrated lithium brine reservoirs in North America.
DLE is the key
In addition to testing wells and delineating its prospect, Galvanic has also been evaluating direct lithium extraction (DLE), which is essential to bringing the Smackover to market. While numerous companies claim successful breakthroughs and proven DLE technologies, levels of success vary. Based on Galvanic's survey of service providers, one thing is certain: the Smackover brine is suitable for the DLE technologies in development. A particular one showed it was ready to be commercially scaled.
Earlier this year, while Galvanic was in the midst of evaluating DLE technologies, Dr John Burba, CEO of International Battery Metals (IBAT), made Wilson an offer he couldn't refuse.
Wilson recalls Dr Burba saying: "You provide the brine and we will run it through our plant." Wilson, who grew up in Missouri, known as the 'Show Me' state, found Dr Burba's offer appealing.
"I liked Dr Burba's approach. Give him the opportunity and he would prove their capabilities, no strings attached," Wilson continued.
That didn't mean there wouldn't be risks involved, but the upsides were more attractive.
The upside for IBAT is a proven commercial-scale test using real-world brine. The upside for Galvanic was confirmation that an oilfield brine reservoir, like the Smackover, is suitable for DLE and could be brought into production. The upside for the lithium battery and EV industries is a technological breakthrough that opens new doors of possibilities and provides additional resources not previously considered as commercial lithium supplies. The upside for the world is a low-footprint, environmentally-friendly approach to lithium procurement in support of the electric revolution.
DLE test results
Galvanic worked with a local oil producer to provide IBAT co-produced brine (considered waste and typically reinjected after oil separation), which was free of any hydrocarbons or suspended materials. The companies then co-ordinated with a trucking company to transport the brine from southwest Arkansas to Lake Charles, Louisiana, where IBAT had built a patented modular DLE plant that had already been trialled and was ready for a large-volume test.
Over 50,000 gallons (190,000 litres) of a modest 300 mg/L lithium Smackover brine was shipped to the plant for processing. According to a third-party engineering report, as much as 89% of the lithium was recovered, showing the high recovery potential of IBAT's design. Though the average was 69%, this is a noticeable improvement over evaporative lithium processes used in salars, plus it was extracted in significantly less time.
Wilson added: "I was impressed by how the IBAT test went. Once it began, there was nominal downtime or delays. The plant performed as advertised."
A few things stood out to the Galvanic team once the test was complete. Besides fresh water, no other chemicals were required in the IBAT process, whereas other DLE operators add acids, bases, or both to adjust the pH of the brine through their DLE processes. Additionally, 94% of the fresh water was recaptured and recycled, thus minimising water consumption. Finally, IBAT's system can utilise the natural thermal energy associated with the 200°F (95°C) brine produced from the Smackover Formation, which is located at an average depth of 9,000 ft (2750m) within Galvanic's prospect area.
These things, along with the small footprint associated with the well field and plant, are very important to Galvanic.
Wilson said: "It is vital we work with a DLE partner that has similar environmental goals as we do, such as nominal surface footprint, water protection and conservation, air quality, and others.
"By holding ourselves to stringent ESG standards, and creating a sustainable domestic resource, we are also diminishing CO2 emissions associated with EVs by significantly shortening the lithium battery supply chain by sourcing America's lithium domestically."
Goldilocks brine
One thing that came out of the IBAT DLE test was an appreciation that not all brines are equal. Take the temperature of the brine for example. There is such a thing as a 'Goldilocks' range, that is neither too hot nor too cold.
Dr Burba said: "The Smackover brine is about 200°F (95°C). That is right in our sweet spot.
"We need heat for our system to work. The Smackover brine zone provided by Galvanic is really, really good in terms of temperature for us."
Temperature correlates to kinetics, which affects the rate of the DLE process. If the temperature is too low, the absorbent does not extract lithium efficiently. So, in the case of the salars in South America, where the brine temperature is around 10°C (50°F), the brine must be heated to 80-90°C (175-195°F) for DLE to work. "And that is expensive," added Dr Burba.
On the other hand, geothermal projects like those ongoing in Southern California's Salton Sea, can see brine temperatures around 250°C (480°F). Dr Burba, who is familiar with the challenges of working with hot geothermal brines, points out numerous issues with the Salton Sea, including the destructive nature of the high temperatures on equipment, high silica content, and lower lithium concentrations (150-250 mg/L).
Other variables, such as pH and salinity, are also important to the efficiency and economics of DLE processes. Galvanic brine met these criteria also, though not all Smackover brines do, as noted by Dr Burba from other tests.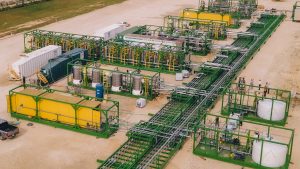 Conclusion
With the success of the DLE test and proof of brine compatibility, new doors of opportunity are being opened to Galvanic and IBAT, and to the lithium industry as a whole. With rising demand and raw material costs, it is more important than ever to find new, efficient, and ESG-friendly ways to bring more lithium projects online.
However, the location of these projects is also critically important. Will they be American or foreign? It is Galvanic's aim to make them American.
About Galvanic Energy
Galvanic Energy is a privately held exploration company targeting domestic resources to advance America's renewable energy strategy. As a founding associate member of the International Lithium Association, Galvanic Energy is committed to the highest standards of environmental, social and governance responsibility.
Please note, this article will also appear in the twelfth edition of our quarterly publication.

Go to this partner's profile page to learn more about them