Shawn Perger, Investor Relations Manager at Golden Arrow Resources, discusses the latest developments from the company's various mineral exploration projects in Chile and Argentina.
Vancouver-based metals explorer Golden Arrow Resources, a member of the resource-focused Grosso Group, is actively exploring in Chile and Argentina and has a number of mineral exploration projects within its portfolio. In just five years, Golden Arrow advanced its Chinchillas Silver Project in Jujuy Province, Argentina, from discovery to development. Now, with a pipeline of more than 180,000 hectares of high-quality mineral projects at all stages of development, the company is well-positioned to define and develop exceptional new deposits.
To find out more about the company's latest updates and projections for the year ahead, The Innovation Platform spoke to Shawn Perger, Investor Relations Manager.
Can you explain more about the background of Golden Arrow Resources and your key aims and objectives?
Golden Arrow has a history of success in identifying, acquiring, and advancing precious and base metal discoveries. The company is a member of the Grosso Group, a resource management group that has been a leader in mineral exploration in Argentina since 1993.
Golden Arrow benefits from a strong treasury, having advanced its Chinchillas Silver Project in Argentina from discovery to development in just five years, and then successfully monetised the asset through a sale to SSR Mining in 2019.
The company is now actively exploring in Chile and Argentina. The strategy for building value is to maintain a pipeline of projects, including: advanced stage mineral exploration projects with a relatively short path to resources and development; exploration stage projects with new discovery potential; and a stable of non-core assets ready for exploration or joint-venture. Our current pipeline contains more than 180,000 hectares of mineral properties, and we are constantly evaluating new opportunities and divesting of those that do not meet our thresholds for success.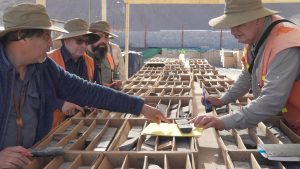 What are your main projects?
Our flagship property is the San Pietro Copper-Cobalt-Gold (IOCG) Project. It includes 18,448 hectares in the Atacama region of Chile situated between, and adjacent to, Capstone Copper's Santo Domingo IOCG mine development project and Mantoverde IOCG mine property. Capstone's integration plan for its two projects would create a world-class mining district and San Pietro exhibits many geologic similarities to those projects, with the potential to host significant resources of the critical metals copper and cobalt. There are at least four historic targets and we are defining new ones as we continue mineral exploration.
The Rincones target was the focus of most of the historic work and drilling. Results reported from previous operators include: 1.14% Cu, 0.12g/t Au, and 335ppm Co over 28m starting at 236m downhole in RA12DH-003 and 1.20% Cu, 0.21g/t Au, and 579ppm Co over 34m starting at 370m downhole in RADH-02.
Several targets drilled significant cobalt grades in historic work, and a recent surge in cobalt prices makes this an exciting addition to the project. The Colla target area is located at 2.3km southwest of Rincones. There have only been four holes drilled over a strike length of 2.2km and all showed significant cobalt grades, including 626 ppm Co over 10m starting at 211m downhole in CO11DH-001 including 1250ppm CO at 213-214m, and 414 ppm Co over 32m starting at 116m downhole in CO11DH-002, which included a single interval of 1040ppm CO at 141-142m.
What have the last 12 months looked like for your company?
Golden Arrow added the San Pietro Copper-Cobalt-Gold (IOCG) Project to our portfolio in 2022, so our main focus this year has been reviewing the extensive database that came with the project, and getting up to speed on the ground. We established a large team in Chile dedicated to the project and, over the course of the year, they compiled and reviewed the existing database, completed detailed mapping and surface sampling at several of the main targets, and started relogging the more than 34,000m of drill core. The purpose of all that work was to refine targets for a large drill campaign this year.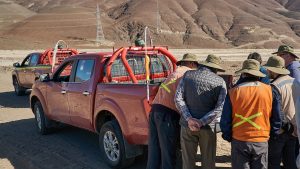 At the same time, we continued our project pipeline work in Argentina, evaluating multiple properties and making new acquisitions, as well as entering into our third joint venture by optioning out one of our non-core projects.
What do you want to achieve in 2023 and how do you plan to do this?
Our plan this year is to drill up to 20,000m at San Pietro. We will test existing and new target areas to expand the known mineralisation and work towards resource delineation. Our first programme of 2,500m will be executed in the first quarter of the year and will help us hone the remaining programme. It is a huge project, so refining and generating targets through surface mineral exploration is also ongoing.
In Argentina, we will continue our acquisition and evaluation process, working to make new discoveries at several precious metals projects, and we look forward to exciting results from our three joint-ventured projects.
What potential is there for future exploration beyond your existing projects?
Evaluating new potential is a big part of what we do. We expect mineral exploration in Argentina to continue evolving as we look for the best projects to make new discoveries. In Chile, we have a similar process ongoing, although, due to the size and scope of our San Pietro project, we are focusing our potential expansion mainly on nearby properties or those with synergy potential. San Pietro itself is in the centre of a growing new district for copper production, established by Capstone Copper, with their future development plans that could also make it one of the world's largest and lowest-cost sustainable cobalt producers outside of the Democratic Republic of the Congo (DRC) and China. We hope to define the next significant deposit and be part of the exciting growth of a new district.
Please note, this article will also appear in the thirteenth edition of our quarterly publication.

Go to this partner's profile page to learn more about them