American Lithium Minerals has a wide range of lithium and rare earth projects within its portfolio and is making significant progress to further mineral exploration and development in Nevada.
Based in Las Vegas, Nevada, American Lithium Minerals, Inc. (AMLM) is a mineral exploration company focused on lithium and rare earth elements (REE) in Nevada and Arizona. The company has been exploring for lithium in Central Nevada since 2011. In addition, AMLM has pending projects for other strategic minerals that are necessary for batteries, such as cobalt, nickel, manganese, graphite, and rare earth elements (REE). The company has also acquired properties in northern Nevada and southern Illinois for proposed battery plants.
Lithium exploration projects
AMLM currently has five lithium exploration projects in Central Nevada.
Stonewall Flat Lithium Project
The Stonewall Flat Lithium Project covers an area of approximately 1,250 acres on Stonewall Playa in Nevada's Lida Valley Basin. This basin is immediately south of the Clayton Valley Basin, which hosts the US' only producing lithium mine, Albemarle's Silver Peak Lithium Mine. This mineral exploration project is strategically located in Nevada's lithium supply hub, 306km (191 miles) southeast of Tesla's new gigafactory, which has a planned production capacity of 35 gigawatt-hours per year. Altair International is the joint venture partner on this lithium exploration project.
West End
As part of a joint venture with the lithium exploration company CDSG Lithium, AMLM also owns the West End lithium and uranium property. This mineral exploration project is comprised of approximately 460 acres and is located west of Tonopah in Central Nevada. The site is comprised of 24 unpatented lode claims. Surficial rock samples have shown lithium in the sediments. This is a hard rock lithium property (not brine). CDSG Lithium has indicated that funding has been found to start drilling at West End.
Silver Peak Lithium Project
AMLM's Silver Peak Lithium Project is a claystone (hard rock) and brine lithium prospect located about 40 miles west of Tonopah, Nevada. Silverpeak also comprises a hard rock uranium occurrence. AMLM works alongside its joint venture partner GNCC Capital/Premier Development on this project.
Sarcobatus Playa Lithium Project
The company has also acquired Sarcobatus Playa, a lithium exploration project based near Beatty, Nevada. AMLM's involvement in this area dates back to 2011. Here, there is an available NI-43101 report prepared for a previous operator of this property. Surface sampling by AMLM has found significant lithium values throughout the property. AMLM is hopeful that joint venture funding will be obtained to enable drilling at Sarcobatus Playa in the near future.
Claystone Hills Lithium Project
AMLM is also involved in the Claystone Hills Lithium Project, which is located 30km west of Tonopah and adjoins an area that has yielded promising lithium drill results by another organisation.
Rare earth projects
Alongside its lithium exploration interests, AMLM also has a series of rare earth projects within its portfolio.
Kingman Feldspar Mine
The Kingman Feldspar Mine hosts the rare earth mineral allanite. The Kingman project also includes the Mineral X pegmatite, which contains thalenite. This rare earth mineral contains yttrium (Y), as well as dysprosium (Dy), erbium (Er) and ytterbium (Yb). The Kingman project is also part of a joint venture with Altair International.
Hicks Dome
Hicks Dome is a structural dome of rocks in southern Illinois. Rare earths were initially discovered at Hicks Dome in 1952 whilst drilling for oil. Further exploration has since found monazite, a cerium phosphate, and florencite, a cerium-aluminium phosphate.
Beginning in mid-2022, related entities of AMLM began acquiring private mineral rights around the Hicks Dome. AMLM has now assembled a property position totalling 1,358 gross acres (816 net acres – 330 hectares). Initial sampling on the site is scheduled to begin in spring 2023.
Additional mineral exploration projects
Blue Bull
AMLM has recently made significant progress at its Blue Bull mineral exploration project in Lincoln County, Nevada, after receiving assay results from rock chip sampling at the site. Anomalous values of cobalt, nickel, and manganese were all found at Blue Bull.
The mining origins of the Blue Bull site date back to the 1920s. L Leavitt and E and J Walker of Bunkerville, Nevada, originally located the Leavitt & Walker mine in 1926 to produce manganese and iron. Upon learning of the reported presence of cobalt and nickel at the Leavitt & Bunker Mine, AMLM located 28 lode mining claims covering the historic mine workings and adjacent areas on trend. The project currently includes 560 acres (227 hectares) of mining claims on land administrated by the US Bureau of Land Management (BLM) located north of Lime Mountain in Bull Valley.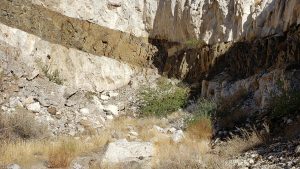 In November 2022, AMLM collected a total of nine rock chip samples. Five samples were collected at intervals from a mineralised outcrop running northwest to southeast for approximately 3,000 feet and across the open cut of the historic Leavitt & Walker Mine. One sample was also collected at a prospect pit approximately 3.5 miles northeast of the Leavitt & Walker Mine. Three samples were collected at an open cut about 1,100 feet north of the northeasterly prospect pit.
Cobalt content from the five samples taken along the 3,000-foot Leavitt & Walker trend ranged from 32.4 to 118.0 ppm cobalt, with an average of 73.8 ppm cobalt. Nickel over the Leavitt & Walker trend ranged from 75.8 ppm to 500 ppm with an average of 243 ppm. The easterly mineral exploration sample contained 7,390 ppm manganese, which AMLM considers to be anomalous.
Bisbee Manganese Property
Recently, the company entered into an option agreement with a related company to acquire nine patented mining claims known as the Bisbee Manganese Property. Consisting of 167.615 net acres (67.83 hectares), this mineral exploration property includes the Houghton Development Mine, which is a past producer of manganese. The Houghton Development Mine is located on the El Paso patented mining claim.  Also included in the company's property are the St Elmo, Emerald, Paris and Empire patented mining claims; drilling on these claims in 2007 and 2008 encountered elevated levels of manganese. The Promise, Manila, Center and Penobscot claims are undrilled so far, but connect the El Paso claim to the other claims. The option runs from 3 February 2023 until 31 December 2024. The option price, if exercised, is $10,000 per acre.
AMLM management has owned this mineral exploration property for years and viewed it as a gold prospect, in part because it is located at Gold Hill. A package of information was recently acquired from the last third-party drilling programme at Gold Hill, which included significant manganese findings. Further research indicated that manganese was mined and shipped from Bisbee during the First World War.
The Bisbee area is well mineralised and was host to a world-class copper mine, which closed in the 1970s. It is an excellent exploration target. The company has been engaged in land work, with a view toward increasing acreage before starting visible exploration work.
Buckley Flat Graphite Project
A more recent endeavour for AMLM is the Buckley Flat Graphite Project. This property comprises one of Nevada's two established graphite occurrences and is situated close to Hawthorne, Nevada. The company's interest in this project is due to graphite being an essential component of both lithium-ion and sodium-ion batteries.
Imlay industrial plant site
Since 2021, AMLM has been working to complete its purchase of 75 acres of industrial zoned land in Imlay, Nevada. The company completed its purchase of 55 acres fronting on the Interstate Highway I-80, in 2022, and the plant site is being acquired from the Catholic Church.
When the Church acquired the land decades ago, there was an error in the legal description for an additional 20 acres with frontage on the Union Pacific Railroad. Court approval was required to correct the legal description, which was recently obtained. AMLM now owns all 75 acres, and can begin planning its mineral exploration facility and acquiring water rights.
Southern Illinois mineral exploration
AMLM has begun land assembly for a rare earth project in the Illinois Kentucky Fluorspar District (IKFD). 1,289 gross acres (747 net acres) of private mineral exploration rights have been under contract since the summer of 2022. Deeds have now been received and recorded for this property, which sets the stage for acquiring additional facilities to house personnel and equipment.
Please note, this article will also appear in the fourteenth edition of our quarterly publication.

Go to this partner's profile page to learn more about them