Emma Wade-Smith OBE, Her Majesty's Trade Commissioner for North America and British Consul General in New York, explains how the UK-US partnership in the automotive sector can help advance the adoption of EVs and ensure the transition to a green economy.
With the forecast of yet another hotter-than-average summer ahead, clean growth and its related industries are top of many minds in the US and UK. With rising inflation and the spike in petrol prices, electric vehicles (EVs) are especially high on consumers' radars.
There are undoubtedly some differences between the UK's and US' ambitions for EVs and wider green growth. Nevertheless, both countries are focused on promoting innovation and supporting collaboration between public and private sectors, to boost productivity and create green jobs. The pursuit of clean growth is at the heart of the innovation that will drive these positive outcomes.
Government investment in the green revolution

Federally in the US, the Biden Administration's 'Build Back Better' policy agenda aims to simultaneously create millions of jobs; address climate goals; and grow the US economy. In a very similar vein, the UK's 'Levelling Up' agenda aims to spread access to opportunity and prosperity more equally across all parts of the UK. Business growth, increased levels of investment, and research and development will be key to achieving this. The projected scale of green growth and associated green jobs will be critical.
In November 2020, Prime Minister Boris Johnson announced the UK government's ten-point plan for a green industrial revolution, which includes mobilising £12bn of government investment for clean growth jobs. Of this, £900m is earmarked for the zero emission vehicle sector, with a further £1.3bn to catalyse the rollout of charging infrastructure.
We are at an exciting juncture right now in terms of EV growth, public perception, and consumer intentions. The future of EVs in the US presents exciting opportunities for increased UK collaboration on technology and design as well as trade and investment.
One of the announcements at COP26 last year was a declaration on accelerating the transition to 100% zero emission cars and vans. The UK was a major signatory, alongside major US states and cities, including California, New York, and Washington.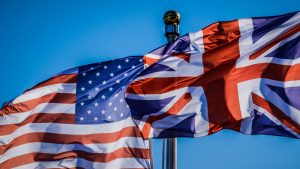 The shift to EVs

A recent Forbes article shared data from a YouGov poll which indicated that nearly one in four US drivers would consider purchasing an EV as their next car. The scale of that is unprecedented when you consider the size of the US car market and that EVs currently make up just 3% of all vehicles sold in the US. That represents an eight-fold increase in a very short period of time.
There are a variety of issues driving this shift in the US, including greater public awareness of the technology; shifting demographics; increasing concern about climate change; and the soaring cost of petrol against the backdrop of rising inflation.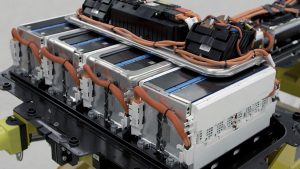 Barriers to EV adoption in the UK and US

Despite the increased appetite for EVs, rather significant barriers to widespread EV adoption remain in both the UK and the US. This includes:
Battery costs
Typically, the largest barrier to EV adoption is battery cost. The UK is working to combat that with the Faraday Battery Challenge, investing up to £330m in research projects to develop cost-effective battery technologies. Some of this investment has gone into the UK Battery Industrialisation Centre. This first-of-its-kind facility helps companies quickly develop battery manufacturing capacity. The rest of the money is earmarked for future funding rounds, open to any UK organisation up for the challenge. Any major success in this area will undeniably benefit our trading partners seeking the most efficient and affordable developments in battery technologies.
Supply chain challenges
There is a multitude of new issues to address to enable a smooth transition to EVs. From securing an EV-centric supply chain to building charging infrastructure and creating policy incentives for consumers to switch to EVs, governments have a crucial role to play. The unparalleled UK-US partnership in the automotive sector provides a strong partnership for addressing the supply chain challenges that are essential for transitioning to a green economy. After all, the value of our bilateral trade already sits at over £215bn, and we have more than £850bn invested in each other's countries, as well as the multiple collaborations between our scientists and innovators.
Improving necessary infrastructures
To support the widespread adoption of EVs across the UK and the US, it is critical that we establish, and improve, the necessary infrastructures. The US Infrastructure Investment and Jobs Act prioritises future infrastructure needs, including setting up a network of 500,000 EV chargers. The scale of new infrastructure required to connect urban and rural areas – especially in a country as large as the US where people are used to travelling long distances by car – creates challenges as well as opportunities. The steps the US will take to support more EVs (and eventually autonomous vehicles) on the road will provide useful lessons for the UK and others as we embark on our own structural changes.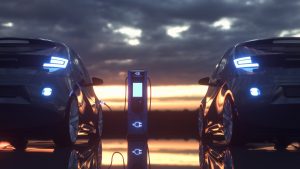 Increased efforts to advance the EV sector

UK and US firms are focusing their efforts and investments into the development and growth of the EV sector. The automotive sector has been a key part of the close commercial relationship between the UK and US for some time. Few Ford F150 pickup truck owners realise that there is a strong chance that their engine came from Dagenham in the UK. This relationship is embracing the EV shift, for example, with Ford's announcement in October 2021 of their $315m investment to convert its Northwest England site into an electric power unit production plant.
This type and scale of investment is not an isolated event. The automotive landscape in the US is shifting as state governors put their weight behind such investments, recognising the economic value created by large-scale EV manufacturing. Consider some of the recent announcements that are of direct benefit to state economies, such as Ford's $11.4bn mega EV campus in Tennessee and twin battery plants in Kentucky; General Motors' investment of $2bn to convert its Tennessee plant to manufacture EVs; Mercedes committing $1bn to ramp up EV capacity in its Alabama facility; Toyota announcing a $1bn-plus battery plant in North Carolina; and Volvo's pledge of $600m for its new EV assembly line in South Carolina. The smart money is absolutely on EVs.
The US and UK are committed to advancing the UK-US partnership in the automotive sector to ensure that we can successfully transition to greener economies. The momentum sits firmly behind EVs, and their expansion will play a central role in our economies for generations to come.
Please note, this article will also appear in the tenth edition of our quarterly publication