Barbara Bauman, President of American Lithium Minerals, Inc., provides an update on the company's lithium brine projects located in Nevada, US.
American Lithium Minerals, Inc. (OTC Ticker 'AMLM') has a large portfolio of lithium, cobalt, nickel, manganese, graphite, and rare earth element (REE) exploration properties in the United States. Beginning in 2009, the company's focus has been on its lithium projects in central Nevada, US.
During the preceding 12 months, the company has been conducting historical technical data reviews as well as evaluating its further corporate options for the three existing lithium brine projects, Sarcobatus Playa, Stonewall Flat, and Silverpeak, which it holds within the lithium-producing Clayton Valley region in Nevada.
AMLM corporate update
During 2022 and 2023, the company received interest from third parties regarding its lithium properties. This interest is ongoing. AMLM's lithium properties are all located within a 50-mile (80 km) radius of Albemarle Corporation's Silver Peak Mine. Silver Peak is North America's only producing lithium brine deposit and has been in continuous operation since 1966 (except for a brief hiatus during the Pandemic).
The AMLM lithium brine projects are also located within a 50-mile radius of Ioneer Limited and its Rhyolite Ridge Lithium Boron Deposit. It has been reported that Sibanye-Stillwater recently agreed to spend $490m for a 50% interest in Rhyolite Ridge. The US Department of Energy has also issued a conditional commitment to lend $700m for Rhyolite Ridge.
Under present management, AMLM has been reluctant to take on corporate debt. AMLM once owned Rhyolite Ridge (then named 'Borate Hills'). AMLM and its JV partner spent $4m drilling over 20,000 feet at Rhyolite Ridge in 2010 and 2011. Nevertheless, AMLM, under prior management, lost Rhyolite Ridge in 2012 to the creditor of a $750,000 loan that it was unable to refinance.
Present AMLM management also does not want to dilute the shareholders through an equity offering, as there are already over 68 million shares outstanding and the AMLM stock price is presently at an unacceptable level because of the decline in the market price of lithium in recent months.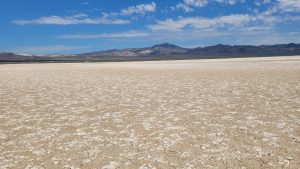 To avoid the need for corporate borrowings or an equity offering, AMLM has entered into exploration joint ventures for three of its properties: Stonewall Flat (JV with Altair International), West End (JV with CDSG), and Silverpeak (JV with GNCC Capital / Premier Development and Investment). Each joint venture is at an early stage, and AMLM looks forward to planned upcoming drilling by its JV partners.
The company review has highlighted the opportunity to build on past exploration activity at Sarcobatus Playa, which resulted in a NI-43101 Report prepared for a previous operator.  The company has also decided to proceed with a generative lithium brine project (named 'GF Lithium') that is northwest of its Tonopah properties.
Given all of these considerations, the Board has concluded that the best method for creating shareholder value is to focus on a recommencement of targeted exploration activities at Sarcobatus Playa and GF Lithium. This will include further sampling and localised gravity and other geophysical survey.
Sarcobatus Playa Lithium project
The AMLM Sarcobatus Playa lithium property is comprised of 73 placer mining claims (1,460 acres) located at Scotty's Junction in Nye County, Nevada, approximately 40 miles northwest of Beatty. It is about 20 miles southeast of the AMLM Stonewall Flat lithium property.
AMLM's Sarcobatus Playa property is immediately west of Iconic Mineral's 'Bonnie Claire' lithium property. The AMLM claim block includes most of the Sarcobatus playa (dry lake), as well as a portion of the entrance road to the west of the dry lake.
During 2022, AMLM did hand auger sampling of the original 54 placer mining claims (1,080 acres) on the dry lake at Sarcobatus Playa. On the 15, 16, and 21 May, 2022, 30 samples were collected by a crew under the direction of the AMLM geochemistry manager.
The samples were collected with a hand auger at depths of 40 to 48 inches (102-122 centimetres).  The sample grid was laid out at claim corners, so that each and every one of the 54 original mining claims was sampled. The samples were sent by Fedex to ALS in Reno, Nevada, which utilised an ultra-trace aqua regia ICP-MS analytical procedure.
Lithium content of the 30 samples from the original 54 claims ranged from 229 ppm to 580 ppm and averaged 420 ppm Lithium. The samples were also analysed for boron, ranging from 70ppm to 580 ppm boron with an average of 216 ppm boron. AMLM views these values as highly anomalous for surface sampling.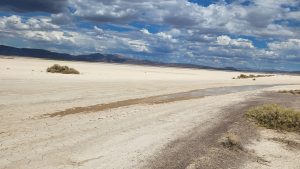 The AMLM sampling programme was planned to confirm the reported findings of work done in 2016 by Rainmaker Resources. Rainmaker collected 19 hand auger samples at a similar depth, reporting lithium content of 140 ppm to 300 ppm, with an average of 233 ppm.
AMLM sampled at each of the 19 locations previously sampled by Rainmaker. An additional 11 infill locations were sampled by AMLM to insure that 'discovery' requirements under Nevada mining law were met for each and every one of AMLM's 54 original claims.
AMLM subsequently carried out hand auger sampling of 19 placer mining claims (380 acres) to the west of the 54 original claims. These claims are adjacent to the playa (dry lake) and include a portion of the access road to the property.
These samples ranged from 188 ppm to 510 ppm lithium, with an average of 307 ppm lithium.  While all samples exceed 100 ppm lithium and were strongly anomalous, they were not as high in lithium as the samples taken from the original 54 claims which are underlain by the playa.
Before applying for drill permits, it would be helpful to carry out geophysical work to help select initial drill sites. This is particularly important at Sarcobatus Playa because anomalous geochemical results were obtained from surface sampling across the entire playa.
AMLM is considering direct push drilling or sonic drilling, as well as more traditional reverse circulation (RC) drilling.
About the GF Lithium project
AMLM considers many opportunities for new projects and is proceeding with initial sampling of a lithium brine target northwest of its Tonopah area properties. A related company is in the process of staking over 2,500 acres of placer mining claims.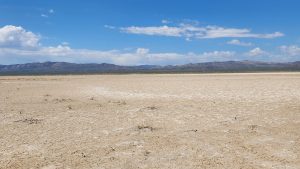 Prior sampling by a third party (which AMLM has not verified) encountered lithium values comparable to AMLM's results at Sarcobatus Playa.

Go to this partner's profile page to learn more about them