Octaform's pioneering technology is paving the way for high-quality fish tanks that are long-lasting, easy to install, and promote a clean and safe environment for your valuable inventory.
Octaform's patented PVC, stay-in-place concrete forming system has delivered high-performance fish tanks for over two decades. Our patented system can be integrated into anything from a simple grow-out tank to the most complex recirculating aquaculture system and can be assembled quickly without the need for specialised labour or heavy equipment. Octaform's unique system forms and protects your tank walls in one step with a built-in finish that protects fish from rubbing up against a rough concrete surface and eliminates the need for liners, cladding, or sealants. There is no need to wait for extra trades to seal, protect, or clad your concrete tank; when the concrete is cured, your tank is ready.
Concrete is already one of the toughest and most long-lasting building materials on the planet – Octaform makes it better. Octaform protects the concrete with a built-in PVC finish preventing corrosion, cracks, and leaks. Whether enduring the hot desert sun or standing strong against tsunamis and earthquakes, Octaform tanks will stand the test of time. Additionally, the PVC system boasts mould- and bacteria-resistant properties and is certified for the containment of food and drinking water. PVC is also proven to have the lowest adhesion for harmful bacteria and reduces maintenance intervals as well as acoustic stress, which can contribute significantly to growth and production performance.
How it works
Every tank is a big investment and Octaform's innovative systems can be tailored specifically to every client's requirements. Our market-leading solutions guarantee:
Reliable performance with reduced noise-stress;
Lower maintenance time, downtime, and cost;
Bright PVC for improved light levels (dark interiors are also available);
Ideal temperature control and energy efficiency;
By your side on-site assistance if needed;
Ships globally in cost-efficient flat-packed crates;
High thermal mass of concrete combined with insulation reduces heating and cooling costs; and
­Low adhesion PVC which requires minimal cleaning and prevents bacteria and algae.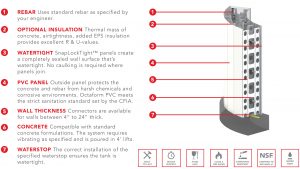 A tank for all reasons, in all seasons
In 1997, Octaform began constructing liquid containment tanks using its patented PVC stay-in-place formwork system. These original tanks were built for manure containment in the agricultural sector, with applications in aquaculture shortly thereafter. Most of our early projects were built outdoors from Northern regions to desert environments. These tanks have performed for over 20 years both indoors and outdoors, in temperatures ranging from plus 40°C to minus 40°C.
Due to the obvious advantages of zero maintenance and extended service life of these tanks, Octaform soon became widely recognised for a variety of tank applications. Consultants and owners embraced Octaform for diverse liquid containment applications, including on-land aquaculture, biogas and urban water and wastewater systems.
Octaform modified and improved its system through the introduction of our patented SnapLockTight™ (SLT™) panel. SLT was originally designed for the containment of clear liquids and was subsequently modified to meet the demands of the emerging biogas industry. The objective was to develop a liquid and gas-tight wall system for biogas applications, including the containment of corrosive liquids and pressurised gas.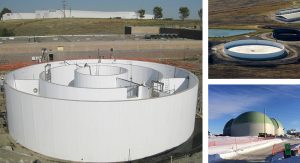 The panel is co-extruded with an antimicrobial bead which acts as a gasket. The unique joint provides a proven seal that requires no re-coating and will last the life of your tank. Lab results on the SLT panel confirm that it will retain water over 68 PSI or the equivalent of 140 feet of head pressure.
The incorporation of a watertight form on the concrete permanently improves concrete durability and curing, further reducing the risk of leakage from cracking or capillarisation. Testing on Octaform tanks consistently provides results that show up to 40% increased hardness compared to concrete formed with traditional methods.
The built-in PVC finish will protect your tank walls from corrosion, cracks, and leaks. It virtually eliminates the need for regular maintenance, and reduces downtime and repairs, as well as the re-application of sealants and coatings.
Please note, this article will also appear in the sixth edition of our quarterly publication.