AlgaePro AS's CEO & Co-founder, Ingmar Høgøy, discusses the potential impacts of the company's new technology designed to cultivate microalgae for the aquaculture sector.
AlgaePro, the only Norwegian company to participate in the first ever cohort of the HATCH Aquaculture Accelerator, is developing technology for cultivating microalgae through circular bioeconomy. With its mother company, Greentech Innovators AS, its aim is to recycle biowaste, CO2, and waste heat to fuel the microalgae cultivation.
The business model will be based on using fermented organic waste as fertiliser for microalgae cultivation. The microalgae will be used as a protein- and omega 3-rich feed supplement for the aquaculture sector.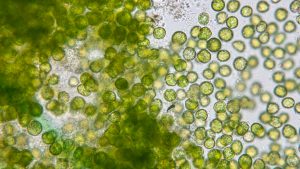 The Innovation Platform spoke to the company's CEO & Co-founder, Ingmar Høgøy, about this innovative solution and what it might mean both for aquaculture and, indeed, wider sustainability issues.
Why are new, alternative methods to more traditional feed in the aquaculture industry important?
The global aquaculture industry has seen several decades of strong growth and is a very important part of the solution for increasing the global production of healthy protein for a growing population. However, traditional feed ingredients such as fish meal and oil are in high demand and should, to a large extent, be utilised directly for human consumption. In addition, soy protein has emerged as a substantial substitute for fish meal, but because arid land is limited the increase in soy production brings with it several significant environmental concerns and is being blamed for the destruction of the rain forests.
How does your new approach combine microbiology and chemistry with innovative new technologies?
To improve the utilisation of food waste for fermentation, we use biotechnology to create a more efficient fermentation process. Indeed, we combine our knowledge in areas such as biotechnology, microbiology, chemistry, and technology to make this happen.
What were the main challenges in developing your solution? What stage has this now reached?
The main challenge in developing the process was the pre-processing step which is required to achieve a more efficient industrial process. Of course, there is still a lot of room for improvement, but we are on the right track. We are now working to upscale the process and we have the right infrastructure and partner to achieve this.
How will the new solution help aquaculture in a wider sense – in terms of sustainability and helping Europe and perhaps the wider world meet the SDGs?
Global food waste weighs in at some 1.3 billion tonnes annually. A large part of this is disposed of in landfills, which causes greenhouse gas emissions. Indeed, landfills are the source of 11% of the very strong greenhouse gas methane, which is 72 times stronger than carbon dioxide. All the other commonly used waste management solutions such as biogas production, composting, and incineration also cause greenhouse gas emissions.
Our process, however, does not generate greenhouse gas emissions. We are able to upcycle food waste into valuable protein and omega 3 for feed. And, importantly, we are able to substitute this for some of the soy and fish meal used in aquaculture feed.
Where does your focus now lie? What are your short and long(er) term priorities?
We are now working to finalise our pilot plant and are working hard to achieve the funding necessary to upscale the process.
Our solution has great potential, and so the next phase will see us begin working towards an international rollout. This will be done by working with local partners.
Please note, this article will also appear in the sixth edition of our quarterly publication.