Miles Rideout, VP of Exploration for Argentina Lithium & Energy Corp, outlines the latest updates and future plans for the company's lithium brine projects across Argentina.
Argentina Lithium & Energy Corp. (LIT) is a Canadian junior exploration company focused on acquiring, exploring, and developing lithium brine projects located in Argentina. With a mission to support the global demand for a cleaner, greener future, LIT has a host of projects across Argentina within its portfolio. These include Rincon West, located at the Rincon Salar in Salta Province; Antofalla North, in the north end of the Salar de Antofalla; Pocitos, located on the west side of the Pocitos Salar; and Incahausi, located in the province of Catamarca.
To learn more about LIT and its hopes for the year ahead, The Innovation Platform spoke to Miles Rideout, VP of Exploration.
Can you start by telling us more about Argentina Lithium, its origins, and your key aims and objectives?
Argentina Lithium & Energy is a member of the Grosso Group, a resource management team that pioneered the mineral exploration industry in Argentina where it has operated since 1993. This experienced management group has made four exceptional metal deposit discoveries and broadened its focus to include alternative fuels in the mid-2000s.
LIT began exploration for lithium brines in 2016, focusing on the salar (salt lake) district of northwest Argentina, part of the district known as the Lithium Triangle. The company identified Argentina as the standout destination for investment due to the myriad of geological opportunities for large-size, low-cost lithium brine production; a favourable political environment, leading to excellent valuations for defined resources and a clear route to production; and a well-developed technical sector providing world-class exploration services at a favourable cost.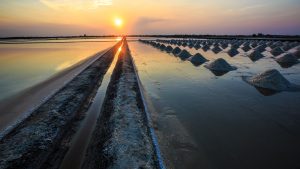 The company is focusing its exploration efforts in salar basins where large mid-grade deposits have already been defined. The company has targeted projects which offer large-scale combined with grade potential in the 300-400 mg/L lithium range. LIT currently holds four sizeable project areas, totalling 64,000 hectares of brine properties. These combine year-round road access with proximity to high-plains population centres and infrastructure, assisting the operating cost of exploration, development, and eventual production. These general criteria provide LIT with the optimal opportunity to acquire and develop world-class lithium brine projects.
Rincon West is your flagship project. How is this progressing so far?
LIT acquired its initial property at Rincon West in late 2021, located adjacent to Rio Tinto Mining's massive Rincon Project. The company has since built on this property position, which currently totals 3,742 hectares. Rincon is a large salar, close to the border with Chile, and a short drive from the local settlements of Olacapato and Estacion Pocitos. The international highway to the Pacific coast runs through LIT's property on the northern side of the salar.
Early in 2022, geophysical imaging was applied at Rincon West, confirming the potential for lithium brines under two thirds of the initial property area. A diamond drill was mobilised to site in May 2022, and has been operating continuously, currently completing the seventh hole of an initial nine-hole exploration programme.
All drilling at Rincon West has sampled enriched lithium brines. Drilling is focused in the central basin area, where excellent brine grades, similar to those reported for the Rio Tinto resource, have been tested over broad intervals.
The company is beginning work on an initial resource calculation for this first area based on these positive results. Additionally, environmental permitting is underway for two more recently acquired parcels at Rincon West, where geophysics and drilling will be employed to expand this resource over the next 18 months.
What other projects are you focusing on currently?
LIT acquired an initial project area at Antofalla North in 2018, approximately 130km south of Rincon West, and located on the border between the pro-mining provinces of Salta and Catamarca. In 2022, the company expanded this position to 10,050 hectares of 100% controlled claims and options.
These properties extend northwards from the edge of Albemarle's Antofalla project, for approximately 27km along the northern extent of the Antofalla Salar. Albemarle is the world's second largest producer of lithium. Historic drilling in the central sector of Antofalla produced a large, mid-grade resource which was initially purchased by Albemarle. Albemarle has since focused its exploration in Antofalla with additional property acquisitions and drilling.
LIT is currently advancing environmental permitting on its Antofalla North properties, where geophysics and drilling programmes are planned for 2023 to identify and quantify lithium resources. Although the properties are currently undrilled, historic geophysics confirmed that interbedded conductive sediments likely to contain brines extend from near surface to 500m depth. This is similar to the depth potential confirmed by drilling at Albemarle's adjacent project.
For 2023, LIT plans to complete 110 line-kilometres of Transient Electromagnetic geophysical imaging, to be followed by six broadly spaced exploration holes to confirm lithium grades across the project. The large property will then require intensive infill drilling to define a resource. Due to the large scale of the project, Antofalla North is likely to become a primary exploration project for LIT over the next year.
Why is the location of your projects so important?
LIT views property location as a key driver for project potential and operational viability.
Firstly, northwestern Argentina has the requisite high-elevation arid environment to produce superior lithium brine projects within its closed basins. Concentrated lithium brines are the result of millions of years of volcanic, erosional, and evaporation processes encountered in this environment.
Secondly, lithium brine projects within Argentina have favourable market valuations due to the positive regulatory structure of Argentina's pro-mining provinces. Argentina is a strong standout in this regard when compared to the neighbouring countries in the Lithium Triangle.
The company has focused its property acquisitions in areas adjacent to large proven resources. LIT's primary exploration is intended to confirm the extension of brine grade and chemistry from known resources held by industry leaders, to show similar grades continue within our properties. This approach has lower risk for our investors than focusing on new 'green fields' exploration, and potentially may provide a ready market for our future resources.
Year-round road access is an important attribute of all LIT projects. Our intention is to invest directly in exploration work, rather than constructing expensive roads and infrastructure as a prelude to exploration. Existing access and well-developed infrastructure bring down LIT's cost of exploration, and the operating costs of every subsequent step of LIT's projects.
What do you hope to achieve as a company in 2023?
Effective property acquisition was the key objective of 2021 and 2022. The management team was extremely effective in securing two high-potential lithium projects. Over the next 12-24 months, LIT will focus on exploring these areas with drilling and geophysics, in order to announce and update resource estimates. We expect to drive our share value by announcing large mid-grade resources in settings that favour low-cost extraction. We can point to the market valuations of nearby competitors to validate this expectation.
Both of our core projects lack prior drilling, so our acquisitions were achieved at low cost. Announcing large resources in these new areas will strongly reward the relatively modest initial investments. LIT is required to announce its findings as they come in. With continual drilling in both areas over the next 12 to 18 months, we expect there will be a strong news flow to attract investors and also potential business partners for future development.
What potential is there for future exploration beyond your existing projects?
The lithium brine market is a moving target. The industry trend has been to proceed from higher-grade prospects to mid-grade or even large lower-grade resources. The surging demand for lithium and the emerging extraction technologies focused on lower grade brines have driven up the prices of resource acquisitions, with newer deals breaking previous records. Anticipating this trend direction, LIT has made strategic acquisitions of large property blocks in Salta and Catamarca provinces.
LIT has acquired 26,000 hectares of the very large Pocitos salar, located south of Rincon, representing approximately 20% of the entire basin. Historic drilling in the Pocitos basin has consistently returned positive lithium grades, but no formal resource has yet been published. LIT plans to advance only geophysical imaging at Pocitos while the company is focused on drilling out its primary projects at Rincon West and Antofalla North. However, other explorers continue to advance drilling and resource assessment in the neighbouring salar, thereby adding to the body of information in the basin. Exploration successes are likely to raise the profile of Pocitos, and of LIT's major land position. LIT's Pocitos project is a strategic acquisition, providing future exploration potential for a large, lower-grade resource.
LIT holds a second very large block, with 25,000 hectares of claims covering virtually 100% of the Incahuasi Salar in Catamarca province. This property is located between Albemarle's Antofalla project to the west and Lake Resources' large, low-grade Kachi Project to the southeast. LIT executed four historic exploration holes at Incahuasi, producing an average grade in drilling of 109 mg/litre lithium. Like Pocitos, LIT anticipates that this large, lower grade basin will increase in value and importance over the next few years. LIT's Incahuasi project is another strategic project for future development in response to ever-increasing market demand.
Please note, this article will also appear in the thirteenth edition of our quarterly publication.

Go to this partner's profile page to learn more about them