Introducing Cobalt Blue Holdings (COB) and the Broken Hill Cobalt Project (BHCP), an integrated mine/refinery that will supply battery ready cobalt for over five million electric vehicles.
Our focus is on meeting future energy storage needs by developing a significant global cobalt resource, BHCP, which is one of the largest greenfield projects (outside of Africa) in the world, aiming to produce 17,500 tonnes per annum (tpa) of cobalt sulphate, a high purity cathode pre cursor ingredient. We also aim to provide a reliable large-scale, long life source of ethical cobalt, and commercialise energy storage processing technologies.
The BHCP is Australia's largest cobalt sulphide deposit – a top 10 global integrated cobalt mine/refinery. It has a 20+ project life target and is located in a politically stable jurisdiction with established infrastructure in a mining district. It also boasts flexible, low-cost production and low- capital intensity:
High purity cobalt sulphate (~20.8% Co in CoSO4, 7H2O) production from a mixed hydroxide product (37% Co, 7% Ni) intermediate;
Lowest quartile costs: cobalt C1 (US$9/lb) & All In Sustaining Cost (AISC) (US$12/lb). The project is capable of operating throughout the volatile cobalt price cycle;
All in pre-production capital A$560m (~US$400m) for 3,500+ tpa Co (metal equivalent); and
Capital Intensity (US$/tpa Co) is a third to a quarter of the global peer group. The project represents a strong investment option for cathode/battery makers seeking large scale, long life cobalt supply.
The project also has existing commercial partnerships with LG International (shareholder), Mitsubishi Corporation, and Sojitz Corporation, and the processing technology which globally targets sulphide ores (a rich source of cobalt and copper) is capable of global deployment.
Strategy
Our strategy is for the BHCP to produce an intermediate Mixed (cobalt-nickel) Hydroxide Product (MHP) which can be further refined onsite to high purity battery-ready cobalt sulphate. There is potential for the MHP to be refined offsite, and COB is exploring opportunities to participate in the battery value chain through co-location of MHP refining and precursor production.
COB is building a Pilot Plant (operations begin in January 2021) to test the leaching of calcined material (sourced from ~100 tonnes of ore sample). The Pilot Plant will allow COB to produce varying specifications of cobalt products and represents a significant milestone for the business. Our commercial aim remains to make battery-ready cobalt sulphate from this facility on a scale sufficient to provide test samples (~10 kgs) to global commercial partners.
Shipments of these test samples will begin in the first quarter of 2021, with our aim being for COB production to satisfy raw material standards for global battery makers. Commercially, COB now has cobalt sample partners from Japan, Korea, India, Europe, and Australia, representing a strong selection of cathode precursor/battery makers, cobalt trading houses, and mining companies. We expect to increase the size of this partner group as the project progresses.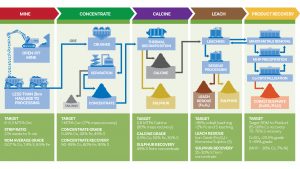 The future
Looking forward, these results will be used to design a larger Demonstration Plant and provide confirmation of inputs in the BHCP Feasibility Study. COB intends to operate the 1:1000 scale Demonstration Plant in the third quarter of 2021, focusing on calcining cobalt-pyrite concentrate for production of sulphur, and an integrated hydrometallurgical circuit for leaching calcine and recovery of cobalt and sulphur. The resulting large-scale samples (+100kgs each with total production of 2-3 tonnes of MHP & cobalt sulphate) will also allow us to begin commercial qualification of our products within the downstream battery industry.
Our plans reflect a strong belief that cobalt prices will strengthen over the coming few years. We intend to be well-positioned to be ready at a time the market will require the development of a major new cobalt mine, in a low political risk jurisdiction with well-established infrastructure.
As you can see, COB has a promising future with significant milestones expected to be achieved over the next couple of years. We look forward to keeping our partners updated over this time.
Joe Kaderavek
CEO
Cobalt Blue Holdings
+61(2) 8287 0660
joe.kaderavek@cobaltblueholdings.com
www.cobaltblueholdings.com
Please note, this article will also appear in the fourth edition of our new quarterly publication.