In honour of Black History Month, Innovation News Network would like to showcase some of the African-American astronauts that risked their lives in the name of space research.
Ed Dwight was the first African-American astronaut to enter the Air Force training programme, from which NASA select astronauts. Dwight began astronaut training in 1961 but then resigned in 1966 after racial politics forced him to leave NASA.
Although Dwight did not make it into space, he paved the way for African-Americans to enter the NASA training programme. Since Dwight left NASA, a total of 14 African-American astronauts travelled into space and an additional 7 African-Americans became astronauts, but never entered space.
Robert Lawrence: The world's first African-American astronaut
The Manned Orbiting Laboratory (MOL) was designed to obtain high-resolution photographic imagery of America's Cold War adversaries. Authorised in August 1965, the MOL programme envisioned a series of min-space stations in low polar Earth orbit, occupied by crews of two people for 30 days at a time.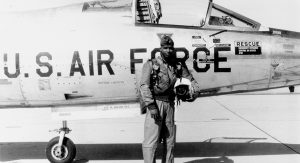 The United States Air Force (USFA) selected Major Robert H Lawrence Jr, on 30 June 1967, as a member of the third group of aerospace research pilots for the MOL programme. Lawrence then became the first African-American to successfully finish training as an astronaut via the US national space programme. Lawrence said: "This is nothing dramatic. It's just a normal progression. I've been very fortunate."
While serving as an instructor for another pilot practicing landing techniques later used in the Space Shuttle program, Lawrence died in a crash of an F-104 Starfighter supersonic jet on 8 December 1967, at Edwards Air Force Base, California.
Although both men ejected from the crash Lawrence did not survive.  He was survived by his wife Barbara and eight year old son Tracey.  Fellow MOL classmate and later NASA astronaut Don Peterson said, "Bob was a super guy.  His death was a terrible tragedy."
Guion S Bluford Jr: The first African-American in space
Guion S Bluford Jr began his career as a NASA astronaut in August 1976. Bludford worked with the Remote Manipulator System (RMS), Spacelab-3 experiments, Space Shuttle systems, verifying flight software in the Shuttle Avionics Integration Laboratory (SAIL) and the Flight Systems Laboratory (FSL), as well as serving as the Astronaut Office point of contact for generic Spacelab and Shuttle External Tank issues.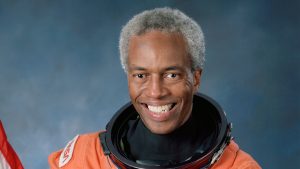 Bludford's first mission, STS-8, launched from the Kennedy Space Center, Florida, on 30 August 1983. This mission was the third flight for the Orbiter Challenger and the first mission with a night launch and night landing.
During the mission, the STS-8 crew deployed the Indian National Satellite (INSAT-1B); operated the Canadian-built RMS with the Payload Flight Test Article (PFTA); operated the Continuous Flow Electrophoresis System (CFES) with live cell samples; conducted medical measurements to understand biophysiological effects on space flight; and activated various earth resources and space science experiments along with four "Getaway Special" canisters. STS-8 completed 98 orbits of the Earth in 145 hours before landing at Edwards Air Force Base, California, on September 5, 1983.
Bluford left NASA in July 1993 to take the post of Vice President/General Manager, Engineering Services Division, NYMA Inc., Greenbelt, Maryland.
Dr Bernard Harris: The first African-America to perform a spacewalk
After completing his residency training in 1985 at the Mayo Clinic, Dr Bernard Harris then went onto complete a National Research Council Fellowship at NASA Ames Research Centre, California. While conducting this fellowship, Harris studied musculoskeletal physiology and disuse osteoporosis.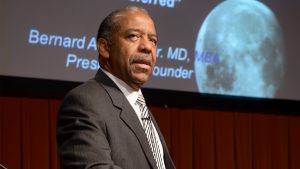 Once his fellowship was completed in 1987, Harris then joined NASA's Johnson Space Center as a clinical scientist. Harris then became an astronaut in July 1991, he then qualified as a mission specialist on Space Shuttle flight crews.
Harris was assigned as a mission specialist on STS-55, Spacelab D-2, in August 1991, and later flew on board Columbia for ten days, marking the Shuttle's one year of total flight time. Dr Harris was part of the payload crew of Spacelab D-2, conducting a variety of research in physical and life sciences. During this flight, Dr. Harris logged over 239 hours and 4,164,183 miles in space.
Harris is now the CEO of the National Math and Science Initiative and President and Chief Executive Officer of Vesalius Ventures, Inc., a venture capital accelerator, that invests in early-stage companies in Medical Informatics and Technology.
Dr Mae Jemison: First African-America woman in space
Born in Alabama in 1956, Dr Mae Jemison enrolled at Stanford University at the age of 16 and graduated with degrees in both chemical engineering and Afro-American studies. Jemison then went to receive a Doctor of Medicine degree from Cornell University on 1981.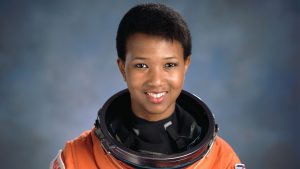 "The thing that I have done throughout my life is to do the best job that I can and to be me," Jemison said to Ebony Magazine, October 1987.
Jemison practiced medicine as a volunteer in a Cambodian refugee camp as well as a medical officer with the Peace Corps in West Africa. Jemison speaks fluent Russian, Japanese, Swahili, as well as English.
Jemison completed her training as a mission specialist with NASA in 1988. As a part of the Shuttle Endeavour, Jemison became the first African-American woman to enter space in 1993.
Jemison resigned from NASA in 1993. She then went on to create the Jemison Group, focusing on promoting healthcare and technology in developing countries.
"Never be limited by other people's limited imaginations…If you adopt their attitudes, then the possibility won't exist because you'll have already shut it out … You can hear other people's wisdom, but you've got to re-evaluate the world for yourself," Jemison said at the Annual Biomedical Research Conference for Minority Students, November 2009.