Professor Allan Walton, a Founding Director of HyProMag, details their pioneering short loop magnet recycling HPMS technology and how their partnerships and collaborations can unlock the global supply chain for the recycling of rare earth magnets.
HyProMag Limited is set to become the UK's first producer of recycled, sintered NdFeB rare earth magnets used in electric vehicles, wind turbines and consumer electronics, with its innovative HPMS technology further benefiting from an estimated 88% lower energy usage and close to zero human toxicity versus primary magnet production from a mined source of material.1
Less than 5% of rare earth magnets are currently recycled from end-of-life components. HyProMag, together with its strong network of partnerships, access to intellectual property and longstanding experience in the sector, has a significant opportunity to unlock the global supply chain for the recycling of rare earth magnets.
HyProMag is 42% owned by AIM, and TSXV listed Mkango Resources, which is developing the Songwe Hill Rare Earths Project in Malawi and the Pulawy Rare Earth Separation Project in Poland.
HyProMag is pioneering the commercialisation of short loop magnet recycling via the patented Hydrogen Processing of Magnet Scrap (HPMS) technology. The HPMS process for extracting and demagnetising neodymium iron boron (NdFeB) alloy powders from magnets embedded in scrap and redundant equipment was originally developed and patented by The Magnetic Materials Group (MMG) in the School of Metallurgy and Materials at the University of Birmingham2 and subsequently licenced to HyProMag. This patent, related intellectual property and know-how are at the core of HyProMag's business.3
The MMG has been active in rare earth alloys and processing permanent magnets using hydrogen for over 40 years. The founding directors of HyProMag, Professor Emeritus Rex Harris, former Head of the MMG and originator of the hydrogen decrepitation method, Professor Allan Walton, current Head of the MMG, and two Honorary Fellows, Dr John Speight and Mr David Kennedy are leading world experts in the field of rare earth magnetic materials, alloys and hydrogen technology, and have significant industry experience.
HPMS technology
The HPMS process, which was initially designed around hard disk drive scrap containing between 2-20 grams of NdFeB material, has now been applied to a wide range of magnet applications, including automotive, wind turbine, and loudspeaker scrap. During HPMS, the scrap applications are placed in a rotating porous drum inside a pressure vessel. The scrap is exposed to a hydrogen atmosphere, at which point the magnets break apart in around 30-40 minutes. During this reaction, hydrogen is absorbed into the magnet alloy, causing a volume expansion, resulting in the material breaking apart into a friable powder. Crucially this process also demagnetises the magnet material, making it easier to remove from the components during rotation of the porous drum. The hydrogen process also separates any coating material or glue from the surface of the NdFeB material. In subsequent steps, the coatings, glues and any non-magnetic materials are removed by mechanical means producing a purified alloy powder that can be directly remanufactured into new magnets.
HyProMag Ltd and the University of Birmingham (UoB) are scaling up the HPMS process and subsequent downstream magnet production at two sites: on the UoB campus and at Tyseley Energy Park (TEP) in Birmingham. The two scales of the pilot plant will be capable of separating 50-100kg and up to 400kg of NdFeB powder, respectively, per batch (see Fig. 1). A £4.4m grant has funded the large-scale pilot plant at TEP from Driving the Electric Revolution in the UK. This will build a full-scale sintered magnet production line from HPMS powder.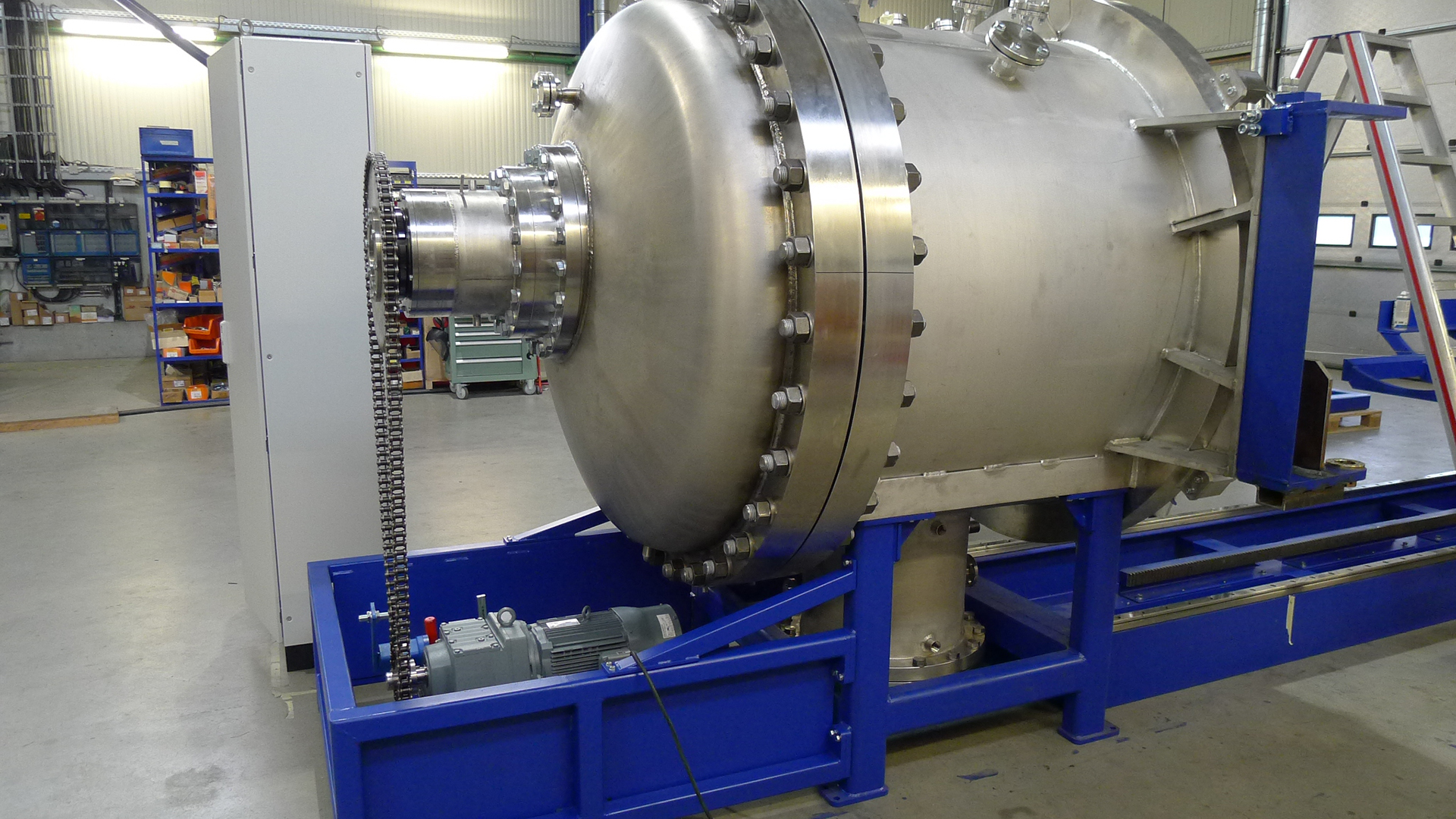 The HPMS powder will provide an indigenous supply of rare earths to the UK, which can return into the supply chain at multiple points (see Fig. 3), including by;
Chemically extracting the rare earth elements;
Pressing the powders into pellets and re-melting back to a master alloy;
Converting the NdFeB powder into melt-spun ribbons or HDDR powder for bonded magnets; and
Direct re-sintering into new NdFeB magnets in the same form as the original material.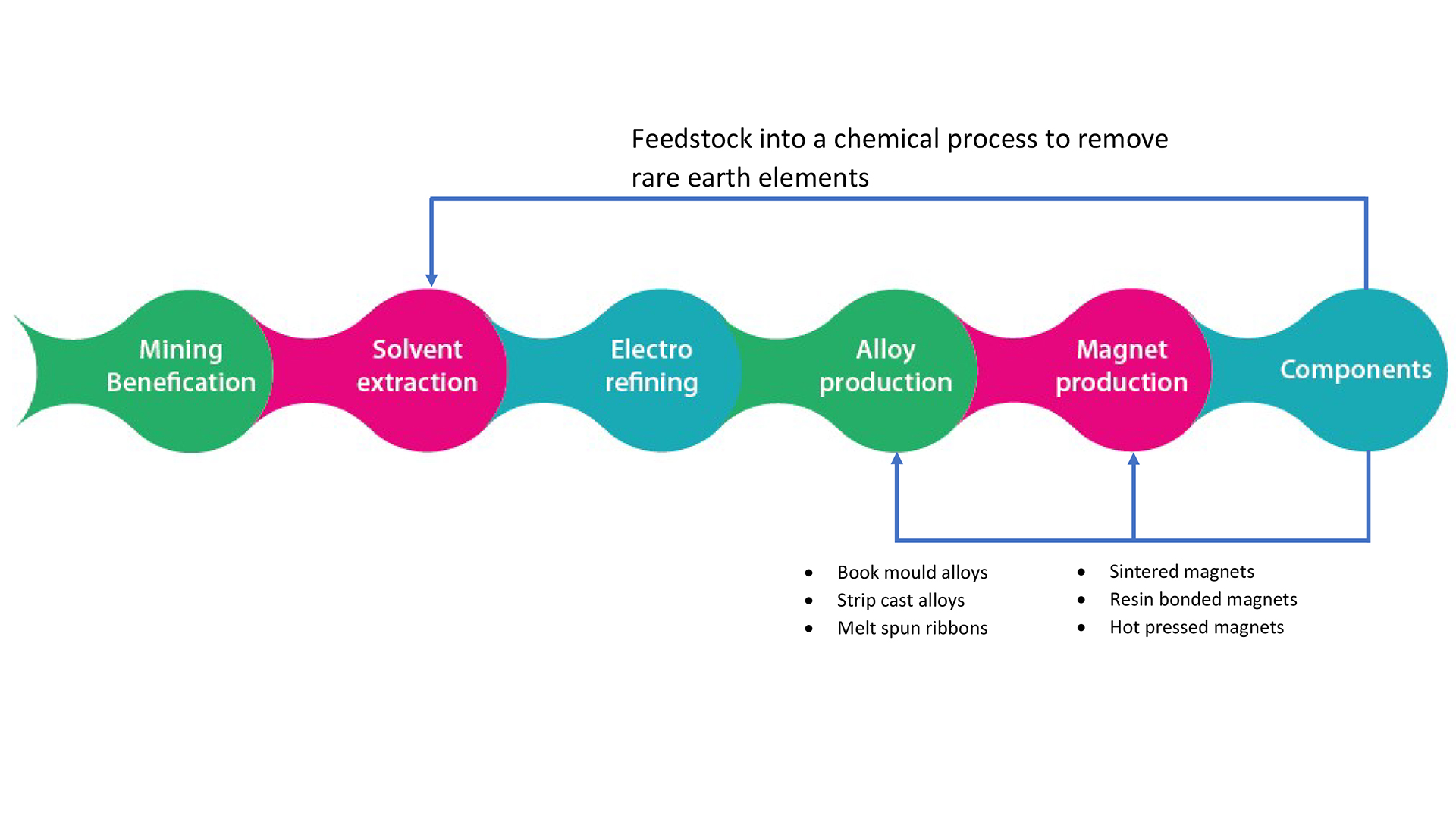 The latter of these routes offers the lowest energy, 'short loop' process with the lowest environmental footprint. A previous LCA study showed that this route could produce a magnet with 88% less energy than the primary production of magnets from a mine.4 (see Fig. 2)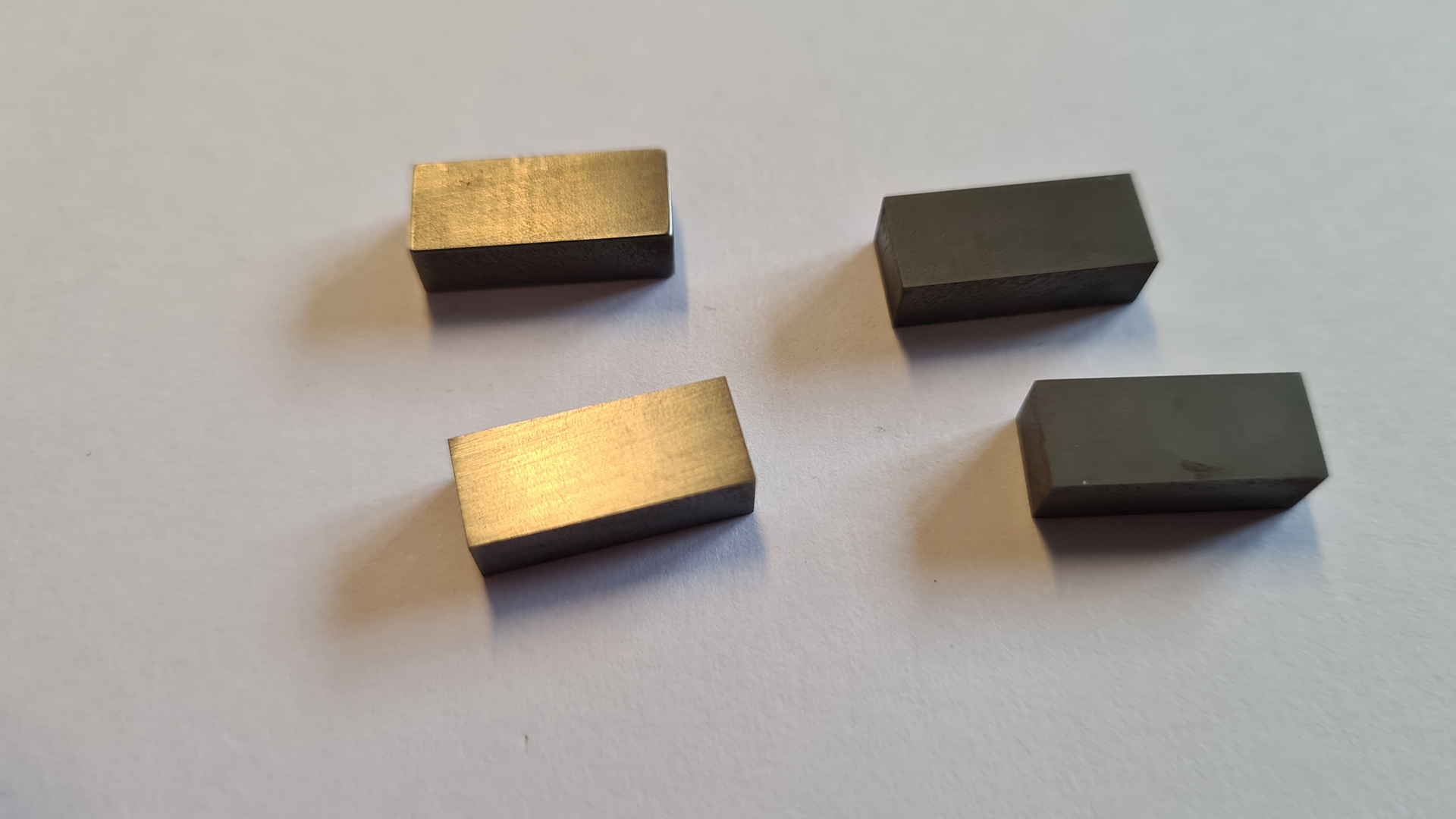 Collaborative projects
HyProMag Ltd and the UoB have worked on multiple projects targeting different scrap streams. HyProMag recently completed a project to recycle rare earth magnets from loudspeakers in vehicles and flat-screen TVs with European Metal Recycling Limited (EMR) and UoB. This was funded via a grant from the Industrial Strategy Challenge Fund (UKRI). HPMS underpins the recycling process. The quantity, properties, economics and suitability of loudspeaker magnets for recycling was confirmed in the project, with the sintered recycled magnets produced having comparable magnetic properties to the initial starting magnets.
EMR is a global leader in metal recycling, operating at 150 locations worldwide and is the largest automotive recycler in the UK. EMR pre-processed automotive and flat-screen TV loudspeaker scrap to provide a feed of scrap components containing NdFeB magnets to HyProMag, which used the HPMS process in conjunction with UoB to extract the magnets as a demagnetised alloy powder, which was then successfully used in the remanufacture of sintered magnets.
HyProMag also leads the Innovate UK grant-funded project, "Rare-Earth Recycling for E-Machines" (RaRE).
The RaRE project aims to extract rare earth magnets from hard disk drive scrap using the HPMS process and produce recycled sintered magnets at a grade suitable for an electric motor for a Bentley motor application. The project partners include Intelligent Life Cycle Solutions (electronics recycler), Advanced Electrical Machines (motor designers), Bentley Motors Ltd (part of VW group) and Unipart (Tier 1 automotive).
HyProMag is scaling up the HPMS process and re-processing technologies to produce sintered magnets at a pilot scale to demonstrate the quality of material produced regarding its magnetic behaviour, mechanical performance, and corrosion resistance, all of which can be produced and are vital to the end-user application. Intelligent Lifecycle Solutions have established the scrap sorting process to maximise process efficiency and rare earth material volumes. The recycled magnets will be built into a motor designed by AEM to a Bentley Motors specification.
The SusMagPro Project
The UoB partner in the Horizon 2020 project SusMagPro5 focused on establishing a sustainable magnet supply chain in the EU by recovering and recycling rare earth elements (REEs) from a wide range of magnetic waste streams, including pumps and wind turbines and electronic scrap. By introducing a reliable source of raw materials at scale, it is expected that SusMagPro will contribute to the future growth of the magnet recycling industry. This will be enabled by SusMagPro's current strategic partnership with 19 companies and institutes, allowing for synergies and collaboration between different points of the magnet life cycle.
The SusMagPro project covers a broad spectrum of potential products, underpinned by the supply of recycled NdFeB powder from HPMS pilot plant production in the UK, Germany and Slovenia, resulting in significant further development demonstration and de-risking of the HPMS technology. Apart from the production of sintered magnets (in common with the "Rare-Earth Recycling for E-Machines" (RaRE) and Rare-Earth Extraction from Audio Products (REAP) projects), the project will also produce cast alloys (Less Common Metals) and resin-bonded magnets via HDDR powder (Kolektor).
HyProMag expansion into Germany
In November 2021, HyProMag established a sister company in Germany, HyProMag GmbH, to commercialise HPMS technology into Germany and Europe and further support government initiatives to strengthen European rare earth supply chains and accelerate the green transition. HyProMag GmbH is 80% owned by HyProMag Limited and 20% owned by Professor Carlo Burkhardt of Pforzheim University in Germany, also the co-ordinator of the SusMagPro project and director of the board of HyProMag GmbH.
Germany is a significant producer and market for rare earth magnets in Europe, and the establishment of HyProMag GmbH provides a solid platform to grow the business in the region. Germany has no domestic sources of primary rare earths. The development of domestic sources of recycled rare earths via the patented HPMS is a significant opportunity to diversify and strengthen the development of a more resilient rare earth supply chain in Europe.
As an affiliated company, HyProMag GmbH is covered by the exclusive license of HyProMag, and the companies will share new developments.
References:
HPMS granted patent No.13/169839.
B. Sprecher, A. Walton, et al. Environ. Sci. Technol. 2014, 48, 3951−3958.
Nick Mann
Operations General Manager
HyProMag Ltd
nick.mann@hypromag.com
https://hypromag.com/
Please note, this article will also appear in the ninth edition of our quarterly publication.