Donald Bubar, President and CEO of Avalon Advanced Materials Inc., examines the opportunities for caesium production in Canada and potential new technology applications.
Caesium (or cesium) is a scarce and little known alkali element that is usually only found in low concentrations in bedrock. It was first discovered in 1860, and the initial small-scale applications for caesium were as a 'getter' in vacuum tubes and photoelectric cells. Since 1967, caesium has been widely used in highly accurate atomic clocks.
What is caesium, and what are its applications?
Caesium has mainly been recovered from the alumino-silicate mineral pollucite (Cs,Na)2Al2Si4O12·2H2O), a rare mineral only found in very highly fractionated lithium pegmatites. It is a little known alkali element with enormous potential for new applications, particularly aerospace technologies.
As the most electro-positive naturally found element (aside from synthetised francium) in the periodic table, it forms exceptionally stable compounds. The best known recent example in a commercial application is caesium formate, a high-density fluid with the same viscosity as water but 2.2 times as dense. It is used in high pressure, high-temperature deep oil and gas well drilling as a coolant and lubricant. It is eco-friendly and can be readily recycled.
Caesium compounds also have applications as catalysts in plastics and petroleum refining, medical isotopes, photo-emissive devices, experimental magneto-hydrodynamic electricity generation, high accuracy atomic clocks for 5G communications and GPS navigation systems, speciality glasses, ion-propulsion rocket motors, high-density alkaline batteries, and coatings for solar cells. As a dense medium, caesium formate is also used in metallurgical testing and to separate DNA. It is well known for medical applications and artificially produced radioactive isotopes used in treating various types of cancers. It can also be used to sequester those radio-isotopes and other radioactive wastes.
Pollucite mining and caesium production in Canada
The only significant past producer of pollucite was the Tanco mine at Bernic Lake, Manitoba, Canada, a large zoned lithium-tantalum-caesium pegmatite originally developed as a tantalum resource. After the mine was developed, a large sub-zone was discovered in the 1970s that contained mainly pollucite. At the time, there was no significant demand for caesium. However, the owners realised that it had much potential that required more research and development of potential new applications. To support this research, the operators would donate pollucite samples to any research laboratory interested in finding other unique uses for caesium, creating new market opportunities for Tanco. One of these proved to be caesium formate.
In 1993 the Tanco mine was bought by Cabot Corporation. In 1996-7, they commissioned a new caesium formate plant at the site designed to produce 500 barrels/day and subsequently expanded to 700 barrels/day for increased production, including other caesium chemicals. By 2002 it produced 8,400 tonnes of caesium formate product often leased to oil well drillers. In 2013, the Tanco underground mining operation began to experience loose rock falls because of the instability of the mine's crown pillar. Because this part of the mine was under a lake, the risk of a significant collapse forced the closure of Tanco's underground caesium mining operations, although much of the resource had already been mined out. In 2019 Tanco was sold by Cabot Corp. to Sinomine Resource Group Co., Ltd. of Beijing, China ('Sinomine').
The Bikita Minerals' pegmatite in Zimbabwe, the only other significant past producer of pollucite, did not process it but sold it as hand-sorted mineral concentrates to some European consumers. Sinomine now controls Bikita's supply, although Bikita's pollucite ore stockpiles are now largely exhausted. Pioneer Resources' small Sinclair pollucite deposit in Western Australia was commissioned in 2018 and was mined out by 2020. Its pollucite was sold to Sinomine to be used for feed at the Tanco caesium formate plant.
New opportunities for caesium production in Canada
Avalon Advanced Materials Inc. is one of the few potential new producers of pollucite in the world from its Lilypad Caesium Project in Northwestern Ontario. The Lilypad area hosts a field of LCT pegmatite dykes containing significant pollucite mineralisation. In one of these dykes, pollucite occurs throughout the pegmatite as one of its main rock-forming minerals, a unique occurrence globally. The photo below is a sample from this pollucite dyke, with the white pollucite highlighted in the black circles. Limited drilling to date has delineated a preliminary resource of 340,000 tonnes grading 2.294% Cs2O that is wide open for expansion.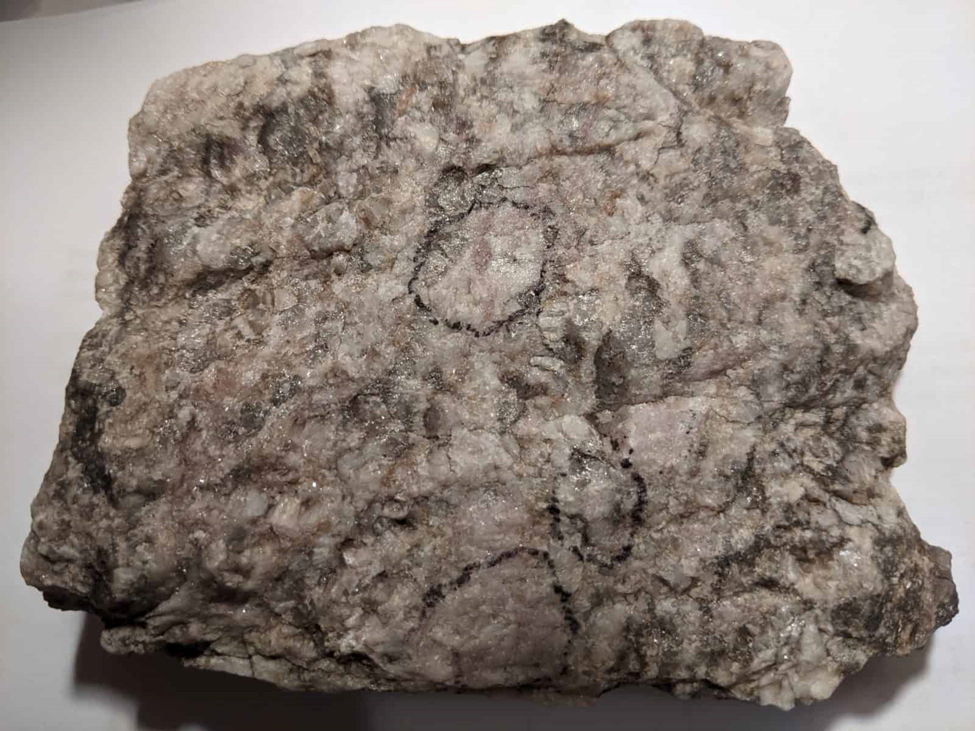 Other LCT pegmatite resources occur in many parts of the world, including Namibia and Afghanistan, may also potentially recover pollucite and the by-product caesium from other minerals such as the lithium mica, lepidolite. Caesium may also occur in lower concentrations within other secondary minerals. There is one example in Northwestern Argentina of a caesium resource called Taron averaging 1400ppm Cs2O. The caesium is contained in a unique hydrated basic ferric arsenate mineral called pharmaco- siderite, (K,Cs)Fe4(AsO4)3(OH)4·(6-7)H2O. Recent work has defined a unique extraction process to recover the caesium, and other low-grade caesium resources worldwide may offer similar potential.
Supply and demand pressures for caesium production in Canada
As caesium is not an exchange-traded commodity, it is difficult to get price information on the various forms of caesium products, although being in very short supply. The chemical forms of caesium currently in demand include caesium carbonate and caesium hydroxide, reportedly attracting prices of up to $5,000/kg in Asian markets because of the scarcity of supply. Like other rare element commodities, product purity also impacts pricing as well as supply and demand.
Caesium has now been listed as a critical element by the United States and Canada. With China now in sole ownership of the world's current supply of pollucite, the caesium markets may be stressed accordingly until a significant new source of caesium has been developed. It is an excellent opportunity for Canada to take advantage of the caesium resources at Avalon's Lilypad project. There are probably more pollucite-rich LCT pegmatites to be found in the Canadian shield through further exploration.
A critical next step toward creating a whole supply chain in Canada would be to encourage more research and development on potential innovative new applications for caesium, similar to what Tanco achieved with caesium formate 25 years ago. There is a great potential for many new high technology applications of caesium, particularly in aerospace technologies which would enable new primary supply sources in Canada to start and grow into bigger businesses with the downstream value-added product opportunities.
Acknowledgement:
I want to acknowledge the inspirational Dr David L. Trueman, who sadly passed away in early 2022. Dave was an expert geologist in critical minerals from Manitoba, who worked at the Tanco mine early in his career, and later with Highwood Resources on the exploration of the unique Thor Lake beryllium and rare earths resource in the NWT in the 1980's. He subsequently became an expert geological consultant working on critical minerals exploration and development projects in many parts of the world. Dave was my inspiration for getting involved in critical minerals exploration after meeting him at a conference in Yellowknife some 30 years ago, and subsequently inspired Avalon's acquisition of the newly discovered Separation Rapids Lithium pegmatite 25 years ago.
Dave was a graduate of the University of Manitoba and had been a member of many professional associations throughout his career such as the Canadian Institute of Mining and Metallurgy, the Geological Association of Canada, the Prospectors & Developers Association, and the Manitoba and Alberta Professional Engineers and Geologists Associations throughout his career which spanned some 46 years.

Go to this partner's profile page to learn more about them