California is newly positioned to dramatically expand STEM research and education following the announcement of $80m in state funding for a STEM facility on San Diego State University's (SDSU) Brawley campus.
The STEM research undertaken by SDSU and the Brawley Campus will tie into regional plans for San Diego's primary economic development as California's 'Lithium Valley'.
On Thursday, Governor Gavin Newsom signed official documents that permit the facility to be built on the Brawley Campus. The facility will be 65,000 square feet and will house science, technology, chemistry, engineering, and mathematics programming.
The budget action has been welcomed in California
Imperial County officials were among many residents, businesses and public officials to applaud the budget for STEM research.
"Higher education is essential to providing a pathway to success for many in our community, and this $80m in new funding will open even more opportunities by preparing and educating our local workforce for the much-needed and good-paying jobs that will come from the development of Lithium Valley," said Jesus Escobar, chair of the Board of Supervisors.
He added: "On behalf of the County of Imperial, I'd also like to extend our thanks and appreciation to the SDSU administration and our state legislators who advocated for this community-driven funding request to bring direct investments into our community, economy, and future."
SDSU President Adela de la Torre will visit the Imperial Valley in August to thank the community for supporting the STEM research funding and provide additional information on what to expect from it.
How does STEM research tie into lithium extraction efforts?
The funding ties well into recent lithium extraction efforts in San Diego. It has been found underground near the Salton Sea and can be widely used in modern technology, and is a powerful driver for the Imperial Valley economy, which boasts one of the world's largest known reserves of this light metal.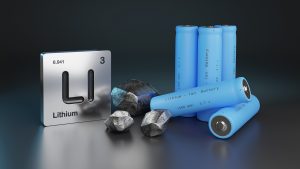 Lithium plays a vital role in electric power and in creating rechargeable batteries designed for cars, mobile phones, and energy-grid storage, making it an essential part of renewable-energy technology and California's net-zero emission goals.
Future graduates of SDSU Imperial Valley will be prime candidates for the skilled lithium workforce, a statewide priority and part of a global transition to electric vehicles and other aspects of clean energy.
Speaking at the Imperial Valley Economic & Energy Summit earlier this month, John McMillan, SDSU Director of research initiatives for Engineering & Sciences, explained: "The investment in the STEM research and building will have a lasting impact.
"Entrepreneurship will extend the benefit and create a lifetime of possibilities. It is not just economics – it is opportunity spread across the region."
SDSU has already invested $15m toward the plan and has expanded the range of new STEM research degree programmes and other offerings at SDSU Imperial Valley.