Eszter Nagy, CEO and founder of CEBINA, speaks about the multifaceted activities of the Central European Biotech Incubator and Accelerator, which has joined the global effort to fight COVID-19 with a drug-repurposing initiative and a unique vaccination approach.
Translating a scientific discovery into a commercially viable business is a complex process requiring a number of different skill sets. Promising drug discovery projects developed in academia often lack access to necessary funding or the entrepreneurial expertise to turn an idea into a viable therapeutic programme that would be attractive for pharmaceutical companies. CEBINA (Central European Biotech Incubator and Accelerator) aims to bridge this gap between academia and the pharmaceutical industry.
Can you tell us about CEBINA?
CEBINA has a unique incubator and accelerator business model: our primary goal is to create new companies either based on promising academic research projects with potential for product development (identified through external scouting) or internal innovative R&D programmes. In addition, we help biotech entrepreneurs of young start-ups throughout the early stages of company development. To this aim, CEBINA provides facility and services tailored to the specific needs of each resident company. Our state-of-the-art laboratory and office facilities are located in the Vienna Campus BioCenter, a major biotech hub at the heart of Europe, where internationally renowned research institutions, universities, and a growing number of biotech companies work in close proximity.
Each of our resident companies can benefit from this collaborative environment and the bespoke services that CEBINA provides: from research and development services, like preclinical in vitro and in vivo research, translational research and clinical strategy, to corporate services including business development, management, finance, accounting, market research, and communications. This means that companies incubated in CEBINA don't have to build a fully-fledged team from day one (which is associated with significant cost), but can rely on our experienced biotech team and expertise for support and mentoring, which gives them a head-start in the early stages of company growth.
Importantly, these companies can maximise their early investments on innovation and furthering their projects by reducing administrative and operational costs. We have a network of committed private investors who consider CEBINA and our resident companies as excellent de-risked opportunities for early investment as they are pre-vetted by CEBINA and supported by an experienced biotech team.
What kind of projects is CEBINA involved in?
As an example, earlier this year we spun out our first company, Algonist Biotechnologies. We identified novel high potential drug candidates based on the research conducted on receptors involved in pain by a world-renowned pharmacology academic group at the Medical Faculty at the University of Pecs, Hungary. We believe small molecules targeting these receptors could represent a new class of drugs offering an alternative to highly addictive opioids against chronic pain, which is still a major unmet medical need despite affecting billions of people worldwide. We are combining CEBINA's expertise in pre-clinical drug development with our broad experience in starting and building biotech companies to help Algonist generate momentum in the development of proprietary compounds against chronic pain. We are currently seeking investment to move Algonist's candidate drugs into pre-clinical development.
You have recently announced that CEBINA has identified a commonly used antihistamine as a potential repurposed COVID-19 drug. What can you tell us about this project?
This project is a good example of how innovation and flexibility are key in building biotech companies. As the coronavirus crisis hit the globe, we recognised how important it is to be able to rapidly progress scientific ideas to meet this unprecedented health emergency associated with serious economic situation. The CEBINA R&D team have decades of experience in infectious disease research and product development, and we initiated a number of projects drawing on our collaborations with academics.
As a short-term solution to the COVID-19 pandemic, we started with our drug repurposing initiative. Drug repurposing means identifying new medical indications for approved or investigational drugs. This approach has already been successfully used in recent years, and is an attractive opportunity for managing the COVID-19 crisis in the short term. As SARS-CoV-2 is a new virus, developing a drug specifically targeted to COVID-19 will take a long time: therefore, the scientific community has been focusing on safe drugs already approved by the authorities or in advanced stages of product development, trying to predict which ones could be effective against COVID-19. The best known and most extensively pursued examples are hydroxychloroquine, an anti-malaria drug, and remdesivir, which is being developed against Ebola virus infection. Our strategy for COVID drug repurposing has been to identify drugs based on computational approach that are predicted to interfere with the SARS-CoV-2 infection processes.
For our drug repurposing project, CEBINA has initiated a collaboration with Professor Robert Konrat, a renowned structural biologist at the Department of Structural and Computational Biology of the University of Vienna. A computational approach integrating several software tools and big data analysis was used to identify potential anti-COVID-19 drugs. This approach was complemented with in vitro viral infection testing with SARS-CoV-2 performed in a collaboration with Professor Ferenc Jakab, head of one of the few BSL-4 virology research laboratories present in Europe, located in the Szentágothai Research Center at the University of Pécs, Hungary.
Our results have shown that five generic drugs demonstrate anti-SARS-CoV-2 activity. The most potent among the identified drugs, Azelastine, is an antihistamine drug that is on the market and primarily used as a nasal spray to treat allergic rhinitis (hay fever). Azelastine is a particularly promising preventive and/or post-exposure anti-COVID-19 solution for a number of reasons: not only is Azelastine available as a nasal spray and can therefore act directly at the initial site of SARS-CoV-2 infection, but it also has only modest side-effects and is a widely available, generic drug.
We have also generated laboratory research-based evidence that Azelastine doses lower than the ones included in the anti-allergy nasal sprays already on the market might be effective against COVID-19. We are working towards confirming these findings in a clinical study, as lower Azelastine doses would be expected to reduce the known side effects which, while not significant, are potentially unpleasant. We plan to develop this novel dosage of Azelastine as a new anti-COVID-19 nasal spray. CEBINA is now in discussion with manufacturing and licensing partners for worldwide distribution of Azelastine as an anti-COVID-19 preventive or post-exposure treatment and is open to discussing further partnerships and investment into this project.
You are also developing a coronavirus vaccine. What makes CEBINA's approach unique?
There are many vaccines in development for COVID-19, and although some of the data is promising, none of the advanced ones address the possibility that in future we are likely to see different coronaviruses emerging. CEBINA is therefore working on an extended spectrum coronavirus vaccine as a longer term solution to the COVID-19 crisis. Several vaccine candidates that are already in advanced clinical stages are designed to target the Spike (S) protein of SARS-CoV-2. CEBINA's approach, in contrast, is based on highly engineered vaccine antigens considering viral proteins beyond the Spike and from several coronaviruses. This means that our vaccine could protect against future outbreaks of novel coronaviruses, currently existing in animal reservoirs. Indeed, in the last 15 years, we have already experienced outbreaks of other coronaviruses, like SARS and MERS, and other coronavirus outbreaks are to be expected in the future.
CEBINA's vaccine is also designed to avoid the risk of inducing disease-enhancing antibodies and, in comparison to all the vaccine candidates in development, is uniquely designed to provide broad protection against different and future strains of coronavirus. Moreover, our recombinant protein-based sub-unit vaccine represents a safe and broadly tested approach.
Where to do you see CEBINA in five years?
We have had a hugely productive year both supporting our resident companies and starting new projects. Our mission is to use our expertise to help companies move to the next value inflection point, so I expect to see some successful exits for our companies, as well as promoting entrepreneurship in the Central European area through our collaborations with universities and research institutes and activities establishing new companies.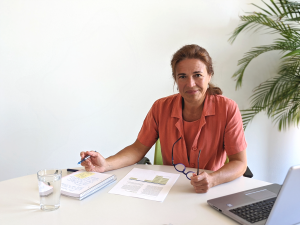 Eszter Nagy, MD, PhD
CEO, CSO Founder
CEBINA (Central European Biotech Incubator and Accelerator) GmbH
+43 01 9092208
Please note, this article will also appear in the third edition of our new quarterly publication.