Kristin Langeland, Director of Communications at The Norwegian Seafood Federation, discusses the evolution of the commercial aquaculture industry in Norway and its goals for a sustainable future.
First developed in the early 1970s, commercial Norwegian aquaculture has drastically evolved in recent decades. A report by the Organisation for Economic Co-operation and Development (OECD) revealed that exports increased by a total of 72% between 2008 and 2018, demonstrating the rapid rise in commercial activity.1
2021 has been a particularly eventful year for the Norwegian aquaculture sector. In addition to the challenges following Brexit, a new aquaculture strategy was announced by the Norwegian Government in July this year. The new strategy sets out a plan for the Norwegian aquaculture industry for the next 10 to 15 years, with the main goal to drive progress in a sustainable manner.
Representing the interests of over 800 member companies, The Norwegian Seafood Federation will play a key role in supporting organisations in the Norwegian aquaculture sector to progress with this new strategy at the forefront of operations. To find out more, The Innovation Platform spoke to Kristin Langeland, Director of Communications at the Norwegian Seafood Federation.
2021 has been a significant year for the Norwegian seafood landscape. What are the major challenges currently facing the sector?
The Norwegian aquaculture industry celebrated its 50th anniversary this year. It was important for us to acknowledge the amazing development this industry has had and look back at the technological journey we have made so far. That being said, however, I believe I speak on behalf of the entire industry when I say the journey has just begun.
Today, the seafood industry is recognised as the second most important export industry in Norway, following oil and gas. The Norwegian Government has stated that they want to double exports from Norway – besides oil and gas – within 2030. We will do everything we can to contribute to this ambitious goal.
Although there are many specific challenges within the industry, it is important that we keep our eyes on the main challenge, which is to radically change today's food systems and find climate-friendly solutions within the blue food sector.
We know that up to 40% of global CO2 emissions come from food production. This has to change, and the ocean stands out as one of the most important solutions to cutting emissions from food production. We need to grow more food in the ocean and, simultaneously, cut emissions across our value chains. In fish farming, as much as two-thirds of the climate footprint is linked to feed. There are many projects underway which seek out alternative ingredients in fish feed. The industry is investing substantial amounts to ensure we find new and improved solutions to today's challenges.
It has recently been reported that seafood exports in Norway are on track for a record year. How has Norwegian aquaculture bounced back following such challenges as the COVID-19 pandemic and Brexit and what have been the main drivers in this?
When the pandemic hit, we were very concerned about everything from production, transport and logistics, to market entry and consumer behaviour. However, we were able to find solutions across the value chain and exports for 2020 came close to the record year of 2019. One might suggest that we have not had to bounce back – we have worked consistently to maintain production and ensure that our seafood safely reached the global market. 2020 was full of uncertainty which, of course, created a lot of frustration. Although the situation seems to be improving now, some uncertainty still remains. However, I believe we have learned some valuable lessons which will benefit us moving forward.
Due to the pandemic, there has been a shift in the market. Reduced consumption in HoReCa (the food and beverage sector) was substituted with at-home consumption of packaged products, which, to a large extent, were processed and packed by large processing companies in the EU. These processing companies relied on stable and regular supplies of seafood from Norway.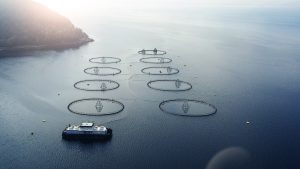 Brexit has also been a challenge. The UK is Norway's fifth most important export market when it comes to seafood. We are still figuring out how to make sure exports run smoothly now that the UK is no longer part of the EU. In early June, the Norwegian Government agreed on an important post-Brexit trade deal with the UK.
All in all, I believe our ability to find solutions has been an important driver these past two years. We have cooperated across the seafood industry, with authorities in Norway and abroad. In a time of crisis, we gain a better understanding of how important it is to make sure people have food. As one of the leading seafood nations, we have done our very best to maintain operations no matter the circumstances.
The new aquaculture strategy announced by the Norwegian Government in July stated plans for Norway to produce five million metric tons of salmon and trout per year by 2050. Is this realistic and how can it be achieved?
First and foremost, we must recognise that any growth needs to be sustainable – in our sector, as well as all others. If you cannot be sustainable, you will not have a 'license to operate'. It is as simple as that. New technology and innovation will be essential to ensure sustainable growth. Biological factors limit growth in the fjords where most of today's industry is located. To increase production, we have to use new and previously inaccessible areas of our coastline and land. Offshore fish farming represents one of the many exciting new developments within our industry. We are building the future of Norwegian aquaculture on the foundation of our unique maritime industry. This development will increase production substantially but also create many new jobs along Norway's coastline.
The need to facilitate sustainable growth is a predominant theme of the strategy. What does this mean for the industry and how can this be done?
All industries and production types leave footprints, but we need to make sure the footprints we leave as an industry are as small as possible. It is, however, important to keep in mind that we are dealing with biology which increases the complexity of all technological developments. We work with living creatures who are entitled to good health and wellbeing, and new production methods and developments will have to take such factors into consideration.
What role will technology and innovation play in the growth of the sector?
We are technology optimists. Innovation and technology are at the core of our industry. We are already investing large amounts to improve our work in providing sustainable and nutritious food. The technology and the knowledge developed in Norway can play an important role in transforming the global seafood sector. However, we must be very careful to avoid defining a specific technology as a basis for the whole industry. As long as the governmental regulations and the public requirements are met, the companies must be able to choose and develop the technology that is best suited for each situation.
References
1 www.oecd.org/agriculture/topics/fisheries-and-aquaculture/documents/report_cn_fish_nor.pdf
Kristin Langeland
Director of Communications
Norwegian Seafood Federation/ Sjømat Norje
sjomatnorge.no/norwegian-seafood-federation
https://www.facebook.com/SjomatNorge
https://twitter.com/SjomatNorge
Please note, this article will also appear in the eighth edition of our quarterly publication.