With robust economics and upside from potential downstream processing, Evolution Energy Minerals has commenced the implementation phase for the Chilalo Graphite Project in southeast Tanzania.
No two mining projects are alike. However, this is even more true when assessing graphite mines. Flake size has a significant impact on how and where the graphite can be used, but it also has a big influence on the prices received.
Evolution Energy Minerals' Chilalo Graphite Project
The rule is relatively simple – the larger the flake size, the higher the price received. For Evolution Energy Minerals' Chilalo Graphite Project in southeast Tanzania, this rule works very much in its favour.
Over 58% of the expected production from Chilalo will be as coarse flake concentrate, which is then transformed into high-value products such as expandable graphite and graphite foil. These products are used extensively in fire retardants, gaskets, and seals.
In 2022, the company entered into a memorandum of understanding (MoU) with Chinese graphite manufacturer, Yichang Xincheng Graphite Co Ltd (YXGC), for coarse flake offtake and downstream value-addition into high-value products. The MoU includes the key terms of a binding offtake agreement for 30,000 tonnes of Evolution's planned coarse flake graphite production over three years. This represents 56% of planned production over the first three years.
The MoU also sets out the parties' intentions to form a joint venture (JV) for the feasibility, construction, and operation of a downstream manufacturing facility, utilising YXGC's technology.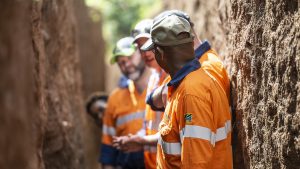 Evolution Energy's Managing Director, Phil Hoskins, commented: "YXGC is the leading producer of high-value expandable graphite and graphite foil for the electronics industry, and it makes logical sense for us to partner with them.
"Both parties recognise that combining Chilalo's high-quality product with YXGC's industry-leading technology will ideally position our planned downstream operation to supply western customers with expandable graphite, graphite foil, and a multitude of other high-value products. This will be a highly value-accretive Phase 2 development with a feasibility study to commence following finalisation of the joint venture agreement."
The value uplift for coarse flake product is significant. In its recently published updated definitive feasibility study (DFS), the company noted that, whilst graphite concentrate was forecast to sell for $1,614/t (on a FOB basis), expandable graphite could be expected to generate up to $6,446/t. On this basis alone, it is easy to understand why the company has commenced a downstream feasibility study to assess the opportunities to capture additional margin.
Fine flake graphite
In addition to the 58% of coarse flake graphite at the Chilalo Graphite Project, there is a further 42% of graphite that is classified as fine flake. Fine flake is suitable for use in lithium-ion batteries in electric vehicles (EVs), following milling and coating.
Graphite represents approximately 45% of a battery's mass (some 7-10 times the amount of lithium) and, more importantly, it is used as the anode in nearly every EV battery chemistry. As widely reported, battery-related demand for graphite is growing rapidly. It is expected to grow from ~50% of the graphite market to ~70% of the market in the coming 24 months.
Hoskins said: "When this threshold was crossed in the cobalt and lithium markets in 2016 and 2020 respectively, price increases of ~350% and 1,300% then followed respectively for those commodities over the ensuing 24-month period. Combined with the substantial under-investment in new supply, it is difficult to see how graphite will not experience a supply deficit and rising prices over a similar period."
Hoskins noted that testwork by the company in 2022, in conjunction with its US technology partner, demonstrated that fine flake from Chilalo could be milled and coated into coated spherical purified graphite (CSPG) that has properties that exceed that required by lithium-ion battery makers as a battery anode.
Evolution Energy departed from the norm in its testwork programme, opting for an 'inverted flowsheet' that purified the material before milling and coating it. Whereas conventional flowsheets utilise toxic hydrofluouric acid as the primary method of purification, Evolution Energy's process predominantly utilises thermal purification, which results in a very high purity of >99.9995% C.
By purifying the material first, the company has the opportunity to sell a high purity micronised product into value-added applications as well as a milled and coated product into the battery anode sector.
As with the coarse flake product, downstream processing of fine flake into CSPG would result in significantly increased revenue for the company. As such, the company has recently appointed US-based Stacy Newstead as CEO – Downstream and kicked off a study into the applicability of producing battery anode material in the US.
Newstead has a background in materials engineering and brings over 20 years' experience in working with the private sector and the US Government in the manufacture and sales of specialised high-value products.
"Over the last three years, we have seen the majority of the US understand the importance of securing our supply chains. Not only are they recognising the need to do it, they are prioritising moving their supply chains to trusted sources. This is evidenced by Vice President Kamala Harris' recent visit to Tanzania and efforts to strengthen ties," said Newstead.
Hoskins commented: "The need to secure an ex-China supply chain also extends to the processing of fine flake graphite into coated spherical graphite. The US Government has introduced a number of policy initiatives designed to bring critical mineral processing onshore in the US.
"Evolution has intentionally left its fine flake graphite uncontracted to an offtake agreement and intends to pursue vertically integrated downstream processing into coated spherical graphite in the US."
The battery anode and expandable graphite downstream plans are expected to show highlights of what are already economically robust results, as shown by a recent update to the definitive feasibility study (DFS).
The future of the Chilalo Graphite Project
Over the planned 17-year mine life, Chilalo is expected to produce 52,000 tonnes per annum of graphite concentrate, generating a post-tax net present value (NPV at 8%) of $338m and a post-tax internal rate of return (IRR) of 32%. The modest initial capital cost of $120m is expected to be repaid within 3.3 years, based on the strong operating margin of 52%.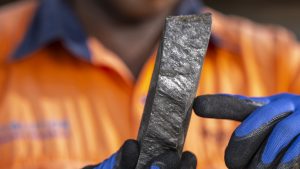 Hoskins commented: "We are extremely pleased with the results of the updated DFS, confirming Chilalo is a high-margin, low-CapEx development option, poised to become a meaningful producer of high-value graphite products and take advantage of the looming graphite supply shortage."
Following the release of the updated DFS, Evolution Energy has commenced the implementation phase for the project, with the relocation action plan (RAP) getting underway. This low-cost preparatory work should enable a seamless transition to construction once funding is finalised.
The RAP involves the relocation of affected individuals to a nearby location with the company funding and constructing the new housing and community facilities. The design and layout of the new facilities has been undertaken in close consultation with the local community, who are fully supportive of the mine and the potential opportunities that it affords them.
The RAP is just one component in the company's strong environmental, social, and governance (ESG) strategy. Evolution Energy recognises that sustainable success in resource development requires that its activities are conducted in a manner that respects the environment, local communities, the sovereignty of Tanzania generally (as the owner of its natural resources), and processes of good governance.
Funding opportunities
In 2021, the company attracted ARCH Sustainable Resources Fund LP as a cornerstone substantial shareholder. ARCH is a specialist emerging markets investment fund with deep experience in emerging markets, private equity, asset management, and legal and governance matters. A central element of ARCH's investment philosophy is its focus on ESG principles. ARCH also has significant project finance expertise and its associated funds have co-invested alongside several development finance institutions in Africa.
ARCH's significant investment not only underpins the company's commitment to ESG standards, but also provides the company with critical insight into the expectations of ESG fund managers with respect to ESG standards. Together with its prioritisation of ESG performance, this will enable Evolution to be positioned as an attractive investment proposition for a wide range of ESG-focused fund managers.
Hoskins said the funding strategy took a significant step forward in April with the company executing a Framework Agreement and Shareholders Agreement with the Government of Tanzania for the development of Chilalo.
"In Tanzania, the Government holds a 16% interest in mining development projects, with construction loans to be repaid from production revenues," Hoskins commented.
The agreements entered into by the company are in line with other international resources companies and provide fiscal and operating certainty for the company and financiers. The next stage of the financing strategy involves the appointment of an independent engineer to review the definitive feasibility study and project on behalf of financiers.
Whilst the company's financial advisors are pursuing a traditional debt/equity funding model, the company is also open to strategic investments at either the project or corporate level, particularly if it aligns with the company's vision to become a vertically integrated graphite products producer.
With governments around the world mandating the shift from internal combustion engine vehicles to electric vehicles (EVs) over the coming decades, the demand for EV batteries is set to increase sharply.
Hoskins said: "The timing couldn't be better to be bringing the development-ready Chilalo graphite project towards a financing and construction decision. I couldn't be more excited by what 2023 holds in store for Evolution's shareholders as we strategically assess the financing and development options available to us."
Please note, this article will also appear in the fourteenth edition of our quarterly publication.