Cirba Solutions is leading a legacy of a circular battery supply chain for end-of-life batteries in transportation, sorting, processing, and more.
Cirba Solutions is the combined entity representing Heritage Battery Recycling, Retriev Technologies, and Battery Solutions, creating the most experienced and comprehensive battery management and materials platform, enabling a circular battery supply chain for the industry.
This entity signifies where circularity and batteries come together. As the only full-service provider of any battery chemistry (cross-chemistry), format, or size, they also cover services including collection, sorting, storage, logistics, and processing, making them uniquely positioned to meet their mission of empowering an electric future to accelerate human progress.
Enhancing the lithium and cross-chemistry supply chain means having services throughout a sustainable battery lifecycle to ensure traceability and a trusted process. With decades of real experience, advancing technologies, and proven results, it is their standards that elevate them above competitors.
David Klanecky, CEO of Cirba Solutions, explained: "Our society is experiencing a rapid electrification transformation. Cirba Solutions is the most experienced and trusted company to handle the entire battery management process for our customers and we have the expertise to grow our services to meet the scope and scale of the upcoming future."
Sustainable battery solutions
Batteries support connectivity, technology innovation, and more. That is why it is no secret that the future of mobility, telecommunication, and consumer electronics starts with battery recycling. And Cirba Solutions is about sustainable battery solutions for the market.
It is estimated that the demand for batteries will double over the next six years, and with this rise in demand comes the increase in the need for materials to produce these batteries. With the ever-looming increase in batteries that are reaching their end-of-life comes the possibility for these materials to get recycled and reintroduced into the value chain. This mission comes with several challenges including processing to yield the highest outcome, logistics, and end-of-life processing.
Cirba Solutions addresses these challenges with a full suite of services that can be customised to the needs of their customers.
"We are the only player in the market today that has an operational, differentiated business with a full suite of capabilities to address lithium-ion and cross-chemistry battery demand," stated Klanecky.
This full suite of capabilities includes their material upgrading roadmap which focuses on advancing to provide cathode-grade material so it can be placed back into the value chain, securing a domestic resource for new battery materials.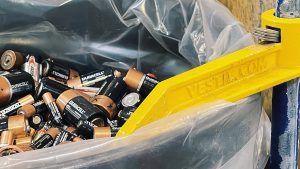 Improper battery disposal and Cirba Solutions' answer
Batteries that contain potentially hazardous, yet valuable materials, such as metals, can cause concern when disposed of improperly. This is because there is potential to contaminate the air, water, and soil if said batteries are placed into municipal landfills. Lithium-ion batteries can pose a safety risk to waste management workers when they are handled improperly because they could have a thermal runaway event (i.e., fire), potentially adversely affecting the transportation vehicle, material recovery facility, landfill facility, and all associated workers, among others.
A 2018 survey by the California Product Stewardship Council found lithium-ion batteries as the source of 40% of the fires at waste management facilities. While we know that fires occur, the origin of the discarded lithium-ion batteries is not noted in the results. Common potential sources of batteries entering the waste stream include residential curbside pick-up and business waste removal services.
A recent study from WEEE Ireland (Waste Electrical and Electronic Equipment) showed that 43% of adults under the age of 34 discarded their batteries into the municipal solid waste system.1  Education on where and how to recycle batteries is the first step to mitigate potential opportunities for a thermal runaway event.
Safe and proper packaging of end-of-life batteries is an area Cirba Solutions provides significant help with because they understand the challenges that people face. For standard recycling of batteries, they have simple turnkey solutions that can be delivered right to your door. Also, knowing that some go through batteries at a higher rate, there are multiple sizes available to choose from.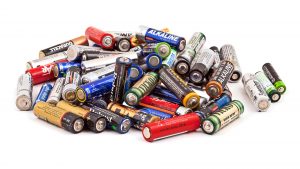 Packaging and shipping are essential for safe battery recycling
Businesses with larger formats of batteries or high quantities have different considerations. Electric vehicles (EVs) is a common larger format lithium-ion battery. These vehicles are replacing gas and diesel-driven vehicles in many countries. Lithium-ion vehicle batteries have gained popularity for various reasons, including high power-to-weight ratio, high-temperature performance, low self-discharge, and high battery life.
As more and more of these batteries come onto the market, their packaging and shipping are critical to safe recycling. When palletising materials, they may slip off a pallet during transit, tip, or leak.  Also, when terminals may become exposed, there is potential for a fire to occur. This is why the Cirba Solutions team works with their customers to help provide education and training on how to properly pack and ship materials.
Another main consideration when handling batteries at end-of-life is transporting them safely – an art at which the Cirba Solutions team has crafted safe and customisable packaging solutions for all battery types including damaged, defective, or recalled batteries.
Damaged batteries can be inside any type of device, no matter the size or format, and should be handled and sorted with extreme care. These batteries should not be thrown away as they can potentially leak chemicals into the ground, polluting the soil and water sources. If thrown away, these batteries could cause fires in waste collection facilities or transportation vehicles.
It is important to also know that the U.S Department of Transportation (DOT) has special regulations on the shipping of a damaged battery. These guidelines include special handling, and clear labelling, and could include restrictions on the avenue of transportation. The team works with their customers to identify the signs of a damaged or defective battery and then how to store and ship them properly and safely.
One step in the recycling process that is often overlooked is the packaging. A standard end-of-life battery has different packaging requirements than a damaged, defective, or recalled battery (DDR). Items considered DDR must adhere rigorously to DOT 49 cfr 173.185. This calls for a strong, impact-resistant, UN-rated package. All of Cirba Solutions' products meet or exceed the applicable regulations.
Once batteries are packaged safely, the next challenge is the logistics of getting these batteries to the recycler safely and efficiently. That is why the company wrote the playbook for navigating the complex logistics of battery disposal collection – mitigating risks and enhancing safety features.
End-of-life battery disposal does not just end at finding a place to send your batteries, it is about ensuring compliance, efficiency, and safety. Therefore, creating safe battery transport is now more important than ever. Cirba Solutions' fleet of battery transportation experts ensures safety while providing state-of-the-art, green transportation of your end-of-life batteries. It is more than sustainable recycling, it is a sustainable circular battery supply chain.
Creating complete end-of-life solutions for batteries is about creating long-lasting programme management that will last for years to come.
Sustainability is the key to the future of the battery market. For more than 30 years, Cirba Solutions has been focused on contributing to the full circular battery supply chain by collecting end-of-life batteries. They chart a path forward for their customers by providing industry-leading safety with fully traceable end-of-life battery management and materials.
References
Please note, this article will also appear in the eleventh edition of our quarterly publication.