Steve Promnitz, Managing Director at Lake Resources, highlights the challenges facing the lithium sector for batteries and EVs and how the company's flagship Kachi Lithium Brine Project can provide solutions.
Growth has been exponential in electric vehicles and new gigafactory battery plants. But there are three burgeoning issues:
1)   Battery performance – demand for consistent, high-quality inputs into batteries;
2)   A significant supply squeeze – demand for urgent new battery materials production; and
3)   Better ESG outcomes – demand for low carbon battery materials using less water.
One company is uniquely positioned to provide the solution to all three issues in the lithium sector for batteries and EVs. Lake Resources NL (ASX:LKE; OTC:LLKKF) is a clean lithium developer utilising clean, direct lithium extraction technology to produce consistent high-purity lithium with significant ESG benefits from its Kachi Lithium Brine Project in Argentina. This clean lithium process is based on new climate technology from California, provided by Lake's technology partner, Lilac Solutions Inc, backed by some of the world's most prominent technology investors.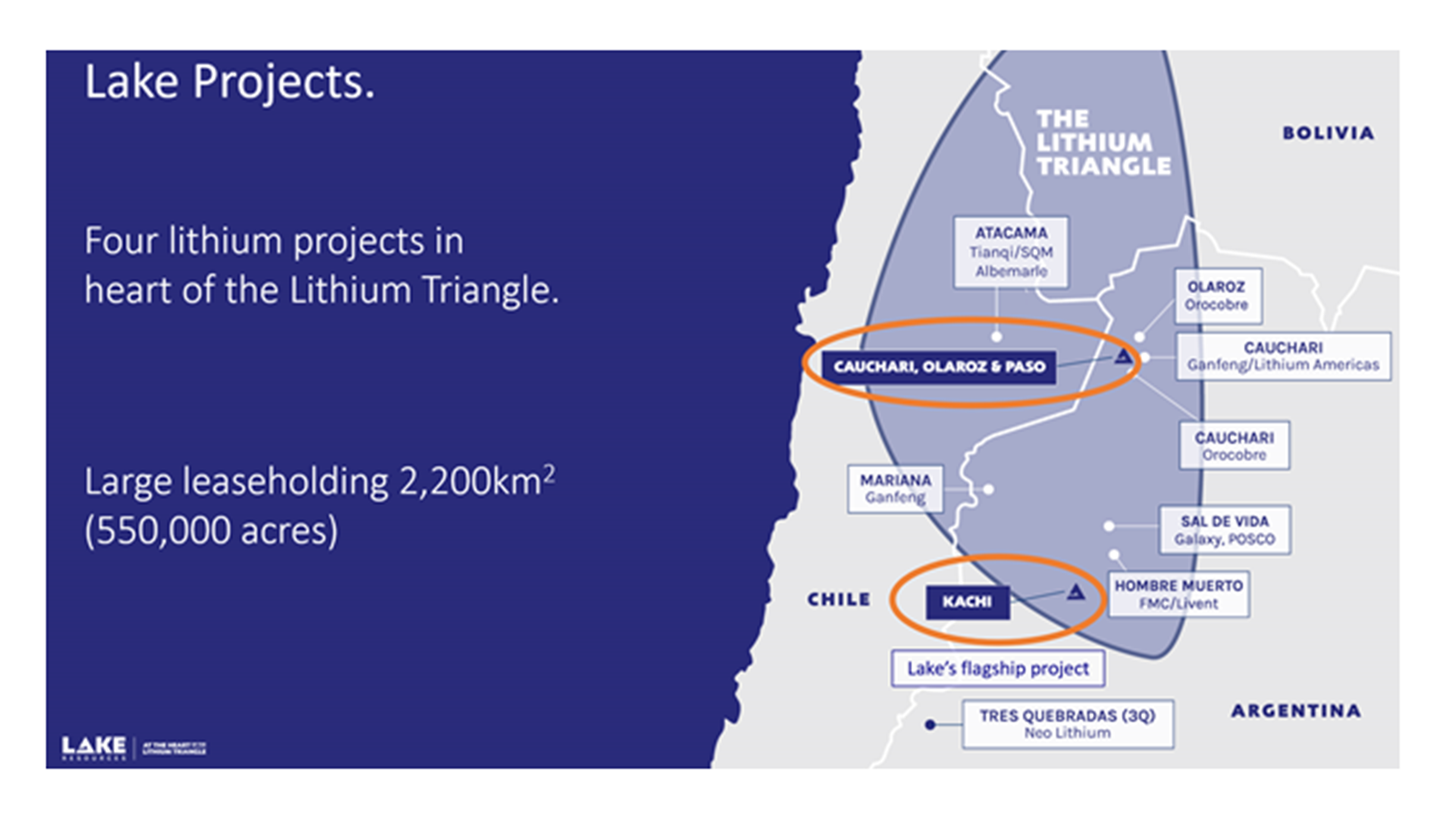 ESG benefits
As EV and battery demand increases, the sector is demanding sustainable products. Lithium comes from brines in arid regions of South America, and new constraints are being placed on traditional brine producers that use evaporation to produce lithium.
A key difference is that using a fast and efficient direct lithium extraction method (DLE) enables Lake Resources to be a cost-competitive supplier of high-purity and cleaner lithium carbonate with a small carbon footprint through low water use and minimal land use. Lilac's DLE process adapts a widely used water treatment process called ion exchange to produce lithium. Water use is reduced as virtually all water (brine) is returned to its source without changing its chemistry, apart from lithium removal. Land use is significantly reduced due to the removal of evaporation ponds, and the use of solar hybrid power ensures a low carbon footprint.
Achieving high-purity lithium
High-purity battery quality lithium carbonate (99.97% purity) with very low impurities has been produced, by an independent third party, Hazen Research, in Colorado. This product has performed similarly to Tier 1 products in nickel-rich NMC622 lithium-ion batteries, based on initial testing by the respected testing firm Novonix in Canada. Recent battery recalls in EVs (Hyundai Kona, GM Chevy Bolt) are a reminder of the need for low impurities in lithium-ion batteries to avoid potential performance issues.
Scalability to meet demand
Lake Resources has several large brine projects, and the Lilac DLE process is modular and fast, which allows for the scaling up of production. Based on recent studies, the flagship Kachi Lithium Brine Project will be a long life, high value, low-cost operation, with an annual production target of 25,500 tonnes of battery quality lithium carbonate in 2024. An expansion to double production to 51,000 tpa LCE is underway due to increasing demand as part of a detailed Definitive Feasibility Study (DFS) targeted for completion in Q2, 2022.
High demand and limited new lithium supply
Lithium-ion batteries represent one of the 21st up up century's most significant growth areas. Benchmark Mineral Intelligence (BMI) has recorded 247 battery gigafactories planned by 2030, with 151 operating by the end of 2021. BMI states that 'demand continues to outstrip raw material and chemical supply'. That means eight to ten times more lithium production is needed by 2030 to satisfy demand than was produced last year.
Due to limited investment in upstream supply in recent years, limited new supply is available and even less of high purity battery quality cleaner lithium. A 'perpetual deficit' is a prospect beyond 2030 until more projects are developed.
Lilac deal highlights need for sustainably produced lithium
Lake formally partnered with Lilac Solutions for the technology and funding to develop the Kachi Project. Lilac will contribute to technology, engineering teams, and an on-site demonstration plant, earning a maximum 25% stake in Kachi based on performance-based milestones. After reaching its interest, Lilac will be expected to fund approximately $50m, equivalent to its pro-rata share of future development costs.
Lilac is well-funded following a recent $150m Series B funding round from successful tech investors and battery/EV makers. BMW, Korea's SK Materials and a Sumitomo Corporation subsidiary, Presidio Ventures, were among the investors to have contributed. Existing investors Breakthrough Energy Ventures and MIT's The Engine also participated with Lowercarbon Capital and T. Rowe Price.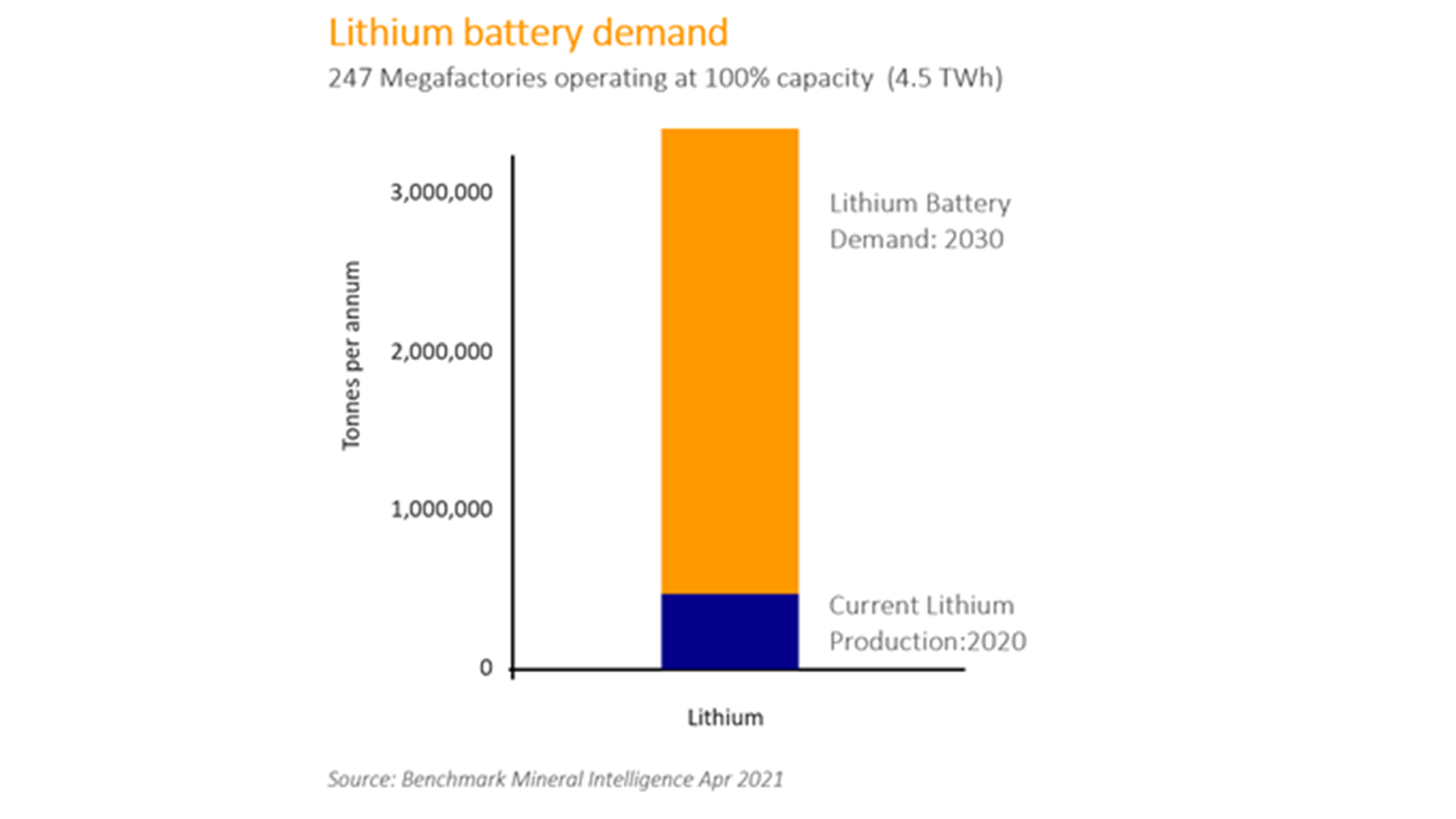 "The lithium industry must innovate to meet the needs of battery and automotive companies, otherwise the transition to electric vehicles will be delayed," Lilac CEO Dave Snydacker said.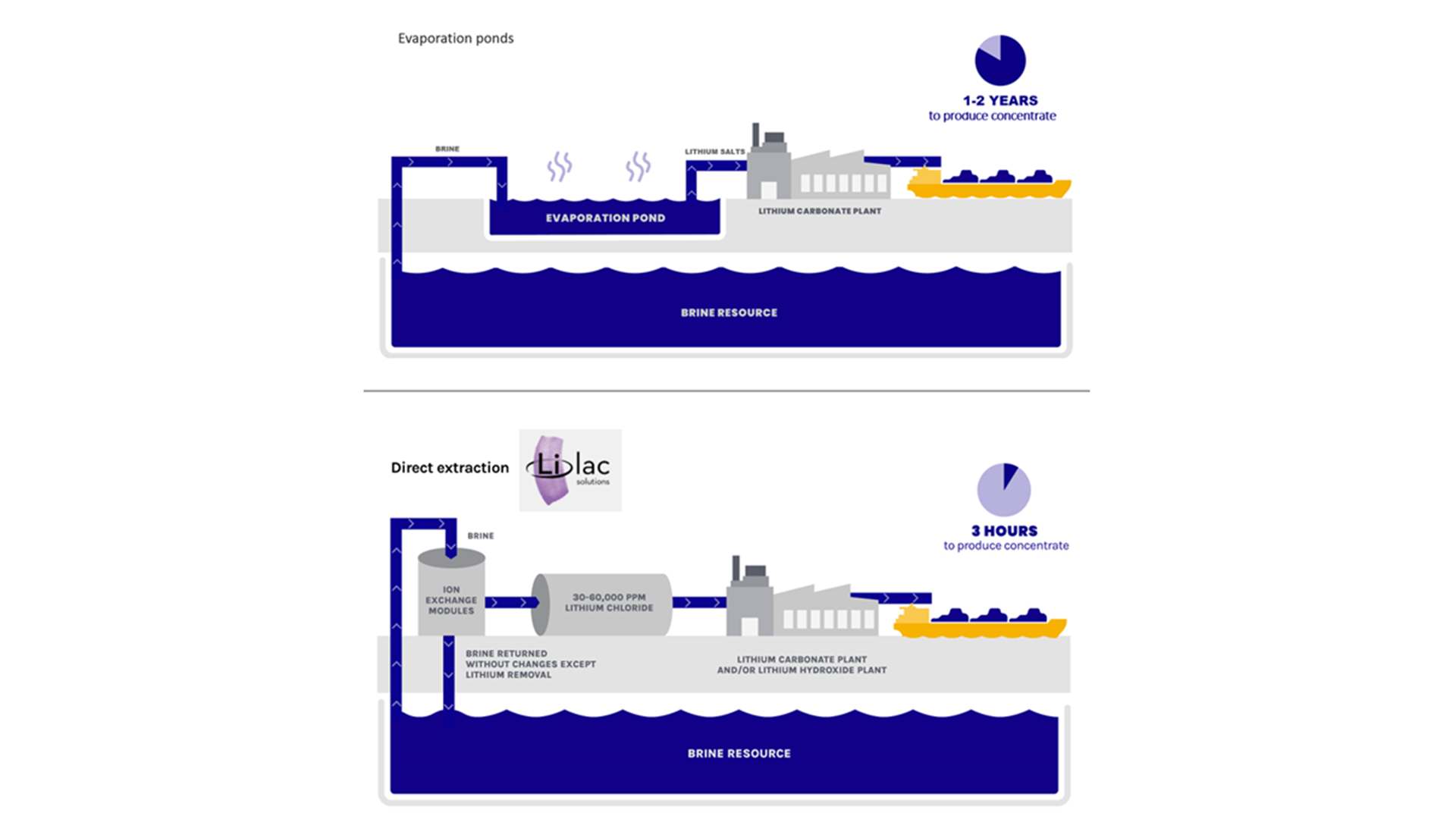 "As automakers shift to battery power, concerns about national security, sustainability, and human rights have led to increased scrutiny of the lithium supply chain globally," Lilac stated.
"Lilac is partnering with lithium brine resource developers to ramp production while protecting local communities and ecosystems."
"Lilac's technology is truly disruptive as it has taken a non-mining climate tech solution, which cuts operating costs and boosts lithium recovery," Lake's CEO Steve Promnitz said.
"The process is modular, producing high-purity lithium and can be ramped up quickly through pilot to commercial stages. This equity stake ensures a rapid commercialisation of the Lilac technology at the Kachi site."
Pilot plant supports DLE process
Pilot plant modules have been operating at the Lilac facility in California since early 2020 using brines from Lake's Kachi Lithium Brine Project. The pilot plant produces lithium chloride for conversion into lithium carbonate.
Lilac will fund a demonstration plant on-site at the Kachi Project in early 2022 to produce a minimum of 2.5 tonnes of lithium carbonate of high-purity for battery/cathode testing.
Robust project financials
Strong financial results from the Pre-Feasibility Study (PFS) on the Kachi Project showed a project value NPV8 of $1.6bn, a 35% IRR and high operating margins with an annual EBITDA of $260m. The capital cost (CAPEX) estimate is $544m, with an operating cost (OPEX) of $4178/tonne Li2CO3. Kachi has a large indicated and inferred resource of 4.4 Mt LCE, and only 20% of the current resource is used over 25 years of production. The PFS and the current DFS are being conducted by respected engineers, Hatch.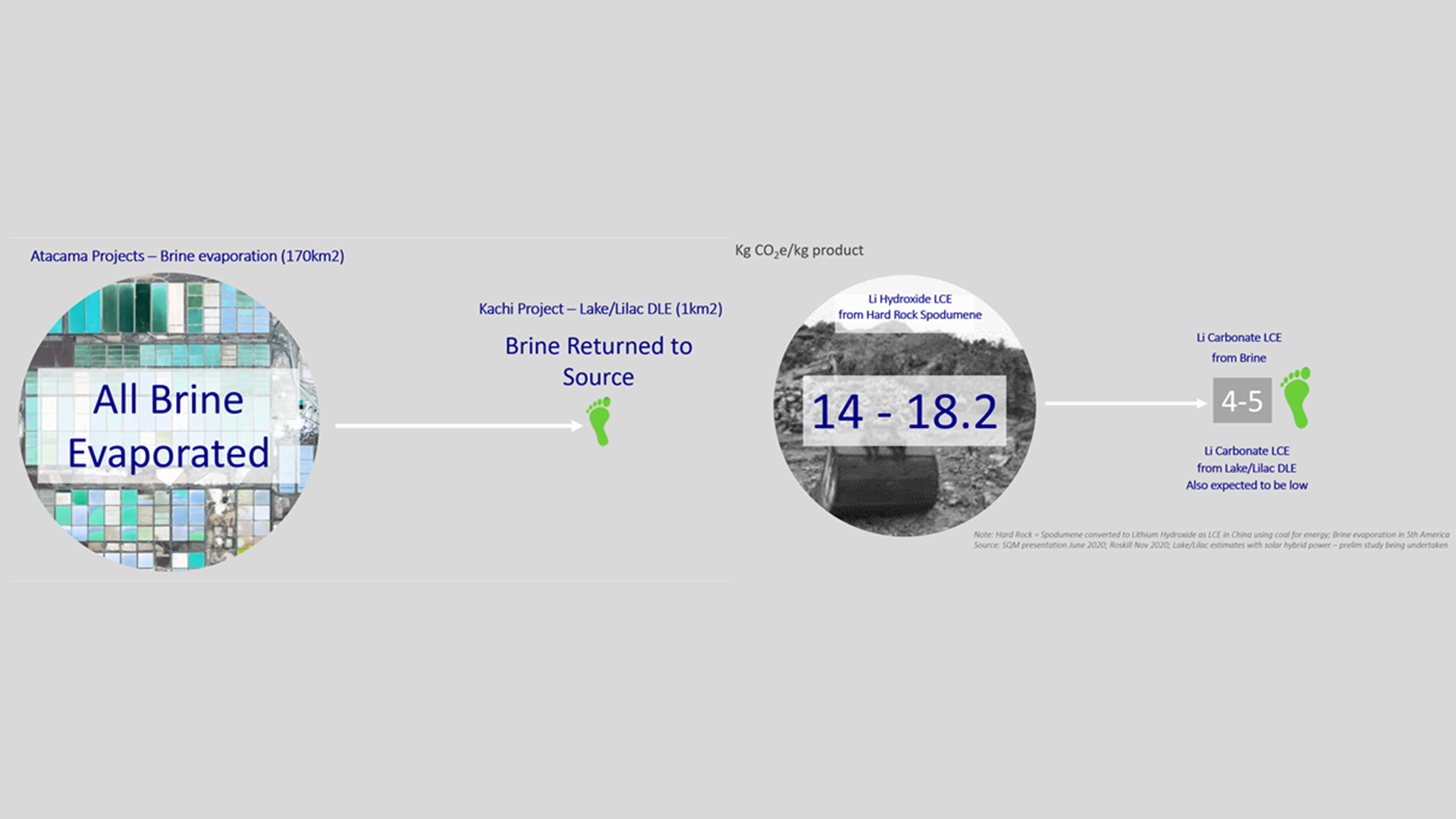 Project finance available from Export Credit Agencies
Project finance is indicatively available for the Kachi Project for up to 70% of the total finance required from the Export Credit Agencies of the UK and Canada, with long duration, low-cost debt finance. With both high demand and significant finance available, more projects can be developed and scaled up.
UK Export Finance (UKEF), the Export Credit Agency (ECA) of the United Kingdom, provided a strong Expression of Interest to support approximately 70% of the total finance required for Lake's Kachi Project, subject to standard project finance terms, including, among others, suitably structured offtake contracts, the successful completion of Kachi's Definitive Feasibility Study (DFS), and an Environmental and Social Impact Assessment (ESIA) to Equator Principles.
The ECA-led project finance will deliver a significantly lower cost of capital than traditional financing structures, with the principal repaid over 8.5 years post-construction.
UKEF indicated that debt finance is available to support expanded production to 51,000 tpa of high-purity lithium carbonate equivalent. UKEF's Expression of Interest will encourage a UK-led sourcing strategy while allowing flexibility for other leading ECAs to participate.
Canada's Export Credit Agency, EDC, also provided a Letter of Interest to potentially work alongside UKEF to jointly support up to $100m of the 70% of the total finance required, subject to similar standard project finance terms as UKEF. This funding would be direct lending to the project, subject to sourcing requirements. Such direct lending would be at the OECD Fixed Commercial Interest Reference Rate (CIRR); currently, 1.77% fixed for the life of the loan. Approximately two-thirds of the debt finance could be provided at the OECD CIRR interest rate.

Discussions continue with potential offtakers and electric vehicle makers with a few projects globally with uncommitted lithium offtake. Battery and cathode makers have been interested in the high quality of the Kachi product, and EV makers have shown interest in the low CO2 footprint, low water use and low land use.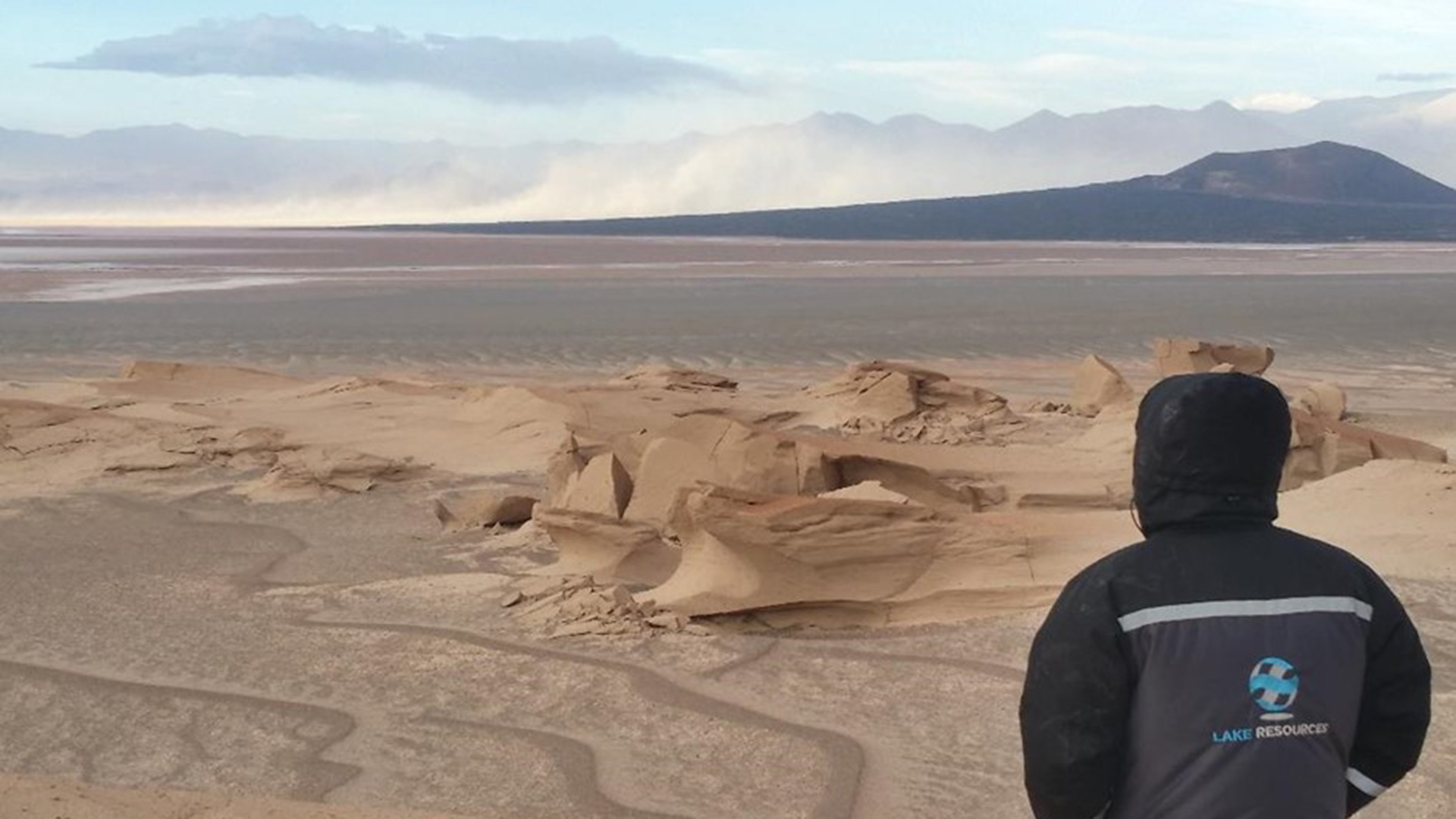 A solution to the lithium supply squeeze
The 'Lithium Triangle', home to Lake's key projects, is attracting lithium merger and acquisition (M&A) deals. Chinese entities have acquired Canada-based Neo Lithium Corp, as well as Canada's Millennial Lithium, both lithium brine projects in Argentina.
The increased focus on the Lithium Triangle has highlighted Lake's series of scalable assets. Matching these projects with efficient direct lithium extraction will lead to Lake becoming a significant low cost, reliable source of clean lithium supply.
Blackrock CEO Larry Fink said he thinks the next 1,000 unicorns, or start-ups worth at least $1bn, will be involved in climate technology.
Lake's technology partner, Lilac, has major tech sector supporters, aligning breakthrough climate tech with upstream environmentally-friendly battery materials supply from Lake's series of large lithium brine projects.
Applying Lilac's innovative technology at Lake's lithium projects will facilitate the production of sustainable, high-purity lithium at a time when the world's EV and battery industry desperately needs new and independent sources of supply.
Please note, this article will also appear in the eighth edition of our quarterly publication.

Go to this partner's profile page to learn more about them