Graphenest and Hubron have entered a new strategic partnership that is aimed at commercialising graphene.
Graphenest, a Graphene Flagship-associated member, and Hubron, a leading manufacturing company, share an aim of exploring, developing, and commercialising graphene. In order to do so, they will examine compounds with unprecedented electromagnetic interference (EMI) shielding performance for electronic enclosure manufacturing.
The new product line includes a graphene-based thermoplastic suitable to be implemented as an excellent EMI shielding solution in medium-high and high frequencies (for 5G and beyond).
Graphene's potential to be used at a large scale
Graphene was first isolated in 2004. Since then, it has found hundreds of innovative applications due to its unique properties, including sensors, electronics, energy storage, and healthcare.
Additionally, graphene research spun out the discovery of a new family of two-dimensional and layered materials. Combined with graphene, they open a whole new world of possibilities.
However, commercialising graphene for everyday use has proved challenging because of the difficulty faced when scaling up its production. This new partnership aims to bridge this gap by using their skills and expertise to advance the use of graphene in technology.
The new partnership will bring huge advantages to the graphene industry
Graphenest's knowledge of graphene production, the development of shielding products, IP expertise, and Hubron International's expertise as a specialist in black masterbatch and conductive polymers for electronic parts will be critical in the steps towards commercialising graphene.
An associated member of the Graphene Flagship since 2017, Graphenest is a nanotechnology company that has been involved in multiple pioneering endeavours – including the partnering project NeuroStimSpinal, which has been developing materials for the recovery of spinal cord injuries. Graphenest provides automotive and electronics sectors with conductive graphene-based EMI shielding solutions. Its primary objective is to replace metals with cost-effective, ultralightweight, and sustainable conductive coatings and plastic systems.
Hubron International is a leading global specialist in masterbatch. They have an extensive portfolio of specialist grades, including conductive compounds, engineering masterbatches, specialist polymers, and additive masterbatches with graphene, graphite, and other materials to improve end-product properties and performance.
Producing new materials for graphene commercialisation
Due to the collaboration, the market can now use graphene-based shielding solutions to replace the conventional dense, rigid, and time and energy-intensive old-metal enclosures. This advancement is critical for commercialising graphene by making it easier and more efficient to use.
"The usage of polymeric compounds based on graphene that can effectively shield high concentrations of microwaves and millimetre waves (5G/6G) will be crucial in the near future," explained Bruno Figueiredo, co-CEO of Graphenest.
He added: "We are observing a rise in interest, mostly because more electronics and e-mobility devices are linking to one another. As a result, we can no longer completely rely on traditional, unsustainable metals."
With this in mind, the collaboration between Graphenest and Hubron is especially welcome.
Robert Laurent, Technical Director of Hubron International, commented: "The combination between Graphenest technology and Hubron's masterbatch and compound expertise will boost the innovation towards the best conductive polymers, specially made for the E-mobility and Electronics industries."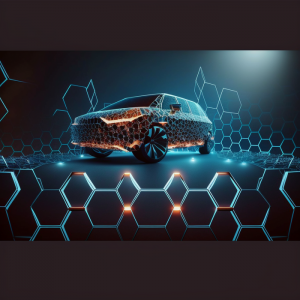 Now, the teams at Graphenest and Hubron will continue to bring even more different coatings and plastic compound solutions into the market.