Reflecting on Cabot Corporation's extensive range of conductive carbon additives, Paolina Atanassova, Senior Business Development Manager at Cabot Battery Materials, explains how they are supporting lithium-ion battery applications.
Electrification, shared mobility, and autonomous driving are reshaping how people and goods move in many aspects of life. With growing concerns about climate change and environmental degradation, the automotive industry stands on the edge of a new era. It is clear that significant regulation and government intervention are required to get more electric vehicles on our roads in the next decade. And sustainability has become a strategic priority for all companies across all industries.
As a world-leading speciality chemicals and performance materials company, Cabot Corporation has offered innovative technology solutions and quality products to the automotive industry for nearly 140 years. We help manufacturers improve the performance, safety, and lifespan of vehicles and their parts.
In recent years, Cabot has extended its product portfolio and formulation capabilities of conductive carbon additives (CCA) in the battery materials business and is fully committed to supporting lithium-ion battery market growth. We strive to be the most innovative, respected, and responsible leader in our markets — delivering the performance that makes a difference.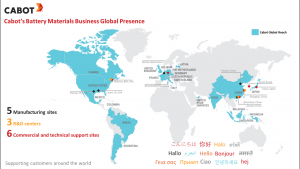 Delivering battery performance through particle technology expertise
As demands on battery manufacturers grow with the increased use of advanced batteries in the automotive industry and storage of electricity on the grid, battery manufacturers are looking to performance materials companies like Cabot to provide innovative materials solutions to enable the next generation of lithium-ion batteries.
We bring unparalleled scale and technological depth when assisting our customers with a broad range of carbon and other particulate materials, such as metal oxides and composites. Our capabilities span the entire range of carbon particle size, morphology, and surface properties desired by battery manufacturers and include the ability to control key properties independently, allowing our products to provide the specific functional properties valued in the customer's application.
Broader product portfolios and formulation capabilities
Our recent acquisition of a leading carbon nanotube producer to the battery sector strengthened our position in conductive carbon additives and dispersions to serve this market.
Today, Cabot has a unique position as the CCA supplier in the market with the broadest product portfolio serving customer needs in various lithium-ion battery applications. The product offerings include commercially proven carbon black (CB), carbon nanotubes (CNTs), carbon nanostructures (CNS), as well as related dispersions and blends.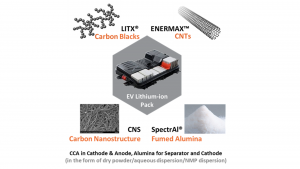 Meanwhile, our fumed alumina, fumed silica, and aerogel products can also be used as additives to cathode active materials and electrolytes to improve the stability, cycle life, and safety of lithium-ion battery cells and packs.
Our commitment to sustainability
The COVID-19 pandemic has challenged companies in ways never envisioned, testing the viability of business strategies, company culture, supply chains, and the operating protocols that protect employees and communities. Cabot was no exception. While we have constantly evolved throughout our nearly 140-year history, the level of challenge in 2020 and 2021 served as a catalyst to increase the breadth of our sustainability ambitions and the importance of this work.
We have learned over the years that our commitment to sustainability is not just about acting responsibly but also about identifying and acting on opportunities. Increasingly, the challenges our customers face are sustainability challenges. Our ability to develop innovative technologies to meet these challenges, conserve resources across our value chain and grow our position in the circular economy is enabling us to maintain our reputation and prepare our business for the future.
Through our commitment to operate responsibly, conserve resources, and develop innovative performance materials, we will be relentless in pursuing solutions to the sustainability challenges of our customers, our communities, and our world.
Our global network currently consists of 45 manufacturing facilities throughout 20 countries.  All are joined by our commitment and continued dedication to safety, health, and environmental leadership and progress.
Innovative solutions for the lithium-ion battery
Driving application innovation in new and attractive markets is a core tenet of our strategy.
Innovation at Cabot starts from what the market needs. We are customer-centric when it comes to new product development. We look at the significant trends in the lithium-ion technology space, and we develop solutions to address industry challenges. Our new product development is focused on improving the performance of lithium-ion batteries, which includes increasing higher energy density and fast charge, reducing cell cost, and improving battery safety.
LITX® Carbon Black
Compared to conventional carbon additives, our LITX conductive carbon black products have unique properties for battery applications that can enable faster-charging capability, improved low-temperature performance, higher energy density, and reduced cost of ownership with lower loadings. LITX HP CB is specially designed for high-capacity lithium-ion batteries. With its high structure and the controlled specific surface area, LITX HP CB can deliver high conductivity, high-rate capability, and longer cycle life with minimum gassing.
LITX HP CB has even greater benefits when used together with CNTs. Blends of LITX HP CB and CNTs can be used without sacrificing the battery performance compared to when only CNTs are used. The cycle performance of LITX HP and CNTs blends in the battery is also comparable to when 100% CNTs are used.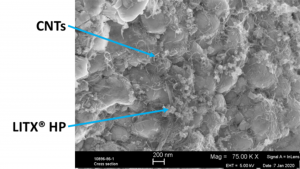 ENERMAX™ carbon nanotubes
Carbon nanotubes are tubular one-dimensional structures that provide excellent electrical and thermal conductivity and good mechanical properties. They can enhance battery performance such as power, cycle life, and energy density. The ENERMAX carbon nanotubes series of products provides numerous options in morphology, aspect ratio, purity, and form, either in dry powder or in liquid dispersion. The flexibility in choice can help customers find optimal solutions for target applications.
For example, the ENERMAX 6 carbon nanotubes series has a high aspect ratio and specific surface area. It features improved conductivity in electrodes even at low loadings. In addition, the high specific surface area helps to contain electrolytes and thus enhances ionic conductivity. As a result, it can deliver outstanding charging and discharging capability. Other ENERMAX grades have benefits in processibility with a lower range of viscosities.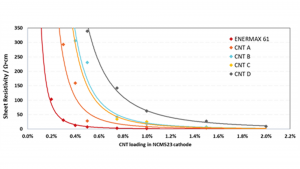 Strong R&D commitment in new material development for next-generation batteries
Cabot has a history of successful joint ventures for technology and business development. We are proud to have been selected as part of four US Department of Energy projects along with other industrial partners and national institutions to research, amongst other key areas, low-cost low-cobalt cathode formulations and silicon-carbon anodes. We are open to partnerships that lead to innovation and growth for both parties, and we are exploring partnerships in Europe where we have a considerable manufacturing capacity and well-established technology centres.
Our scientists and engineers at our global R&D centres work towards making innovative products at a scale required by the global market and understanding the impact of such products in the application using state-of-the-art analytical characterisation techniques and lithium-ion battery testing.
Growing together with customers
Our customers worldwide trust our solutions to help them address their needs and accelerate innovation in key applications – creating value and delivering an advantage over the competition.
With great support from our local commercial and technical teams worldwide, our products have been commercially qualified by almost all key lithium-ion battery manufacturers.
Secure supply capability, a strong corporate commitment to the battery materials business, innovation in new products and applications, and pursuit of sustainable development are integral to our business strategy at Cabot. We believe these goals serve as a motivational force for our employees and will differentiate our company from the competition in the eyes of our customers and other stakeholders.
References
1 Cabot sustainability report, 2020. www.cabotcorp.com/responsibility
2 Cabot Battery Materials Product Brochure www.cabotcorp.com/solutions/applications/electronics-and-energy-storage/batteries
Please note, this article will also appear in the eighth edition of our quarterly publication.