Cornish Lithium's CEO and Founder, Jeremy Wrathall, outlines how the company aims to extract battery metals that are vital to the UK's future green energy transition.
Cornish Lithium is using modern technology to evaluate the potential to responsibly extract vital battery metals in Cornwall, UK, from both geothermal waters and the rocks which underlie the county. The company's mission is to establish a strong, sustainable, and environmentally responsible extraction industry in the UK for minerals which facilitate the transition to a green economy via renewable energy and battery power storage.
Since the company's inception in 2016, the team has assembled historic and contemporary data in order to build an extensive understanding of the sub-surface geology and mineral ownership of Cornwall. The company's proprietary digital models are used to inform ongoing exploration programmes and have already resulted in the identification of project areas which are considered to have commercial potential. The company therefore continues to secure additional agreements with key mineral owners in Cornwall over areas that it believes hold potential for commercial extraction of lithium and other minerals.
Whilst Cornish Lithium remains focussed on extracting lithium from geothermal waters, the company is also exploring opportunities to extract lithium and other battery metals from hard rock using modern mineral extraction techniques. Cornish Lithium is based in Penryn in Cornwall, and currently has a team of ten geoscientists, two mining engineers, and two digital archivists.
Why lithium is important
As the world transitions to a decarbonised economy, a vast amount of low-carbon technologies such as wind turbines, solar panels, and electric vehicles will need to be built. In particular, batteries will become increasingly important to store renewable energy at a grid scale, and to power our electric vehicles.
According to the Volkswagen Group, lithium is the 'irreplaceable element of the electric era', making lithium vitally important for the future economy as the world moves towards renewable energy sources and away from a reliance on fossil fuels. The UK aspires to be a leader in the move towards electric vehicles and renewable power in order to realise its net zero carbon ambitions by 2050, and will therefore need significant quantities of lithium in order to build batteries for the domestic car industry.
The EU has also recently released a list of 'critical raw materials' and made the following associated statement: "The List of Critical Raw Materials has been updated to reflect the changed economic importance and supply challenges based on their industrial application. It contains 30 critical raw materials. Lithium, which is essential for a shift to e-mobility, has been added to the list for the first time."
COVID-19
The COVID-19 crisis has highlighted the fragile state of current global battery supply chains, demonstrating that these are now highly vulnerable to disruption given that Europe and the UK are heavily reliant on imports. The pandemic has also focussed attention on what a world with fewer carbon emissions could look like and has provided an impetus for accelerating the transition towards electric vehicles and renewable energy in order to reverse the process of climate change. Both these factors have highlighted the need for a domestic, sustainable supply of battery raw materials in the UK and Europe, especially as the region currently produces no battery quality lithium chemicals – making it totally reliant on imported materials. In addition, when battery materials are imported, it is rare to have any oversight of the conditions in which these materials are produced. Only by producing battery materials domestically can the provenance and environmental credentials of such materials be assured.
Metals such as lithium, tin, and cobalt are vital components of batteries used in electric vehicles and energy storage. The opportunity to extract such metals in Cornwall represents a key strategic advantage for the United Kingdom. In a recent publication, the Faraday Institution estimated the UK would need approximately 59,000 tonnes of LCE (Lithium Carbonate Equivalent) per annum in order to build sufficient batteries for electric vehicles by 2035. Clearly, if at least some of this demand can be satisfied by domestic sources of lithium this would create additional value for the local economy and enable a vertically integrated electric vehicle battery supply chain within the UK. The company believes that Cornwall has the potential to be the 'Battery Metals Hub' for the UK and aspires to build a new industry for the future in an environmentally responsible and sustainable manner.
Successes and hurdles
Cornish Lithium has had a number of recent achievements which are accelerating the company's path to the commercial extraction of lithium from both lithium-enriched geothermal waters which circulate naturally at depth in Cornwall, and from minerals contained within the granite rock itself. Highlights include:
Identification of some of the world's highest grades of lithium and best overall chemical qualities encountered in published records for geothermal waters anywhere in the world;
Drilling and evaluation of two 'shallow' wells (each approximately 1km deep) into lithium-bearing geothermal waters near United Downs in central Cornwall, which have generated encouraging results and provided proof of concept for the potential extraction of lithium from these waters;
Drilling and evaluation of 41 drill holes (each approximately 40m deep) in a prospective hard rock granite source of lithium in a former china clay pit near St Austell, the success of which has led to management's decision to fast track further exploration and development of this project. Detailed metallurgical test work is ongoing, but results so far are highly encouraging;
A recent successful crowdfunding round raised over £5m (more than three times the £1.5m target) in less than three days via the equity crowdfunding platform Crowdcube, demonstrating strong support from over 3,700 investors;
Ongoing acquisition of mineral rights agreements in the county; and
Ongoing acquisition and processing of historic and contemporary data enabling the company to continue to build our proprietary subsurface geological models.
Lithium-enriched geothermal waters
Lithium assays from deep geothermal waters pumped to surface during a recent airlift test at the United Downs Deep Geothermal Project (UDDGP) returned lithium concentrations of up to 260 mg/L, which are believed to be amongst the highest published grades of lithium in geothermal waters globally. Importantly the Total Dissolved Solids (TDS) content of these Cornish waters is exceptionally low relative to other geothermal waters worldwide, making the chemistry of the Cornish waters globally significant. In particular magnesium, a metal that makes processing more difficult and expensive, is extremely low – at a concentration of only 5mg/L. These results are considered highly encouraging given current developments in 'Direct Lithium Extraction' (DLE) technologies which can selectively extract lithium compounds from water without the need for the large evaporation ponds – such as those used in the arid regions of South America. DLE technology uses ionic adsorbents and/or ion exchange membranes to selectively remove only the lithium compounds from the water, with residual water being returned to depth via a borehole. The combination of geothermal energy production and lithium extraction from the same waters makes lithium enriched geothermal waters, such as those found in Cornwall, a very compelling source of lithium for automotive manufacturers seeking low-carbon supply chains for battery metals.
The company, in collaboration with Geothermal Engineering Ltd. (GEL), the developer of the United Downs Deep Geothermal Project, was recently awarded funding from the UK Government's Getting Building Fund to build a pilot lithium extraction plant at the United Downs site. The £4m project will design, procure, and build a pilot plant to trial DLE technology to extract lithium from the geothermal waters which circulate naturally at depth in the granite rock that underlies Cornwall.
Over winter 2019/2020, Cornish Lithium successfully completed two 'shallow' geothermal boreholes to a depth of approximately 1,000m each at a site adjacent to the United Downs Deep Geothermal Project. The boreholes enabled the company to confirm the widespread presence of lithium in geothermal waters and to successfully trial extraction and sampling techniques that will inform future drilling programmes across Cornwall.
Lithium in hard rock
Potential also exists to extract lithium from 'mica' minerals found in the Cornish granites. Results from a preliminary drilling programme at the company's hard rock lithium project near St. Austell returned encouraging lithium grades and good prospective tonnages. Cornish Lithium is currently conducting extensive metallurgical testing on material from this site and is trialling an environmentally responsible extraction technology; results from which have so far been above expectations. The project is situated within an existing china clay mining area and is proximal to underutilised existing infrastructure which could significantly benefit future project development.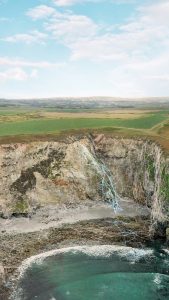 Research and development
Cornish Lithium is taking a highly innovative approach to mineral exploration and extraction, as it strives to be as environmentally responsible and sustainable as possible. As such, the company is involved in a number of R&D projects with a variety of industry and academia partners across the UK to develop these approaches. One such project is the Securing a Domestic Lithium Supply Chain for the UK (Li4UK) project, in which Cornish Lithium is a consortium member alongside the Natural History Museum and mining consultants Wardell Armstrong.
Li4UK is funded by Innovate UK as part of the UK Government's Faraday Battery Challenge. The demand for lithium compounds used in lithium ion batteries (LIBs) is expected to grow exponentially with the increase in electric vehicle production. Currently, the UK, like the rest of Europe, is heavily dependent upon imports of battery grade lithium compounds (mostly lithium carbonate or lithium hydroxide) used in LIB manufacture. The consortium is addressing a critical missing link in the UK's battery material supply chain by identifying the requisite processing technologies and possible sources of raw materials needed to develop a sustainable, domestic lithium supply chain. In light of the COVID-19 crisis, the fragility of some international supply chains has been thrown into the spotlight, and the need to establish secure and responsible supply chains is growing increasingly important.
These achievements have provided a significant boost for the company's ambitions in Cornwall and puts Cornish Lithium in a position to rapidly accelerate plans toward commercial production and the establishment of a vital new industry for the UK economy.
The funding that Cornish Lithium has received from the UK Government – both for the Li4UK project, and through the Getting Building Fund for the pilot lithium extraction plant at the United Downs Deep Geothermal Project – represents acknowledgment from the government that there is a need to start thinking about where the UK will source the materials that are so vital to clean growth and the future economy. However there is still much work to be done if the UK wishes to establish a sustainable and secure domestic supply chain of many of these metals: further support for trialling innovative and environmentally friendly extraction technologies for example, and support in establishing a vertically integrated supply chain for batteries to be produced domestically – capturing all of the value that is currently being generated overseas where batteries are being manufactured.
The future
Cornish Lithium's plan for the future is to move rapidly towards commercial production of lithium in the UK for use in the UK battery industry. Next steps involve trialling environmentally friendly lithium extraction technologies for geothermal waters and for hard rock at pilot scales at the existing projects in Cornwall. In Cornwall, hot, lithium-enriched geothermal waters circulate naturally beneath the surface in large, permeable geological fault zones. Many synergies seem to exist between the production of lithium from geothermal waters and generating renewable energy from the same geothermal waters. Cornish Lithium is keen to explore how utilising this renewable energy source to power lithium extraction could result in net zero carbon production of lithium.
In parallel, the company is generating further lithium exploration targets and assessing the opportunity to extract other battery metals from prospective sites across the county – again, embracing new exploration and extraction methods to do so.
For more information about Cornish Lithium please head to www.cornishlithium.com, or email info@cornishlithium.com.
Jeremy Wrathall
Founder & CEO
Cornish Lithium
+44 (0) 1326 640640
info@cornishlithium.com
www.cornishlithium.com
www.linkedin.com/company/cornish-lithium-limited
Please note, this article will also appear in the fourth edition of our quarterly publication.