EIT Digital's CEO Willem Jonker spoke to The Innovation Platform about how post-COVID-19 societal changes can influence new digital technologies.
EIT Digital is a leading European digital innovation and entrepreneurial education organisation driving Europe's digital transformation. It aims at global impact through European innovation fuelled by entrepreneurial talent and digital technology. EIT Digital strengthens Europe's position in the digital world by delivering breakthrough digital innovations to the market and breeding entrepreneurial talent for economic growth and improved quality of life.
Digital has played a key role during the current COVID-19 pandemic – from home schooling and home working to 3D printing – and will continue to do so afterwards. Here, EIT Digital's CEO, Willem Jonker, discusses the COVID-19 pandemic, the accelerated adoption of digital technologies and prospects for societal change in the aftermath of the crisis
Internet and cloud capacities are currently undergoing high performance tests in practice. How will our digital infrastructure adapt to these changing use habits? Are current initiatives in terms of 5G deployment, high performance computers, and server capacities sufficient or will more – or different – strategies be needed to secure functioning support systems?
We can observe the continuous improvement of the bandwidth and capacity of our network systems. Overall, we are in a good shape and I don't see big problems. Agreements of major streaming services to limit streaming quality and thus to free capacities have further contributed to stabilising the systems.
The deployment of 5G is mostly detached from this development. Of course, 5G offers higher bandwidth to mobile users, however most work from home takes place via the fixed infrastructure. On the other hand, 5G is an enabler for having more connected objects that communicate with each other, the Internet of Things (IoT). But network traffic patterns of, for example, interlinked vehicles and those supporting autonomous transport are quite different from current network usage patterns supporting home working, concentrating on video streaming, video conferencing systems, etc.
In the midterm, however, we can perhaps expect an impact through IoT technology on remote work, since many machine and factory operations today still require the physical presence of human operators. IoT will certainly enable increased remote operation, opening up to remote work from home for factory and machine operators. As a result, more factories might be able to continue production in the future, avoiding total shutdown of production factories as we witness during this crisis.
This crisis has also demonstrated the shortcomings of globalisation and diversification. All of a sudden, we have experienced shortages in supply of medicines or protective equipment, to name just two examples. Can and will further automation and new technologies like 3D printing be able to compensate for these imbalances?
In particular, we will see that global players, multinationals, reconsider their global supply chains, because these make them very vulnerable and the challenges are obvious in this global pandemic. Countries close borders, restrict export and trade, and compete for scarce resources. Global supply chains will always be needed, especially when looking at raw materials and natural resources. Decentralised production, however, is a different story.
Technologies such as 3D printing could be part of the solution, even though access to the raw materials needed for these printers can be affected by disrupted global supply chains as well. I therefore expect big corporations to review their large global supply chains. Not only are these vulnerable to external, uncontrollable factors like volcano outbreaks or, in our case, pandemics, but they also add substantially to companies' CO2 footprints. And in the case of food supply chains, concerns about production environments, impact on local communities, and use of pesticides, herbicides and antibiotics are also reasons for the trend towards locally produced.
From that perspective, this crisis adds to concerns about the current globalism and will drive the movement towards more 'local4local'. Maybe a little surprisingly, where both innovation and digitalisation were drivers of globalisation, they are at the same time important enablers to reverse the globalisation trend.
Current mobility restrictions not only lead to a rise in distance working, but also distance learning. Primary and secondary school pupils as well as university students follow their curricula from home wherever possible. How will current emergency measures influence the way we teach and learn in the future?
We have seen an enormous impact of the mobility restrictions and I have been positively surprised by the speed at which the education sector was able to adapt. At the same time, the challenges are of course immediately visible. Can exams be taken online? How can we check a person's ID online and ensure the right person is taking the exam? How can we ensure all pupils have access to appropriate hardware and sufficient internet bandwidth?
The current experience with distance learning may lead to more flipped classroom applications. This approach would mean working physically more on group exercises, but to follow lectures online. Right now, the practice is often the other way around. I do not expect campuses to disappear, but many more people especially in primary and secondary education are now exposed to digital and will also make use of the tools and methods after the crisis.
But schools are, of course, much more than simply places where you learn. There, we connect with other human beings, learn to interact, learn for life – and that has to remain. I expect a boost of blended education methods – also because our roles in life are increasingly 'blended'. We can be parents, children, employees, teachers, and students all at the same time. A such, I don't expect to see established education models disappear entirely, but I do expect more blending through diversity and flexibility of tools and methods.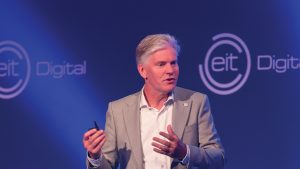 Willem Jonker
CEO
EIT Digital
info@eitdigital.eu
Tweet @EIT_Digital
https://www.eitdigital.eu
Please note, this article will also appear in the second edition of our new quarterly publication.