Idan Liebes, Energy and Smart Mobility Policy Researcher at The Samuel Neaman Institute for National Policy Research discusses Israel's EV charging infrastructure and the challenges in meeting the exponential growth in EV charging demands.
Against the backdrop of COP26 and the demands for countries to adopt more robust climate action policies, the Israeli Climate Bill aims to reduce climate-warming greenhouse gases by at least 27% by 2030 and by a further 85% by 2050, compared with 2015 levels. The new bill, if passed, demands the electrification of the transport system if Israel is to meet that goal. Fortunately, Israel appears to be adopting electric vehicles (EVs) well, but grand statements are not enough in the climate change battle. What challenges really lie ahead for Israel's EV charging infrastructure revolution?
Speaking to Managing Editor at Innovation News Network, Lisa Carnwell, Idan Liebes, Researcher at the Samuel Neaman Institute for National Policy Research, outlines the growing popularity of EVs in Israel, the factors determining their growth, and the challenges the country faces to meet EV charging infrastructure demands.
The institute is a think tank situated within the Technion — one of Israel's leading technical universities. Operating independently, they act at the intersection between national government, local government, academia and the private sector, pushing for a science-based approach to recommendations for better national policy.
To begin, can you provide a brief overview of your role and the research you have conducted?
My focus is energy policy and smart transportation, specifically EVs and autonomous vehicles, but my speciality is EV charging infrastructure, having been engaged with this topic for around eight years.
We had the privilege to conduct the most thorough policy paper regarding EV charging infrastructure for Israel in 2018, titled Electric Vehicles Charging Infrastructure in Israel: Implementation Policy and Technical Guidelines, funded by the Ministry of Energy and the Fuel Choices and Smart Mobility Initiative. The initiative is a joint effort of ten government ministries and the Prime Minister's Office, which leads it.
The report was written with my colleagues, Senior Research Fellow and Head of Environmental Projects, Professor Ofira Ayalon, and Roland Steinmetz, Director of the Dutch consulting company, EV Consult.
The extensive paper included the best practices from the top EV markets in the world. Also, we conducted a roundtable with our stakeholders to outline the challenges for adopters regarding Israel's charging infrastructure, and of course, the solutions. Moreover, we provided a forecast for the proliferation of EVs in Israel, the market share, and the expected demand for public and private chargers.
This report meant we could provide pragmatic recommendations for the Ministry of Energy to proceed with adopting EVs. The results outlined the ecosystems for Israel's EV charging infrastructure which was non-existent before the report was published. We also provided the basis for the government tenders for supporting EV chargers.
Subsequently, the government embarked on four tenders to support public chargers, fast chargers, semi-public charges and employers' chargers. We are now seeing more and more deployment in Israel, which we identified as a weak link.
We followed that report with another paper in 2019 titled Private Electric Transportation Readiness Guide for Municipalities which provided a guidebook for municipalities to adopt private EVs. The information culminated from the realisation that EV charging is concentrated at the municipal level, alluding to the point that municipalities are the most crucial player in which all of these different vectors interact.
The report provides a 'guidebook' for decision-makers, those managing tenders, and where to install the chargers. It offers urban planning ideas, how to adopt EVs within a municipality for their fleets, and importantly, how to engage with the public to instil confidence.
The report was well-received, and we see a lot of exponential growth in interest in EVs, not only from the general public but also from the municipalities and how we need to approach the transition to electric.
What is the current landscape for EVs in Israel, and what is driving their uptake and popularity?
The popularity of EVs in Israel is driven by many factors, not least the environmental targets set by the government. For instance, the Israeli Energy Ministry announced in 2018 they would ban the import of gasoline and diesel-fueled private vehicles by 2030. This policy was not enacted in binding regulation at the time; however, in October 2021, a government decision was passed that endorsed this policy differently. The decision, instead, is to achieve a 95% reduction in emissions from new private vehicles by 2030. The outcome, therefore, is the same – it means that all new vehicles are essentially EVs.
An essential element for EVs in Israel is the disruptive entrance of Tesla into the local market. It is disruptive in terms of their proposition, which we know is very lucrative in all markets they enter, and their direct approach to sales, in that there is no local representation of the OEM. The Tesla Model 3 vehicle, the only model currently available, is being set as a benchmark for other EVs entering the market.
It is worth noting the very high cost of cars in Israel. With high taxation, the lack of competition and high demand, the price for private cars in Israel is among one of the highest in the world. As Tesla entered the market, its attractive pricing has resulted in an explosion of competitiveness in the EV category.
In addition, we have also seen the introduction of EV Chinese manufacturers in the Israeli market. This is a part of a larger strategy by the Chinese manufacturers who see the Israeli market as a stepping-stone into the European market. We are almost a proving ground, so to speak, as Israel follows European Regulations regarding vehicle quality.
Tesla, the Chinese, and the European OEMs are trying to take their share of the growing EV market. In 2020, it was less than 2%, and in 2021 it had already hit around 7% of the total market share.
Also, another significant factor in the local vehicles market is the prominent leasing segment. Leasing fleets account for around 45% of car sales. It is common for large employers to offer leased cars to employees as part of the salary package, and they represent a substantial share of the buying force. What makes an EV attractive for the employer is a reduction in their fuel costs as most employers will also cover fuel payments.
Taxation is another factor to consider. The base tax for a new car sits at 83% – almost doubling the average cost of a car. The sales tax for an EV is 10%, although this is set to increase to about 35% in 2024. The government gets between seven and ten per cent of its total tax revenue from vehicle-related sales, so a decline in this revenue caused by the EV uptake will have significant implications.
How well has Israel adopted the need to transition to EVs, both in the general population and across public transport?
Israel's history with EVs dates back to 2009 with a venture-backed company called Better Places who developed and sold battery charging and battery switching services for electric cars. In 2013, they filed for bankruptcy, leaving a collective proverbial scar regarding EVs, creating an uphill battle for following EV penetration efforts. In fact, up until a couple of years ago, we were the only country with a declining number of EVs.
2018 witnessed a positive trend change in EV adoption, despite the high costs for new cars. Electricity in Israel is relatively cheap on a global comparison, but it took the proper offering of EVs in the market and government policy to kickstart the market.
However, the challenge for the bus network is not only the base cost of the bus, which is much more expensive, but also the charging infrastructure, which, unlike passenger cars, requires adequate terminals redesign and substantial electric infrastructure development. The upward trend to convert buses to electric is also driven by the government decision that, by 2026, there will be no more new inner-city public transport buses that are not EVs.
So, in terms of adoption, Israel is a little late to the party compared to a nation like Norway. Still, I believe our upward trend will overpass the general average for EV adoption in Europe. Our paper set out the forecast for EVs in Israel to achieve 19,000 by 2020. COVID-19 did impact the market, but we do see that we will reach this number by the end of 2021. Our forecasting estimates by 2030, Israel will have a million EVs, regardless of a government policy to ban new ICE vehicles in that year. When accounting for the inaction of the ban, the projection by the Ministry of Energy talks about 1.5 million EVs by 2030, so we are talking about a rapid expansion of this forecast.
What immediate challenges does Israel face in developing its EV charging infrastructure, and what solutions do you recommend?
I would say our challenges are based on the commercial environment and the challenge for the government, especially from the perspective of the grid.
The Israeli Electric Corporation is a public and government-owned company currently undergoing reform in the market, so the transmission and distribution of electricity will remain under its control. The problem lies in providing enough grid connection capacity in the distribution segment to support the rapid expansion in power demand by the new chargers.
On the commercial front, we see a competitive sphere among the charging operators, who appear to be adopting a loss leader strategy. They are pouring money into building infrastructure, but it is difficult to see how they will recoup the investment, potentially jeopardising future scale-up efforts with significant costs.
Another challenge on a national level is that of 'fragmentation of the market' – similar to what was experienced in other advanced EV markets such as the UK's.
In general, charging is divided into private chargers with chargers in private homes or the workplace, public chargers, and semi-public chargers situated in private land (the shopping centre, for instance), and there are fast chargers.
Public chargers account for roughly 15% of the charging market. It is a significant 15% because it addresses those who do not have access to private parking and therefore do not have private charging. If they don't have access to charging, they will not buy an EV.
We also see different charging operators across cities. Many workers commute, so they need many apps and accounts to access the different charge points. This situation has resulted in a 'friction' in the user's experience, which in turn may hinder the uptake of EVs. Therefore, in the charging sphere, what we call for is interoperability – similar to roaming in cellular networks in a sense.
Israel currently has no infrastructure to support interoperability for users to access each network easily. I expect this to be a hurdle in the road ahead, but it is solvable. It is not an overly complicated technical barrier, more of a missing regulatory part of the puzzle which may require a mandated policy.
Interoperability should ideally be part of the marketing strategy of our EV charging infrastructures companies. Allowing, for instance, for customers of one operator to use another operator's ecosystem.
The issue is more about mandating or providing a regulatory body that would enforce operators to connect, a method implemented in the Netherlands very nicely by ElaadNL. This organisation facilitates a multi-lateral contract between all the operators. We do not have that yet, partly because the market is not big enough, but I expect this will happen.
From a technical perspective, there is a lot of sense in managing charge load. You only have to consider commuters arriving home in the evening and charging their vehicles simultaneously. So, the challenge in the distribution grid is not insignificant. The regulator decided they would not mandate load management; however, it is being encouraged. This is the right approach, but it is not there yet for the interoperability aspect.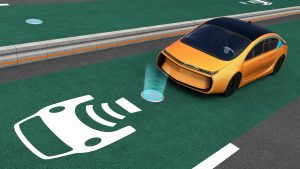 Regarding developing technologies, what advancements is Israel making?
Our auto tech industry is relatively young, having been developing for around ten years. Still, it is a booming sector in Israel fostered by the Fuel Choices and Smart Mobility Initiative in the Prime Minister's Office.
We have over 600 smart mobility startups in Israel, and almost all OEMs and tier one and two players in the auto sector globally have some representation in Israel. They range from scouting for technology to R&D centres which are fully operational with hundreds or potentially more people.
In terms of EVs, we have one of the most advanced companies for wireless charging in the world — Electreon. They are engaged with dynamic wireless charging focusing on buses and trucks and have conducted a few pilot projects in Israel and Europe.
There is a lot of local knowledge and know-how in terms of technology. Some companies are engaged with the motors themselves, while some engage with battery optimisation and power management within the vehicle and power management from the grid. So, this allows the Israeli innovation ecosystem to play to its strengths — generally its ICT sector, but also advanced sensing and detection, cybersecurity, Machine Learning and AI.
The shift in the global auto sector towards EVs is allowing a paradigm shift in how technology-oriented solutions are developed, and one which suits Israeli innovation well. We see a lot of foreign investment coming into Israeli companies and startups. We also see an unprecedented increase in unicorn companies in Israel — many of whom are based in the automotive sector. Again, we expect this to expand as the ecosystem becomes stronger, more robust, and more open to the world.
However, what we want to see, which is still lacking, is this innovation being implemented in the local market. There is a dissonance between the level of innovation being developed here and the level of implementation of this innovation in practice, and we hope to see this bridged.
What has been the impact of your research, and how do you encourage policymakers to adopt your recommendations?
It is always difficult to change minds, but our approach is to write our reports, but also to take them to the next phase of implementation. When you set out a policy study, you have to work hand in hand with those who need to implement it.
For our research approach, after we set out the paper, we also engaged in public outreach. And this means endorsing the topic, discussing it openly, and meeting the municipalities (who are often overlooked). And so, you need to educate and explain what they should do, and you need to support them every step of the way.
In parallel to that, it is essential to initiate demonstrations and pilot projects. I was the initiator and advisor of a pilot project to build the first public charging network in Israel and took the approach of 'active field policy research'. When stakeholders, such as national and local government and the private sector, work with a research institute like us, much learning is being achieved in the process. Even on a national level, everyone enjoys the fruits of that learning, and I can genuinely say that we influenced regulation.
What milestones do you hope to see achieved over the next five years in the Israeli EV market?
Of course, I want to see strong adoption of EVs, even better if the uptake and adoption happen before what is forecast, which I think is plausible, primarily since the environment in Israel is geared towards EVs. And so, if there are no significant changes in supportive policy for EVs, and if no external factors are limiting the increase in the market size, I would like to say that the 2030 mandate for EVs would be irrelevant. The market will be heading that way anyway. That would be a very positive milestone, surpassing all the mandatory policies.
The second point will be interoperability — seeing how this market evolves in sophistication, transactions, and interconnection between the operators.
My next hope would be to see a faster rate of charger deployment. The situation reflects the chicken and egg problem: If we do not see the chargers, we do not see the cars, but the cars are coming. This also ties into the grid development, which must be able to power them all.
Technology is also a crucial aspect. The concept of wireless charging for private cars is hugely important. When you think about the scalability of the current model, it is limited because we cannot have millions of chargers on pavements. I believe wireless charging will be a vital part of the solution.
Ultimately, I think the Israel EV charging infrastructure has to become more sophisticated, and we need to see commercial vehicle to grid (V2G) services in the market — that will be essential.
Idan Liebes
Energy and Smart Mobility Policy Researcher
The Samuel Neaman Institute for National
Policy Research
www.neaman.org.il/EN/Home
https://www.facebook.com/NeamanInstitute
https://www.youtube.com/user/SamNeamanInstitute
Please note, this article will also appear in the eighth edition of our quarterly publication.