Through targeted exploration and methodical mergers, acquisitions, and engineering rollouts, Tearlach is leading the charge in the development of a strategic lithium supply via multiple projects in the Americas.
With quality assets bolstering established lithium projects in mining-friendly jurisdictions, Tearlach Resources is positioning itself as one of the go-to lithium companies in the Americas. Tearlach has recruited a top-tier operational team with expertise in the lithium space, as well as a proven corporate team with extensive experience in the capital markets. With a focus on building a foundation to explore, model, and discover high-grade lithium, and build a top-tier corporate culture with excellent corporate governance, Tearlach Resources is dedicated to creating shareholder value.
With projects in Nevada, Quebec, and Ontario, Tearlach is planning its work programmes alongside a continual assessment of potential acquisitions that fit the Tearlach strategy and model. It is forecasted to begin exploration and drill work in 2023; continue drilling and engineering work in 2024; before moving on to planning and permitting in 2025; and starting its path to production by 2026.
With strict environmental standards, as well as the leveraging of eco-friendly equipment and processes, Tearlach is committed to minimising environmental impact. The company is working to fuel a greener world in conjunction with building a network of beneficial relationships. Tearlach Resources is leading the charge in creating strict disclosure policies and strong governance that align with what shareholders expect.
2022 was a very exciting and transformative year for Tearlach. Its objective of becoming the go-to lithium company in the Americas began with the closing of the oversubscribed $7.58m capital raise on 18 November, 2022. The company had raised total gross proceeds of $7.585m through the issuance of 15.170 million units. The oversubscribed $7.585m capital raise highlights the high potential of the assets, confidence in the team, and the execution expertise to create value for the shareholders. The funds will enable significant work on Tearlach's current and future potential lithium projects, allowing Tearlach to operate concurrent paths of execution and acquisition. Having extended holds from certain strategic investors also validates the business plan and management team.
Since the closing of the financing, Tearlach has acquired lithium projects in Ontario, Quebec, and Nevada, furthering its acquisition strategy. It also recruited lithium expert Dr Julie Selway as its Vice President of Exploration. The company increased its marketing efforts with strategic marketing initiatives. 2023 is poised to be a significant growth year for Tearlach as it looks to advance the corporate goal of being the leading lithium company in North America. Through boots-on-the-ground exploration, drilling, further acquisitions, and outside-the-box ideas, Tearlach looks forward to bringing a robust growth platform with catalysts continuing throughout 2023.
Final frontier
Location: Ontario, Canada
The Pakwan lithium project comprises 51 claims totalling 1,271 hectares, and the Margot Lake lithium project comprises 102 claims totalling 2,706 hectares.
The projects are located in Frontier Lithium's Electric Avenue, which hosts the Pak and Spark deposits. The Pak deposit has a mineral resource of measured, indicated, and inferred categories of 9.3 million tonnes averaging 2.06% Li2O (lithium oxide). The Spark deposit has a mineral resource estimate of 14.4 million tonnes averaging 1.4% Li2O. Two other significant pegmatites, Bolt and Pennock, have also been discovered by Frontier Lithium along strike.
Project advantages
Land package surrounding Frontier Lithium's (TSXV: FL) Spak and Bolt projects in Ontario;
Documented pegmatites within the mining district; and
Poised for a new discovery through a robust exploration programme.
Gabriel project
Location: Nevada, USA
Tearlach entered into a joint venture with Blackrock Gold Corp in January 2023 to acquire up to 70% interest in the lithium rights.
The project is surrounded by lithium-bearing assets and is positioned well for the company to begin ground exploration and drill campaigns.
The asset is known to have excellent lithium grade at both near-surface and at depth.
Advantages of the lithium project
Land package bordering American Lithium's (TSXV: Li) high-grade deposit;
Joint venture with Blackrock Gold Corp (TSXV: BRC) to explore the property; and
Documented lithium-bearing zones.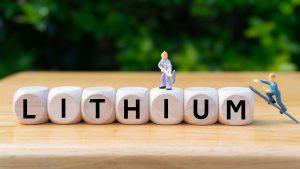 The Shelby project
Location: Quebec, Canada
The Shelby lithium project is comprised of six properties totalling 9,701 hectares and is located adjacent to Patriot Battery Metals' Corvette deposit.
The Shelby project is home to documented pegmatites and anomalous geochemistry (Li, Cs, Sb, Ta, Be, Rb).
Based on discoveries and geological properties of surrounding assets, the company believes the project is well positioned for a new discovery.
Project advantages
Land package bordering Patriot Metals' (TSXV: PMET) Corvette Property; and
Near-term exploration rollout beginning in 2023.
New Frontier
Location: Ontario, Canada
The New Frontier project is comprised of three assets in a politically-safe jurisdiction.
The Wesley Lithium Property comprises of 3,250 hectares and is hosted within the Sharpe Lake Batholith, a muscovite-bearing granite (Sanborn-Barrie et al., 2001).
The Harth Lithium Property comprises 2,350 hectares and is hosted within the Sharpe Lake Batholith, a muscovite-bearing granite (Sanborn-Barrie et al., 2001).
The Ferland station is just east of Green Technology Metals' Seymour Lake Lithium deposit and is home to documented permatites.
Project advantages
•  Politically-safe jurisdiction;
•  Documented pegmatites throughout the Ferland station; and
•  Promising potential based on neighbouring assets.
Please note, this article will also appear in the thirteenth edition of our quarterly publication.