Brent Wilson, President and CEO of Galvanic Energy, explains how lithium should be produced domestically in order to develop a sustainable US lithium industry.
Galvanic Energy is a privately held exploration company targeting domestic resources to advance America's renewable energy strategy. With decades of energy industry experience, Galvanic Energy employs geoscience-driven, proprietary discovery methods to identify natural resources essential to the US renewable energy future. The company highlights the importance of developing a US lithium industry to jumpstart a greener US energy economy.
Lithium is a critical material that is essential to the clean energy transition. As the world's lightest metal, the properties of lithium are unique, which is why the commodity is so sought-after for the manufacturing of batteries used in electric vehicles (EVs). As EVs are central to carbon emission reductions, the only way for the US to meet its clean energy targets is through the rapid yet sustainable increase in domestic lithium production.
Focused on ESG solutions, Galvanic Energy actively develops natural resource prospects requiring minimal environmental footprints and utilises innovative extraction processes to drive vertical integration of green technologies in support of electric mobilisation and energy storage. The company delineates and characterises geologic and reservoir properties to identify secure and sustainable quantities of lithium and other critical minerals dissolved in subsurface brines.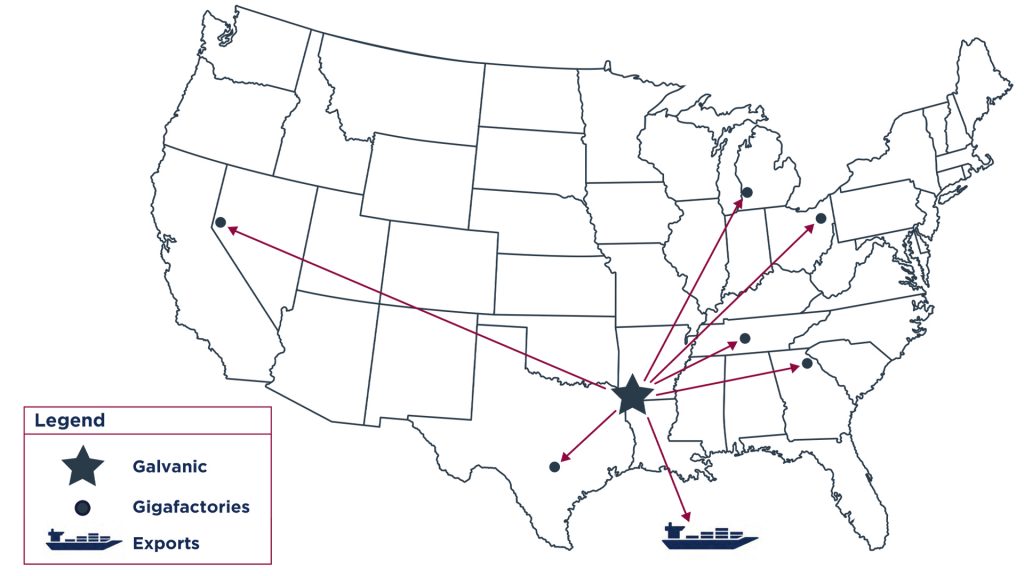 Smackover Formation boasts North America's most underrated lithium-rich brine prospect
Galvanic Energy's Smackover prospect has an overall footprint of 115,000 acres within a trend of lithium- and bromine-enriched brine stretching across Southern Arkansas.
The largest and most concentrated single lithium brine prospect in North America, Galvanic Energy's Smackover prospect contains an estimated four million US tons of lithium carbonate equivalent (LCE) with an average concentration of 325 mg/L lithium within its acreage footprint, which is enough lithium to power 50 million EVs. In other words, this prospect alone could supply enough lithium-ion batteries (LIBs) to replace approximately one in six cars on US roadways.
The Smackover Formation is a porous limestone that was historically a leading oil producer and continues to be one of the world's largest sources of bromine. This region is responsible for about 40% of the world's bromine production. In addition to lithium, Galvanic Energy's prospect also contains 8.5 million tons of bromine with an average concentration of 4,000 mg/L.
Given the resource potential and the proven historic performance of the Smackover reservoir, combined with the continued advancement of direct lithium extraction (DLE) technologies, Galvanic Energy's Smackover prospect would substantially benefit the evolution of a US lithium battery supply chain.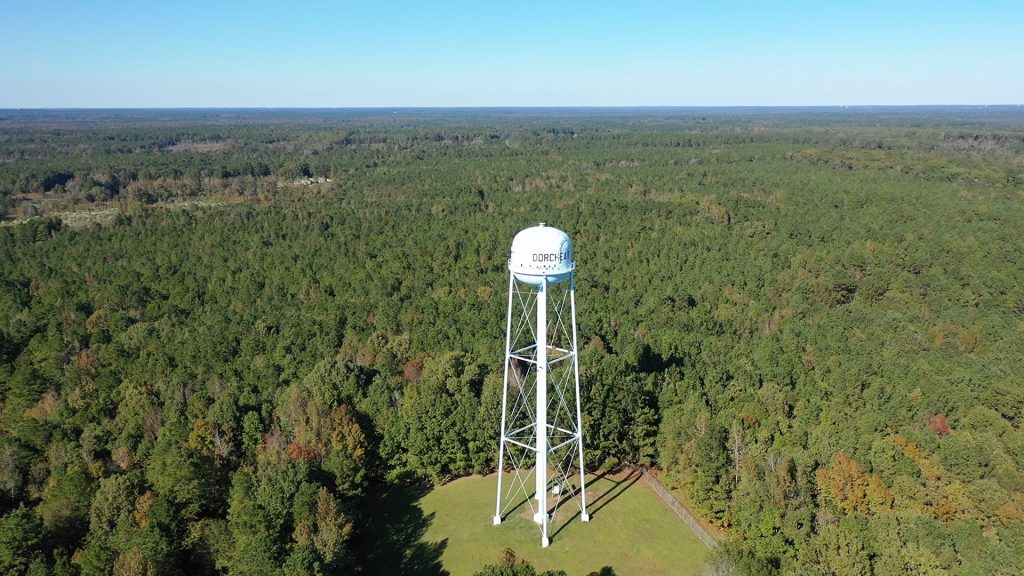 Green energy starts with green resource development
Galvanic Energy is dedicated to promoting a promising future for the lithium supply chain that balances the need to produce raw materials with environmental and social responsibility. The US lithium industry must be sustainably advanced, and have the support of local communities.
DLE is a process in which dissolved lithium ions are selectively removed from the brine, which can then be converted into battery grade material. Unlike conventional lithium mining methods, that require open-pit mines or large evaporation ponds, brine mining operations incorporating a closed-loop system use a significantly smaller surface footprint of spatially distributed well sites. Brine is pumped out of the earth, lithium is extracted, and brine is returned to the Smackover Formation without creating stockpiles or lagoons of waste materials.
As environmental stewards, Galvanic Energy is committed to protecting the environment while developing the lithium resources America needs to help reduce its dependence on fossil fuels. As a founding associate member of the International Lithium Association, Galvanic Energy is committed to the highest standards of environmental, social, and governance (ESG) responsibility.
For the lithium industry to prosper in the US, companies must be respectful of the environment and communities in which they operate. They must be accountable citizens, good stewards, and work side by side with authorities and regulators.
A company's license to operate starts with awareness. While these investments will bring jobs and prosperity, the industry must always remain mindful of the local customs and rich cultures that make up the fabric of these communities.
Boosting America's plans for a less carbon-intensive economy
To achieve its clean energy goals, the US requires far more lithium. The US is currently producing approximately 1% of the world's lithium supply despite becoming an increasingly larger global consumer of lithium materials. Currently, the country only has one lithium mine, leaving the nation fully dependent on other countries for the supply of the commodity.
New mining operations have been proposed but have faced challenges regarding the regulatory environment. There has also been resistance towards these projects from environmental groups and the communities adjacent to the development.
Because of this, the US is far behind other lithium-producing countries. Most of the world's lithium is currently transported from South American and Australian mines to China for processing, then is distributed to battery manufacturers throughout Asia. From there, lithium batteries are shipped around the world. This transportation chain is inconsistent with US and worldwide goals for reductions in carbon emissions. Supplying a domestic resource will not only create greater security, but will shorten the supply chain and subsequently reduce the overall carbon footprint of EVs.
US President Joe Biden has spoken boldly about the need to create a North American supply chain to reduce the country's dependence on foreign producers. In 2021, the U.S. Department of Energy released the National Blueprint for Lithium Batteries, outlining the actions required to develop a domestic lithium-battery manufacturing value chain.
However, this blueprint should not be limited to chemical conversion processes or battery manufacturing. Instead of relying on US allies to supply raw materials, Galvanic Energy believes lithium can be produced responsibly and sustainably and is poised to play a key role.
About the founder
Brent Wilson founded Galvanic Energy in 2018, using a proprietary approach to explore for lithium and other critical minerals in deep reservoir brines. He holds Masters degrees in Geology and Energy Management, and has more than two decades of experience in geology, hydrology, and geochemistry.
Please note, this article will also appear in the tenth edition of our quarterly publication

Go to this partner's profile page to learn more about them