Giles Dickson, CEO of WindEurope, talks to The Innovation Platform's Managing Editor Michelle Gordon about how Europe's offshore wind sector is leading the way for the rest of the world
In the past five years, a total of €57bn has been invested in Europe's burgeoning offshore wind sector. With costs falling by 75% in the last six years alone, and ambitious Government targets for use, it is continuing to grow apace, with predictions that offshore wind will become the number one source of electricity for Europe over the next 20 years.
WindEurope is the voice of the European wind industry, representing the entire value chain from turbine manufacturers, component suppliers and power utilities to project developers, financial institutions and research institutes.
The association's CEO Giles Dickson talks to The Innovation Platform's Managing Editor Michelle Gordon about how Europe is leading the way and sharing its knowledge and expertise around the globe.
What impact will the EU's new climate targets to cut greenhouse gas emissions by at least 55% by 2030 have on the offshore wind power sector in Europe?
We don't know the answer to this, yet. The Commission will come forward with proposals to amend the Renewable Energy Directive including a proposal for a higher renewable energy target. It is quite well known that the Commission is looking at numbers in the range of 38-40% renewable energy instead of 32% by 2030. As it stands, most of the governments in Europe have planned for what they need to do to meet the EU 32% renewable energy target, which will see an increase to 111GW of offshore wind capacity by 2030, from 23GW today (including the UK and Norway).
Under any higher renewable energy targets, more wind energy would be needed. How much of that would be additional onshore wind and how much would be additional offshore wind is a question that will need to be considered.
Today, 77,000 people in Europe are employed in the offshore wind sector, including the UK and Norway. If we meet the target of 111GW by 2030, then that number will go up to 200,000 working in offshore wind alone.
What potential does the offshore wind sector have to boost growth and rejuvenate former industrial coastal towns across Europe?
The offshore wind industry has already rejuvenated many coastal towns and communities, such as Grimsby in the UK, and Hull, where Siemens Gamesa invested in a huge blade factory three years ago, creating 3,000 jobs – direct and indirect combined. Other towns in North East England are doing well thanks to offshore wind and we are going to see much more of this in the coming years, from the North East of England, down the East coast of Great Britain and more broadly across the British economy as well.
Siemens Gamesa also opened a factory in the port of Cuxhaven in northern Germany, which is a town rather like Hull in that it had been struggling economically but has now been rejuvenated thanks to offshore wind.
Northern Poland used to have a thriving ship building industry, but that has struggled somewhat in recent years. The offshore wind industry has created 10,000 new jobs in northern Poland by enabling the country to use its skill and experience in the marine and maritime industries to establish a manufacturing base for components for offshore wind.
Although Poland is not yet installing any offshore wind farms, it will do so in the very near future. In the meantime, almost half of the foundations for wind turbines that are installed around Europe are made there. Furthermore, the cranes that are needed in the ports around Europe to lift offshore wind turbine equipment onto ships and then install them out at sea are also produced in Poland.
Regions in northern Spain which were previously very reliant on the shipbuilding industry are also benefiting from the offshore wind industry. Again, Spain does not yet have any offshore wind capacity of its own, but companies in the northern regions are producing equipment and components for offshore wind that are being exported around Europe.
The developing offshore wind sector has also had a positive impact on many of Europe's ports. The equipment sent out to the offshore wind farms has to be transported through the ports and they are investing significantly in their infrastructure in order to fulfil their crucial role in the value chain. The blades on the latest turbines are over 100 metres long and need to be laid down on the port side which requires lots of space. You also need heavy loading quay sides, with steel reinforcements, where the cranes which are capable of lifting them can be installed. Furthermore, jack-up vessels are also needed to transport the equipment out to the offshore wind farms.
Many ports are thus doing well economically on the back of the offshore wind industry, such as Ostend and Esbjerg in Denmark, and Eindhoven and Amsterdam in the Netherlands.
Which countries are leading the way within Europe in terms of the delivery of offshore wind power?
The UK is leading the way. It has more offshore wind than any other country and that will remain the case, with the UK having 40GW out of the 111GW that will be being produced in 2030. In second place is Germany, which has nine GW today and plans to have 20GW by 2030. The Netherlands is the third leading player in terms of new builds over the coming years.
Other countries that will play an important role include France, Denmark, Belgium, and Poland. However, there are many other countries that are also going to start building offshore wind in the next 10 years, including Lithuania, Estonia, Latvia, Ireland, Spain, and Greece. It is thus now becoming a whole European affair.
On the supply side, countries such as the UK, the Netherlands, and Norway are benefiting from the fact that they have very well-established offshore oil and gas industries, which means that there is a lot of relevant skills, expertise, and experience which lends itself well to the development of offshore wind.  The offshore oil and gas industry is not necessarily expanding in the way it once was, and many people who used to work in this sector are now working in offshore wind – they have brought those skills across.
How does the European offshore wind sector compare to other parts of the world? Where does it fit within that bigger global picture?
Europe has 22GW of offshore wind today, and the world as a whole has slightly more than 30GW. After Europe, the most important country is China in terms of what they have already built and what they are going to build. The United States has plans to build a lot of offshore wind and Japan, Korea, and Taiwan are also significant players. There are many other countries outside of Europe that want to build offshore wind as well, such as India, Australia, and Turkey.
Europe is leading the way and, without a shadow of doubt, will continue to do so. In addition, the more that countries such as the USA, Taiwan, etc. develop their offshore wind markets, then the greater the potential will be for the further expansion of European exports.
The British government is looking into this and it wants the UK to be a global manufacturer and a global expertise hub for offshore wind, exporting it all over the world. Europe is not just exporting kit, although that is hugely important, we are also exporting expertise and knowhow.
What are the predictions for the growth of offshore wind energy in Europe over the next 30 years?
The European Commission has said we need up to 450GW of offshore wind by 2050 and that is deliverable if certain things happen.
Firstly, we need to expand our supply chain. It is currently producing three GW a year of new offshore wind and has the capacity to deliver seven GW a year. But to deliver 450GW by 2050, the supply chain would need to be producing up to 18GW annually, and so we are going to need more factories and more investments in the supply chain and logistics.
Secondly, a long-term approach to maritime and spatial planning will have to be taken, factoring in our 2050 goals for climate policy etc. Thought will have to be given to multiple uses of the sea space between different sectors, for example between offshore wind and fishing.
Third, we will need to invest heavily in offshore grids – the electricity grid connections to offshore wind farms and between offshore farms.
Achieving the European Commission's goals will also require much closer co-operation than we have today. The countries around the North Sea are already co-operating very closely on how they develop offshore wind and the countries around the Baltic Sea have recently signed a declaration to work more closely together. But it is important that countries co-ordinate when they are running auctions for new offshore wind farms so that they don't all run them at the same time, and so that they are co-ordinating how much they are auctioning and where they are developing their new capacity.
It is also important that they co-ordinate on the regulations that they are applying to offshore wind, because if they all have different health and safety regulations, that makes it more expensive for the industry because it is harder to move workers from offshore wind farms in one country to those in another. The alignment of health and safety rules – and, indeed, other rules – is therefore important.
We also need countries to collaborate on their approach to maritime spatial planning. They are broadly aligned on that but, crucially, we need them to collaborate on their approach with grid investments. A key thing here is that, in the future, we will have a growing number of what are known as 'hybrid' offshore wind farms that have grid connections to more than one country.
So far, there is only one of these being built between Germany and Denmark in the Baltic Sea. Both countries will have offshore wind turbines in the middle with grid connections going in both directions. Over time, we hope that will have a grid connection to Sweden as well. This is just one example of a hybrid offshore wind farm, and there will be many more of them in the North Sea, the Baltic, and elsewhere in the future.
They make sense because they enable us to pool the generation and transmission capacity and to pool corresponding infrastructure investments, enabling us to save money and space in the sea, as well as improving energy flows between countries across Europe.
These hybrid offshore wind farms should provide up to one third of the total amount of offshore wind capacity we have in Europe by 2050.
Where will the funding come from for future offshore wind projects?
Offshore wind farms pay back, so private investors are ready to invest in them. In order to minimise the total costs and to get more investment, governments provide stable revenues for offshore wind farms for their first 15 years.
They run auctions and the industry bids, with the lowest price winning. In most countries, companies are guaranteed the income they use to bid into the auction for the first 15 years. If you bid in at €40 and the market price for the electricity being generated on the wholesale electricity market is €30, then the government will pay you the difference (€10). However, if the market price is €50, then you need to pay €10 back to the government.
It does not cost governments much to support these offshore wind farms, because they are getting paid back as well as paying out. It also means that developers can go to the bank and borrow the money they need to build them at a lower interest rate, because the banks look at the business plan and see that there is guaranteed revenue for the first 15 years. If the only revenue perspectives were the variable and unknown market electricity price, the interest rates would be much higher.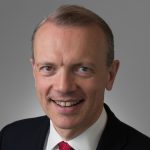 Giles Dickson
CEO
WindEurope
+32 2 213 1811
info@windeurope.org
Tweet @WindEurope
Please note, this article will also appear in the fourth edition of our new quarterly publication.