Altilium Metals have announced plans to accelerate the development of the UK's largest EV battery recycling plant to support the country's transition to net zero.
The announcement follows the completion of a six-month feasibility study partly funded by the UK Government's Automotive Transformation Fund and the first successful scale-up of its proprietary technology. The study, carried out in collaboration with Hatch, underscores the important role that an EV battery recycling plant could play in attracting investment in the construction of new gigafactories in the UK.
Altilium Metals CTO, Dr Christian Marston, commented: "We're in the middle of a global energy transformation and the UK has an opportunity to become a world leader in the development of a circular economy for critical battery minerals. We're moving into a phase where major economies need green infrastructure to be built fast in order to achieve their net-zero ambitions. Because of the speed of the rollout, it falls to companies such as Altilium Metals to take the lead in the development of innovative clean technology solutions.
"We are grateful for the support of the Advanced Propulsion Centre (APC) under their Automotive Transformation Fund and look forward to working with them further as we embark on this next phase of scaling up our proprietary technology."
The UK will need 150,000 tonnes of cathode active materials annually by 2030
To produce lithium-ion batteries required to power EVs manufactured in the UK, APC research suggests that the UK will need 150,000 tonnes of cathode active materials by 2030. The planned battery recycling plant, set to be constructed in Teesside, will produce 30,000 tonnes of cathode active materials annually – enough to power 20% of new EVs produced in the UK by 2030. The material will be obtained from end-of-life EV battery recovery and waste from gigafactories.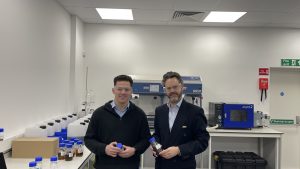 APC Project Delivery Lead, Bradley Dodic, commented: "The APC is proud to support businesses such as Altilium Metals in de-risking and accelerating their investment decisions in the UK. Through the Automotive Transformation Fund, we have been able to part-fund this six-month feasibility study which focuses on processing end-of-life batteries and reintroducing them back into the supply chain at scale. This comes at a pivotal time, with the mass adoption of BEVs, onshoring a full circular economy is a key part in unlocking a low-carbon supply chain."
Altilium Metals CEO, Kamran Mahdavi, commented: "The high demand for these critical metals in lithium-ion batteries will only increase in the coming years. Currently, refining is predominantly carried out in Asia but going forward it will be crucial to produce these critical metals in the UK. Altilium Metals will bring sustainable refining power to the UK, which will play an important role in our future energy independence."
The UK must secure an industrial-scale battery recycling industry to reduce import dependency
Already at the forefront of the transformation to a clean transport sector, the UK is the second largest market for EVs in Europe. The country aims to ban the sale of new petrol and diesel cars from 2030.
However, to ensure that this target can be met, and the UK keeps its momentum as a leader in the clean energy sector, the country must develop a battery recycling industry. The growing demand for critical minerals and supply chain disruption puts this into jeopardy, thus it is imperative that the UK should secure a sustainable domestic supply of these materials and reduce its dependency on imported raw materials.
The battery recycling plant will have to capacity to process 50,000 tonnes of lithium-ion battery 'black mass', equivalent to around 150,000 electric vehicles per year or 10 GWh of lithium-ion batteries. The plant was also designed to process primary nickel-cobalt MHP to compensate for any shortage of feed and imbalances in quality.
Consisting of two processing facilities, a chemical plant producing 95,000 MT of battery precursors, and a cathode active material plant, producing 30,000 MT of CAM, the plant will enable full battery circularity. Through the production of cathode active materials, spent batteries will be collected and the cathode active materials recovered will be used in new cell production.
Approximately 250 high-skilled jobs will be created, and thousands more will be made in the construction phase.