Aeramentum Resources plans to undertake diamond drilling at the Treasure Project, following on from previous exploration demonstrating high grades of nickel, copper, cobalt, and gold in drilling and sampling.
Australian mineral exploration company Aeramentum Resources (ASX: AEN) intends to list on the Australian Securities Exchange (ASX) in 2022. The company aims to publish an exploration target at the Laxia prospect after approximately 2,500-3,000m of diamond drilling. To demonstrate the scale and grade potential of the Treasure Project, AEN will also drill other high-grade targets confirmed to contain copper, nickel, cobalt, and gold mineralisation across the 40km of strike length identified to date. The government-owned land is managed by the Forestry Department, well serviced by local roads, and last drilled in 2013/14.
The company is the owner of the tenements in Cyprus, which have experienced past copper mining and drilling. In previous exploration, grades of up to 3% cobalt, 18% copper, 11% nickel, and 17g/t Au were reported. AEN is currently raising money ahead of becoming ASX listed and will begin to apply modern exploration techniques to their projects in Cyprus.
Initial holes at the Laxia prospect are designed to intersect the mineralisation at shallow depths (100-150m) with a follow-up programme planned for early 2023 to push deeper (towards 300m). Maiden Resources could follow in 2023 and, assuming the grade remains consistent, mine feasibility work could commence with a view to delivering the much sought-after metals to European buyers by 2026, in line with when a large number of the battery megafactories are due to open.
Geoff Muers, Managing Director, explained: "To have a massive sulphide orebody outcropping at surface, that is rich in copper, gold, and cobalt, is quite unique from a global perspective. Across the world, from South America through to Asia and Africa, such deposits would have been exploited by artisanal miners who often bag up the ore and sell to foreign buyers for direct shipping, or sell to processing facilities in the country."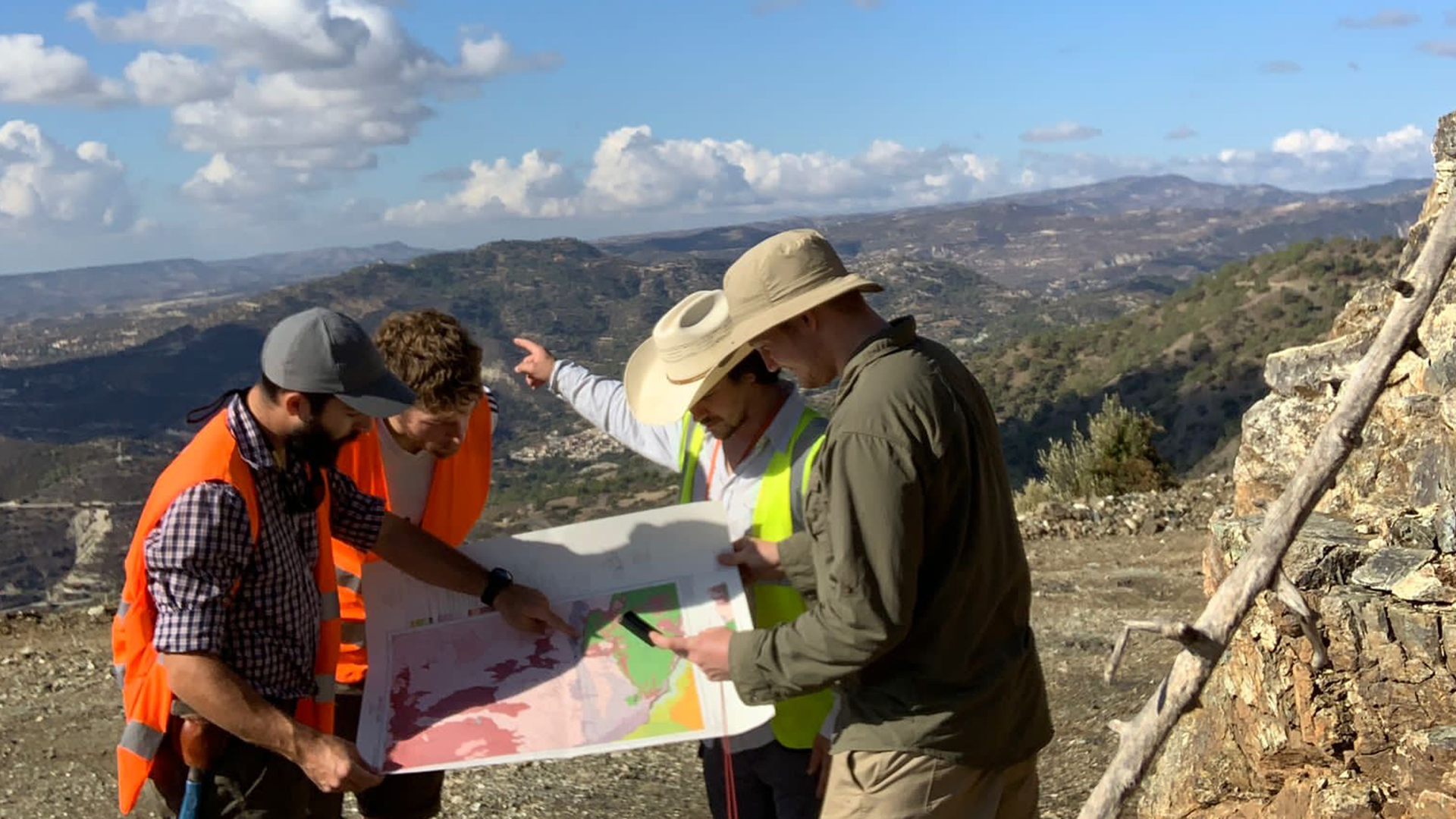 History of Cyprus as a major mining destination
Many Cypriots had grandfathers who worked in the more than 45 mines developed, and had fond memories of their time prior to the political upheaval in the 1970s. Although this upheaval was short-lived, many who left never returned.
Cyprus benefited from European stimulus money after the global financial crisis (having joined the EU in 2004) and you can see the benefits of this for a relatively small population: wind farms, four-lane motorways, and excellent infrastructure for a population of around 1.1 million.
"We understand the government is positive on the future benefits mining can bring, provided it is done in a low-impact way and can predominantly employ local Cypriots," Mr Muers stated.
Despite up to 1.5km of adits put in historically at AEN's projects (1950s), very little ore was extracted as the treatment technology of the company at the time could not manage the more complex sulphides that were encountered – they were focused on oxide ore.
Whilst metallurgical work is yet to be carried out, AEN has confidence it can recover valuable metals due to the improvements in flotation technology since the 1980s.
"From the petrography work that has been done, partly by the Karlsruhe Institute of Technology in Germany, who share our view on prospectivity of the area, we can see coarse-grained chalcopyrite and cobaltite present, which should be recoverable from the pyrrhotite (iron-sulphide) rich ore," Mr Muers commented.
"Typically, the copper, gold, and nickel/cobalt are recovered to a high-value concentrate, which is then shipped in containers via bitumen roads less than 45 minutes to the nearby port, close to EU smelters."
With Cyprus enjoying the benefits of a resumption in tourism, and a construction boom led by a large number of high-rise developments in the south, obtaining skilled workers appears to be a potential challenge. However, this is not the case.
Mr Muers stated: "Cyprus being part of the EU benefits from the pool of skilled labour in the region, so we envisage both taking advantage of this whilst also recruiting and training up local Cypriots with the skills to help develop the future mining industry on the island."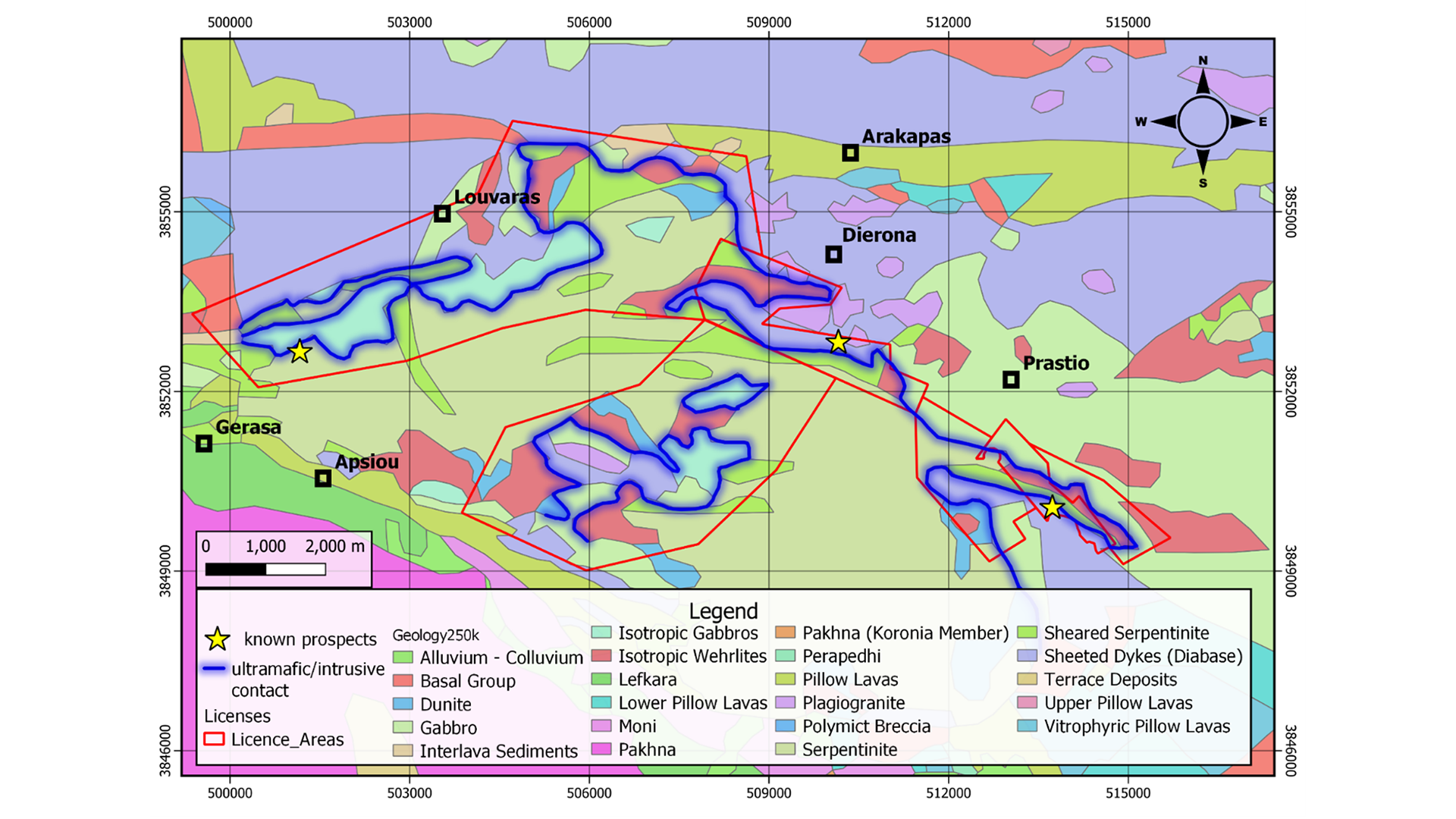 Indication of near-surface mining
AEN have around 40km of strike length covering the contact zone between the ultramafics and the intrusive rocks (diorite/gabbro etc.), and plan to fly geophysics to better ascertain additional areas to focus on. With a major transform-fault (plate boundary) bisecting the tenement area, parallels are apparent with other global deposits such as Bou Azzer in Morocco (one of the highest-grade cobalt mines in the world), the Ni-Co-Au deposits of the Ural Mountains, and those in Finland, for example.
Such deposits are typically not depth-constrained, thus, with the aid of geophysics such as down-hole EM and some deeper drilling, AEN hopes to be able to demonstrate the tonnage potential by proving this depth theory over time.
The strategic importance of the potential for a cobalt-rich resource to be defined within Europe is also not lost on AEN.
"Cobalt is up about 60% since we acquired the project, and nickel is also doing very well, so even if we proved up a relatively modest resource containing a few thousand tonnes of cobalt, this would be highly sought after in the battery factories, as an alternative to Chinese supply often sourced from the DRC."
Although it will be a while until AEN can demonstrate mine potential, they are encouraged by the data generated to date and made this comment in respect to the unique nature of the prospect:
"High grade deposits like this, with three or four potential revenue streams in high value metals such as nickel, cobalt, and copper, can prove very profitable."
Another benefit is the potential for a low-CapEx, small-scale underground mine with a low footprint and resultant environmental impact.
"We might be talking two or three trucks approximately every half hour, taking ore from satellite underground mines to a central plant. When you have ore values up to $2,000/t or potentially more, volume becomes less important – grade is king as they say."
Please note, this article will also appear in the eleventh edition of our quarterly publication.