As part of Zentek's latest advancements in the commercialisation of its graphene-based nanotechnology, the company is set to distribute ZenGUARD-enhanced surgical masks to the Canadian healthcare sector.
Zentek is using its expertise in nanotechnology to save lives after taking several initiatives to commercialise and distribute products containing its advanced anti-microbial coating, ZenGUARD™. ZenGUARD is an innovative coating for filters, which helps to deactivate pathogens to reduce the transmission of potentially life-threatening diseases. The company has signed a Distribution Agreement with Southmedic Inc., under which Southmedic will distribute ZenGUARD-enhanced surgical masks to the Canadian healthcare sector.
This partnership follows the product gaining an exclusive patent number and completing Phase 2 testing for use as a coating on heating, ventilation, and air conditioning filters, which reported a significant reduction in live airborne test organisms versus an uncoated control filter.
Commercialising ZenGUARD™ for healthcare applications
On 6 December 2022, Zentek was granted the unique patent number of 3,152,759 for its ZenGUARD technology, under the use of 'graphene-silver composites and uses for same as an antimicrobial composition.'
The Canadian Intellectual Property Office (CIPO) granted the patent with a term of 20 years from the filing date. This follows the company's announcement about the allowance of this patent, which applies to the use of its ZenGUARD technology on personal protective equipment (PPE) and heating, ventilation, and air conditioning (HVAC) applications. Zentek will continue working with its IP counsel to prepare patent applications which protect its commercial rights in all global jurisdictions of interest.
Greg Fenton, CEO of Zentek, said: "This is a significant milestone for Zentek and demonstrates our ability to move from a concept in the lab to an asset that the company can commercialise. Developing and protecting our intellectual property is the cornerstone of our business model. We are grateful for the hard work of our entire team, as well as the support of our shareholders."
He added: "We look forward to the continued commercialisation of ZenGUARD as a differentiated and patented technology platform upon which several products can be developed to better protect people and the environment."
Phase 2 HVAC testing: Reducing the spread of disease
Zentek has announced the successful completion of Phase 2 HVAC filter testing by the National Research Council of Canada (NRC).
The company received the preliminary report from Phase 2 testing under its Innovative Solutions Canada (ISC) Testing Stream contract. The report notes a significant reduction in live airborne test organisms with ZenGUARD coating applied to standard HVAC filters without modification to existing HVAC systems and no reduction in airflow rates or increasing energy use.
The testing demonstrated a reduction in live airborne bacteriophage surrogate contamination within a modular classroom environment, simulating a real-world setting. The testing was performed at the NRC's unique bioaerosol testing facility, designed and built specifically to test wet aerosolised droplets – the primary mechanism for indoor disease spreading.
"The significant increase in filtration efficiency of pathogen-laden water droplets without an impact to airflow rates creates a potentially powerful solution in the HVAC space," Fenton explained. "We are pleased that our patented ZenGUARD solution has shown to be effective and could provide commercial opportunities to a wide array of indoor environmental stakeholders to improve air quality.
"Governments, schools, homeowners, and hospitals, to real estate management companies, landlords, and tenants alike could utilise their existing equipment without additional capital investment, maintenance, or energy costs – enabling a simple and elegant solution. The result of providing cleaner air for indoor spaces is consistent with current global indoor air quality initiatives and environmental goals of reducing energy consumption."
"The results of the National Research Council of Canada's Phase 2 testing help validate our business model," said Ryan Shacklock, VP of Strategy and Business Development at Zentek. "Along with our Health Canada-authorised ZenGUARD-coated surgical masks, which demonstrated 99.99% Viral and Bacterial Filtration Efficacy, these HVAC test results bring us closer to the commercialisation of our second ZenGUARD-based product.
"ZenGUARD is becoming an antimicrobial technology platform from which we can potentially generate multiple other products that help improve air quality, health, and safety."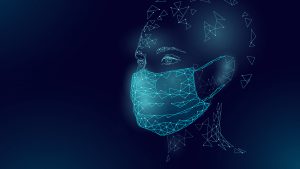 Distributing ZenGUARD surgical masks to the healthcare sector
Following these promising results, Zentek has announced its partnership with Southmedic, which will distribute surgical masks containing the company's graphene-based nanotechnology to the healthcare sector.
Southmedic, a large, independent distributor of medical devices in Canada, will distribute ZenGUARD-enhanced surgical masks to the Canadian hospital, general practitioners, private surgery, and long-term care and nursing home markets.
Southmedic currently distributes other PPE products in Canada and operates in over 80 countries globally. The company has also been recognised as a Platinum Member of Deloitte's Best Managed Companies.
Fenton commented: "Zentek is proud to partner with a great company like Southmedic. They bring a strong distribution network across Canada and beyond and have a reputation for bringing quality products and innovative solutions to the healthcare space, which is precisely what our ZenGUARD surgical mask brings to the market.
"We believe this is a meaningful step toward securing volumes in a market segment with stable demand for surgical masks. While our focus is currently on surgical masks in Canada, we look forward to exploring other opportunities for our ZenGUARD platform in the healthcare space with the Southmedic team."
Lee McDonald, CEO of Southmedic, added: "At Southmedic, we have built a reputation for providing customer-centric quality products and innovative solutions – and the ZenGUARD surgical mask, with its antimicrobial properties and superior bacterial and viral filtration efficiency, is a natural complement to our sales team's existing portfolio."
HVAC testing: Final results
In February, Zentek received the final report detailing the results of its Phase 2 testing of ZenGUARD for use in HVAC filtration from the National Research Council of Canada.
ZenGUARD-treated MERV 8 filters achieved 34.56% filtration efficiency of the Phi6 virus, a surrogate for COVID-19, during a single air exchange. This compares to 7.24% for uncoated MERV 8 filters, a 27.32% net improvement.
"We believe our patented technology platform is a disruptive technology for the HVAC industry, allowing us to help filter manufacturers significantly increase the pathogen filtration efficiency of the most commonly used air filters. The ZenGUARD technology is a simple and practical way to improve one of the biggest problems facing workspaces, planes, trains, buses, and other indoor spaces.
"Many building and transportation system owners and operators do not have the ability or desire to bear the financial costs of upgrading to higher-rated filters and HVAC systems. Additionally, avoiding the increased energy consumption and maintenance costs associated with higher rated filters provides a strong environmental and economic incentive, further supporting the ZenGUARD value proposition," stated Fenton.
He added: "For these reasons, we believe our patented ZenGUARD technology has the potential to not only protect people's health by removing more pathogens from the air we breathe but to do so in a way that reduces financial burden and environmental footprint."
What's next for Zentek?
Zentek has also been consulting and testing with LMS Technologies (LMS), a US-based air media and filter testing company that provides testing services and product certification for filter manufacturers. Work carried out with LMS will continue to advance the application of ZenGUARD in the HVAC market.
Their third-party independent testing of ZenGUARD-coated MERV 8 filters demonstrated a significant increase in both bacterial and viral filtration efficiency in line with, or better than, the results from the NRC. This independent verification and optimisation work with LMS will continue as Zentek moves towards the commercialisation of ZenGUARD in the HVAC market.
Moreover, Zentek will continue to:
Work to optimise configurations of HVAC filter materials coated with patented ZenGUARD technology at LMS to optimise product offerings;
Complete all testing and documentation required for regulatory submissions in Canada and the US; and
Work with Intertek Group plc to review regulatory requirements in other geographies of interest.
Please note, this article will also appear in the thirteenth edition of our quarterly publication.

Go to this partner's profile page to learn more about them