Margherita Bruscolini, Geoscientist & UAV Pilot at RSS-Hydro, explains how using innovative agriculture methods such as drones are critical to Agriculture 4.0 and the changing climate.
Climate change has become a well-known reality that affects the Earth's system, amplifying the frequency and magnitude of natural disasters such as droughts and floods, to name just a few. In Europe, as well as in the rest of the world, hydrological extremes have become recurrent events, affecting people's lives as well as several productive sectors, such as agriculture. The human and economic losses of climate change have increased over time, especially in the poorest nations, exacerbating inequalities on a global scale, making the need for innovative agriculture ever more critical.
Floods occur when watercourses or rain swallow up land that is usually uncovered and affect agricultural productivity in several ways, from losses in crops washed down by inundations to sediment accumulation down the lowlands, and inducing several 'positive feedback loops', with the reduction of water bodies storage capacity and consequent overflow. Furthermore, livestock and river ecosystems are strongly impacted, experiencing continuous displacements and losses along with diseases from contact with flood waters.
Heavy rainfall is also detrimental to crops, which need just the right amount of water to grow healthily. In addition, water timing is very important for agricultural production, allowing crops' regular metabolism and photosynthesis, as well as an appropriate absorption and transport of nutrients. Flooding events wash away the topsoil, the richest organic part of the soil, and deposit it somewhere else, leading to a reduction in local fertility. Under watered-down conditions, crops' roots also fail to breathe as anaerobic conditions set in. Beneficial microbes in the soils often die and anaerobic organisms take over, producing toxic byproducts that further damage crops.
The need to adopt climate-smart practices to improve the chances of mitigating the impacts of the changing climate is urgent, especially in countries that rely on agriculture as one of their main activities, as is minimizing the effects of water-related disasters. Sub-Saharan countries such as Nigeria, in which agriculture contributes 26% of national GDP and employs 36% of the total labour force,1 and India, with a contribution of 18% to national GDP and with 58% of the population working in the sector,2 are clear examples.
Innovative tools for the agriculture sector
Solving the issues connected to climate change is one of the biggest challenges we face, and it is a very arduous task due to the extensive spatial and temporal variation of natural disasters. In 2015, the UN 2030 sustainable development agenda was published and, within that, the goal to end global hunger, achieve food security, and improve nutrition, together with the incentive of sustainable agriculture (SDG 2). To meet these goals will require the combined efforts of farmers, governments, investors, and innovative players.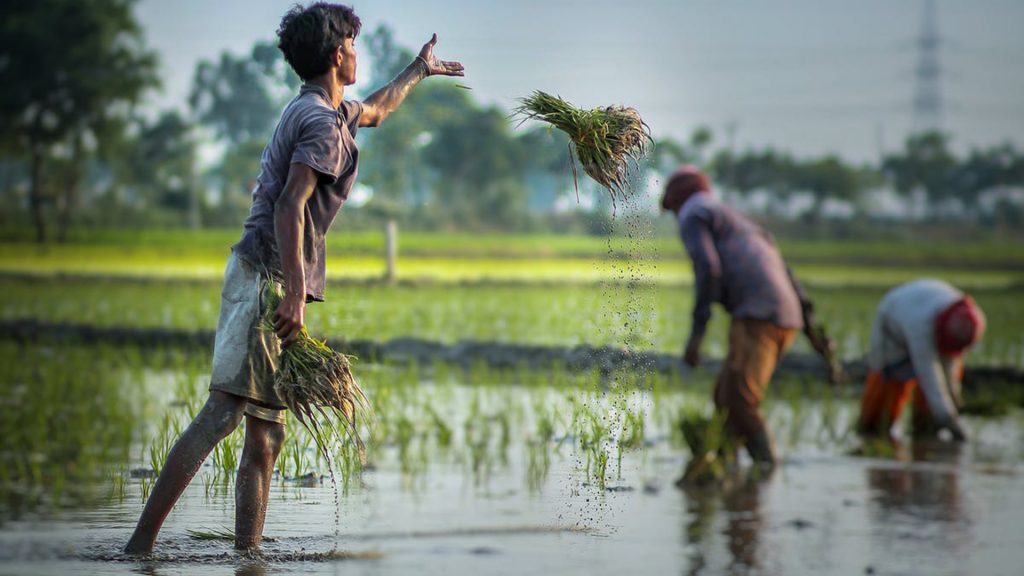 So-called 'Agriculture 4.0' comprises the new global trends in the sector,3 including innovative approaches and powerful tools to be used at different levels, from small-scale farmers to international organisations, with the potential to achieve significant results.
With the recent advancement in robotics, drones (pilotless aircraft systems, also called UAVs) and the Internet of Things (IoT), remote sensing technologies (non-invasive methods for information gathering) have become a popular tool for water resources and agricultural management. In fact, specialised instruments mounted on satellites and drones are now able to provide frequent and high-resolution data on hydro-meteorological variations on the Earth's surface and to capture hydrologic processes on the ground. We are experiencing a progressive shift in farmers' approaches with an increased adoption of technologies that can help them keep their farms sustainable.
Drones can be used across many different sectors, but agriculture is by far the leading application in the drone market,4 making drone technologies a game changer in supporting and accelerating the sector, especially in vulnerable countries such as Africa and Asia, which are extremely affected by climate change-related hazards.
Precision Agriculture
Using Precision Agriculture (PA), a key component of the 'Green Revolution', allows farmers to improve productivity and yield whilst reducing wastes and the overall impact, 'using less to grow more'.
An effective application of Precision Agricultural Technologies (PAT) builds upon remote sensing technologies. Moreover, Artificial Intelligence and Machine Learning can be used in combination with high-resolution images coming from drones to develop image processing algorithms to expand the understanding of plant health, crop and soil conditions, yield prediction, related water needs, and monitoring. Right now, drones are the most reliable, cost-effective, and easy-to-use technology with the ability to provide a wide range of sophisticated data. They can be used to scan the fields for vegetation and products condition assessment, 3D mapping, produce digital surface and terrain models, plant counts, and heights or geotagged vegetation index maps.
In a wider view, the combination of satellite images with hydrologic modelling and drone's imagery allows an efficient monitoring of water-related extreme events, like droughts and floods, and provides strategic tools to implement specific forecasting systems. Moreover, index-based products (past versus actual status monitoring) would allow insurance businesses to develop insurance products accordingly and do accurate loss adjustments.
RSS-Hydro
Like some other companies around the world, RSS-Hydro has started looking into the agriculture and viticulture sectors, turning key technologies such as satellite and drone data into specialised services, while keeping the SDGs 2 and 13 always in mind. Along this line, we are currently working on an R&D project called DADI, 'Drone service for Agricultural Drought Impact mapping', helping farmers keeping their fields and crop health monitored.
References
 Nigeria's National Bureau of Statistics (NBS), 2019
 Indian agriculture and allied industries industry report, 2021
Agriculture 4.0: the future of farming technology, 2018
DroneDeploy, 2016
Please note, this article will also appear in the sixth edition of our quarterly publication.

Go to this partner's profile page to learn more about them