Diligent data review and early metallurgical testing sets the stage for discovery in the new Gascoyne rare earth elements Province.
Australia-listed public company Voltaic Strategic Resources Limited (ASX:VSR) is focused on its Paddys Well rare earth element (REE) project, located in the Gascoyne Region of Western Australia – which is fast becoming one of the most prospective regions in Australia for REE discovery. The Gascoyne Region is the area that hosts projects operated by companies such as Hastings Technology Metals Ltd (ASX:HAS), Dreadnought Resources Ltd (ASX: DRE), and Kingfisher Mining Ltd (ASX:KFM) whose projects are at various stages of exploration and development for REE resources and which are within close proximity of Voltaic's exploration licences.
Rare earth elements are a group of 17 metallic elements that are essential not just to the global clean energy transition, but also in multiple industries that are seen as having critical importance by local and national governments around the world. In addition to being a key component of magnets, electrical motors, and rechargeable batteries, rees are used in computer hardware, defence and aerospace, medical technology, and ceramics.
Despite their name, rare earths actually occur in abundance throughout nature. Collectively, REE deposits are more plentiful than gold, platinum, and silver. What makes rees 'rare' is the fact that it is not common for them to occur in concentrations sufficient to support commercial mining operations. Until recently, most deposits were not commercially viable due to their capital-intensive refining processes which has resulted in an uneven global market that is largely dominated by China.
The global demand for rare earth elements has increased significantly in recent years, driven by the growing use of high-tech products. Currently, China is the largest producer of rees, accounting for around 80% of global production.
One potential source of REEs is the Gascoyne region of Western Australia. The Gascoyne region is known for its rich mineral deposits, including gold, copper, lead, and zinc. The region's geological history has created a diverse range of mineral deposits, including those that contain REEs. Voltaic has identified the Gascoyne region as a potential area for significant REE discovery.
Geological background of the Gascoyne region
The Gascoyne region is located in Western Australia, approximately 900 kilometres north of Perth. The region covers an area of approximately 135,000 square kilometres and is known for its diverse mineral deposits. The region's geology is characterised by a series of ancient sedimentary, volcanic, and igneous rocks, which have been subjected to a range of geological processes over millions of years.
The Gascoyne region in Western Australia is known to have a unique geological history and structural complexity, which make it suitable for REE discovery. Voltaic holds exploration licenses (granted and under application) that cover an area of 1,643km2 in the Gascoyne region within the geological zone that is considered to be prospective for REEs.
The Gascoyne region has a history of metamorphic and igneous activity, including the formation of granite and pegmatite rocks, which are known to host rare earth minerals. Additionally, the region has undergone extensive faulting and folding, which can create traps and concentrations of REE-bearing minerals.
The Gascoyne region also contains several geological features that are favourable for the formation of REE deposits, such as carbonatites, alkaline rocks, and rare-metal pegmatites. Carbonatites are rare igneous rocks that can host significant REE deposits, while alkaline rocks can be a source of rare earth minerals. Rare-metal pegmatites are known to contain high concentrations of rare earth elements, as well as other valuable minerals.
Moreover, the Gascoyne region has a long history of exploration for minerals, including REEs, and several deposits have been identified in the region. This suggests that there is potential for further discoveries in the area. Overall, the unique geological history and structural complexity of the Gascoyne region make it a promising area for REE discovery, and ongoing exploration efforts may lead to the identification of additional deposits in the future.
Different types of rare earth elements deposits
REE resources are mainly associated with four geological environments: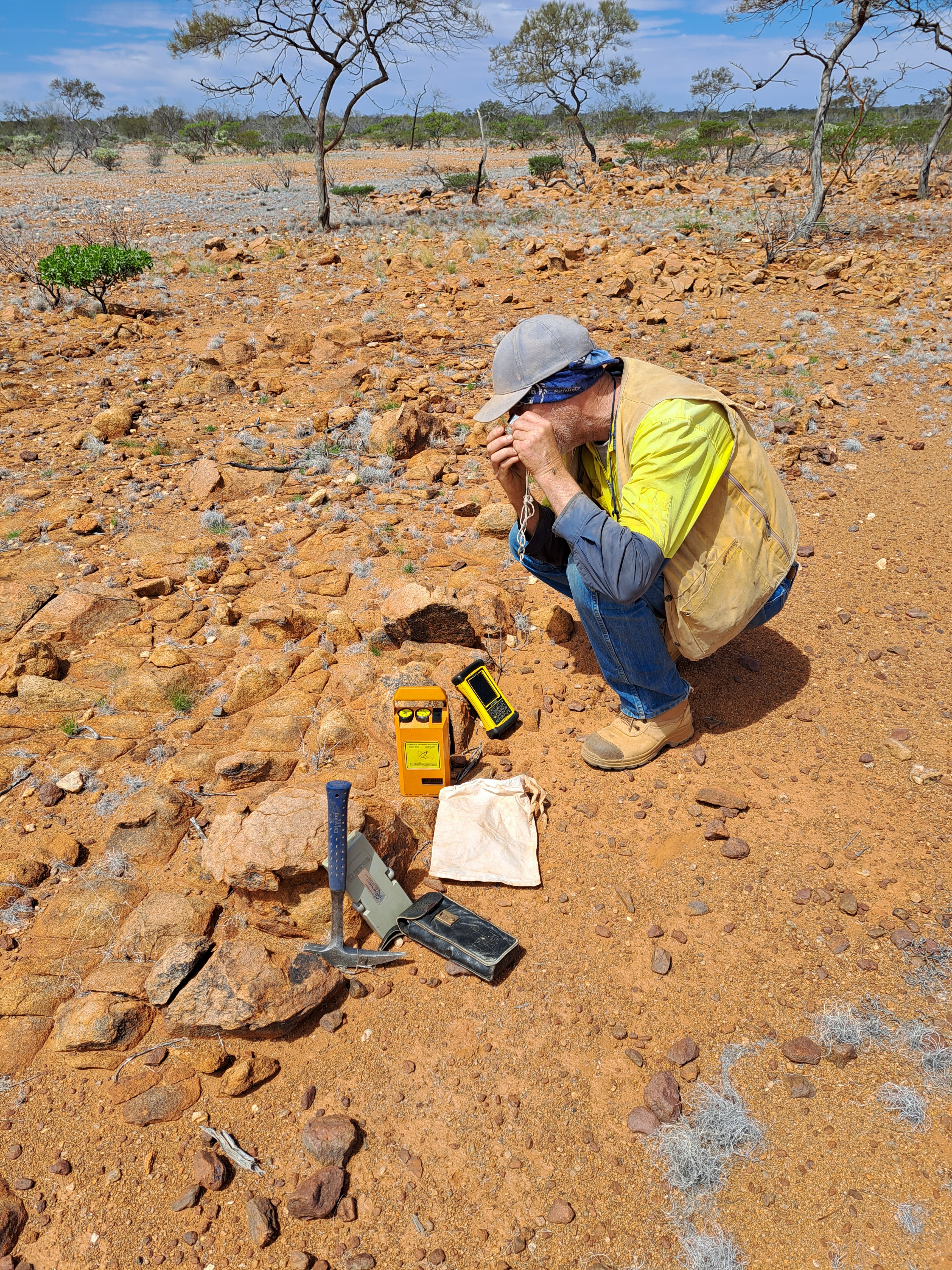 Alkaline igneous rocks;
Carbonatites, placer deposits ('mineral sands'); and
Ion-adsorption clay deposits.
The major categories of REE deposits each contain numerous subcategories, with highly variable mineralisation between them. The one thing all REE deposits share in common is that they always typically contain a mixture of the 17 rare earths, albeit in different concentrations, plus several other valuable elements such as scandium and yttrium.
Igneous REE deposits
Also known as magmatic deposits, igneous REE deposits are created when molten rock, enriched in rare earth elements, is intruded into the crust or erupted onto the surface as lava. These rocks typically have unusual alkaline geochemical compositions or are a carbonatite that has a mineral assemblage dominated by carbonate minerals. REEs can also occur within pegmatites, associated with lithium and tantalum mineralisation.
Sedimentary REE deposits
Sedimentary REE deposits are typically created by the erosion of rocks that contain REE-bearing minerals. These minerals are generally quite hard and resistant to weathering and can be concentrated by mechanical processes into alluvial or placer deposits.
Rare earth elements may also occur associated with sedimentary rocks that form from chemical precipitation (e.g. phosphorites) or where REE-rich groundwater interacts with reactive rocks such as coal.
Ionic REE deposits
Ionic, clay-hosted, or regolith-hosted REE deposits typically form as near-surface, horizontal blankets of mineralisation formed through the weathering of rocks such as granites that contain elevated levels of REE-bearing minerals.
Processing and production of rare earths
The process of extracting and processing REEs is complex and capital-intensive. REEs are typically found in small concentrations, and the extraction process involves multiple stages of processing. The first step in the process is to extract the ore containing the REEs from the ground. The ore is then crushed and ground into a fine powder, which is then treated with chemicals to extract the REEs. The resulting concentrate is then purified to remove impurities, and the individual REEs are separated using a combination of chemical and physical methods. The final step in the process involves refining the individual REEs to achieve the required purity level.
Voltaic is at the first stage of the discovery process and has a small, but well-credentialed team of REE experts, that is carrying out very detailed and methodical research and analysis as it undertakes exploration activities to determine the commercial viability of the REE resources that may be present on its exploration licenses. Historically, REE projects have taken many years and significant capital to discover a commercially minable resource. Then the necessary infrastructure to enable commercialisation of the discovery is built. There are very few REE mining operations that are in full-scale production outside China, with some of the most successful being:
Mount Weld, Australia: Mount Weld is one of the richest rare earth deposits in the world and is operated by Lynas Corporation. The mine is located in Western Australia and produces a significant portion of the world's neodymium and praseodymium.
Mountain Pass, US: Mountain Pass is the only rare earth mining operation in the United States and is operated by MP Materials. The mine is located in California and produces a variety of rare earth elements including cerium, lanthanum, and neodymium.
There are a number of large projects that have defined resources of various REEs and which are in the process of development.
What differentiates Voltaic from other explorers?
Quality management
The senior management team at Voltaic is led by Michael Walshe who has over 15 years of international experience in engineering, operations, technology commercialisation, and project development roles across the minerals, chemicals, and renewable energy sectors. Michael joins Voltaic after a ten year career at Metso:Outotec (one of the world's largest providers of solutions for mineral processing and metal refining) where he held roles including Director and Vice President for the Asia Pacific Minerals business, in addition to being a member of the executive management team. His experience covers team leadership, metallurgy, process design, sales, and structuring project finance packages for junior miners via export credit funding.
Michael has been involved in several international minerals projects with particular exposure to Asian countries such as Indonesia, the Philippines, PNG, and South Korea, and has worked across a wide range of commodities including lithium, rare earths, nickel, copper, zinc, and gold. Michael holds a Bachelor of Chemical and Process Engineering (Hons.) from University College Dublin, Ireland, and a Master of Business Administration (Finance) from the Australian Institute of Business. He is a chartered engineer with both Engineers Australia & the Institution of Chemical Engineers (IChemE), and is a member of the Australasian Institute of Mining & Metallurgy (AusIMM).
Michael Walshe is supported on the geological side of the business by a highly experienced geologist, Claudio Sheriff. Claudio discovered Asra Minerals' (ASX:ASR) Yttria REE and critical minerals deposit and was involved in Northern Minerals' (ASX:NTU) Browns Range Wolverine Heavy REE discovery. His expertise in mineralised systems throughout Australia, Indonesia, and Chile covers target generation and systematic ranking, exploration, and discovery through to resource drill-out, across a wide range of deposit types including REEs and critical minerals, high-grade narrow vein Au, epithermal Au, structural Cu-Au, base metals, VMS, BHT, and IOCG/ISCG. Claudio has a Bachelor of Science (Mineral Exploration and Mining Geology) and is a member of AusIMM.
The combined experience of Michael Walshe's chemical engineering background and Claudio Sheriff's REE geology experience is unique in the mineral exploration sector, especially in small-cap companies such as Voltaic.
Following the science: Understanding what ingredients are required for a commercial REE discovery
The unique combination of strong skill sets in both chemistry and geology that forms the Voltaic leadership team brings together an understanding of what potential there is for a REE resource discovery and what the likelihood is of this being commercialised. Successful commercialisation of a REE discovery requires a good understanding of the types of minerals that make up the basket of REEs that are contained in a resource and more importantly, how they can be processed once discovered. The processing of REEs is highly capital intensive and without a clear understanding of the processes that might be suitable for the particular basket of REEs that are present within a resource, the pathway to commercialisation of the resource is uncertain which can lead to poor capital investment decisions.
Voltaic has carried out extensive research and analysis of results from historical drilling that was carried out by previous exploration companies who were searching for uranium in the Paddys Well area, which reported a significant amount of data relating to REE mineralisation that was identified at that time. The historical diamond drill cores from this earlier exploration work had been left in the field and were collected and used by the company for preliminary analysis work, thus, saving significant costs and rapidly advancing the early exploration objectives. The extensive knowledge base of the management team has enabled it to recognise the REE potential and carry out the preliminary fieldwork that is required to make a potential early discovery. The complexity of geology and chemistry associated with REE deposits requires a rigorous understanding of the science to identify what exploration targets are likely to be prospective for a commercial discovery.
Focus on economic discovery: Quality not quantity
The company has identified several targets at its Paddys Well Project, both clay-hosted and primary hard rock REE, and it has initiated sighter metallurgical test work to characterise the REEs identified within the clays. The metallurgical work is being carried out to ascertain the preliminary viability of a clay-hosted REE venture and to enable the company to make informed decisions on whether to continue targeting clay-hosted REEs or to shift focus solely to hard rock potential that also exists below the upper clay formation. This demonstrates a disciplined approach to the most effective deployment of capital resources.
If the metallurgical testing that Voltaic undertakes on the clay samples reveals that they host true ionic absorption deposits of REEs, which show that they could be extracted by commercial methods, the company has extensive targets that it can focus on to develop an ionic clay REE resource. If these tests show poor recovery characteristics of REEs from the clays, attention will be focused on the hard rock carbonatite targets that have been identified. Voltaic has prioritised the need for a high-quality economic resource discovery over the discovery of a very large but sub-economic resource that is unlikely to be easily developed.
Advantages of being in the Gascoyne region
The company's Paddys Well exploration licenses are located in a very prospective region of the Gascoyne which has a number of very large and well-resourced peers.
Hastings Technology Metals Ltd controls two major resources in Western Australia, the Yangibana and Brockman Projects. The Yangibana Project is a significant rare earths project, containing substantial neodymium and praseodymium resources which covers approximately 650km2. The project is located north of Voltaic's Paddys Well Project in the Gascoyne region of Western Australia, some 250 kilometres northeast of Carnarvon. The Yangibana Project is well advanced with a definitive feasibility study completed in 2017. It has a JORC resource of 21 million tonnes at a grade of 1.17% Total Rare Earth Oxides (TREO) comprising measured resources of 3.9 million tonnes at 1.19% TREO, indicated resources of 8.6 million tonnes at 1.25% TREO, and inferred resources of 8.4 million tonnes at 1.09% TREO, and is currently being developed for mining.
Dreadnought Resources owns and operates the Magaroon Project covering ~4,900km2, located 250km southeast of Exmouth in the vastly underexplored Gascoyne Region of WA. Part of the project is targeting Ni-Cu-PGE and is subject to a joint venture with First Quantum Minerals (earning up to 70%). The joint venture area contains outcropping high-tenor Ni-Cu-PGE blebby sulphides in the recently defined Money Intrusion. Dreadnought's 100% owned areas contain outcropping high-grade gold-bearing quartz veins along the Edmund and Minga Bar Faults and outcropping high-grade REE ironstones, similar to those under development at the Yangibana REE Project. Recently, six potentially REE-bearing carbonatite intrusions have been identified which may also be the source of the regional rare earths.
Kingfisher Mining's Mick Well and Kingfisher Projects are located approximately 230km east of Carnarvon, in the Gascoyne region of Western Australia. The company recently made discoveries of hard rock and clay rare earth elements mineralisation at Mick Well. Both styles of mineralisation are associated with carbonatites that intruded along a crustal-scale structural corridor, the Chalba Shear, which extends over a strike length of 54km within the company's tenure. Significant drill results associated with the hard rock discovery of rare earth elements. These projects are adjacent to Voltaic's tenements and many of the geological features that have been drilled by Kingfisher are present in Voltaic's exploration licenses.
Cooperation is essential for the efficient commercialisation of REE resource discoveries
Voltaic has built up strategic relationships with other organisations that are part of the REE industry. The company recognises that its core competencies lie in exploration and discovery but that future development of any resources that are identified may be better suited to larger companies that have mine development expertise. Discussions have been held with larger companies who are developing REE processing capabilities and with potential off-take partners.
It is recognised within the Australian REE sector that cooperation between parties will be critical for the efficient commercialisation of REE resource discoveries. A collaborative approach is being adopted between resource exploration companies who are working in the Gascoyne area to ensure that efficiencies can be made and to ensure that there is cooperation with any emergency situations in this remote part of Western Australia.
Respect for the environment and other land users
Management has made an effort to engage with all of the stakeholders that could be affected by the field operations that it has carried out to date and where there may be an impact in the future. Mineral exploration licenses held by the company co-exist with pastoral station leases that run livestock over vast areas of land. The livestock (mainly cattle) are mustered annually and there are many watering points that need to be maintained throughout the stations where exploration work is carried out.
The company ensures that it does not interfere with any of the livestock operations and ensures that it respects infrastructure such as fences, gates, and roads. The pastoral station owners will often be able to assist exploration companies with the supply of equipment to clear drilling pads and roads where these are approved for exploration. Voltaic's management has developed close relations with the station managers to ensure that they are fully informed of the company's exploration activities whenever they are on pastoral land.
Care is taken by the company with regard to road usage. Many of the remote access roads are managed by the local shires/councils and the station owners. These roads can be easily damaged in certain conditions such as after rain events and are expensive to repair. When roads are closed, the company will not use them to mitigate any risk of damage to the road surfaces.
The company is conscious of its obligations to Aboriginal groups with regard to obtaining heritage clearance on any land that intends to carry out exploration activities including the clearing of access tracks. Processes are in place to advise native title holders of upcoming exploration activities and assist with site visits to check on any heritage matters. Permission is required to be given by State Government authorities for any vegetation clearance that may be required to carry out exploration activities. The company takes steps to protect any fauna that it may encounter while it is carrying out exploration activities.
Voltaic Strategic Resources Ltd has great potential to produce REEs
The Gascoyne region of Western Australia has the potential to become a significant source of REEs, with Voltaic Strategic Resources Ltd at the forefront of exploration activities in the area. The company has identified several areas of interest, including the Paddys Well prospect, which is characterised by significant REE mineralisation.
The production of REEs from the Gascoyne region would provide a valuable alternative to China's dominant position in the market, providing greater REE supply security for high-tech industries around the world. However, it is essential that any REE production activities are conducted in a responsible and sustainable manner, taking into account environmental and social considerations.
Voltaic Strategic Resources Ltd has indicated that it intends to continue its exploration and development activities in the Gascoyne region, with a focus on determining the commercial viability of the REE deposits. With continued investment and innovation, the Gascoyne region could become a significant player in the global REE market, providing a valuable resource for the high-tech industries of the future.

Go to this partner's profile page to learn more about them