Australian mineral exploration company Eclipse Metals Limited (ASX: EPM) is moving ahead with plans to develop Greenland's next rare earth elements mining project.
Eclipse is actively exploring the historic Ivittuut cryolite mine in southwestern Greenland, as well as the nearby Grønnedal carbonatite complex, having identified its multi-faceted commercial potential for cryolite, rare earth elements (REE) and high purity quartz (HPQ). Exploration completed since acquiring the project adds further evidence that the project also contains lithium, siderite, and several base metals.
Eclipse has applied to Greenland's Mineral Resources Authority to proceed with drilling during the 2022 field season, which it expects to help grow its understanding of the project's potential mineralisation.
Mineralisation potential at Ivituut
Carl Popal, Executive Chairman of Eclipse Metals, visited Ivittuut (also known as Ivigtut) and Grønnedal to assess site conditions ahead of the 2022 field season, which Eclipse expects will include a drilling programme on the Grønnedal carbonatite rare earth elements prospect. This assessment of ground conditions helped the company in planning access and drillhole location, allowing it to engage a Greenland-based drilling contractor to undertake the proposed drilling.
"We took the drillers onsite and discussed the mobilisation of appropriate equipment. We were also able to locate several historical drill collars which will assist in planning the company's drilling programme," Popal said.
Eclipse has applied to Greenland's Mineral Resources Authority (MLSA) for approval to execute this programme and is awaiting acceptance of its proposals.
Eclipse's application followed positive discussions with Greenland government representatives, including officials from the Greenland MLSA and Environmental Agency for Mineral Resource Activities (EAMRA). The meetings gave Eclipse a chance to discuss requirements for a mining licence application for Ivittuut, especially regarding the environmental needs of the existing Ivittuut pit in light of a new mining development.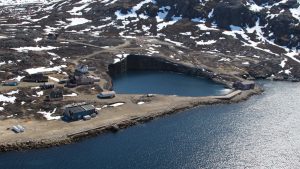 "We have received some positive responses and are encouraged to work with environmental officers to develop the requirements to dewater the pit. We will engage a specialist to assist with addressing these requirements to ensure dewatering is in line with best practice," Popal continued.
Using satellite imagery to establish geology and mineralisation
On the back of this regulatory progress, Eclipse has also received positive news from satellite imagery analysis completed over Ivittuut.
The company's consultants completed the analysis of satellite imagery from the European Space Agency's Sentinel-2 satellite, aiming to remotely sense surface features relating to the project's geology and mineralisation. Analysis identified numerous spectral anomalies indicative of hydrothermal alteration with associated iron oxides, sulphides and/or clays.
The analysis identified coincident jarosite, goethite, and kaolinite mineral index anomalism over the historic Ivittuut mine precinct, particularly over the waste dumps, confirming the effectiveness of the method in the context of the project. In addition, it showed two large, coincident jarosite, goethite and kaolinite mineral index anomalies within the project that have never been sampled or drill tested.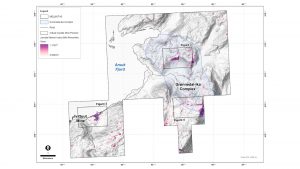 "We are delighted that our Sentinel-2 satellite imagery analysis, which is a proven and cost-effective technology for screening large areas of exposed rock, that has delivered new high-priority targets for rare earth elements and base metal mineralisation," Popal added.
"We plan to field check the highest-ranked anomalies as part of the ongoing summer exploration campaign."
Eclipse's field reconnaissance of these and several other high-priority spectral anomalies may include grab sampling in areas of magnetic and electromagnetic (EM) anomalism, detailed geological mapping and relogging of historic drill core, data integration and interpretation and generation and testing of drill targets. It aims to commence these activities during the current Northern Hemisphere summer exploration campaign.
Preservation and restoration of Ivittuut
In addition to its future plans for Ivittuut, Eclipse is also interested in its past. Ivittuut – the only place on Earth where cryolite has been extracted in commercial quantities – saw 120 years of mining activity from 1865-1985 and produced 3.8 million tonnes of cryolite, which is used in aluminium production.
Eclipse has met with residents with memories of the mining era and has an interest in hearing from other local residents to gather a history of the site so Eclipse can play an active role in its preservation.
The company has started a dialogue with the municipality of Sermersooq to establish how it can assist in the restoration of the Ivittuut mine museum.
Please note, this article will also appear in the eleventh edition of our quarterly publication.

Go to this partner's profile page to learn more about them