EDRS Project Manager, Michael Witting, speaks to The Innovation Platform about how the SpaceDataHighway has evolved and what the future might hold.
Dubbed the 'SpaceDataHighway', the European Data Relay System (EDRS) is the most sophisticated laser communication network ever designed. It helps Earth-observing satellites to transmit large quantities of potentially life-saving data down to Europe in near-real time by using two geostationary satellites and their optical links to gather low-orbiting satellites' information at far higher data rates than traditional radio frequency beams.
EDRS is a Public Private Partnership (PPP) between the European Space Agency (ESA) and Airbus Defence & Space, and The Innovation Platform spoke with the system's Project Manager at ESA, Michael Witting, about its evolution of future potential.
What progress has been made on the EDRS in recent years? What main areas of EO stand to benefit from the EDRS network?
The main benefit is that any Earth Observation mission can send data down to Earth in a lot less time than with what is typically available with conventional means. EDRS can send data in 'near real time'. So, instead of having a wait time of sometimes an hour or two, the data can be received on the ground in just ten minutes. Furthermore, the amount of data that can be sent within a given time-slot is also significantly increased.
This enhancement enables many different applications. Earth observations, such as those conducted with the Copernicus fleet, are already benefiting from EDRS; the Copernicus satellites amass large amounts of data, and we enable them to pass it to the ground in near real time. This capability has huge potential when it comes to situations where staff on the ground need the information quickly – such as in the event of wildfires or oil spills, or even data on the movement of the ice sheets in the north Polar region, which is important for maritime navigation. In such instances, a delay of hours in receiving the data can have a severe detrimental impact on how people can react.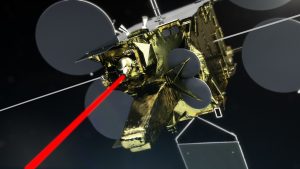 The second node of EDRS, EDRS-C, is now ready to start service. What does this mean in terms of enhanced capability?
The benefits for the EDRS system are twofold. Firstly, both EDRS-A and EDRS-C have the same optical capabilities; essentially, they have the same payload. As such, this doubles the capacity of the system, meaning that more customers can be served or, indeed, existing customers can be provided with more links, should they need them. Secondly, the satellites provide redundancy for one another – should there ever be a problem with one of them, then the other can take over the link sessions.
EDRS-C is in a different location to EDRS-A – EDRS-A is at nine degrees east, and EDRS-C is slightly further east, at 31 degrees. This means that there is increased visibility between EDRS and any customer's satellite, in that they might be able to see one of the EDRS nodes but not the other at a given time.
EDRS-C was launched in August 2019, and the 'in orbit commissioning review' of the satellite was competed in May 2020. The optical link commissioning tests with the Copernicus satellites have now also been completed, and so the satellite is now ready to join EDRS-A to provide the commercial service.
In addition to the EDRS core payload, EDRS-C has an additional two so called 'Hosted Payloads': one is called the 'next generation radiation monitor', which monitors the space environment and is already providing data to those working on space situational awareness at ESA. It also carries the HYLAS 3 Ka-band commercial communication payload owned and operated by Avanti Communications UK, which has been embarked on EDRS-C as the result of a contract between ESA and Avanti.
Copernicus, of course, is one of EDRSs main customers. Do you anticipate any challenges as the Copernicus system evolves and grows?
There are several challenges for EDRS here. We are already serving Copernicus's four Sentinels, 1A, 1B, 2A and 2B, and there are now six high-priority candidate missions being studied to address EU policy and gaps in Copernicus user needs, and to expand the current capabilities of the Copernicus space component. These satellites are being developed, some of which will likely include a laser communication terminal because they have very high data rate requirements. While it will take several years for these satellites to be launched and become operational, when that does happen there will be more demand for link time. This is alongside the commercial customers that, hopefully, Airbus will also acquire by this time.
At this point, it is probable that we will have saturated the capacity of the EDRS system. On the one hand, that is great because it means that the system is being used; but on the other, it also means that if we want grow in terms of customers and capacity, then the system will need to be enlarged.
With Copernicus acting as the anchor customer, has success been demonstrated to the extent that other customers are now taking advantage of the EDRS network? What sectors do you typically see as benefitting from the EDRS capabilities?
Airbus is the commercial operator of the system, and they are therefore responsible for acquiring commercial customers. From the ESA side, we are helping by including ESA satellites as customers (alongside Copernicus).
Furthermore, at the end of next year EDRS-A, which offers a Ka band inter-satellite link facility, will start providing a service to the Columbus module on the International Space Station (ISS), the European module, which will enhance their capability to transfer large amounts of data to and from space in real time.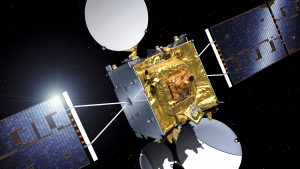 Given that you are already envisioning the saturation of EDRS capabilities, are there longer-term plans in place to develop the system further? Has any progress been made towards a third node, EDRS-D, for the Asia-Pacific region?
There is still a plan for what is now called 'EDRS Global', which would see the system being enlarged so that it provides global coverage.
We have recently conducted a pre-study with Airbus on EDRS-D, which looked at the feasibility and cost. However, there is currently no concrete plan to actually build the satellite, perhaps because Airbus would like to secure new customers before they invest in the system any further.
EDRS is outperforming the key performance indicators (KPIs), and so we remain hopeful that these customers will be acquired, and then it will be possible to look to the longer term.
EDRS-A has been operational for some time now. What have been the main achievements thus far?
EDRS-A has transmitted more than two petabytes of data and has completed over 35,000 successful optical inter-satellite links between EDRS-A and the Copernicus satellites since November 2016. That is a great success. Only very occasionally do we experience failed links due to intermittent electronic problems, but the number of failed links remains very low, so the system availability requirements are easily met.
Are the electronic faults a result of the effects of space weather? Can they be shielded?
What are known as 'single-event upsets' (SEUs) occasionally affect the links. These occur when a charged particle hits any sensitive electronics flying in space. For EDRS, this has happened a number of times, and while such events don't damage the satellite, they do result in the loss of some data.
Shielding can be achieved using lead, but that is incredibly heavy. As such, you have to make a trade-off between how heavy you want the satellite to be (as this impacts the cost of the launch), and how much data loss or failed links you are willing to accept.
Magali Vaissiere, Director of Telecommunications and Integrated Applications at ESA, has said: "To stay ahead of the international competition, we have to make sure that EDRS meets the real needs of users and we have to keep on investing in the infrastructure itself to make it global. It will become a worldwide commercial success." How would you like to see this happen?
International competition is difficult to quantify, but there are efforts in the USA and Japan to build similar systems. However, these efforts are perhaps three-to-five years behind what we have achieved in Europe. This is great for us, both in terms of us having a leading position in the field, but also in terms of being ahead commercially.
At ESA, we will continue to support Airbus as they work towards securing more commercial customers, and as we look to the future and the potential of including more EDRS nodes and thus achieving global coverage. This could include more nodes in the European space, as well as another over the Japan region, and another perhaps over the USA. This would enable EDRS to literally serve any customer 24/7.
From a personal point of view, this is certainly something that I hope to see realised in the future. I have been involved with EDRS for the last ten years, and when you spend so long on one thing, you become emotionally invested. I don't want to see EDRS collapse in five years because nobody is making use of it; I have a very personal interest in helping it to become a success.
Michael Witting
Project Manager
European Data Relay System (EDRS)
European Space Agency (ESA)
michael.witting@esa.int
Tweet @esa
www.esa.int/Applications/Telecommunications_Integrated_Applications/EDRS
Please note, this article will also appear in the third edition of our new quarterly publication.