As cities move towards all electric public transport, Kempower are providing the solutions to make the dream of green cities a reality.
Kempower is an industry leader in the development of electric vehicle solutions. Emerging from the Kemppi Group, a welding company who are famous for the introduction of the first inverter-based DC power source in the world, Kempower has quickly become established as a lead provider of electric transport solutions, utilising years of experience and knowledge in the energy and engineering sectors to develop long lasting eco-friendly solutions.
Kempower manufacture the key parts of all chargers within their established factories in Finland, this further contributes to their environmental goals, reducing the excess emissions that would be generated if the parts were shipped from abroad. Their commitment to sustainability and the reduction of climate change are paramount to everything the company does.
Erik Kanerva, Kempower's Director of Marketing and Sales for Sweden speaks to Innovation News Network about the company's commitment to helping introduce fully electric public transport across Europe.
Can you provide a background to Kempower and the technology you offer?
Power conversion using power modules is an accepted standard within the industry and is used in a wide variety of applications. Since the early 1950s, the Kemppi Group has delivered thousands of power modules for welding machines and other applications, including the CERN particle accelerator in early 2010. Based on this extensive knowledge and years of industry experience, Kempower was kick-started in 2018 to employ power modules in recharging applications.
At Kempower, we believe that high quality power modules with connectivity services are key elements needed to succeed in greater electric mobility. We are able to use the knowledge that Kemppi Group has gathered over decades in a new environment and transfer those resources and skills over to the promotion and advancement of electric mobility.
Our business is driven by reliability, user-experience, and cost-effectiveness and we offer charging solutions for a wide variety of end-user segments, e.g., for public transport, electric passenger cars, electric marine, electric off-highway vehicles, and electric machinery. Our technology has always focused on including both hardware and software: we develop them together focusing on scalability, reliability, long lifecycle and modularity.
Do you believe that government policy throughout Europe is strong enough to deliver on climate change reductions, and what part can you play?
The electrification of public transport is crucial to positively impacting climate change and there are many ways countries are working towards this and many benefits that they can reap through the implementation of electric vehicles. There are an increasing number of cities that have already set strict measures to reduce emissions, such as zero-emission zones that restrict the movement of polluting vehicles, and cities with areas where it is forbidden to move with any other means than fully electric.
Another key benefit to the electrification of public transport is money. If you think about public transportation, the cost of an electric bus fleet throughout the lifecycle is lower than the cost of a traditional ICE bus fleet. The initial investment may be higher but overall operating costs are lower, leading to an eventual increased profit. Electric bus fleets are also quieter and more environmentally friendly than traditional ICE bus fleets, improving their impact on the communities they serve.
Kempower is the enabler of public transport. We offer a wide range of charging solutions to suit all EV charging needs in cities and our solutions cover everything from outdoor parking spaces to bus depots. In the future, the over-night cable charging of electric bus fleets at depots will become increasingly common: the Kempower S-Series advanced satellite charging system is the perfect multi-standard charging solution for bus depots.
How important is it that cities recognise the benefits of electric public transport, and what benefits does it offer?
The benefits of electric public transport are clear: lower emissions, less noise, improved air quality, improved well-being, and increased use of renewable energy sources like wind power and solar energy. With electric public transport, cities have more options to use different renewable energy sources. Electric public transport is also a nicer user experience for passengers – the passenger will have a smoother ride without the noise or disturbance of a traditional engine.
Kempower has supported bus operators in many pilot projects. One example is the fully electric bus line 23 in Helsinki, where we have combined cable charging and pantograph charging. This unique solution means that there are two methods of charging at the bus stop so if one fails the bus can still be charged, thereby ensuring its continued operation.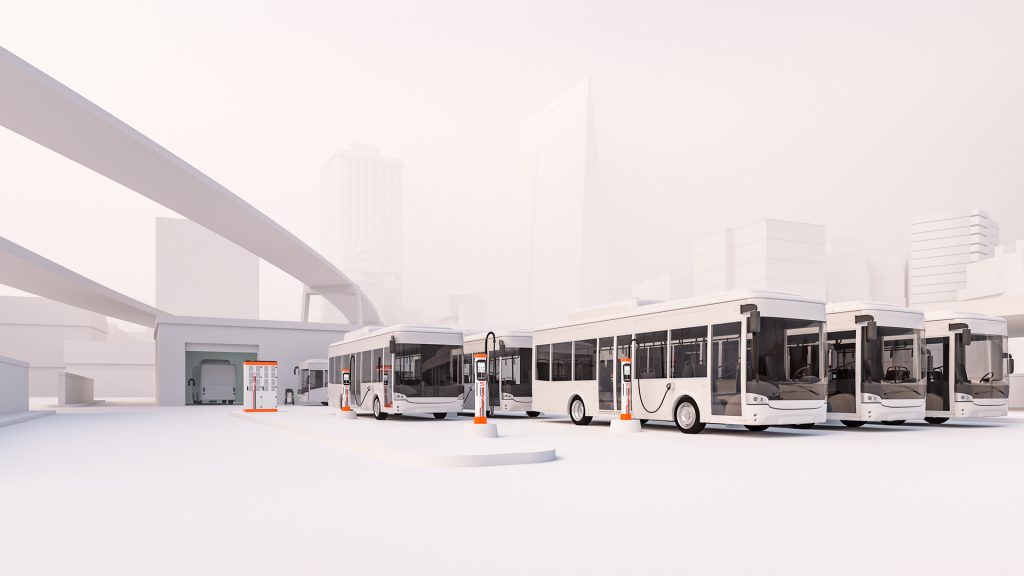 What specific technologies do Kempower offer to make a transition to electric buses an obvious and easy solution?
Kempower has helped many customers in the public transport sector to pilot electric bus fleets with our T-Series mobile DC chargers. The T-Series mobile charger is excellent for different pilot projects as the charger itself does not require any installation; just power. The cities and bus fleet operators can use the T-series charger to test the charging and operation of an electric bus fleet. Once they have completed testing and gained enough experience on how electric bus fleet charging works in daily life, they can plan and invest in more extensive charging infrastructure.
Kempower technology supports additional functionalities crucial for daily operations such as pre-heating, for example. We provide all kinds of chargers from mobile chargers to large charging solutions with dynamic power and cloud support, including both cable charging and pantograph charging. Our advanced satellite charging system is a perfect match for any size bus depot. The adaptive load management facilities ensure maximum energy efficiency, and the power management tools control energy delivery priority schemes – and also provides support for ready-to-run functions.
In addition to depot charging, our DC charging converter cabinets can deliver charging power using pantographs at a bus line's final stop. The pantograph can be located on the roof of the vehicle or at the charging stations located at each bus route's final stop. It works via an apparatus on the roof that can extend and charge off an existing line, allowing fast charging.
Of all the projects you have been involved in, what would be the one you are most proud of, and why?
We have had a great start and have provided electric bus depot charging solutions in many Nordic countries which we are very proud of. We have also had the opportunity to further develop our charging technology together with the electric bus operators and manufacturers.
We want to continue our co-operation and relationship with all players in the electric bus market to continue to develop and evolve our solutions. Nordic co-operation is really important to us and benefits all parties involved. We all have the same goal: to provide a smooth, low-emission electric bus ride to passengers so that they arrive to their destination on time and with minimal environmental impact.
Finally, how do you see the market changing for electric buses over the next five years?
We can already see a strong growth in the market and expect this to continue, as not only the electric bus fleets, but also other fleets, like delivery vans, taxis, and minibuses, are turning electric.
The number of electric vehicles is rapidly rising all over the globe. There are even cities that have set the inspirational goal of going fully electric.
Our ultimate goal is to create an EV charging infrastructure so extensive and reliable that electric vehicles can and will quickly become the new normal.
Please note, this article will also appear in the seventh edition of our quarterly publication.