Environmental conservation and climate change mitigation, and in particular the reduction of CO2 emissions, ceased to be a matter of personal opinion a long time ago. All people and institutions are called upon to act responsibly and effectively, in order to halt climate change on our planet.
The EU Paris Agreement establishes an emissions reduction target from 1990 levels of at least 55% by 2030, with complete climate neutrality by 2050, through the European Climate Law. Electrification in the commercial vehicle sector is a major lever for achieving these targets.
Urgent action required
Time is of the essence – swift action to reduce pollutant emissions is vital to create global transformation towards climate-neutral, zero-emission, and energy-efficient mobility. The decarbonisation of entire commercial vehicle fleets and the associated switch to electromobility is the logical consequence being mandated by the majority of governments in Europe and needs to be implemented by fleet operators without delay.
This is associated with multiple challenges, of both a commercial and technological nature. One key technology for successfully achieving mobility transformation is innovative electric drive systems for used and new commercial vehicles such as buses and trucks that feature state-of-the-art technology and series-production quality. Only an individual mix of repowering existing commercial vehicles and purchasing new ones will allow the environmental targets to be successfully achieved, while meeting the current high demand for affordable e-commercial vehicles.
pepper motion GmbH, the pioneer and trendsetter in the field of commercial vehicle electrification, offers the market-oriented answer through its innovative solutions: the universal, modular drive system for electrifying used and new commercial vehicles such as trucks for distribution transport, buses for local public transport, and municipal vehicles.
The privately-financed German company, headquartered in Denkendorf (Bavaria) with offices in Garching near Munich, Paderborn, and Vienna (Austria), employs more than 140 people and is the first digital original equipment manufacturer (OEM) worldwide without its own storage and manufacturing facilities.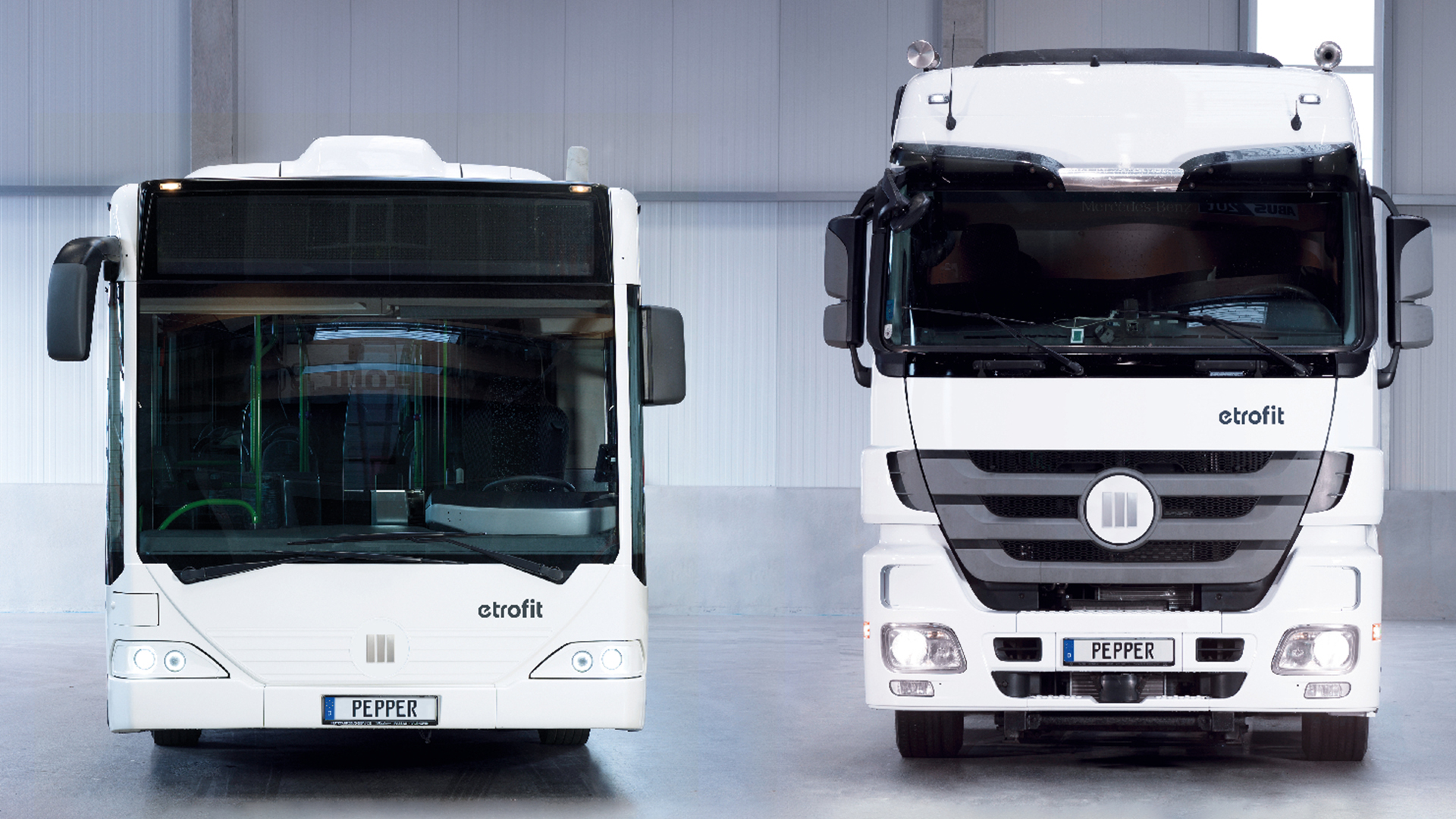 Repowering: The most sustainable solution
In Europe, a bus usually has a service life of around 12 years, while a truck, depending on the operating scenario, is in use for approximately eight years, resulting in an enormously high total cost of ownership (TCO) for diesel vehicles. If businesses replaced their entire fleets with new electric utility vehicles, this would not only require a high level of investment, but also entail high resource and energy consumption due to the need to produce new vehicles and dispose of the old ones. That is the reason why pepper developed a zero-emission solution that enables private sector truck fleet operators, as well as municipalities and public transport organisations, to electrify their existing fleets without having to bear the financial or environmental burden of complete fleet renewal.
The award-winning etrofit electrification kit gives existing commercial vehicles an environmentally sound second life as electric vehicles. Its modular orientation means that it delivers electrification solutions equally well for both the bus and truck sectors.
Popular models of vehicles can be completed in series quality within just four to six weeks. pepper will either provide its customers with fully converted vehicles or convert existing diesel vehicles for them. Conversion is around 40% cheaper than the purchase of a new electric utility vehicle.
pepper's conversion solution is also unbeatable in terms of sustainability, as repowering extends the service life of existing vehicles. They can be operated for significantly longer and offer clear advantages over new vehicles, in terms of resource conservation and their overall carbon footprint for their entire service life.
Zero-emission passenger and freight transportation
In addition to cleaner air and less noise in urban areas, the use of an electric bus also reduces ongoing costs for the operator, particularly due to lower maintenance and energy costs. As things stand today, around €200,000 in total cost of ownership (TCO) will be saved over a ten-year period (based on 60,000km per year) compared to a vehicle with an internal combustion engine. At the same time, the vehicle's range can be adapted to meet specific requirements thanks to a modular battery concept. If an operator only needs a shorter range, less capacity can be installed, reducing the weight of the vehicle, and also lowering the purchase price. In addition, the CO2 savings of a bus converted by pepper, compared to a new diesel bus, amount to approximately 70 tons per year, thus contributing significantly to achieving the mandated climate targets.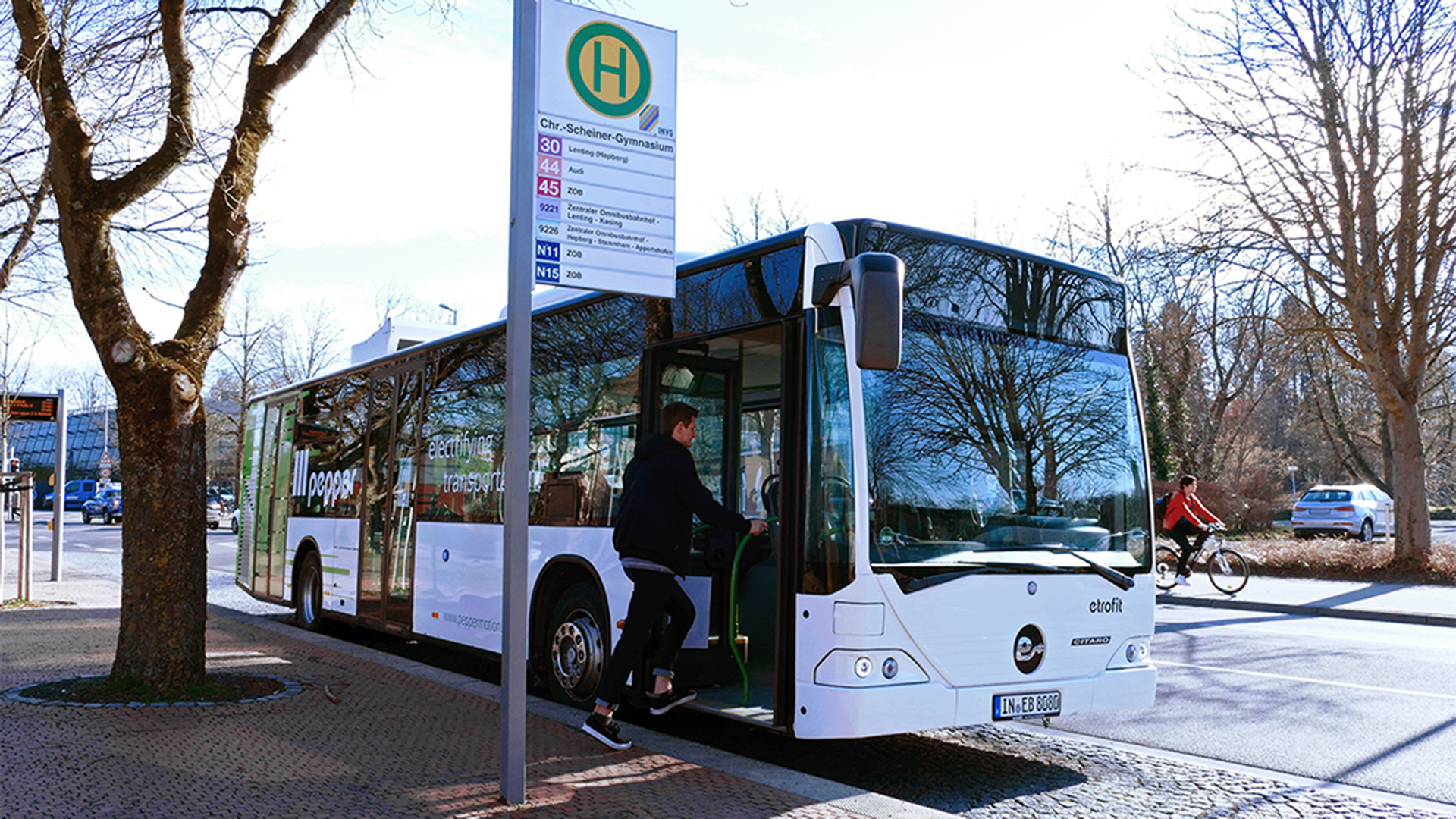 Electrification solutions for new vehicles
In addition to repowering fleet operators' existing vehicles, pepper's modular Tier 1 electrification kit offers OEMs and special vehicle manufacturers a zero-emission drive system that can be flexibly integrated into vehicle development or existing vehicle series and meets the most stringent requirements for functional safety (ISO 26262). Manufacturers benefit from pepper's innovative state-of-the-art technology. This dramatically shortens development times, and electric vehicles produced in-house can be brought to market and sold quickly and cost effectively.
Zero-emission technology: Elements of pepper's drive system
The rapid development speed, in line with the standards of the international automotive industry based on pepper's reverse engineering methodology and modular vehicle concepts, enables pepper to design electric drive systems for all market-relevant vehicle models within a short space of time.
Modular and fully validated complete packages are available, from the battery and electric motor through to ancillary components, the control unit with system software, and the interface to the (existing) vehicle. The technological heart of the drive systems is the company's proprietary system architecture software vehicle control unit (VCU) – a system software architecture for the dependable management of the entire vehicle. The battery capacity of the electric drive system can currently scale from the smallest version with 120 kWh up to 720 kWh, depending on the application scenario.
Conversion instructions and documentation, in combination with partner training, allow repowering and maintenance by certified conversion partners at the customer's site – and consequently also increased local added value. A network of international partners guarantees service and availability across Europe.
pepper is always open to new technologies when it comes to developing new drive systems. The range of fully battery-electric drive systems in commercial vehicles that can realistically be achieved today is in the region of 250km to 300km. This value depends on factors such as outside temperature and the traffic situation, but also on the area in which the vehicles are used (city traffic or highway). Today, buses in intercity traffic and trucks used for local deliveries with required ranges of well over 300km per day are already demanding the use of fuel cell range extenders or dedicated fuel cell solutions.
A highly efficient, next-generation fuel cell powertrain – of particular interest for range improvement – is currently under development as part of an H2 research and development project. The first vehicles (buses and trucks) will enter customer trials by the end of 2022 and are scheduled to hit the road in series production quality by 2024.
Digitalisation as a key enabler of mobility transition
Telematic services are essential for fleet operators when it comes to accelerating their mobility transition, optimising fleet management, and reducing operating costs. From simulation in pepper software development to live data capture, pepper aims to reach an important milestone in the digitalisation of public transport and the transport sector with its own telematic services: as pepper is an independent manufacturer of telematic services, the solution will soon be migrating from the software laboratory to practical trials. In the near future, field tests are expected to enable functions such as over-the-air software updates during day-to-day operation. The data exchange in both directions takes place via mobile network or WLAN. The first official version of the pepper telematics unit will be available to customers from as early as 2023.
Thanks to predictive analytical software from pepper's technology partner TWAICE, the use of a digital battery twin increases the service life, efficiency and sustainability of the batteries used. Further useful value-added services for the digitalisation of fleet management are already under development.
Holistic business model, tailored for customers
The rapid transition to climate-friendly, zero-emission mobility demanded by politicians and society must also be commercially viable for all fleet operators.
For example, new electric commercial vehicles are currently still comparatively expensive. Not only does the depot need to be redesigned, but existing workshops also need to be re-equipped. Added to this are investments for the development of suitable charging infrastructure to enable smart charging of the vehicle fleet. It is also more difficult than ever before to forecast how energy prices will develop. The switch to zero-emission powertrains is happening without the benefit of experience from historical data. In particular, residual values of vehicles and batteries are difficult for companies to estimate.
pepper is responding to the established system of the legacy diesel world, with its vehicles, workshops, and service stations, as well as all their interdependencies and large administrative overhead, by developing its own cost-efficient ecosystem. This holistic business model, which was recently announced at IAA TRANSPORTATION 2022 in Hanover, Germany, will make it much easier for customers to migrate their diesel commercial vehicle fleets to electromobility in the future. It combines a variety of modules such as the provision of green electricity at competitive prices, the charging infrastructure needed at the customer depot, vehicles, and their operation (not including drivers), servicing and maintenance, as well as supplementary add-ons such as training and sustainability reports, in a flexible manner depending on the customer's needs.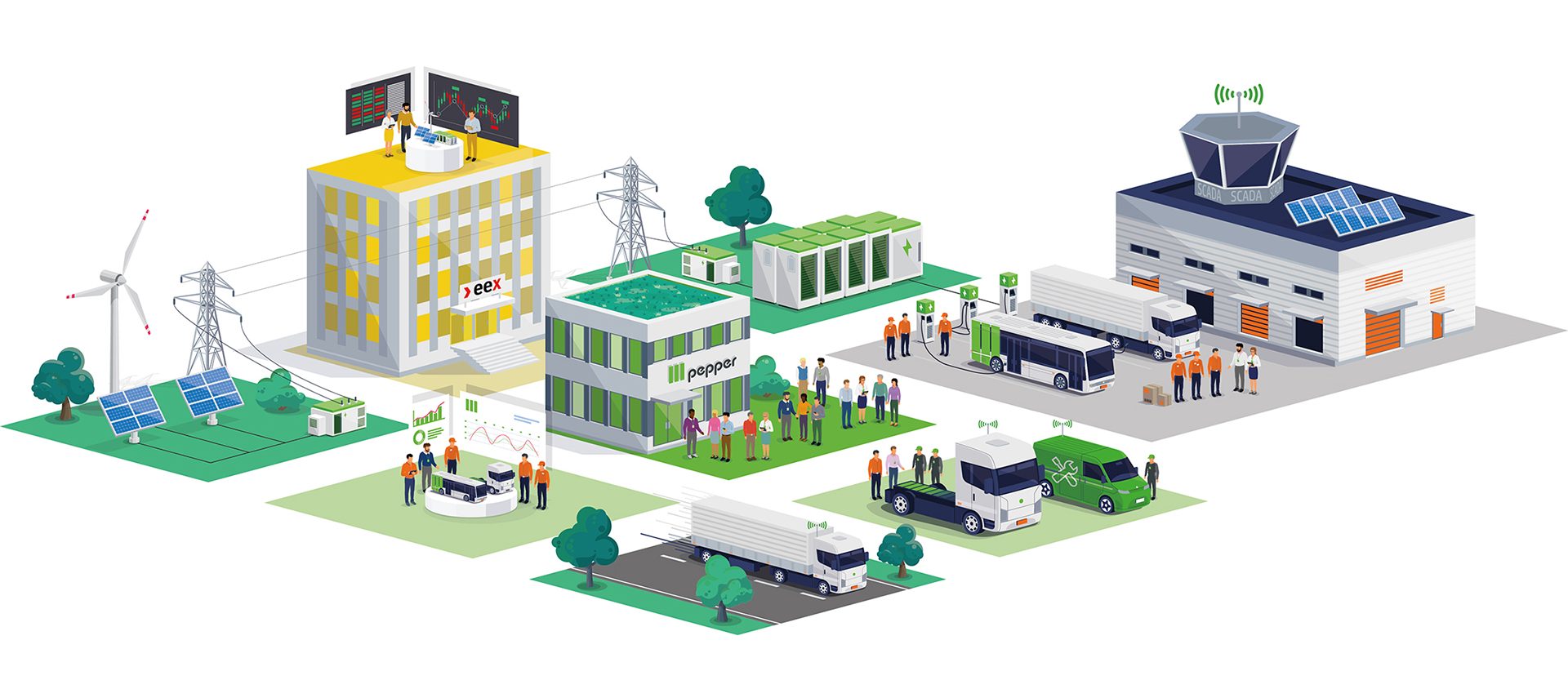 The customer is relieved of high initial investments, uncertainty regarding new technologies and a dramatically changing energy market, and the complexity of operating zero-emission vehicle fleets. Unlike comparable all-in-one products, the customer is able to remain the cornerstone of the concept. They therefore retain their core expertise and, if they wish, can work with pepper to expand it to ensure that it is fit for the future. Local value creation is at the heart of our concept. As members of the pepper community, customers benefit from a contractually defined kilometre price and exclusive tools and services, meaning that they can concentrate entirely on their core business. pepper remains a central point of contact throughout the contract term.
Success across Europe
The many benefits of pepper solutions are also recognised by fleet operators and manufacturers in the current core European regions of Germany, Austria, France, Italy, and Poland. Numerous interested parties have tested pepper vehicles and are impressed by the reliability of the flexible, emission-free drive system. pepper sees a potential for the electrification of commercial vehicles in Europe of 30,000 vehicles by 2030.
Please note, this article will also appear in the twelfth edition of our quarterly publication.