Tin is a critical metal in the push for human innovation, whether it is in renewable energy or other technologies. Tom Larsen, Chairman and CEO of Eloro Resources, is focused on developing a world-class deposit to meet these needs.
Rising from the valley floor at some 1,500m, Iska Iska is dotted with several exploration drill rigs and exploration adits, typical of a successful exploration and development property. Prior to the management team of Eloro setting foot on the property in September 2020, Iska Iska had never been drilled nor subjected to any modern exploration techniques. This is despite the fact that the property is located in the very prolific Potosi region of Bolivia, surrounded by infrastructure and several world-class mining operations. In fact, comparisons have been made to Cerro Rico De Potosi – the world's largest silver deposit that is approximately 200km away. The two deposits share similarities in terms of age, scale, and mineral assemblage in that they are both polymetallic with lead, zinc, silver, and tin.
Tin: Technology driven
Tin is a critical metal in technology. It is the glue for the electrical and electronic world as 50% of end demand is solder. That makes it a vital element for not just the global transition in renewable energy – whether in electric vehicles (EVs), batteries or photovoltaics – but, it is also crucial in the ever-expanding roll-out of semiconductors and the Internet of Things (IoT).
No more evident was this fact than in the study conducted by Massachusetts Institute of Technology (MIT) and Rio Tinto in 2018, where tin was recognised as the metal most impacted by new technology. This trend has not stopped as the International Tin Association continues to track nearly 400 scientific abstracts per month on the potential uses of tin.
Every electronic device on the planet requires some amount of tin. Your phone or computer has varying degrees of tin usage. An electric vehicle has roughly double the amount as an internal combustion engine (ICE) vehicle and each gigawatt of solar power capacity requires eight tonnes of tin.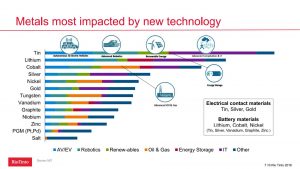 Substitution threats, either from other metals or chemical bonding in semiconductors, could theoretically be used. However, given the abundance and effectiveness of tin, there really is no economic substitute. No better example exists than that of your everyday smartphone. Depending on your device, the cost of tin per phone is well under $1, making the shift away from tin impractical.
Supply growth has also been a challenge, with only one new, large-scale mine developed in the past 40 years. Most existing mines are maturing, having failed to keep pace with demand. There is likely to be a supply deficit for the foreseeable future, which bodes well for Eloro Resources.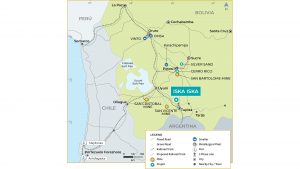 Operating in Bolivia
There is a rich history of mining in Bolivia dating back to the 1500s. Colonial era silver mining, particularly in Potosi, played a critical role in the funding of the Spanish Empire. Centuries later, at its peak, Bolivian tin barons, operating as a cartel, controlled over 30% of the world's supply of tin and were arguably some of the richest men in the world until the revolution in 1952. Mining for silver and tin has always been an integral part of the soul of Bolivia and is the largest contributor to the Bolivian economy at 30%.
Limited exploration in the early 2000s, during the Evo Morales presidency, has now provided mining companies that are in Bolivia, including Eloro, with the opportunity to find and develop Tier 1 assets as the exploration potential is vast.
Bolivian mining laws are straightforward with a simple tax structure and no capital controls. Despite the more aggressive socialist movements in other South American countries, Bolivia has been actively looking for international mining companies to partner and invest in the country.
This supportive mining environment has allowed Eloro Resources the opportunity to enter into an option to acquire the 9km2 highly prospective Iska Iska property with a private title owner. This arrangement has been very successful to date, with well over 60,000m of drilling over 65 holes with no issues. We are also extremely proud of the fact that our entire staff in Bolivia is Bolivian and that 90% of our exploration budget is spent in country.
The opportunity
In just over two years, the management team at Eloro has taken a never-been-drilled property and is in the process of defining what could be a world-class polymetallic mine. It has been a rapid pace of discovery.
Historically, the property has been explored several times throughout the years and was considered barren. The mountain has an oxide cap that sits atop the deposit that is completely leached of mineralisation. At the peak, this cap is around 100m, but dramatically decreases towards the sides. It was the development of small exploration adits that first allowed us to drill from underground and under this oxide cap that made this exploration a success.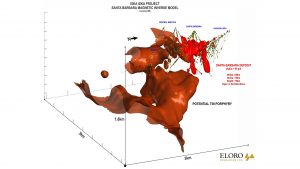 Technically, Iska Iska is a major silver-tin polymetallic porphyry-epithermal complex associated with a Miocene collapsed/resurgent caldera, emplaced on Ordovician age rocks with major breccia pipes, dacitic domes and hydrothermal breccias. Mineralisation occurs across all rock types.
What excited the team from our initial drill results was finding the breccia pipes (we have drilled over 65 drill holes to date with all encountering mineralisation) and knowing that they rarely occur in isolation Our exploration team is continuing to prove this is in fact the case as the Iska Iska caldera complex now consists of a main caldera in dimension with two sub-calderas. The complex, to date, extends along strike in a general north-northwest to south-southeast direction for at least 4km, with a width of at least 2km, and extends to a depth of more than 1km. It remains open in all directions, and we fully expect to find other calderas as well.
Our team of geologists continues to employ the latest technical tools available and one of the more successful tools has been the inverse magnetic susceptibility model.
Coincident inverse magnetic and chargeability/conductivity models have proved a powerful tool to outline very prospective drill targets. BHIP surveys to a depth of 1,000m show that conductivity increases with depth, indicating the potential feeder zone could be even more substantial than what we have encountered to date. It also suggests that the potential for a major tin porphyry deposit exists at depth.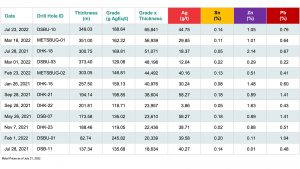 Five drill rigs are currently on site, with drilling now focused on outlining an inaugural NI 43-101 compliant mineral resource in the Santa Barbara Breccia Pipe and surrounding mineralised envelope. This maiden resource is expected to be complete by year end. Accompanying this will be a detailed metallurgical report which, to date, has been positive. Planning is already underway for a preliminary economic assessment (PEA) to immediately follow.
This maiden resource will only be a subset of the much larger system as major targets in the Porco and Mina 2 areas are being drill-tested in the second part of the year.
It goes without saying that we are excited about the future of Eloro Resources. Iska Iska is a tremendous project with leverage to multiple metals, more notably silver and tin, which are key to the green energy transition and the rapid growth in technology that awaits us. Our excitement is evident in the fact that the management and board of Eloro Resources owns 24% of the shares outstanding, aligning our goals with those of our shareholders. Our ownership also signals that we have a strong commitment to social and environmental programmes as that only strengthens this opportunity before us.
Please note, this article will also appear in the eleventh edition of our quarterly publication.