Giles Dickson, CEO of WindEurope, explores the actions needed to deploy more wind energy capacity in Europe.
As Europe transitions towards carbon neutrality, demand for electricity is expected to surge. The European Commission has highlighted that direct electrification is the most energy-efficient way to decarbonise energy sector emissions by 2050. Renewables-based electrification will play a key role in this transition.
According to WindEurope, wind energy is predicted to become Europe's biggest source of electricity, accounting for 50% of Europe's electricity production by 2050 – this is a big increase from 16% today. Giles Dickson, CEO of WindEurope, spoke to Innovation News Network about what actions need to be taken to double the deployment rate of wind energy capacity.
How is WindEurope and the wind industry in general committed to the fast development of onshore and offshore wind capacity?
Both WindEurope and the EU recognise that wind is at the heart of the European Green Deal, championing this as the key to decarbonising Europe. The Commission's decarbonisation scenarios for 2050 call for 1,000GW of onshore wind and 300GW of offshore wind by 2030. That is a stark increase from the EU's current wind capacity of 200GW. These are very ambitious targets, but the industry is well positioned to deliver them and there is sufficient funding available to support this.
One major challenge, however, is building the turbines, with the issue of permitting being the biggest bottleneck to this. It has led to delays and uncertainty across Europe, and, as a result, we are currently only building half the wind farms we required (15GW per year instead of 30GW).
Our role as a European association is to make governments aware of these hurdles, and to co-ordinate solutions to facilitate Europe's delivery of its ambitious climate targets.
How will the digitalisation of wind farm construction and O&M improve performance while reducing cost and financial risk? What can be done to accelerate the momentum of digitalisation in the wind sector?
Digitalisation gives us access to data that we could not have dreamt of just ten years ago. We now have 24-hour access to information about turbine performance, for example. Combined with additional information about temperature, gearbox vibration, and other factors, we are now able to make timely interventions based on reliable, up-to-date data.
It has also resulted in a significant progression in terms of resource assessment. With fast, high-quality data continuously available, we are now able to take the right actions as efficiently as possible. Through the improved algorithm, construction is also impacted, and we can now reduce lead time in construction by up to 20% due to better movement and placement of cranes.
A major factor in accelerating this will be combining our existing knowledge in other areas, such as robotics. Not only will it invigorate the digitalisation process, but it will also lead to greater wind farm safety overall.
Why is repowering important and what repowering strategies do you suggest that governments should implement?
Repowering means replacing older, less efficient turbines with more efficient, modern options. Repowering an existing wind farm reduces the number of turbines needed, increases the installed capacity, and boosts electricity output.
Turbine technology has grown exponentially in recent years. The average turbine installed today is worth around 1MW, but the latest onshore turbines are worth up to 6MW. Offshore turbines can be as high as 11MW, with 14-15MW turbines currently in the planning.
This is an issue which cannot be ignored for much longer, and wind turbines with a total wind energy capacity of 38GW are expected to be decommissioned by 2025. Many governments are recognising this, but they need to follow up on this concern with solid repowering strategies as we move forward. A streamlined planning and permitting process is vital to the success of repowering projects in the years ahead.
Can you explain how the new State aid guidelines will allow for the deployment of more wind energy technology?
The EU State aid guidelines suggest the measures national governments can take to grant State aid to renewables. The EU Commission updated these guidelines in December 2021. The new rules are positive and, crucially, they allow governments to hold technology-specific auctions. They have proven to be vital in delivering wind energy as cost-effectively as possible and are a great improvement on technology-neutral auctions which bring wind into artificial, harmful competition with other renewable energy sources.
The new State aid guidelines also offer advice regarding the support mechanism used in State auctions. They favour so-called Contracts-for-Difference schemes, which is great news. These are vital in lowering financing costs for renewable energy projects, and in aiding the cost-effective deployment and delivery of affordable electricity for consumers.
Finally, the new guidelines allow 30% non-price-based criteria to be introduced to national auctions. This means governments will be allowed to include elements like sustainability, CO2 footprint, local job creation, or previous project experience into wind project selection criteria. We welcome this change as we want to build the highest quality turbines with the smallest impact on the environment.
To create a cost-effective transition to a climate-neutral economy, the European Climate Law Impact Assessment shows that this will require 1,300GW of wind power by 2050, which is a substantial increase needed from the 180GW of wind power today. What actions are needed at a policy level to reach this goal, and to double the rate of wind energy deployment?
Permitting is the biggest hurdle we face at the moment. We need to simplify and harmonise permitting procedures, and we need more staff in the permitting authorities. There is movement in this area – the EU is expected to issue permitting guidance later this year, but this is currently the biggest stumbling block.
We also need to see investment in the European supply chain, including in the areas of research and innovation, ports, and road infrastructure. In addition, we need investment to enable electrification – Europe will be going from one-quarter to three-quarters electric by 2050. That means more investment in grids, storage, flexibility options, heat pumps, and charging stations.
Crucially, we must ensure that the European Green Deal delivers for Europeans. Through a dedicated industrial policy, we can deliver jobs, greater manufacturing, greater tax revenue for local authorities, and limits on fossil fuel imports. By doing so, we can make sure this Green Deal is truly made in Europe.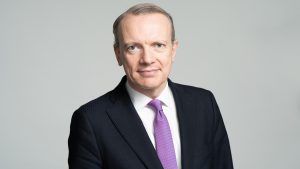 Giles Dickson is the Chief Executive Officer of WindEurope, a position he has held since 2015. WindEurope is the voice of the European wind industry. It represents the whole value chain of onshore and offshore wind across Europe and has more than 400 members. It engages governments and other stakeholders on policy and regulation; organises industry exhibitions, conferences, and workshops; and co-ordinates publicly-funded R&D in wind.
Dickson is also Chairman of the independent Advisory Council of ENTSO-E, the European Network of Transmission System Operators for Electricity. From 1992 to 2008 he was a civil servant in the UK Government, working mostly on European affairs. From 2008 to 2015, he worked for the French engineering company Alstom where he was Vice-President for Global Public Affairs.
Giles Dickson
CEO
WindEurope
https://windeurope.org/
https://www.linkedin.com/in/giles-dickson-98607229/?originalSubdomain=be
Please note, this article will also appear in the ninth edition of our quarterly publication