Corina Hebestreit, Secretary General of the European Carbon and Graphite Association, explores whether Europe's shift to the domestic production of critical raw materials will be an opportunity for innovation.
For decades, the 'not in my backyard' (NIMBY) attitude has stifled many an industrial project due to the opposition of local communities and interest groups. The latest crisis in the supply of raw materials, gas, and other fuels has brought to the attention of the policymaker and the general public that reliance on worldwide free trade has its considerable downsides. Accessing its own resources and managing them well is, potentially, a more viable option for a long-term resilient economy and wealth development.
Time for an innovative policy on coal and petroleum-derived chemicals
Ever since the development of climate change policies and certainly in the context of the latest geopolitical developments, it has become clear that the EU needs to review some of its raw material and industrial policies. This includes not only looking at economic dependencies and trying to address them in the short- and medium-term but also looking at long-term policy gaps that have and will create even more dependencies and cause further loss of industries and wealth creation. These long-term policy gaps can jeopardise the ability to implement other ambitious policies.
One of these gaps is the lack of a comprehensive and consistent policy about the chemical use of carbon. The best indication of this is that policymakers continue talking about decarbonisation rather than the removal of carbon dioxide, just one of the ten million compounds that we know of. All organic chemistry is based on carbon.
Carbon is the fourth most abundant element in the Universe but only the 15th most abundant element in the Earth's crust, comprising about 0.025%. However, many other forms of carbon have been discovered not so long ago and provide ample opportunities for innovations such as graphene, fullerenes, and carbon nanotubes.
Whilst the policymaker has been intensively looking at carbon dioxide, fossil fuels, and plastics based on carbon polymers, it has so far failed to look at other carbon-based products and the needs for raw materials, which are either from petroleum or coal and refined by-products.
It is typically the top-end quality of both that are being used for generating a whole range of desirable products, or in some cases, it is the by-products of the refining processes, that instead of being wasted, are being further refined and then put to good use.
Current geopolitical developments, on the one hand, have created some raw material access issues as well as considerable price hikes. Long-term decarbonisation strategies addressing fossil fuel production are raising longer-term concerns about the availability of specialised coke qualities and coal chemicals in general.
In the context of EU policies of the post-COVID-19 recovery plan, an updated industrial strategy is seeking to enhance the global competitiveness of the EU industry as well as a green and digital transition of Europe's economy. It is addressing certain sectors of the industry by flagging the need to develop specific strategies in the areas of:
•    Batteries and energy storage;
•    Renewables;
•    Strategic autonomy and semiconductors;
•    Roadmap on critical technologies for security and defence; and
•    Space-based secure connectivity and new space.
However, so far it has failed to recognise that almost all of these innovations and products are relying on the chemical use of carbon in one form or another, in many cases in graphite, either produced from carbon products or mined as natural graphite.
Phasing out coal and petroleum also has considerable consequences on the availability of these raw materials in terms of qualities and quantities for other industrial applications than fuels.
Coking coal or metallurgical coke
In the last Criticality Assessment, the Commission included coking coal as one of the critical raw materials. The EU's Joint Research Centre (JRC) in its latest 2022 report, 'Coking coal: Impact assessment for supply,' came to the conclusion that, although the EU's reliance on coking coal imports from Russia is not significant, the substitution of Russian supply is foreseen to be challenging. At the same time, the JRC forecasts that global export supply is likely to remain very tight over 2022-2024, which is expected to intensify competition for the procurement of a non-Russian supply.
Metallurgical coke is used throughout the metals industry but also in other applications such as the graphite industry for packing material for graphitisation furnaces.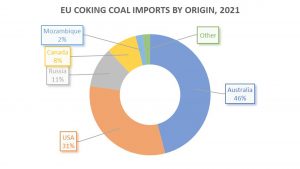 In 2021, the EU production of hard coal was 57 million tonnes, 79% less than the 277 million tonnes in 1990. Poland is currently the only producer of coking coal in the EU. A new coking coal facility is under permit in the UK, and a decision was expected in July 2022.
Petroleum needle coke
This is a special type of petroleum coke that exhibits properties such as oxidisability, structural characteristics, high electrical resistance, high temperature resistance, and coefficient of thermal expansion (CTE). Needle coke is one of the two basic raw materials used to manufacture synthetic graphite, which is used for a large variety of products and applications, such as:
•    Electrodes for arc furnaces for melting steel scrap, one of the pillars of Europe's circular economy. The electric arc furnace method accounts for more than 60% of steel production in countries such as India, while in the Middle East region over 90% of the steel is manufactured through an electric furnace. These factors have been crucial in creating sufficient demand for needle coke in the global market. Needle coke often accounts for more than 40% of raw material costs in the production of graphite electrodes;
•    Electrodes in ferroalloy and silicon metal furnaces;
•    Lithium-ion batteries and other types of batteries, which are anticipated to witness a significant growth rate;
•    Tooling for semiconductor production; and
•    Frames for solar panels.
There are currently only two suppliers of needle coke in the world. Europe's producers are sourcing mostly from the US and UK.
An alternative: Coal-tar-based needle coke
Coal-based needle coke is sometimes used as an alternative and is produced from coal tar – a thick dark liquid which is a by-product of the production of coke and coal gas from coal. Lately, refined coal tar pitch has been considered a promising material to produce needle coke, owing to its excellent physical-chemical properties.
Previously, petroleum-based needle coke occupied the dominant position in the market, however, the production of coal-based needle coke has increased significantly in recent years due to the high price and fast production of petroleum. Around the world, coal-based needle coke is being increasingly used for the manufacturing of ultra-high-power electrodes used in the steel-making industry.
Coal tar pitch
The second important raw material for synthetic graphite is coal tar pitch, which is refined from coal tar. Coal tar can be obtained from coal by direct liquefaction, carbonisation, pyrolysis, or extraction. Coal tar pitch is a residue produced by the distillation or heat treatment of the coal tar. As about 10% of Europe's coal tar came from Ukraine, new suppliers must be found. Sourcing is not the sole issue; its classification as a hazardous substance makes transport and use complicated and increasingly costly.
Furthermore, its use in the EU is threatened by the proposed REACH revision and its continued pressure to phase out the use of this substance. For more than a decade, the industry has tried to source a viable alternative but has failed to find an adequate replacement that would guarantee the same performance in most of its current industrial uses. Up to now, Europe's graphite producers were sourcing mostly from refiners in the EU, but the coal tar often came from Ukraine.
Anthracite
Anthracite is the coal with the highest carbon content and the least impurities. Due to its quality, anthracite can reduce overall coke consumption and is often a better and cleaner alternative. However, those energetic and environmental considerations, as well as the pressure on the coke market in general, have also led to new applications, such as a pulverised carbon injection product and an ultra-low volatile product in blast furnaces.
According to the World Steel Association, about 89% of energy consumption of a blast furnace comes from anthracite, 7% from electricity, 3% from natural gas, and 1% from other gases and sources. In the electric arc furnace, the energy comes from anthracite (11%), electricity (50%), natural gas (38%), and other sources (1%).
Anthracite is not only used for the steel industry, but it is also a major constituent to produce Soederberg electrodes and Soederberg pastes which are being used in the aluminium, calcium carbide, and ferroalloy industries. Europe still has four producers who are not only serving the European market but are also exporting worldwide.
China accounts for nearly 60% of the world's anthracite coal production. European producers were sourcing from Russia and Ukraine. Currently, there is a considerable shortage of anthracite in the market, which has led to substantially increased prices and plain unavailability.
Natural graphite
In its critical raw materials assessment in 2020 (EC CRM_2020_Factsheet on Natural Graphite), the JRC found that the EU's consumption of natural graphite was about 86 Kt, of which only 2% was sourced through domestic production. The EU's import reliance on natural graphite is 98% and China was the principal supplier of natural graphite (47%).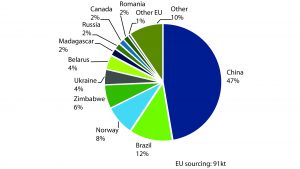 With the expected growth in demand, particularly in the battery sector, this will require a diversification of resources, some from other parts of the world but others also from EU sources.
The EU has several exploration, mining, and natural graphite processing projects in the pipeline, but more needs to be done to bring these successfully onstream.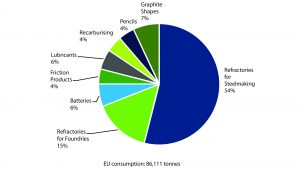 Looking forward
All of these carbon products deserve a dedicated and adequate policy to guarantee their future availability in and for Europe, and at competitive prices. Such a long-term policy has been missing in the EU, simply drowned by the climate change and emission-driven decarbonisation strategy.
Such a strategy should include:
•    A comprehensive criticality assessment, not just of the coking coal, but all carbon products for industrial use;
•    A revised access-to-raw-materials strategy across the Member States;
•    A dedicated Regulatory Trading Desk (RTD) strategy to ensure the highest possible environmental and health standards and foster innovation in processing and products; and
•    Financial support for the development of such resources in the EU to increase the EU's economic resilience.
Considering the political will that the European Commission has demonstrated in providing guidance to the Member States on fostering the development of solar energy, it seems reasonable to suggest copying a large part of these recommendations and adapting them to the access of carbon used for industrial purposes.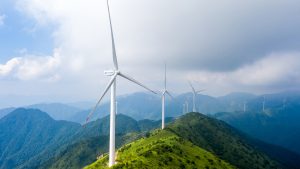 About European Carbon and Graphite Association
ECGA is the representative association of EU carbon and graphite producers, including the EU-based graphite electrode producers going into Europe's steel and foundry industry, electrodes and cathodes for the aluminium and ferroalloy industry, as well as a wide variety of speciality graphite and carbon products for applications ranging from electric motors to modern battery technology. ECGA represents 100% of EU-based production of graphite electrodes (steel industry), of cathodes (aluminium industry and foundries), of Soederberg anodes and pastes, and of graphite currently mined in the EU.
Dr Corina Hebestreit
Secretary General
European Carbon and Graphite Association
www.ecga.net
Please note, this article will also appear in the eleventh edition of our quarterly publication.