Naaja H Nathanielsen, Greenland's Minister of Finance, Minerals, Justice and Gender Equality, discusses Greenland's critical mineral potential and explains how these materials will feed into the global supply chain.
The goal of the Greenlandic Government is to translate the great potential of minerals into jobs, business opportunities, and revenue to further develop welfare in Greenland. Mining must benefit the local region and the population as a whole. Efforts need to be increased to ensure that the mineral resources sector and other parts of our society (training, labour market, infrastructure, and the health and social sectors) interact in the best possible way.
The Government of Greenland believes that sustainable development must be secured in general and concerning mineral resource production. As a result of this, Greenland's Mineral Strategy focuses on how the opening of mines will significantly benefit our society in the form of job creation and increased income while taking the necessary precautions to protect the environment and respect the residents living in Greenland.
Greenland's critical mineral potential
Greenland possesses multiple green mineral resources comparable or superior, both in size and grade, to other known and prospective deposits throughout the world. Due to the prior connection of Greenland and Canada once being a single landmass, the countries have similar geology and contain the same materials. As Greenland possesses complex geological terrains, representing almost four billion years of geological history, covering the spectrum from Archaean to recent processes, the country is favourable for finding and exploiting a wide range of mineral resources, including a variety of the critical minerals used in green technology.
Greenland's critical mineral resource potential is considered to be high or moderate for antimony, beryllium, chromium, cobalt, fluorspar, molybdenum, natural graphite, niobium, tantalum, platinum group of metals (PGMs), rare earth elements (REEs), and tungsten. There is a vast potential for total rare earth elements (TREEs), including yttrium (Y). The potential for the other commodities varies, but they will all have a potential for exploitation due to market conditions either within a short, medium, or long-term timeframe.
The country's robust combination of attractive geology, and its potential for high-grade, high-volume green mineral deposits, is further supported by its geographic diversity. Many deposits are located within reasonable proximity to settlements that host airports, electricity, and other services. Others are located close to coastal waterways, enabling the bulk transport of minerals to global markets.
Although 80% of Greenland's area is locked under a three-kilometre deep ice sheet, the world's largest island offers more than 400,000km2 of ice-free coastal land with the great advantage of accessibility by sea, and in the South, proximity to established transatlantic shipping routes. Deep fjords create ideal natural harbours. Investors can be sure of a positive response from the government, and they should not be put off by preconceptions about Greenland's accessibility and infrastructure.
On November 9th 2021, the parliament of Greenland voted to ban uranium mining. The new legislation prohibits the exploration of deposits containing uranium concentrations more than 100 parts per million (ppm). This uranium ban will influence a few exploration projects for critical minerals but will not affect the overall prospects.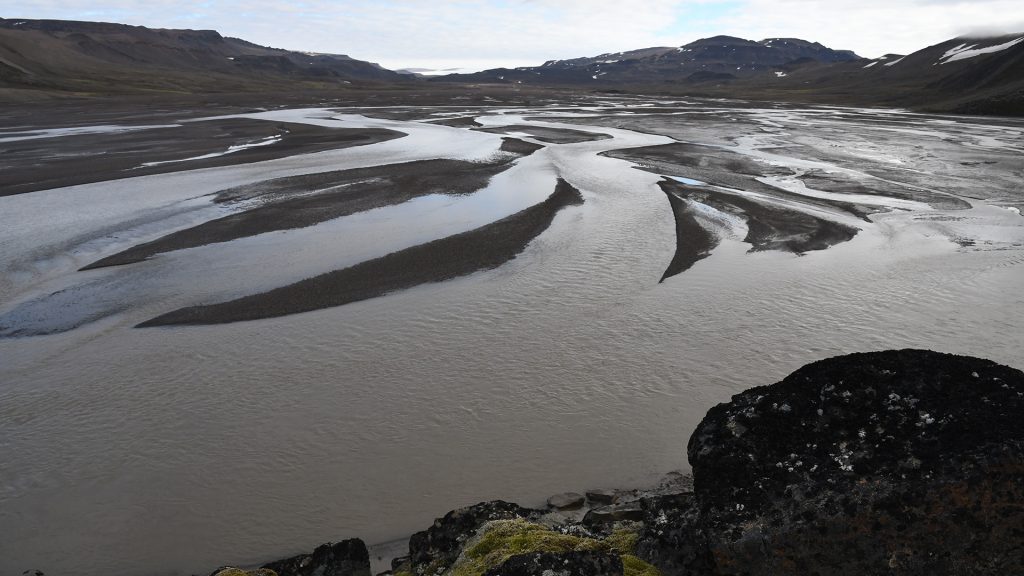 Rare earth elements (REEs)
Rare earth elements (REEs) are a suite of 15 elements that make up the lanthanide series on the periodic table; yttrium is an element often found with REEs. REEs and yttrium are vital inputs in multiple green technologies, such as cerium for catalytic converters, neodymium for small, strong permanent magnets in electric motors, and yttrium for heating-element alloys, superconductors, and superalloys.
The characteristics of Greenland's REE and yttrium resources compare favourably to undeveloped deposits in other large-scale mining jurisdictions. In particular, Kringlerne alkaline-hosted REE deposits in the Gardar Province of South Greenland rank in the top of known REE deposits globally. Greenland's proven and potential resources also include financially attractive by-products, such as zirconium, hafnium, niobium, and tantalum. Several other prospects have the potential to be a future mine for REEs, such as Motzfeldt Sø, Sarfartoq, and Qaqarssuk, for example.
The individual elements of a REE-bearing deposit are found in variable proportions. As both the overall abundances and prices of individual REEs vary substantially, the specific contents of the more sought-after minerals, such as neodymium (Nd), dysprosium (Dy), or samarium (Sm), are essential factors in determining the economic potential of a REE deposit. Greenland has excellent potential for these demanded elements.
Graphite
Graphite is a naturally occurring crystalline form of carbon. It has several physical and chemical properties that make it an essential input for various industrial applications, including batteries and electrodes. A majority of Greenland's graphite deposits are largely unknown in terms of their resource grade, volume, and purity. Specific graphite deposit characterisations significantly impact project economics, with a premium price placed on large, high-purity flakes. Graphite development will have a low environmental impact during production, and graphite mine development can occur quickly with open-pit prospects.
Greenland has former graphite mines and several active graphite mining exploration projects, including the Akuliaruseq and Amitsoq deposits in West and South Greenland. The most active graphite exploration project at present is the Amitsoq project, including new discoveries at the Kalaaq deposit.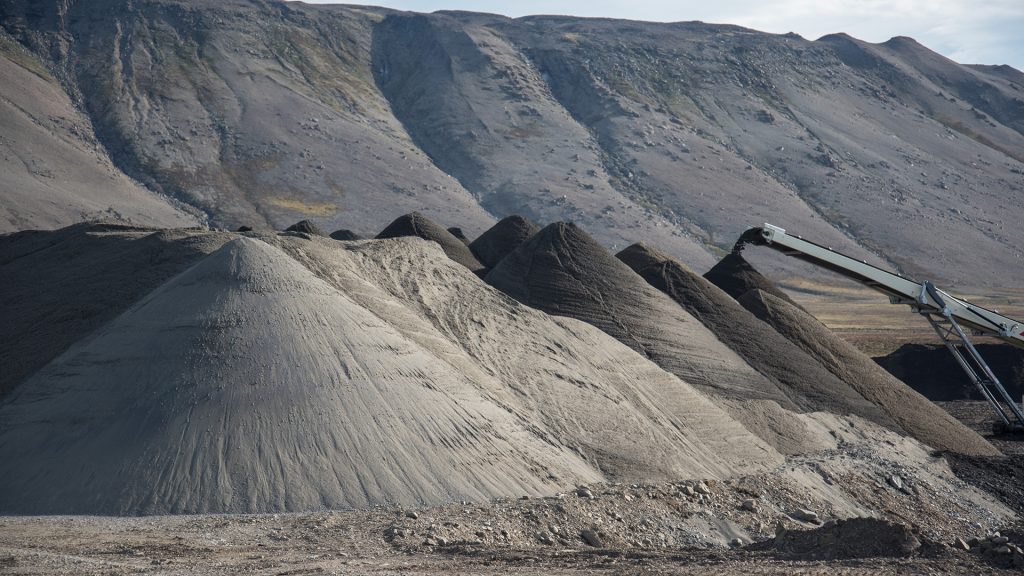 Titanium and vanadium
Some of Greenland's titanium deposits are placer deposits, making them candidates for open-pit mining. Processing methods for placer deposits are less intense than open-pit mining for hard rock deposits. They do not require significant efforts to mitigate environmental impacts since no sulphide materials are included. At the Thule Basin in the North West of Greenland, ilmenite is found in alluvial placer deposits.
The demand for energy storage (redox batteries) is at an all-time high, both in current and emerging markets. As a result, the energy storage industry alone could consume global vanadium production. Greenland is well-positioned to support sound titanium and vanadium development due to the accessibility of open-pit mining.
Platinum group metals
Platinum and palladium, both members of the platinum group metals (PGMs), and osmium, rhodium, ruthenium, and iridium, often naturally occur as native elements or as alloys with other precious metals (e.g. gold). Of the suite of PGMs, platinum and palladium are two of the most economically scalable elements due to their various uses in clean energy technologies, such as catalytic converters and as a substitute for other metals in the production of automobiles.
PGMs are found in layered mafic-ultramafic complexes in Greenland, where Skaergaard is the most prominent deposit. These PGM deposits are commercially significant, and the Paleogene flood basalts may also be viable locations for future exploration and investment.
Aluminium and gallium
Aluminium is used in clean technologies, such as in the construction of wind turbines and solar farms and the transmission of electricity and lighter-weight, more energy-efficient vehicles. Gallium is a relatively scarce metal and is typically produced as an aluminium or zinc smelter by-product. Gallium's use in clean technology applications involves light-emitting diodes (LEDs), solar cell electrical conductivity, and lighting components.
Greenland's aluminium prospectivity is centred around abundant anorthosite deposits, which hold significant potential. The potential for anorthosites is still in the state of innovative processing capabilities. For example, the White Mountain mine (Qaqortorsuaq) has abundant anorthosite reserves and is reviewing a potential 'green processing' technology to improve commercial aluminium and gallium recovery.
If this innovative processing technology can successfully extract aluminium from anorthosite at the White Mountain deposit, this mineral could be used as an alternative to bauxite for aluminium production. It is highly likely that other places across Greenland would warrant exploration (e.g. Qaquiarssuq). Compared to bauxite mines, the production and refinement of aluminium has a relatively low environmental impact as the process does not produce toxic waste such as CO2.
Molybdenum, niobium, and tantalum
Molybdenum is a metal that adds strength and weldability to steel and creates high strength steel for wind turbines, solar photovoltaics, hydropower, geothermal wells, and carbon capture devices. The demand and price of molybdenum fluctuate with the global steel industry, which depends on the worldwide construction and automotive industries.
Greenland's stand-alone molybdenum, niobium, and tantalum deposits have significant commercial potential. The Malmbjerg molybdenum deposit is in its late exploration stage, and several other molybdenum deposits are in the discovery or early exploration stages. No stand-alone niobium or tantalum deposits have yet been certified in Greenland, but the Motzfeldt Sø deposit is estimated to be one of the best candidates. In some instances, the concentrations of niobium and tantalum are sufficient to qualify the elements as by-products or even co-products of other minerals, such as REEs, as exemplified in the Kringlerne Zr-REE deposit.
Greenland's current mining capabilities
At present, there are two active mines in Greenland. One is the Greenland Ruby which obtained a licence from the Greenlandic Government in 2016. The current Aappaluttoq mine site is estimated to have at least ten years worth of gem-quality ruby and pink sapphire material, ensuring consistency of supply for jewellery assortments and collections.
The other mine is the White Mountain anorthosite (calcium feldspar) mine, as previously mentioned, which brings green products to the world. The refined products, GreenSpar and Anocrete, bring significant green benefits and cost savings for customers. The White Mountain mine will have multiple revenue streams as the products have applications in the fibreglass, alumina, filler, paint, and white cement markets.
More than 70% of the energy used in towns and small settlements throughout Greenland is generated through hydropower. This is set to increase as more hydropower stations are expected to be built. Mining and exploration companies that choose to operate within Greenland could gain access to that hydropower, bringing about a much cheaper and cost-effective operation.
Greenland has a very small population, and the government has been vigilant about its inability to meet the labour demand of a new industry. There is no doubt that workers will have to be brought in, and their impact will be considerable. There are not enough skilled workers in Greenland to fill all the jobs the mines will create. An influx of foreign labour will affect the local communities and is, therefore, a matter that requires partnership and dialogue with the local municipality. To address the challenge of a lack of skilled workers in the Greenlandic mining and construction industries, the Greenland School of Minerals and Petroleum (GSMP) was established in 2008.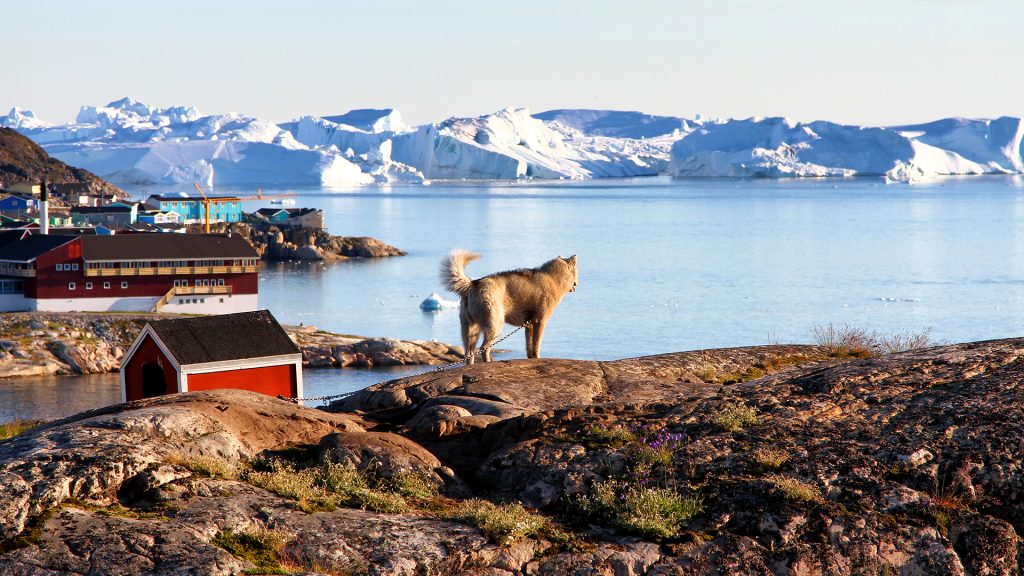 Strategies to showcase Greenland's mineral resource potential
In its campaign to promote business, the Government of Greenland has had a particular focus on marketing Greenland's mineral resource potentials. For several years, Greenland has attended the world's largest industry trade shows. Its participation is evaluated regularly to ensure that Greenland continues to be represented at the most important industry events.
Apart from participation in industry trade shows, the marketing efforts include activities aimed directly at carefully selected countries, exploration companies, and investors. This ensures flexibility and a clear target for the activities to ensure that the resources allocated are utilised to their full potential.
Official visits by the Ministry of Mineral Resources are also used strategically to open the doors to potential partners in exploration and exploitation projects. In the years to come, Greenland's marketing efforts will reflect the fact that investors and purchasers, as well as exploration companies, are a central part of the marketing strategy.
The Government of Greenland is fully aware of the competition from other greenfield areas (i.e. areas less explored for minerals) in the world. It is establishing an attractive business environment for investors who are looking to invest in Greenland. To ensure that Greenland is internationally competitive with similar regions across the globe, the Greenlandic Government is adapting to the fluctuations in the market and adjusting the Mineral Act and taxation system based on benchmark analyses.
Recent developments
The geology department has improved access to geoscientific data on the Greenland Mineral Resource Portal, an entry point to all available information about mineral resources in Greenland. It gives mineral exploration companies, scientists, and other interested parties free access to data, reports, maps, and scientific background information about the geology of Greenland. The portal contains a wealth of geoscience data for Greenland, including information on current exploration and exploitation licenses, geophysical surveys, geological maps at various scales, geochemical data, company reports, mineral occurrences, and data from the annual Ujarassiorit Mineral Hunt, for example. The Minex Newsletter talks about the latest activities in the mineral exploration of Greenland, which can be found at https://govmin.gl/.
The European Commission announced the creation of the European Raw Materials Alliance (ERMA) in 2020 to support the EU's transition to a green and digital economy. ERMA is a network focusing on the entire value chain from the extraction of minerals to end-products, and it includes all stakeholders both in and outside the EU. In 2021 Greenland became a member of the ERMA. The Ministry of Mineral Resources will use its membership to highlight the investment opportunities in Greenland's mineral potential and co-operate with ERMA's members across the entire value chain. Several mining and exploration companies in Greenland are already members of ERMA.
The Government of Greenland is also part of a group under Nordic Innovation, an organisation within the Nordic Council, which has recently published the 'Nordic supply potential of critical metals and minerals for a Green Energy Transition' report. The report describes the critical raw materials (CRM) in the Nordic region, including Iceland and Greenland. It also provides a review of the production, known and assumed resources of the CRMs in the Nordic countries, indicates major data and information gaps, and suggests lines of full-scale research to follow immediately.
The future of Greenland's mining industry
The future of Greenland's exploration and mining industry looks bright and evolves with the ever-growing understanding of the geology, which constantly creates new exploration targets. Overall, Greenland has a promising supply potential for CRM. The geological favourability is good, and the potential is proven to be relatively large.
It is essential to follow up and improve our understanding of the total resource and supply potential of CRMs and additional specific raw materials, with a particular focus on those essential to the green energy transition. Exploration in Greenland is still a greenfield region compared to mining countries like Canada, Finland, Norway, and Sweden.
If the great potential of Greenlandic CRMs is realised and introduced as part of the worldwide supply chain, the impact and benefit for the Greenlandic people is not to be understated. It would be a gamechanger, which is why there is the dedication to developing this potential.
Naaja H Nathanielsen   
Minister of Finance, Minerals, Justice and Gender Equality
Government of Greenland
https://naalakkersuisut.gl/en
https://www.linkedin.com/in/naaja-h-nathanielsen
https://twitter.com/naaja_n
Please note, this article will also appear in the ninth edition of our quarterly publication.