The management team of First Hydrogen Corp. spoke to Innovation News Network to discuss how the company's hydrogen-based and zero-carbon fuel innovations could support the global energy transition.
As organisations and governments strive towards the global energy transition to a zero-carbon society by 2050, many are looking to alternative fuel solutions. A popular option being explored by many companies is the use of hydrogen as a potential to create zero-carbon fuel. When consumed in a fuel cell, hydrogen produces only water.
One company exploiting the benefits of hydrogen power is First Hydrogen, a Vancouver and London-based company committed to designing and manufacturing zero-emission, hydrogen-powered solutions in the UK, EU, and North America. Delivering innovation in both the automotive and energy sectors, the company works closely with industry partners to achieve its ambitious aims at a fast pace. Its two key strategic partnerships are with Ballard Power Systems, a global provider of clean energy and fuel cell solutions, and AVL Powertrain UK, a specialist in development, simulation, and testing in the automotive industry and other sectors.
The upcoming months are set to form a milestone year for First Hydrogen as the company continues its mission to bring hydrogen-powered vehicles to market. Delivery of First Hydrogen's first two lightweight commercial demonstrator vans will be completed in late 2022, with the move to full commercialisation set to follow soon after. The vans will use the MAN eTGE as a donor vehicle and be equipped with the latest generation Ballard FCgen®-LCS fuel cell, giving the vehicles a range of more than 500km.
The management team of First Hydrogen Corp. (Balraj Mann, Nicholas Wrigley and Steven Gill) spoke to Innovation News Network to discuss the company's goals and future objectives.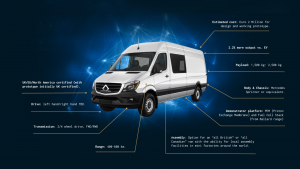 Can you tell us more about First Hydrogen as a business model and your key goals?
First Hydrogen is unique in that we are operating in both the automotive and energy sectors, through First Hydrogen Automotive and First Hydrogen Energy. In the automotive group, our aim is to offer zero-emissions mobility through innovative, hydrogen-powered light and medium commercial vehicles (LCV).
This is supported by our developments in hydrogen refuelling stations, enabling us to offer fleet customers Hydrogen-as-a-Service together with the vehicle, removing infrastructure concerns as the market evolves. Our energy business is also looking into green hydrogen production in key markets, so we are active through the whole value chain.
We intend to run an asset-light business model accessing expertise, technology, and industry volume through smart partnerships with world-class companies.
What is the development process behind the vans and when are you expected to reach the commercialisation stage?
We chose to start by developing two road-legal demonstrators using a donor platform. That enables customers to see, feel and experience the benefits and operation of a hydrogen propulsion system in a familiar set up and compare it directly to an EV. It also enables us to bring reliable, road-legal demonstrators to customers in a much shorter timeframe than starting from scratch. Additionally, it will also give us early feedback into our bespoke LCV development programme.
We undertook a market study looking at potential donor vehicles and selected the M.A.N. eTGE van, which is derived from the Volkswagen Crafter, as our base.
For the development of the fuel cell system and powertrain integration, we followed one of our core principles of working with world-class partners and we have that in Ballard Power Systems and AVL Powertrain. We are using the Ballard Fcgen®-LCS fuel cell, combined with a 13 Kwh power battery.
We have been able to package the fuel cell system, battery and hydrogen tanks without any impact on the customer features of the van, such as interior space or load height. The resulting vehicles will have over 500km of range capability on Worldwide Harmonised Light Vehicle Test Procedure (WLTP), versus 115km when compared to the base EV with the same maximum speed. Refuelling time is typically five minutes.
Our next phase is well underway on our bespoke vehicle definition. This gives us the opportunity to define class-leading vehicle architecture matched to the customer segments that benefit from fuel cell technology, and offer a number of propulsion system and vehicle derivatives. Final dates for commercialisation will be released at a later date.
What are the key benefits of hydrogen as a potential zero-carbon fuel?
The attraction of hydrogen propulsion is its ability to offer uncompromised performance in applications where range, payload, towing capacity or high auxiliary offtake are important. It also benefits users who operate multi-shift use patterns where speed of refuelling is important. This gives operational flexibility, which is highly valued by many customer groups.
In light commercial vehicles, fuel cell electric vehicle (FCEV) technology is very attractive for use by express delivery vans, trade and major construction vehicles, taxis, refrigerated transport, ambulances and camper vans.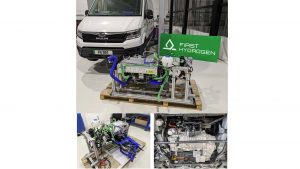 You have a growing global team. What are your goals for expansion across international markets?
Strategically, we decided to grow the initial operational teams in the UK and EU within country teams where we see opportunity, particularly for green hydrogen production.
We expect Europe to be a leader in both the automotive technology development and adoption. The latest proposed legislation under the EU's Fit-for-55 scheme will accelerate the move to zero-emissions vehicles in passenger cars and light duty vehicles and heighten the need for zero-carbon fuel. Canada has similar legislation, and the US is showing substantial investment in net zero under the Biden Government, hence why we see North America as a key market also.
For green hydrogen production, we are in active discussions for sites in the UK, EU, and Canada. Government support is important, as is the ability to access cost-effective renewable electricity in each market.
For our growing team, we are attracting talent from a diverse set of backgrounds and locations. We are able to do this with the aid of the latest working practices and are already seeing benefits through this expanding network.
First Hydrogen recently entered into a Research and Collaboration agreement with the University of Cambridge. Can you explain more about how this collaboration will work and what it is hoped it will achieve?
Cambridge University is perfectly positioned as a partner for First Hydrogen with our mission for zero-emission mobility. The University has 'Cambridge Zero', developing zero-carbon solutions that work for our lives, our society and our economy. It also has 'Energy@Cambridge', an interdisciplinary group working across all aspects of energy. Our partnership is led by Professor Seamus Higson of the Department of Chemical Engineering and Biotechnology, a world-leading institution in energy transition and the department that first developed the hydrogen fuel cell, which was subsequently used in the Apollo moon missions.
The Research and Collaboration Agreement is set up for an initial five years and we will jointly undertake a number of research projects into hydrogen production and mobility.
As its centrepiece, the collaboration enables the joint development of hydrogen-related technologies to unlock the hydrogen economy with particular focus on the automotive industry, the hydrogen production, and the fuel distribution industries.
The first project of the partnership will develop an Artificial Intelligence (AI) tool to harvest user and supplier information related to hydrogen usage, to better inform hydrogen business cases and to direct significant investment into hydrogen mobility and related infrastructure. The tool is expected to become an additional revenue-generating service that First Hydrogen offers and will also help the company develop its own zero-carbon fuel technology and infrastructure investments in the hydrogen sector.
How can the current infrastructure support an increase in commercial hydrogen vehicles? For example, are there enough refuelling stations available to support vehicles travelling long distances?
The current infrastructure is in the early phase of development, against which we expect to see rapid growth between now and 2030. For example, in Europe there were 227 hydrogen refuelling stations in 2021 and projections show this rising to over 3,700 by 2030. Similarly, in Canada and USA growth from eight and 66 in 2021 to 500 and 2,000 respectively is expected.
We are also seeing hydrogen hubs emerging or planned where either hydrogen is imported or produced at logistics centres, serving many of the users of hydrogen-powered vehicles.
As the market grows, First Hydrogen will play a strong role in helping our customers with the direct provision of hydrogen through our hydrogen refuelling stations and Hydrogen-as-a-Service offering.
What are your key goals for 2022 and beyond?
2022 is an exciting year for us. We are set to complete our automotive strategy and bespoke product definition, and we will also complete phase one of the Hydrogen Refuelling Station study and technical definition with FEV Consulting group. We will have green hydrogen production site opportunities evaluated and partnerships underway. Most importantly, our executive management team and key leadership team will be in place.
Looking beyond 2022, we will continue our growth and implementation, including looking at other technologies such as off-grid power and stationary power generation that can and will benefit from fuel cell and hydrogen technology and can be synergistic to our business.
Please note, this article will also appear in the tenth edition of our quarterly publication