Gregg Smith, President and CEO of Grounded Lithium Corp, explains how the company is working to bring lithium production to market in Canada.
With a long history of successful resource development, Western Canada can significantly contribute to Canada's energy transition industries with lithium-rich geological settings when developed utilising the extensive services present within Canada of technical and operational expertise, an experienced workforce, stable mineral rights tenure and regulatory structures in the provinces of Saskatchewan and Alberta. Global demand for sustainable and low-cost energy supplies continues to grow as countries transition their economies and societies away from being powered by traditional energy sources such as fossil fuels. Effective energy storage in lithium batteries garners significant attention for energy producers in their attempts to meet this growing demand for alternative energy sources. The dramatic increase in demand for and growth in electric vehicles (EVs), in particular, facilitates a pivot towards lithium production and exploration.
Grounded Lithium Corp. (TSXV:GRD OTCQB: GRDAF) is a publicly traded, Alberta-headquartered lithium resource company focused on supplying lithium into the rapidly developing electricity-powered economy. Grounded Lithium focuses on lithium extraction from the production of subsurface brines in Western Canada; a rapidly expanding new industry. The Grounded Lithium team focuses on generating value through a balanced model of exploration, production, and strategic acquisitions of subsurface mineral rights bearing lithium-rich brines. Environmental and economic sustainability are at the forefront of the minds of all team members in formulating its strategy and execution.
The Innovation Platform spoke to Gregg Smith, President, CEO and Director of Grounded Lithium, to find out more about Grounded Lithium's plans to bring lithium production to market.
What is the Grounded Lithium story?
We began general discussions in 2020 about the global market trends of the transition from traditional energy sources (such as oil and gas) to electricity as well as the growing demand for EVs. From the perspective of a team of experienced resource development professionals, we examined the economic potential for exploration and development of lithium from brines. Our assembled team reviewed the potential in Western Canada and began to assess at a high level where it would be most attractive based on economic considerations. While examining the rock quality and mapping, we also gathered information on the availability of lithium mineral rights to see if and where potential lithium projects could be contemplated in Western Canada. We founded Grounded Lithium in late 2020 when we realised the feasibility of a commercial project exhibiting both environmental and economic sustainability.
Where in Western Canada is Grounded Lithium focusing its initial lithium projects?
As we gathered information in 2020 and mapped regionally, we followed the rocks which led us to recognise the Kindersley area of Western Saskatchewan provided key factors contributing to a potentially 'best-in-class' viable lithium from brine project. The Leduc/Duperow formation in this area provides the shallowest depth position to access thick, porous reservoir containing lithium-rich brines. The thick reservoir provides significant brine storage and the deliverability necessary for economic development. We minimise our costs to access the resource due to the shallowest depth possible. Furthermore, these brines contain no oil or sour gas that must be removed prior to lithium extraction from the brines, thus providing us with a competitive cost structure. This area has a diverse spectrum of mineral rights with a mix of Crown ownership, private freehold rights and large tracts of freehold rights owned by a number of companies and individuals. In early 2021, we successfully leased approximately 14 sections of lithium mineral rights from individual freehold owners and also acquired approximately 21 additional sections of lithium rights from a Saskatchewan Crown Subsurface Mineral Rights sale. As of late 2022, we have now grown that land base to greater than 300 sections of lithium mineral rights with a mix of Crown and freehold.
What did Grounded Lithium accomplish in 2022 to strengthen the platform?
2022 was an active and pivotal year in our company's evolution. Grounded Lithium achieved a public listing on the TSX Venture Exchange and achieved a trading quotation on the OTCQB Venture Market. We successfully raised capital through several rounds of accretive financing during the course of the year to address near-term catalysts. In a little over two years, we accumulated a significant land base of lithium mineral rights, including the leasing of approximately 231 sections in 2022 alone. The company successfully drilled and completed the second ever dedicated lithium test in Saskatchewan, demonstrating the company's ability to secure the appropriate services to successfully drill wells with very modest capital intensity given the relatively shallow depth of the Duperow formation. More importantly, such wells confirmed lithium concentrations in our Kindersley core area, as well as providing economic deliverability rates in the area.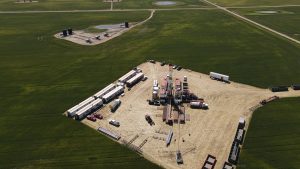 With the proven high deliverability rate (anticipated long-term deliverability of 18,500 bbls/day and maximum flow rates of 29,000 bbls/day), we concluded one well per section (possibly two in some cases) supports a 20,000 tonne/year lithium project in our core area. This achieves our two key strategic drivers: environmental stewardship by way of a minimised operational footprint; and economic sustainability with decreased capital costs and lower operating expenses over time.
We commissioned our maiden NI 43-101 Technical Report that assessed our Kindersley Lithium Project effective 15 April 2022 at 2.9 million tonnes of inferred lithium carbonate resource. An updated NI 43-101 Technical Report effective 30 November 2022, conducted by Sproule Associates Ltd., assessed an increase to 3.7 million tonnes of inferred lithium carbonate resource based on technical results from our well and additional lands acquired. In October, the company executed a Direct Lithium Extraction (DLE) Testwork Support & Evaluation contract with Hatch Ltd. to assist us in selecting an extraction process through an extensive evaluation process of four premier technology companies.
What are the company's current goals and objectives?
We look to expand upon our successes in 2023, while we build the foundation of an economic and environmentally sustainable lithium company. Fundamentally, there are two major milestones running in parallel, which if achieved in the first half of the year, substantially increases our value proposition. These are the selection of a DLE technology, and the preparation of a preliminary economic assessment (PEA). The successful attaining of these milestones provides proof of Grounded Lithium's ability to pursue subsequent objectives. As part of our engagement with Hatch, the top two DLE technology candidates will receive large volumes of our brine, already in secure storage, for lab pilot analysis.
As we aggressively advance the value proposition of the company, continual examination of our capitalisation and funding will occur. Based on the knowledge gained from our PEA, we envision the commencement of the design and construction of a Commercial Demonstration Facility (CDF) in the second half of 2023. The CDF can prove commerciality of a full-scale facility.
Can you expand on what you mean by environmental sustainability?
Grounded Lithium fundamentally believes we can build shareholder value while maintaining environmental stewardship. We know we can develop with a relatively small environmental footprint. We are drilling shallow wells utilising simple well completion methods that do not require intrusive subsurface stimulation. Moreover, as we have proven high deliverability of brine in our first well, we anticipate only having to drill one (possibly two) well(s) per section to support a 20,000 tonne/year lithium project in our core area. This means a minimal operational footprint for a substantial lithium project. The surface processing facilities occupy a relatively small area as compared to other sources of lithium production found elsewhere globally.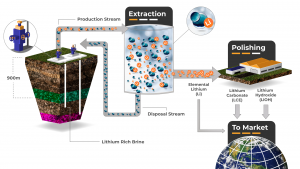 Is Grounded Lithium actively looking for M&A or asset acquisition opportunities?
We maintain a perspective where we seek opportunities to grow as a company or otherwise strengthen our company's capital structure to accelerate production. However, our team views assets with prudence and discipline in this regard – any assessment must demonstrate potential for commerciality. If an opportunity emerges that enhances our company's portfolio base at an accretive price, we will assess it. Otherwise, our focus is on sustainably developing our current resource base.
What is the long-term vision for Grounded Lithium?
Grounded Lithium plans to become a 'best-in-class', environmentally responsible lithium producer with multiple operating projects that further the Canadian Critical Minerals Strategy.
Please note, this article will also appear in the thirteenth edition of our quarterly publication.

Go to this partner's profile page to learn more about them