Lachlan Reynolds, Managing Director of MTM Critical Metals, discusses the potential of the company's recent REE-Nb project acquisition and outlines the exploration programme designed to discover the next critical metal deposit in Canada.
MTM Critical Metals Limited (MTM) is an Australian-based junior mineral company focused on the exploration and development of rare earth element (REE) deposits in Australia and now Canada. In February 2023, MTM announced that it had secured an option to acquire the Pomme hard rock REE and niobium (Nb) project in Québec, from TSX-listed explorer and processing technology company Geomega Resources Inc (Geomega) for about A$1m in cash and shares, plus a A$2m exploration expenditure commitment over three years.
The Pomme project is easily accessible by road and is close to excellent local mining infrastructure in the nearby Abitibi mining district. Furthermore, Québec is a supportive, stable jurisdiction with a long history of mineral exploration, extraction, processing, manufacturing, and recycling. Canada is also a world leader in environmental, social and governance (ESG) standards with respect to mining.
High priority critical metal exploration target
The Pomme project is considered to be an extremely prospective exploration target, with potential for the discovery and delineation of a new REE-Nb deposit. It is a known carbonatite intrusion, which was confirmed by limited historical diamond drilling completed in 2012.
Two drill holes completed at that time intersected broad zones of REE-Nb mineralisation interspersed with higher grade zones and locally high grades, including a highlight 508.3m at 0.43% TREO, 413ppm Nb2O5 and 1.48% P2O5, from 73.7m depth.
The REE mineralisation contains elevated neodymium and praseodymium (NdPr) – essential minerals for the magnet and EV market. The mineralisation is also characterised by low uranium and thorium grades, which is favourable for environmental and safety aspects of future processing.
Pomme is located adjacent to the world-class Montviel REE-Nb deposit, owned by Geomega, that has a defined total indicated and inferred resource of 266 Mt @ 1.45% TREO & 0.14% Nb2O5. The deposit occurs as a REE-Nb mineralised ferro-carbonatite over a length of 900m (NE-SW), a width of 650m (NW-SE), and extends to 750m depth below surface. Within the resource is also a zone of elevated dysprosium (Dy) grades. Geomega has developed a patented metallurgical process for treatment of the Montviel mineralisation which is currently at optimisation stage.
Worldwide, carbonatites are major sources of both REE and niobium, and are characterised by significant enrichment in light REE, including NdPr. REE and niobium have been designated as critical minerals in both Australia and Canada principally due to their importance in the global clean energy transition and in the manufacture of advanced technologies.
Advancing a diamond drilling programme of the REE-Nb project
Since securing the project, MTM has been rapidly advancing a diamond drilling programme designed to evaluate the overall geology of the Pomme carbonatite intrusion and define the grade and continuity of the REE-Nb mineralisation that it contains. Initially, the company plans to complete around ten drill holes for a total of 5,000m of drilling.
Statutory approvals for the work have been obtained from the Québec Ministère des Ressources naturelles et des Forêts (MRNF, Ministry of Natural Resources and Forests) and the company is liaising with the local Cree First Nation of Waswanipi community regarding the timing of drill rig mobilisation.
Once fresh diamond drill core is available, the company plans to undertake a comprehensive programme of metallurgical test work and develop a conceptual process flowsheet. The results of metallurgical testing completed at the Montviel deposit will act as the initial guide for this critical technical work. The company currently has access to consultants with relevant metallurgical experience and will look to engage additional expertise to evaluate possible processing alternatives.
Drone magnetic survey
The company has also commissioned a high-resolution drone magnetic survey of the interpreted Pomme carbonatite target. The survey comprised approximately 220 line kilometres, flown on 25 metre line spacing at a sensor height of approximately 22 metres (tree-top height). This survey is designed to provide detailed data to assist with modelling of the mineralisation response. Furthermore, it may potentially provide an exploration vector as magnetics can be progressively correlated with the underlying geology.
First Nations Agreement
The company has a strong commitment to ESG principles and is currently working with the Cree First Nation of Waswanipi (CFNW) to finalise a Mineral Exploration Agreement for the Pomme project. This agreement will provide for a formal process between the company and the CFNW to allow for regular communication about the company's activities and to ensure that the company respects the traditional rights of the community.
Exploration management
The company has executed a services agreement with TSX-listed explorer Kintavar Exploration Inc (TSX-V:KTR) to provide geological and project management services for the project. Members of the Kintavar team are highly experienced exploration geologists with personal involvement with the previous discovery and delineation of the Montviel REE-Nb deposit located only 7km from the Pomme project.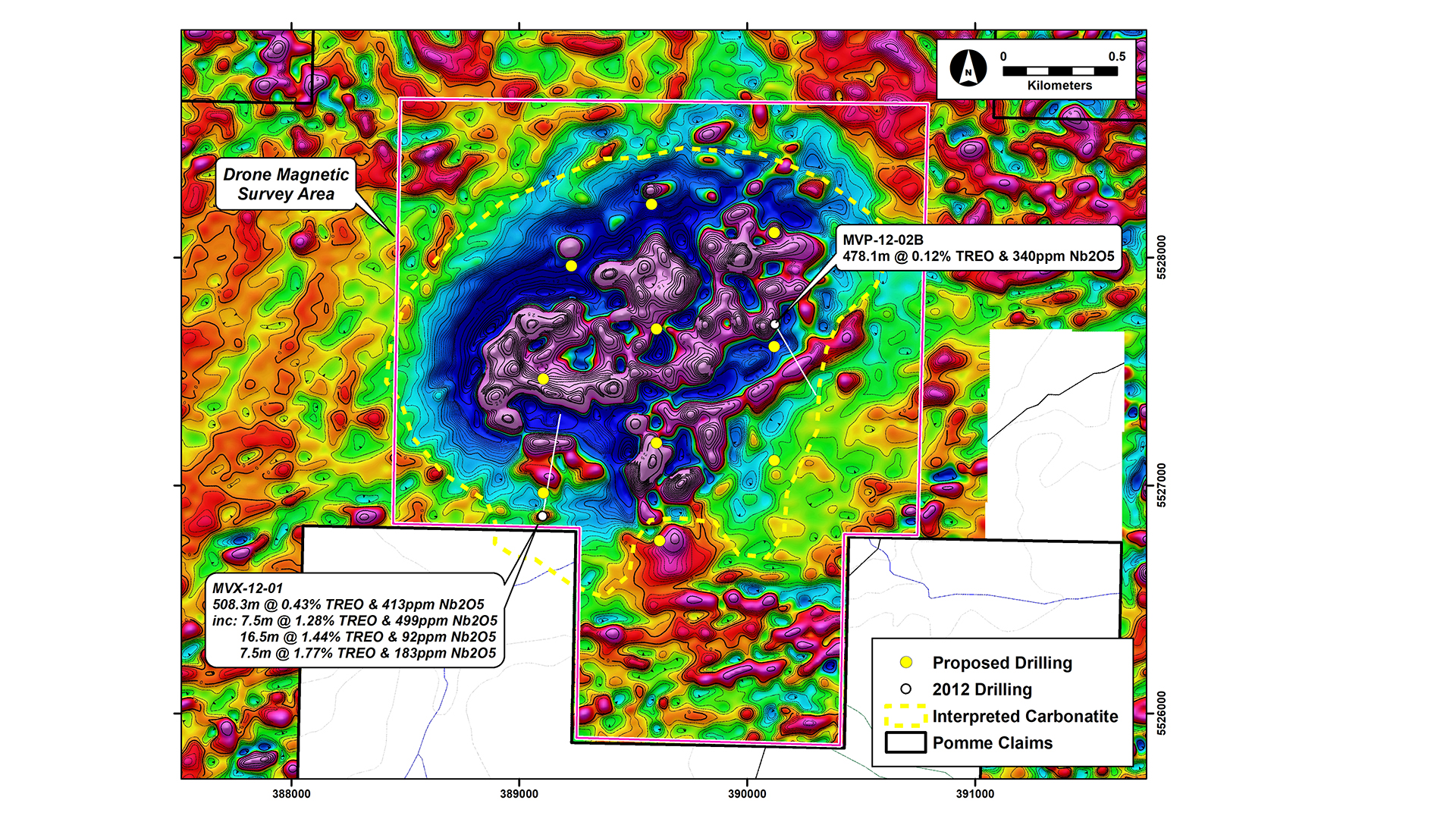 Detailed planning for the Pomme work programme was completed in March 2023 with the Kintavar team. Their local knowledge and technical expertise with carbonatite-hosted REE mineralisation will be invaluable for the rapid and effective implementation of the company's exploration programme.
Securing investment to support the exploration of the REE-Nb project
The company has secured new investment to support the exploration programme at the Pomme projects, through a strongly-supported placement of new shares to sophisticated and institutional investors to raise gross proceeds of A$3m (before costs).
The recent acquisition of the Pomme REE-Nb project builds on MTM's strategic investments in critical metals and gives the company exposure to the projected high demand for NdPr, niobium and other commodities. REE and Nb have properties that make them very useful for a wide variety of modern decarbonisation technologies and an essential part of the global energy transition.
Please note, this article will also appear in the fourteenth edition of our quarterly publication.