Aker Carbon Capture is currently building two carbon capture plants in Norway and the Netherlands.
Carbon capture utilisation and storage (CCUS) has been hailed as an essential tool in the fight against climate change, particularly in hard-to-abate sectors such as cement, waste-to-energy, gas-to-power, and steel production.
Aker Carbon Capture is a world-leading pure-play carbon capture technology company delivering ready-to-use CO2 capture plants serving various industries with carbon emissions, including cement, waste-to-energy, gas-to-power, and blue hydrogen. Aker Carbon Capture's unique post-combustion capture technology has been developed in a comprehensive R&D programme over eight years, where the performance of numerous solvent mixtures was tested and compared.
DNV-GL has qualified the amine-based carbon capture technology, and the capture plants offer several advantages, such as low energy requirements, robust solvent, and excellent HSSE performance. CCUS is essential in addressing the growing challenge of reducing CO2 emissions, and Aker Carbon Capture's flagship projects can be accelerators in the CCUS industry landscape.
The current CCUS landscape
Hard-to-abate sectors contribute significantly to the world's CO2 emissions, and their emissions are expected to increase in the coming years. For example, cement production accounts for approximately 7-8% of the world's carbon dioxide emissions and the transport sector has proliferated in recent years. In such a scenario, reducing emissions from these sectors becomes critical to mitigating the climate crisis. Carbon capture utilisation and storage is a technology that captures CO2 emissions from industrial processes and stores them underground, preventing their release into the atmosphere or uses CO2 as a resource to create products and services.
As around two-thirds of the CO2 emitted by cement plants are associated with the calcination of calcium carbonate, these 'process emissions' are impossible to avoid through fuel switching or electrification and can only be addressed with CCUS. Therefore, the cement industry is featured heavily in current plans to deploy carbon capture utilisation and storage at scale in industrial regions. This would reduce the emissions generated during cement production and could provide a new revenue stream for cement manufacturers as captured CO2 can be sold as a feedstock to other industries.
Similarly, the waste-to-energy industry can benefit significantly from capturing their emissions. Around 40-60% of the incinerated waste streams are of biogenic origin, which offers prominent potential to provide CO2 removal through BECCS to provide CO2 removal through BECCS – bioenergy combined with carbon capture – which can generate high-integrity carbon removal credits. The emitter can also sell the biogenic CO2 to PtX users.  Both options will significantly improve the plant's current and future business case. In November 2022, the European Commission published its Carbon Removal Certificate proposal, which will likely guide the future generation of carbon removal certificates and provide crucial frameworks and revenue in Europe.
The Brevik & Twence projects
Aker Carbon Capture's proprietary patented technology has been developed over 20 years and is validated through close to 60,000 operating hours and verified for several applications, and different types of flue gases. The technology is cost-effective, robust, and flexible, which can be applied to existing plants or new builds.
The process uses a biodegradable mixture of water and organic amine solvents to absorb the CO2 and has a market-leading HSE profile. Today, Aker Carbon Capture is delivering a standardised Just Catch™ modular carbon capture to a project that will capture 100,000 tonnes of CO2 per year from the end of 2023. The project is located in the Netherlands, at Twence's waste-to-energy plant in Hengelo, where construction is progressing. The plant will reduce CO2 emissions associated with energy generation from the incineration of non-recyclable waste. The captured CO2 will be used to boost production in nearby greenhouses. This is a unique example of the circular economy.
Aker Carbon Capture was proud to be selected by Norcem Heidelberg Materials for the Brevik CCS EPC delivery, the world's first large-scale carbon capture plant at a cement facility. The plant will have superior heat integration with the existing cement Facture and will capture 400,000 tonnes of CO2 annually. The EPC project commenced in January 2021, with several key milestones achieved and all major purchase orders placed. Onsite activity began in June 2022. Major on-site equipment, including all nine Waste Heat Recovery Units, a Flue Gas Fan and Direct Compact Cooler, has been installed. The Brevik CCS project is part of Longship, the Norwegian Government's full-scale carbon capture, transport, and storage project. Longship will be in operation in 2024.
What needs to happen for large-scale CCUS deployment?
The carbon capture utilisation and storage market is changing. This is due to high levels of activity from the private sector and increasing expectations from civil society to reduce emissions, in addition to government policy that is increasingly supportive of carbon capture utilisation and storage.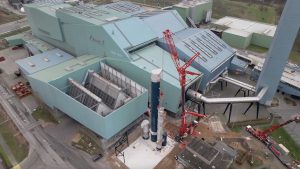 Global governments have rolled out impact schemes for industry such as direct funding, subsidies, tax credits, carbon taxes, and infrastructure-shaping legislation. What all these initiatives need to have in common, and some do, is to incentivise actors that act first by providing the most attractive support early or in a limited time frame. Examples include the Danish CCUS strategy and announced funding tenders and announced funding tenders for CO2 capture which focus on hard-to-abate sectors, the Dutch SDE++ subsidy Contract for Difference approach, and Canadian CCUS Investment Tax Credit.
The CCUS project cost depends greatly on the size of the project, and proximity to necessary infrastructure and permanent storage. Aker Carbon Capture recognises the opportunity to achieve significant cost reductions through technology development, standardisation and modularisation, and strategic partnerships.
Many carbon capture utilisation and storage projects are highly reliant on cross-border interaction and often must manoeuvre different levels of national legislation and policy domains, which can restrict the overall feasibility of the project and generate uncertainty on critical aspects of the business case. National climate legislation and cross-border policymaking should instead facilitate projects that demand co-operation between countries and regions.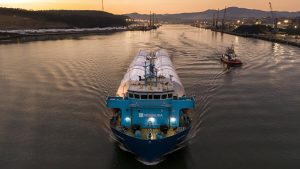 The EU ETS has been hovering around €90/tonne of CO2 over the past months and is set to increase exponentially over the coming years. Its forthcoming changes under the Fit for 55 flagship EU climate policy package will continue to drive decarbonisation in Europe. It will also hold global exporters accountable for their emissions through the incoming Carbon Border Adjustment Mechanism. However, these changes are materialising and solidifying their impact towards the latter half of the decade; the climate crisis does not have that time to spare.
The US Inflation Reduction Act takes a different approach to make CCUS a viable, economic option for emitting industries by generating tax credits and payouts – embodying a carrot approach.
Carbon capture utilisation and storage – a crucial technology
In conclusion, carbon capture utilisation and storage is a crucial technology to address the growing challenge of reducing CO2 emissions and mitigating the climate crisis. Focusing on hard-to-abate sectors such as cement, waste-to-energy, and gas-to-power is essential. They contribute significantly to the world's greenhouse gas (GHG) emissions and are expected to increase in the coming years. The deployment of CCUS in these sectors can serve as a model for other industries, such as pulp and paper, steel production, and the chemical industry, demonstrating the viability and cost-effectiveness of the technology.
In the end, actual projects that start capturing CO2 and either store or utilise it will take us closer to crucial global climate goals. Projects such as Twence CCU and Brevik CCS are leading the way. But we need many more of these to make a difference.
Jon Christopher Knudsen
Chief Commercial Officer
Yannick Vanderveeren
Head of Communications
Nicolai Mykleby-Skaara
Policy Advisor
CCUS@akercarboncapture.com
https://akercarboncapture.com/
https://www.linkedin.com/company/aker-carbon-capture/
https://www.facebook.com/akercarboncapture/
Please note, this article will also appear in the thirteenth edition of our quarterly publication.