Float Europe® proposes a concept that can assist Ireland's renewable energy sources to respond to European 2030 renewable energy goals.
Float Europe® (Float Marine Technologies Europe Limited) provides project development services that include research, design, and development of marine technology products specialising in very large floating platforms. Our immediate objective is to publicise the availability of these innovative marine technologies, their multi-purpose applications, and to help understand how to implement and use them properly.
Our solutions have real potential to assist Ireland in meeting the EU's renewable energy goals. This article explains some of our services and outlines our proposal, the components of which are:
Pneumatically Stabilised Platform (PSP)
Pneumatically Stabilised Platform (PSP) system permits the design and construction of very large floating platforms of unlimited size. PSPs may be deployed in regions with extreme wave heights and achieve more stability than achieved by any other known marine technology.
The PSP is a patented design concept for large floating platforms, in which the flotation force is derived from an array of open-bottom cylinders retaining pressurised air that displaces the water.
The PSP consists of:
A monolithic platform;
A stable with variable deck loads capabilities;
It is Modular, mobile, and extensible;
Wave attenuation results in calm water zone leeward;
It is environmentally-friendly; and
It has a long life with minimal hull maintenance and no out-of-service time.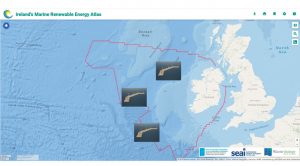 Offshore floating ocean energy system
The PSP has a structural stability that allows any standard offshore wind turbine to be easily deployed, and the wind turbine foundations corresponds to marine demands. In addition, the platform offers access, maintenance, and operations similar to those found onshore; a transformer station in-the-dry; storage space for spare and repair parts; and the benefit of no new specialised vessels being required to transport equipment or personnel directly from ports to the platform.
Statistical analysis of candidate offshore zone
Long-term (historical) assessments are performed to identify the level of resource(s) and to investigate its inter-annual and seasonal variations. Typically, the more energetic wave conditions have a relatively low probability of occurrence at all sites, and so while a vast amount of energy is still available on a yearly average in these conditions, they are not the most suitable for energy production.
In order to estimate the logical (economical) power output of the Rho-Cee Wave Energy Converter (WEC) – a broadband, impedance-matched wave energy conversion structure that efficiently transforms the hydrodynamic power of waves into usable electrical energy – a preliminary statistical analysis of the wave resource is performed based on a data analysis program created from a recent wave basin test performed at the Ohmsett facility of the (then) U.S Minerals Management Service, December 2009. Once the preliminary statistical analysis of the wave resource has been completed and the results being favourable, a feasibility study would be required to provide the necessary data base confirmation for the site-specific design of the Offshore Floating Ocean Energy System.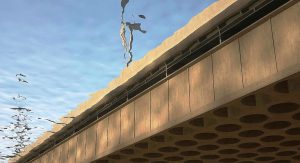 The Float Inc Offshore Floating Ocean Energy System
For the capture of renewable energies, the platform is composed thus:
Pneumatically Stabilised Platform (PSP) – Stable, monolithic, modular, and mobile platform with variable deck load capacities.
PSP + Rho-Cee Wave Energy Converter (pC WEC) – Designed to collect wave energy and convert to usable electricity.
PSP + Potential Energy Storage (PES) – Conversion and storage of 'surplus' electricity production to compressed air stored within specific PSP cylinders designed for PES; and
Alternate storage methods can also be applied – reconversion of stored 'surplus' electricity production to grid-usable electricity.
Wind turbines
A farm of wind turbines, each of which their base structure, may be structurally integrated into selected cylindrical elements of an offshore-sited floating PSP, thereby forming a like-sited 'wind farm' wherein the wind turbine units may be readily erected, accessed, inspected, and maintained in a manner similar to that practiced on land.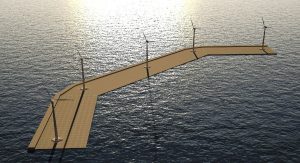 Hydrokinetic turbines
A farm of ocean current hydrokinetic turbines, each structurally and retractably integrated into selected cylindrical elements of an offshore-sited floating PSP, thus forming a like-sited 'ocean current farm;, wherein the said current hydrokinetic turbine units may be retractably raised to deck level and so may be readily accessed, inspected, maintained, repaired and/or replaced.
By positioning complementary and multiple renewable energy applications on the same deep-ocean offshore floating platform, the capital investment costs can be amortised more rapidly thanks to the Float Incorporated Pneumatically Stabilized Platform (PSP). Indeed, previous tank tests results contracted by USA Department of Defense DARPA & ONR resulted in the validation of the PSP as a highly stable offshore deep-water ocean floating platform, capable of withstanding extreme ocean Sea States.
As the Offshore Ocean Energy System is constructed using pre-stressed, reinforced concrete, the life-expectancy is estimated at more than 70 years. This prolonged life expectancy is a definite advantage, economically and productively speaking, as wind turbines are estimated to have a life-expectancy of just 25 years, meaning that the Offshore Ocean Energy System would permit replacement of 'end-of-life' wind turbines without costly platform re-construction/replacement.
In addition, the Offshore Ocean Energy System does not require periodic dry-docking for repairs and/or maintenance. Classification society(ies) model tank testing and seaworthy certification requirements are to be met prior to commencing construction.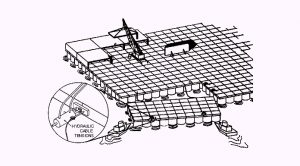 The Float Inc proposal résumé
The Float Inc Offshore Ocean Energy System has applications to capture and convert renewable energies. This includes energy from wind, wave, and ocean currents. It also has ancillary applications, including but not limited to aquaculture and related activities, desalination plants, LNG liquefaction and re-gasification facilities, offshore Ro-Ro and/or a container port.
Construction and assembly
The PSP and Rho-Cee WEC are constructed, modularly, in pre-stressed reinforced concrete, which has been found to be degradation-free in long term exposure to sea water – and only concrete touches the sea water in the platform, WEC, or WT systems. All equipment subject to maintenance, replacement or inspection is 'in-the-dry' – fully accessible to platform-resident personnel on foot, dry-shod.
With integral foundations, WTs deployed upon such a floating platform can be positioned offshore in more persistent winds and in the greater water depths favourable to the WECs; avoiding bottom losses. Heavy weather access to the platform is enabled by its breakwater effectiveness from the wave attenuation characteristics which provides platform stability and a leeward calm water zone.
Both WEC and WT sources may store compressed-air potential energy in the internal volumes of their common supporting PSP structure, where it may be charged and tapped by equipment that is already part of the PSP's air-buoyancy control and distribution system.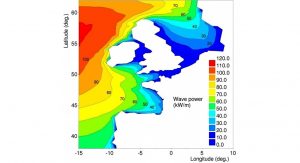 Ireland and Rockall Trough wave power data
When located at Ireland's Rockall Trough, the results are staggering! Indeed, while Ireland's near shore wave activity can provide 43kWh/meter of wave span, Ireland's Rockall Trough offshore deep waters can provide 90-100kWh/meter of wave span.
The PSP & Rho-Cee WEC equipped with Trident Energy's power take-off units and SEAWIND's two-blade 12-225 wind turbines are capable to provide grid quality electricity for all the dwellings in Ireland, and the remaining grid electricity could be sold to other EU countries or even the UK/Scotland.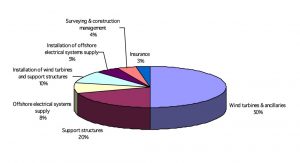 Offshore deep-ocean wind farm potential cost-savings areas
Potential cost-savings areas with application of Float Inc PSP include the support structure area. Here, wind turbine foundations are pre-installed onboard PSP before float out, as 'High and Dry' pre-installed foundations reduce installation time/costs and accelerates 'in-service' time. This also reduces the necessity for special transportation and handling equipment, and eliminates delays caused by weather window. The same is true for wind turbines, which can be pre-installed onboard PSP during load out. Regarding wind turbine anchorage, only one anchorage system is required for a PSP platform, thus eliminating the costs and complexities of multiple individual wind turbine foundation anchorage points. The anchorage system is also positioned prior to the PSP's arrival.
These benefits are seen in the context of the installation of offshore electrical systems in the supply area. Here, grid cabling is pre-installed in cable channels onboard PSP during load out with one connection to a land cable. Similarly, electrical infrastructures are pre-installed onboard PSP during load out, reducing time and costs.
When it comes to the surveying and construction management area, operations and maintenance in 'High & Dry' working environment onboard PSP permits ready access to all equipment. Furthermore, PSP variable buoyancy technology stability provides a 'High & Dry' working environment throughout the platform, and the PSP lee-side calm water zone for vessel berthing facilitates the loading/unloading of personnel and equipment.
PSP's modular construction permits rapid 'in-service' expansion possibilities and is therefore also adaptable to a multitude of applications and configurations. Existing PSP and accommodated equipment functions are not affected with long down-times for PSP expansion, and the PSP has a life-cycle of over 70-years. PSP can also be displaced as required. This provides flexibility to any offshore station re-positioning necessities, while eventual changing wind patterns, resulting in reduced wind power availability, can be overcome by simply displacing the PSP (as is) to a more appropriate position. In addition, a new, or reusable, anchorage system can be pre-positioned prior to the arrival of the PSP in a new location.
PSP accommodates decommissioning with ease, thus avoiding unnecessary expenditures. The modules can be reused, thus permitting continued use elsewhere, and when the life-cycle term has been achieved, the components of the PSP can be dismounted and recycled.
Finally, there is also a reduction of overall insurance costs/rates as a result of the IMO/SOLAS certification.
Overall, the benefits of the PSP are:
The Entire wind farm can be operational once PSP is anchored in position;
'High and Dry' maintenance;
Reduces 'weather window' delays;
Corrosion Resistance;
Periodic dry-docking for maintenance is unnecessary;
Depth independence;
Sensitivity to bottom soil conditions;
Wave sensitivity;
Impact of stability class of turbine design (turbine weight, tower top motion, controls complexity, and maximum healing angle); and
A life-cycle of over 70 years.
References
Franklin Martin
Managing Director
Float Marine Technologies Europe Ltd
+33 493 378 543
contact@floateurope.eu
http://floateurope.eu/

Go to this partner's profile page to learn more about them