Canadian gold exploration specialist Harfang Exploration is taking advantage of Québec's abundant opportunities for critical and strategic mineral development.
Harfang Exploration Inc. (TSX-V: HAR, 'Harfang') is a Canadian exploration company focused on the discovery of deposits of high-grade gold and critical and strategic minerals, such as lithium in the Eeyou Istchee James Bay region of Québec. Harfang, and its predecessor company Virginia Gold Mines, has been active in the region for decades, with Virginia being a pioneer and discovering the Eleonore Gold Mine in 2004.
Eleonore was ultimately sold to Goldcorp in 2005 for $500m, and later the royalty for an additional $461m to Osisko Gold Royalties. Virginia was led by two-time Québec Prospector of the Year award winner Andre Gaumond, now a Harfang Director.
Québec is already well known for its large gold deposits and operating mines. Now, the James Bay region is rapidly gaining attention as an emerging North American lithium district which has created a massive land grab in the past six months. The activity has been fuelled by four known deposits, new discoveries, and the soaring price of lithium related to the electric vehicle (EV) battery production profile and future growth curve predictions.
The Québec Government is all in, releasing its Critical and Strategic Mineral Strategy in autumn 2022. This endorsement will spur activities and mineral development, allowing the province to continue its energy and technological transition and creating quality jobs in regions while contributing to the development of a greener economy.
Québec routinely ranks among the top jurisdictions worldwide for exploration and mining, and for good reasons. The Québec Government is very proactive and supportive of the exploration and mining industries, as evidenced by the very generous tax incentives and exploration credits on investment. Additionally, Québec offers a world-class and diverse mineral development endowment, a very favourable investment climate, high environmental and social standards, a skilled labour force, and a state-of-the-art public geoscientific database managed by the provincial government.
Most importantly, there has been progressive consultation with First Nations at the highest levels of government, creating a foundation of trust and translating to a workable framework for companies advancing their mineral development and exploration projects.
Ian Campbell, President and CEO of Harfang, commented: "Our core beliefs start with our social license to operate, and we view the First Nations as partners and integral to the success of any project. Building mutual respect and trust begins at the earliest stages."
Aligning with Québec's Critical and Strategic Minerals (CSM) Plan
In January and February this year, Harfang rapidly increased its strong land position rooted in gold exploration in James Bay with the acquisition by staking several promising lithium exploration targets. These acquisitions include six new properties and the expansion of existing projects totalling an additional 50,000 hectares, providing shareholders exposure to the entire district based on their geographical distribution.
Harfang's experienced mineral exploration team utilised the Québec Government's world-class database to quickly pinpoint prospective areas for the discovery of spodumene (a lithium-bearing mineral) pegmatite deposits typical of the region. The unusually abundant lithium endowment in James Bay, combined with the historic lack of exploration for spodumene, sets the stage for an exciting 2023 when multiple companies, including Harfang, will be in the field exploring for the next discoveries.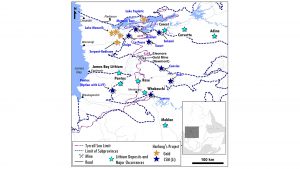 Rounding out Harfang's portfolio of lithium-specific projects is the Pontax property, located just west of the Whabouchi and Rose Lithium deposits. In July of 2022, Harfang announced that it entered into an option agreement with Li-FT Power, who was granted the option to acquire up to a 70% interest in Pontax.
"The project was originally staked for its gold potential but also contains the potential for pegmatite-hosted lithium deposits. We're very pleased to have Li-FT explore for lithium as part of their larger Pontax project, which is ideally located in a proven belt that already has substantial lithium-bearing pegmatite occurrences and defined lithium NI 43-101 resources," said Campbell.
Harfang's management team is led by Ian Campbell, who brings a wealth of experience to both the gold and critical and strategic mineral exploration projects. He was directly involved in the identification, acquisition, and delineation of the Separation Rapids lithium project acquired by Avalon Advanced Materials in 1996. Today, Separation Rapids hosts one of the world's largest complex-type lithium-caesium-tantalum (LCT) pegmatite deposits and is unusually rich in the rare, high-purity lithium mineral petalite.
Campbell added: "Harfang is ideally situated to capitalise on the lithium boom, being one of the largest landholders in the James Bay region and given our extensive operational experience there.
The area is completely energised by the lithium sector based on an unusual endowment of existing lithium deposits already defined, new discoveries such as Patriot Battery Metals (market cap $1.3bn) and its Corvette deposit, the global movement to green energy and government incentives to explore and develop." With $7.4m in the treasury as of 31 March 2023, Harfang is well financed to carry out its 2023 exploration plans.
Critical and strategic mineral exploration and development will allow Québec to continue its energy and technological transition and create quality jobs in regions while contributing to the development of a greener economy. The province has pledged to accelerate investments in geoscientific knowledge acquisition, support innovative projects in exploration, and invest directly in exploration to expedite the realisation of Québec's full CSM potential.
Canadian and UK governments on board
At the recent annual Prospectors and Developers Annual Convention in Toronto, Canada – the world's largest gathering of explorers, developers, and scientists – Canada and the UK signed a deal to significantly enhance green technology supply chains, with both countries collaborating on critical mineral development, furthering the level of government support.
Launched by the UK's Business and Trade Minister Nusrat Ghani and Canadian Minister of Natural Resources Jonathan Wilkinson, the historic partnership will drive co-operation on critical minerals, such as nickel, cobalt, and lithium, that will be pivotal in developing a range of green technologies.
In the announcement, Nusrat Ghani said: "Every single one of us depends on critical minerals to make the technology we use in our everyday lives. With a dash for minerals to meet national business needs, it is essential that we work to build more resilient supply chains for critical minerals."
Jonathan Wilkinson commented: "By collaborating on the development of the critical mineral supply chains that we need to achieve our net-zero future, we can reinforce global energy security, advance the fight against climate change, and ensure significant economic opportunity and support good jobs on both sides of the Atlantic. Today's announcement is a step forward toward a sustainable and secure clean energy ecosystem."
Critical minerals are a vital component in establishing resilient and consistent green technology supply chains. These materials are utilised in various technologies that will be key to the green transition and achieving climate goals, such as electric vehicles, solar panels, and wind turbines. Estimates suggest that the demand for certain critical minerals is set to increase by as much as 500% by 2050, meaning nations will have to act expeditiously to ensure their future supply, which translates to the James Bay region of Québec being the right place at the right time for companies like Harfang.
Canada is the UK's 13th largest export partner. In 2022, UK companies exported £14.1bn worth of products to Canada – with the green transition opening lucrative opportunities for UK green technology companies.
Gold in James Bay
Harfang is currently advancing mineral development within the Lake Menarik property, which is characterised by multi high-grade gold occurrence hosted in favourable rock sequences that is reminiscent of Canada's largest gold production area, the Timmins Gold Camp. The company has just completed an initial drill test of some of the targets with 17 shallow drill holes totalling almost 3,500m, along with surface geophysical work in certain areas on the underexplored property.
Most holes are planned on the gold-enriched monzonite intrusion (the 'Pierre monzonite') to test for lateral and vertical extensions of gold intervals obtained in historic shallow drilling (maximum vertical depth of 100m) that yielded up to 0.89 g/t Au over 68.25m (Pierre showing) and in surface channel sampling with results up to 12.46 g/t Au over 3.6 m (Gordie showing). The programme will also test a shear structure related to several high-grade gold occurrences and associated geophysical anomalies, including the Massé showing with 1,918 g/t Au (61.7 oz/t Au) from grab sampling. Results are expected to be released this spring.
Campbell noted that mineral development and exploration are in the early stages and that planning is well underway for a large summer programme on the property, with a second phase of diamond drilling anticipated later in the year.
Harfang's Serpent-Radisson project is located 50km to the south of Lake Menarik and is accessible by ground, air, and boat. The underexplored property covers 50,843 hectares, comprising 988 claims of prospective geology hosting a district-scale gold endowment recently discovered by Harfang. The target area is comprised of a gold-in-till anomaly spanning roughly eight square kilometres and more than 55 high-grade gold surface showings identified to date.
In autumn 2022, Harfang announced that the summer mineral exploration programme resulted in the discovery of several gold-in-soil anomalous zones, additional bedrock occurrences of high-grade gold mineralisation and, significantly, the discovery of lithium and rare element pegmatite dykes in the eastern part of the property.
Ian Campbell said: "The beauty of the James Bay region is that gold and lithium do occur on the same property as demonstrated by Patriot Battery Metals at Corvette."
While not directly related in their emplacement, gold and lithium pegmatite dykes can exploit the same structural pathways.
Harfang also reported they had outlined the largest and strongest gold-in-soil anomaly on the property to date with five of the soil samples returning assays between 1.17 g/t and 2.27 g/t Au. In conjunction with the soil sampling programme, Harfang conducted a prospecting programme, collecting 534 rock samples, focused on high-grade gold potential. Four gold showings were discovered with grades as high as 26.3 g/t, 14.1 g/t, and 10.5 g/t Au.
Discovering high-grade gold in the Abitibi District
Harfang also boasts two high-grade gold prospects, Egan and Blakelock, in the world-renowned Abitibi district in northeastern Ontario, acquired as part of a merger last year with LaSalle Exploration Corp.
The Egan mineral development property is located about 60km southeast of Timmins, spans 11,720 hectares and is easily accessible by newly constructed logging roads. Gold was discovered in 2017 when logging activities exposed a northeast-trending shear zone with a well-developed stockwork of quartz veins hosted in syenite. Prospectors took 78 rock samples with gold assay values ranging from 0.1 g/t to 105.0 g/t Au with 15% of the samples returning over 10 g/t, including 105.0 g/t, 67.2 g/t, and 47.6 g/t Au.
Ian Campbell said: "The geology in this area is so promising that we've attracted high-profile investors, including Crescat Capital."
Following the field season last year, Harfang announced the results of a soil geochemical survey on the Egan property. Limited prospecting was also undertaken to follow up on several gold-in-soil anomalies identified during the 2021 campaign. The soil survey centred on areas between the E1 and E3 gold showings, including areas with no Induced Polarization (IP) geophysical coverage. A total of 248 soil samples were collected over these areas, and the survey uncovered a broad gold-in-soil anomaly that spans roughly 1km in length and 500m in width surrounding the E1 gold showing.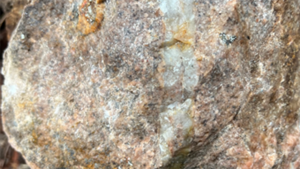 Prospecting in the area of a soil sample that had returned 1,900 ppb Au (1.90 g/t) resulted in the discovery of the E1 South gold showing. Two grab samples, one of which returned 25 g/t Au, were taken from an outcrop of hematized syenite exposed over a width of ~75m and a length of ~140m. The E1 South gold showing is at the western end of a geophysical anomaly which extends 400m to the east to the extent of the survey.
Prospecting in the area of another strong gold-in-soil anomaly that had returned 1,520 ppb Au uncovered a glacial float of altered syenite, similar in appearance to the E1 gold showing, returning 5.51 g/t Au. Collectively, these discoveries validated the 2021 soil geochemistry results.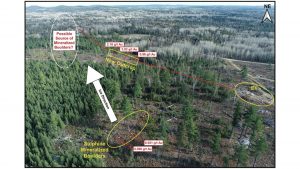 Ian Campbell commented: "Despite its favourable location central to the Timmins and Kirkland Lake gold mining camps, this area was historically underexplored because it was difficult to access until a logging road was built a few years ago. Shortly afterwards, local prospectors made the original high-grade gold discovery, followed by more discoveries from our company. We subsequently generated additional targets based on prospecting, airborne magnetics, a LiDAR survey, soil geochemistry, and ground geophysical surveys.
"We're particularly excited about the large, gold-in-soil anomaly we delineated south of the E1 high-grade gold occurrence as it coincides with the syenite-volcanic contact area, adding another high-priority target in addition to the E1 South discovery that recently returned a grab sample assaying 25 g/t Au. Our overall intent is to do more surface mineral exploration and bring the property to the diamond drilling stage later this year."
Harfang's Blakelock high-grade gold asset spans 6,977 hectares and is located 60km west of the Hecla Mining Co.'s Casa Berardi gold mine in Québec and 50km south of Agnico Eagle's Detour Lake gold mine in northeastern Ontario. The property covers 15km of the prospective Casa Berardi Deformation Zone in the western extent of the Northern Abitibi Greenstone Belt. The sediment package that underlies the southern portion of the property represents a prime mineral development target that has had little drilling by previous operators.
Previous shallow drilling yielded high-grade gold intersections from the Porphyry Creek zone, including 10.9 g/t Au and 95.7 g/t Ag over 10.25m, including 210 g/t Au and 1,200 g/t Ag over 0.4m, in addition to 1.26 g/t Au over 5.9m and 11.53 g/t Au over 6.0m including 81.9 g/t Au over 0.7m. Historic drilling in the northwest part of the property returned anomalous results, including 2.16 g/t Au over 1.2m and 1.75 g/t Au over 0.5m, while south and southwest historic drilling encountered 1.39 g/t Au over 5.9m, 2.87 g/t Au over 1.0m, and 2.6 g/t Au over 1.5m.
Please note, this article will also appear in the fourteenth edition of our quarterly publication.