With a number of lithium exploration and development projects within its portfolio, Argentina Lithium & Energy Corp. is well-placed to support the rapidly increasing demand for battery materials.
The global demand for a cleaner, greener future is a goal that Argentina Lithium & Energy Corp. (TSX-V: LIT, OTC:PNXLF, FSE:OAY2) believes it can support through exploration for lithium and other alternative fuel materials. Lithium is often referred to as 'white gold' due to unprecedented demand for the material from battery manufacturers. Therefore, expanding Argentina's lithium potential has become a vital endeavour.
Lithium batteries have become the front-running rechargeable energy storage medium, particularly for the rapidly growing electric vehicle (EV) industry, creating a strong demand forecast for lithium.
Argentina Lithium & Energy Corp. is a member of the Grosso Group – a resource management team that pioneered the mineral exploration industry in Argentina and has operated there since 1993. The group has made four exceptional metal deposit discoveries and broadened its focus to include alternative fuels in the mid-2000s. Argentina comprises a significant portion of the Lithium Triangle, home to more than half of the world's lithium resources.
The Grosso Group has been following the lithium battery sector and believes this is the time to expand its efforts in lithium exploration and resource development in the highly prospective Argentinean portion of the Lithium Triangle. The Grosso Group leverages its vast network of local, regional, and international industry contacts to support the exploration team in their search for quality resource opportunities.
Argentina produces 10% of the world's lithium, is a top-four global producer, and hosts approximately 60% of the known lithium reserves. Argentina Lithium is focusing its activities on the Lithium Triangle, which, including parts of northern Argentina, produces about half of the world's lithium. Most lithium in the area is in Salt Lake (salar brines). Argentina's government is encouraging renewable energy initiatives, including setting the conditions for delineating and advancing new lithium resources in the country.
Argentinean lithium properties
The Rincon West lithium project
On 31 May 2022, Argentina Lithium & Energy announced the commencement of exploration drilling at the Rincon West lithium project in Salta Province, Argentina. Five exploration holes are initially planned for multiple perspective brine targets identified from the geophysical survey data. This drill programme is expected to require four months to complete.
The Rincon West Project covers 2,470 hectares of the salar basin, located west of the adjacent Rincon Project owned by Rio Tinto. Previously announced geophysics results delineated highly conductive units consistent with concentrated brine aquifers over 64% of the property area. Argentina Lithium has an option to earn a 100% interest in the Rincon West project.
Miles Rideout, Vice President of Exploration at Argentina Lithium & Energy, said: "The Rincon West project has never been drilled, though it is highly prospective. In this initial campaign, we are looking for high lithium grades and horizons that can produce high flow rates for a potential future production operation. The initial exploration holes have been located on the geophysics traverses to allow extrapolation of drill results more broadly across the geophysics coverage. Since the geophysics produced multiple exceptional targets, we hope to produce positive results early in this programme."
In July 2022, the organisation announced the completion of its first exploration diamond drilling hole at its Rincon West Project. The company has reported positive lithium analyses from brine samples collected over a 70m-thick permeable interval with lithium grades ranging from 225 to 380 mg/litre. The Rincon West project covers 2,470 hectares of the salar basin, located west of the adjacent Rincon Project owned by Rio Tinto. Five exploration holes are initially planned to test prospective lithium brine targets identified with geophysics.
Rideout added: "The first hole at Rincon West has revealed a permeable 70m interval with moderate-to-high-grade lithium values. This validates our belief that the concentrated lithium brines mapped in the adjacent resources does extend beneath our property. We are continuing our exploration drilling to delineate this mineralisation with the aim of defining a mineral resource."
Salar de Rincon
Argentina Lithium & Energy Corp. has recently won the public tender to purchase 100% interest of the Rinconcita II mining concession area ('Rinconcita II' or the 'Property') located on the Salar de Rincon in Salta Province, Argentina, from provincially owned company Recursos Energéticos y Mineros Salta S.A. ('REMSA'). The Property consists of 460.5 ha of salt flat, located adjacent to and east of Argentina Lithium's Rincon West property, and located adjacent to and west of Rincon Mining's Rincon Project, which was purchased by Rio Tinto earlier this year.
"Our team identified the Salar de Rincon as an area of exceptional potential in 2021, leading to our initial property acquisition at Rincon West. Our positive drill results announced on 13 July 2022 have validated this confidence. The acquisition of Rinconcita II is a major step to add prime salt flat holdings to one of our leading projects. Our management team is looking forward to working with the Province to advance this project through exploration to assess its resource and production potential," stated Nikolaos Cacos, President and CEO.
The Salar de Rincon is located within the Lithium Triangle of northwest Argentina. Historic work on the salt flat has determined that this is a mature salar with potential for lithium and potash resources. The Rinconcita II concession is road accessible from the local towns of Olacapato and Estacion de Pocitos. An international highway and major electrical power corridor are located 26km northeast of the Property. A railhead and natural gas pipeline are located 34km southeast of the Property.
There has been no significant historical lithium or critical mineral exploration work on the Rinconcita II Property. The Property was not sampled by Argentina Lithium prior to the bidding process, although Argentina Lithium is currently drilling on its adjacent optioned property at Rincon West (see Fig. 1 map, mining concession Villanoveño II). Argentina Lithium has also acquired the additional mining concession Demasia Villanoveño II (20.5 hectares) through applications presented at the Salta mining authority.
The Antofalla North project
The Antofalla North controls 14,987 hectares of mining leases in the north end of the Salar de Antofalla, distributed between the adjacent provinces of Salta and Catamarca, with 100% interest in 9,080 hectares and the remaining leases held under option.
The project is located approximately 25km west of Argentina's largest lithium-producing operation at Salar de Hombre Muerto. The southern boundary of the Antofalla North project is situated around 500m north of properties controlled by global lithium producer Albemarle Inc. Albemarle has stated that it believes the lithium resource on its property has the potential to rank amongst the largest in Argentina.
The company plans to execute intensive geophysical reconnaissance at the Antofalla project in the second half of 2022, leading to drilling in early 2023.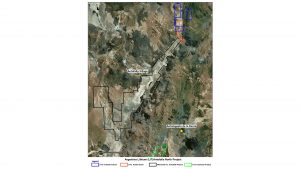 The Pocitos project
Argentina Lithium has an option to earn a 100% interest in approximately 15,857 hectares of claims in 11 contiguous mining concessions located on the west side of the Pocitos Salar, as well as an additional 10,364 hectares in three blocks to the east and south. It is approximately 38km from the company's Rincon West project in Salta Province, Argentina. The salar is well-located proximal to other lithium-bearing salars, and the project has seen limited exploration by previous operators, presenting an opportunity for new discoveries.
Argentina Lithium will apply its deep-imaging expertise to identify new conductive brine aquifers for drill testing at this large, underexplored basin.
The Incahuasi project
Argentina Lithium has acquired a 100% interest in over 25,000 hectares of the Incahuasi Salar and basin in Catamarca province. The company believes Incahuasi is underexplored and supports conditions for quality lithium brines at depth.
The Incahuasi Salar is located in the province of Catamarca in the high plateau (Puna) region of northwestern Argentina, at an altitude of approximately 3,300m above sea level. The salar is located in a hyper-arid region, receiving on average less than 30mm of rain per year – a necessary condition for creating evaporative brines.
Work is planned to apply advanced geophysics to identify new conductive brine aquifers for drill testing. The company believes that Incahuasi is underexplored and supports conditions for quality lithium brines at depth.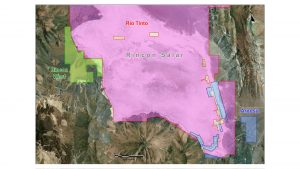 Meet the management team
Chairman of the Board and Director: Joseph Grosso
Grosso was one of the early pioneers of the mining sector in Argentina in 1993 when mining was opened to foreign investment, and he went on to be named Argentina's 'Mining Man of The Year' in 2005. His knowledge of Argentina was instrumental in attracting a premier team, leading to the acquisition of key properties in Golden Arrow's portfolio.
He has successfully formed strategic alliances and negotiated with mining industry majors such as Barrick, Teck, Newmont, Viceroy (now Yamana Gold), Vale S.A., and government officials at all levels. Grosso's speciality is financing, negotiations, and corporate and marketing strategy. He was an early and passionate adopter of best practices in environmental protection and socio-economic development through mineral exploration. He is the founder and president of Grosso Group Management Ltd.
President, CEO and Director: Nikolaos Cacos, M.I.M.
Cacos brings over 30 years of executive-level management and advisory expertise in the mineral exploration industry. Since its inception, he has worked with Grosso Group and serves as a senior-level executive for all the member companies. Cacos' career includes administration, structuring and strategic planning for public companies.
He currently serves as an officer and director of several TSX Venture Exchange listed companies. He holds a Master of International Management degree from Heidelberg, Germany, and a Bachelor of Science (B.S.c) degree from the University of British Columbia.
Vice President of Exploration: Miles Rideout
Rideout has 34 years of experience in advanced exploration practice, responsible business management, scientific team building, and mining integration with local communities and Indigenous peoples.
In recent positions, Rideout has directly managed the acquisition and exploration of dozens of lithium properties in northern Argentina. Previously, he served five years as CEO of Latin American Minerals, Inc. (TSX VENTURE:LAT), advancing gold and diamond projects in Paraguay, and 23 years with Quantec Geoscience, Inc., where he initiated operations in South America and managed subsidiaries in several countries.
He has experience in mine permitting, financing, construction, and operations (implemented the first operating mine in Paraguay). In addition, Rideout has deep expertise with all major geophysical technologies applied within the mining industry, and decades of experience working with many of the most successful exploration teams in South America.
He participated in the discovery of several world-class deposits, including the Collahuasi and Ujina copper-porphyry deposits, Veladero epithermal gold deposit, and Navidad VMS/epithermal silver deposit. Rideout holds a B.Sc. with Honors Certificate in Geophysics from the University of Western Ontario (1987). Fluent in English and Spanish, he has lived in Mendoza, Argentina, for over 20 years.
Director: John Gammon
Dr Gammon has 40 years' experience in mineral exploration and management, including holding international positions with Falconbridge, Assistant Deputy Minister Mines and Minerals with the Government of Ontario and, since his retirement, as ADM as a consultant working with industry, governments, and universities.
In addition to Dr Gammon's mineral exploration experience, he has also spent significant time on the Aboriginal community and environmental issues. His knowledge of the Spanish language and South American culture and societies brings a depth, in addition to his industry experience, that can assist the company with advancing its projects in Argentina.
Argentina's new government is encouraging foreign investment and renewable energy initiatives. The combination of high geological potential and a favourable investment climate has set the conditions for delineating and advancing new lithium resources in Argentina.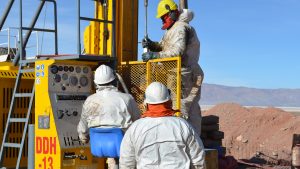 Why choose Argentina Lithium?
Argentina Lithium & Energy has celebrated a series of highlights in recent years that places them in an advantageous position as a lithium producer. These include:
Argentina Lithium holds a portfolio of five early-stage/underexplored lithium assets, covering 69,000 hectares, across four salars (salt lakes) in Argentina;
Argentina, Chile, and Bolivia make up the 'Lithium Triangle', which hosts 60% of global lithium reserves. Argentina is the fourth largest lithium producer in the world (behind Australia, Chile, and China), and holds the third largest reserve-base (behind Chile and Australia);
LIT is a part of the Grosso group, which has a 30-year history of operations in Argentina, including four major mineral discoveries;
Three out of LIT's four projects are in Salta Province. In 2021, the Fraser Institute Survey of Mining Companies ranked Salta as the second-best province in Argentina for mining;
As LIT's projects are close to well-known projects held by majors, the company can be subject to M&A events if it is able to delineate a resource in one or more of its assets;
The first hole of an ongoing five-hole drill programme at one of its key projects (Rincon West) returned promising values (225 to 380 mg/L). The company is planning to conduct electromagnetic surveys on two other projects this year (Antofalla North and Incahuasi). It is expecting a maiden resource estimate next year. Note that delineating a lithium resource is a faster and cheaper process than mainstream metals such as gold/copper; and
Lithium prices are up 340% year on year on stronger demand, inflation, and supply disruptions. However, the company expect prices to ease in the latter half of the year as supply chain bottlenecks ease in China, and production ramps up in South America.
Disclaimer: This article contains forward-looking statements, including but not limited to comments regarding predictions and projections. Forward-looking statements address future events and conditions and therefore involve inherent risks and uncertainties. Actual results may differ materially from those currently anticipated in such statements.
Please note, this article will also appear in the twelfth edition of our quarterly publication.

Go to this partner's profile page to learn more about them