GEOLITH is industrialising its DLE technology and will be able to mass supply its equipment from 2024.
We have experienced an astonishing increase in the awareness of the dangers of remaining a fossil-fuel-based society. Almost every nation's leader has understood the need to implement energy transition strategies, and in particular, to introduce measures to reduce our global carbon footprint. Direct Lithium Extraction (DLE) technologies may be the answer to these problems. In all cases, these agendas have as a central target an important increase in electric mobility from now until 2050.
However, moving towards massive electric vehicle (EV) manufacturing poses several questions regarding the production of the required raw materials. In order to have a real sustainable transition, the extraction and processing of those materials should be environmentally friendly itself. Moreover, there is currently a great geographical concentration when it comes to producing those materials.
According to the European Commission (EC), more than 70% of European supply comes from foreign countries. The case of lithium is even more critical, in which this figure approaches 100%. This reveals not only the environmental issue, but also the need to secure the supply of these materials. DLE technology is an environmentally friendly and sensitive method, and GEOLITH has developed and is now commercialising this technology.
The rise of Direct Lithium Extraction
It has become obvious in the last few years that DLE will impose as a reference technology in the lithium market, enabling local and sustainable lithium production. GEOLITH and its Li-Capt® DLE technology are an example of the potential of these kinds of technologies, which the International Energy Agency (IEA), McKinsey, and other well-respected sources have identified as one of the paths towards sustainable battery manufacturing.
As a technology provider, GEOLITH brings to the market, and to its customers, the necessary equipment to extract lithium from any liquid source in a sustainable and environmentally-friendly manner. Li-Capt DLE technology is adapted to be implemented in any project thanks to its performance and modularity. This patented technology is achieving very promising results, both in conventional and unconventional resources, proving that alternative and competitive production methods are a very realistic prospect for the near future.
Potential in the Lithium Triangle
Chile, Argentina, and Bolivia alone account for 60% of the world's lithium reserves, according to BRGM (French Geological Research Institute). Most of the deposits are located on the border of these three countries in what are commonly called 'salars' which are desertic regions with extreme concentrations of salts. This is often referred to as the 'Lithium Triangle'.
These South American salars are highly valued for lithium extraction thanks to their high lithium reserves, as well as their privileged climatic conditions, making them the only part of the world where traditional production (based on evaporation) is possible. DLE technologies like GEOLITH's Li-Capt will be the cornerstone for both existing producers, as well as for newcomers. Existing producers are looking forward to more sustainable and economic methods of lithium production. Every major lithium producer in South America has unveiled very ambitious plans over the last few years, including great performance and environmental enhancements, and all of them explicitly mention DLE technology as one of the major levers to achieve their targets. However, Direct Lithium Extraction technology allows new players to enter the market. We are seeing junior mining companies being announced every other day, exploring and developing projects in resources that were not economically viable before the existence of these technologies. Indeed, evaporation methods have very low extraction yield (under 40%), which requires very high concentrations and surfaces. GEOLITH's DLE technology allows every company to extract lithium from any brine, regardless of concentration or climatic constraints, increasing the available resources around the world. Li-Capt technology is, as a matter of fact, operating with brines from the Lithium Triangle thanks to GEOLITH's pilot plant, installed since July 2022 in Antofagasta, at the premises of CELiMIN – the Chilean research center for lithium and industrial minerals of the Universidad de Antofagasta. This pilot plant will be operating during the whole of 2023, with South American operators showcasing the technology.
Lithium extraction from unconventional sources
Moreover, GEOLITH's Li-Capt DLE technology enables lithium extraction from unconventional sources. Lithium is present around the world, in the underground, in significant amounts, but at low concentrations. That means that evaporation methods are not applicable, and that, thanks to Li-Capt technology, those resources become now accessible.
One of these resources is geothermal waters. Important resources have been identified in the US, Europe, and Asia. Geothermal has traditionally emerged as a renewable energy source, both for heat and electricity production. However, its profitability has been questioned due to the high investment needs and operating costs. This will change thanks to the addition of DLE technology. Including this technological brick in the geothermal assets will allow the owners to turn their geothermal wells into lithium mines, generating a new revenue stream from the commercialisation of this critical material. In fact, lithium commercialisation will become the main revenue for these operators, whereas heat or energy will be firstly an important lever to produce at zero-carbon emissions and secondly as a complementary source of income.
This is increasingly backed by the markets and governments. In the US in 2022, the U.S. Department of Energy (DOE) released a plan worth $2.8bn to enhance local production of raw materials for battery manufacturing, which has resulted in a strong development of lithium-related technologies and projects (e.g. projects developed by ALBEMARLE – a major lithium producer). The case in Europe is also becoming increasingly relevant with a good number of funding operations concluded, and projects developed during 2022 (Lithium de France, GEL, Eramet & ES, Cornish Lithium, Northern Lithium, etc.), and many more to come during 2023. Political awareness has fuelled this interest, thanks, amongst others, to the Critical Raw Material Act of the European Commission and the Geothermal Development Plan announced by the French government at the beginning of 2023. Both institutions are looking forward to decreasing European dependency on the supply of these materials, leveraging local resources, and fostering the development of ecosystems.
Environmentally-friendly lithium production
Li-Capt DLE technology offers its customers a competitive and environmentally-friendly productive tool, ensuring the profitability of their projects and easy operation and maintenance. To better understand GEOLITH's development, it needs to be known that we have been pioneers in lithium extraction from medium to low lithium concentrations, beginning our development precisely from geothermal brines and making our way towards more concentrated resources, like the previously mentioned salars. This means that GEOLITH is providing a DLE technology that is applicable to the widest range of brines and operating conditions.
GEOLITH has been testing geothermal brines in Europe for several years, from sources in France, Germany, the UK, and Eastern Europe. GEOLITH has commissioned two pilot plants in Europe. The first one, specifically designed to operate in geothermal assets, has proven that the Li-Capt DLE technology is able to operate under pressure and at high temperatures, which is particularly interesting for this kind of asset. The second pilot plant, which has been installed at Cornish Lithium's assets, started operations during the second half of 2022.
Today, the sector is growing and many companies are becoming interested in exploiting lithium from their geothermal sources, following recent discoveries of this material on their waters. GEOLITH has entered into a significant amount of partnerships recently, ensuring its capabilities to provide a full range of services to its customers.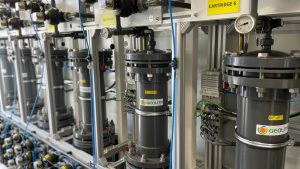 Oil-produced waters
Similarly to producing lithium from geothermal assets, DLE technology enables lithium production from oil-produced waters. These assets, as is the case for geothermal, exist all around the world and contain significant amounts of lithium. This reinforces the capacity to produce lithium from local resources, as well as enjoying limitless technical synergies with an industry that has developed huge expertise in the extraction, treatment, and reinjection of underground fluids. GEOLITH has tested several oil-produced waters in Europe and the US, confirming the technical and economic advantages of equipping oilfields with Li-Capt technology, bringing a new revenue stream to oil producers.
But the perks of using DLE technology in oil assets is not limited to the economic results, but mainly to the reduction of the environmental footprint. First of all, giving oil companies the opportunity to transit the road from fossil fuel production to being an energy transition enabler, producing sustainably the materials needed to electrify our societies. Moreover, we help to extend the lifetime of their existing assets, leveraging them and valorising an unavoidable activity as it is currently water treatment.
The exploitation of oil production waters will change the activities of these companies. Thanks to existing wells and the use of DLE technology, oil companies will become key players in lithium production and participate in the development of electric mobility by positioning themselves at the very beginning of the electric vehicle value chain, as they have done for decades.
GEOLITH is consistently achieving lithium extraction yields well over 90%, from conventional and unconventional sources, bringing to the market a competitive and sustainable DLE technology. Thanks to this, not only will traditional producers increase their efficiency, profitability, and environmental performance, but also new producers will be able to compete, bringing new sources of lithium to the market. States and consumers will enjoy local and sustainable sources of lithium, and end users will be happy to know that their electric vehicles are sustainable from the source itself.
The road to industrialisation
Unfortunately, no DLE technology is yet available at industrial scale. GEOLITH is amongst the frontrunners of technology providers, with on-site demonstrations of the technology. The short-term challenge of the industry is to industrialise lithium production using DLE, building lithium extraction facilities of thousands of tons of lithium carbonate equivalent (LCE) per year. GEOLITH has taken this challenge very seriously and has started the design and construction of its own Li-Capt manufacturing facilities.
GEOLITH's DLE technology is designed to be modular and can therefore be adapted to any type of project. It comes in the form of 'lithium filters', that have already been tested and proven at their industrial scale. Modular implies standardised, and allows for serial manufacturing, which guarantees the quality of the services and goods offered. Moreover, GEOLITH recycles its 'lithium filters', which guarantees its customers a waste-free technology. The construction of the first Li-Capt factory in France will start during 2023 and will allow GEOLITH to deliver pre-industrial plants in 2023 and industrial projects from 2024. This first plant will ensure local support as well as global supply.
GEOLITH's Li-Capt DLE technology is applicable to any liquid source of lithium, bringing to the market a disruptive technology that will enable the success of states' energy transition agendas, allowing for local and sustainable lithium production, as well as securing the supply of this critical material, which will sustain the growth of electric mobility worldwide.
Please note, this article will also appear in the fourteenth edition of our quarterly publication.

Go to this partner's profile page to learn more about them