Scientists have called for a legally-binding treaty to ensure Earth's orbit is not harmed by space junk as the global space industry continues to grow.  
This call to action follows this week's monumental agreement to a treaty to protect the High Seas. With space junk increasing, it is important that lessons on sustainability are learned from other parts of the planet.  
The number of satellites in orbit is projected to increase from 9,000 today to over 60,000 by 2030. Estimates are already suggesting that there are more than 100 trillion untracked pieces of old satellites circling the planet.  
Although satellites provide a wide range of social and environmental benefits, the predicted growth of the industry could make large parts of Earth's orbit unusable.  
Experts in their paper, 'Protect Earth's orbit: Avoid high seas mistakes,' emphasise that these fears demand a global consensus on how to best govern Earth's orbit. The work is published in the journal Science.  
What is space junk and why should it be managed?
Space junk is any piece of artificial material that is left by humans in space. This can vary from large objects like failed satellites that have been left in space after the mission has ended, to small objects such as debris that has fallen off a rocket.  
Some objects are able to re-enter our atmosphere but satellites left at altitudes higher than 36,000 kilometres can continue to circle Earth for hundreds and sometimes thousands of years.  
With the number of satellites in Earth's orbit increasing, the problem of space junk is becoming a growing concern. Currently, the biggest danger it poses is to other satellites in orbit, with functioning satellites having to move out of the way to ensure that they do not collide and become damaged or destroyed.  
More must be done to enforce space sustainability
In their paper, the scientists acknowledge that a number of industries and countries are starting to focus on satellite sustainability, with many organisations ensuring that collisions are avoided.  
Currently, clearing space junk is enforced by the UN, which asks that companies remove their satellites from orbit within 25 years after the end of their mission.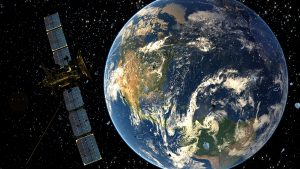 However, the scientists believe that satellite sustainability should be enforced to include any nation with plans to use Earth's orbit. Any agreement must include measures to implement producer and user responsibility for satellites and space junk from the time they launch. Commercial costs should also be considered when looking at ways to incentivise accountability. 
These considerations are consistent with current proposals to address ocean plastic pollution as countries begin negotiations for the Global Plastics Treaty. 
What can be learned from ocean management efforts?
This week, after 20 years, UN Member States agreed on a treaty to protect the High Seas. Although this groundbreaking agreement will ensure that ocean activity is managed and marine environments are preserved, it comes after many years of insubstantial governance, which has led to overfishing, habitat destruction, deep-sea mining exploration, and plastic pollution. 
The experts believe that to avoid the same fate as the High Seas, it is imperative that immediate action should be taken to protect our planet's immediate surroundings from space junk.  
Dr Imogen Napper, Research Fellow at the University of Plymouth, led the newly-published study with funding from the National Geographical Society. She said: "The issue of plastic pollution, and many of the other challenges facing our ocean, is now attracting global attention. However, there has been limited collaborative action and implementation has been slow. Now we are in a similar situation with the accumulation of space debris. Taking into consideration what we have learned from the high seas, we can avoid making the same mistakes and work collectively to prevent a tragedy of the commons in space. Without a global agreement, we could find ourselves on a similar path." 
Dr Kimberley Miner, Scientist at the NASA Jet Propulsion Laboratory, added: "Mirroring the new UN ocean initiative, minimising the pollution of the lower Earth orbit will allow continued space exploration, satellite continuity, and the growth of life-changing space technology." 
Melissa Quinn, Head of Spaceport Cornwall, said: "Satellites are vital to the health of our people, economies, security and Earth itself. However, using space to benefit people and the planet is at risk. By comparing how we have treated our seas, we can be proactive before we damage the use of space for future generations. Humanity needs to take responsibility for our behaviours in space now, not later. I encourage all leaders to take note, to recognise the significance of this next step and to become jointly accountable."