Professor Andrea Ferrari, Science and Technology Officer and Chair of the Management Panel of the Graphene Flagship, discusses the current progress made in the project as it works to define a clear path to real-world applications of graphene innovation.
Launched in 2013, the Graphene Flagship is one of the European Commission's Future and Emerging Technology Flagship projects. Since its inauguration, the Flagship has worked to advance graphene innovation with the aim of bringing the material out of the lab and onto the market.
The Graphene Flagship is comprised of six divisions, with 19 Work Packages within these. The last year has been successful for the Flagship, having completed its second funding phase, Core 2, and moved into Core 3. With a budget of €150m from the European Commission, Core 3 aims to advance much closer to the commercialisation of graphene and layered materials within this phase.
To explore the progress made in the last year and the expected future growth for graphene innovation, Innovation News Network spoke to Professor Andrea Ferrari, Science and Technology Officer and Chair of the Management Panel of the Graphene Flagship.
In 2020, the Graphene Flagship successfully finished Core 2 and progressed into Core 3. What does this mean for the project?
Core 2 ended in March 2020 and we are now about 20 months into Core 3, which will end in October 2023. We are focusing on more fundamental physics, in the sense of new materials, assembly, and properties. We have also developed new devices. The third area is innovation: bringing different architectures and devices within the technology readiness level to be ready to transition to a commercial development phase by the end of Core 3. This is achieved throughout the different science and technology Work Packages and, in particular, the Spearhead Projects. There are 11 Spearhead Projects, led by companies committed to specific targets related to device development.
The launch of an experimental pilot line to integrate graphene and related materials (GRMs) in semiconductor platforms marks a major milestone toward the Flagship's commercialisation goals. What will the 2D Experimental Pilot Line (2D-EPL) achieve?
The Pilot Line for graphene and related materials is a key milestone for our work. It will be fully operational by 2024, enabling a variety of companies to benefit from expertise in graphene and related materials when they want to make devices. Most technology firms today rely on fabless manufacturing, where organisations are contracted to design and make devices on behalf of other companies. This will be a similar situation, where most companies could design integrated devices on silicon, for example, and then send them to the Pilot Line to deliver the functioning devices on a wafer scale.
Given the dramatic shift towards electric vehicles, what role could graphene play in the future of battery technologies? What activities are currently underway in the Flagship to achieve this?
We have a Spearhead Project, with involvement from the likes of BMW, for the generation of high-energy batteries for automotive applications. Another of our partners, battery specialist VARTA, focuses particularly on batteries made from a mixture of silicon and graphene, with higher energy density and better performance than normal batteries. In addition, we have an entire Work Package dedicated to energy storage. Within this, different kinds of batteries, not just silicon graphene but also other architectures based on graphene and related materials, are investigated. This is a very important topic for the Graphene Flagship and is continuing in Core 3.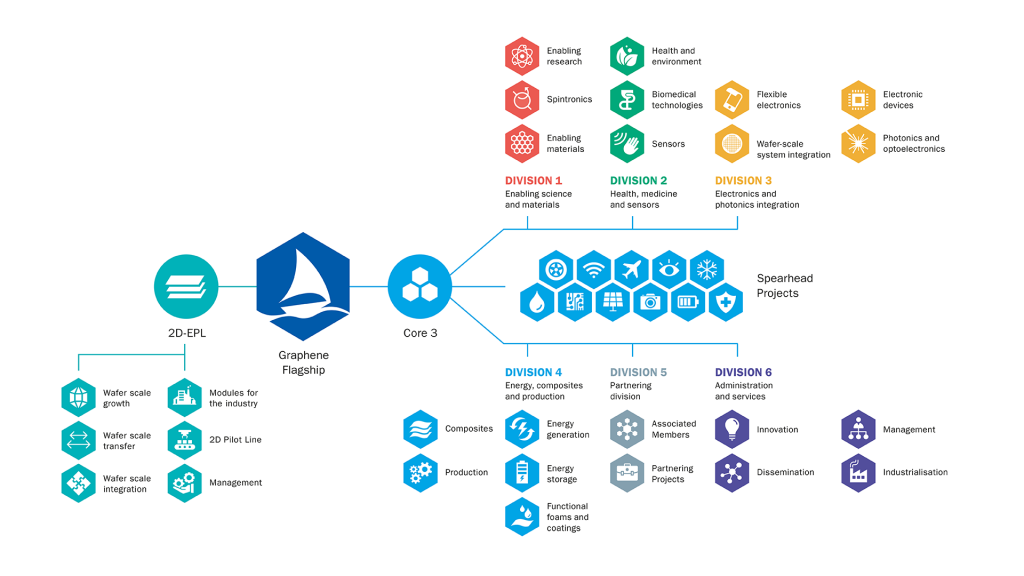 Similarly, the Graphene Flagship Roadmap predicted applications in medical technology by 2023 to 2024. What are the most promising medical areas for graphene moving forwards, and how is the Flagship active in them?
We are on track to achieve our goals in that area. Amongst the many applications is a spin-off company of the Flagship called INBRAIN. Using graphene, INBRAIN is working towards building a new generation of neural interfaces for brain restoration.
We have an entire Work Package devoted to health and environment within the Graphene Flagship and we also have important areas of investigation for biosensors. Another example of a spin-off targeting medical applications is Cambridge Raman Imaging Ltd (CRI). CRI specialises in Raman imaging instruments, exploiting pulsed lasers enabled by graphene and related materials in the optical cavity to perform chemometric imaging at speeds not previously possible. In 2023, they will launch the first prototype and this system will target what is known as virtual histopathology. The current mainstream process is to stain the biopsy taken from the body so that different parts of the tissue will have a different colour. A doctor will then examine the biopsy under a microscope and, by looking at the different colours, will determine which parts are cancerous. As one can imagine, this approach is not completely error-proof for several reasons. Not only does it rely on the doctor's personal judgement and their training, human eyes can also interpret colours differently. With virtual histopathology, instead of staining the biopsy, a virtual stain is performed using Raman Spectroscopy on the biopsy. An image will be produced, with each pixel being a chemical fingerprint rather than a colour. An AI computer programme could then be used to determine whether a particular chemical is present in the biopsy, offering a more precise diagnostic method. This has now reached a very advanced stage of development. By next year, the first fully functioning prototype will be ready.
How have the Spearhead Projects evolved in recent years?
As previously mentioned, there are 11 projects in total spanning a broad range of areas. These include everything from water purification systems to high-energy batteries. All of which are progressing very well.
The Flagship project was written in 2010 and started in 2013, with a three-year evaluation process and pilot stage before it officially commenced. Now, we are pretty much in line with our predictions. I have increasing confidence that things are moving forward. In fact, I was in a recent conference, and I heard that the market capitalisation of graphene-based companies is already over £1bn.
I am not saying that we are ahead of what we predicted or behind, but we are more or less on track to deliver what was expected.
As we look to Horizon Europe, what challenges does the Flagship face and what are your hopes for the future?
You always face challenges and you overcome different kinds of challenges over time. It is no small feat to bring a lab-based discovery to the market. I think most people underestimate this process, because they lack understanding of how intellectually difficult it is. This is not a low-level labour effort as some people believe.
For example, one of the major advances in graphene in the last couple of years has been 'twistronics' where two layers of graphene are arranged at different angles to change the properties from being a metal to an insulator, to a superconductor, to a semiconductor. For the first device made, that was published in Nature, many experiments had to be carried out before they found success. Today, there are many labs worldwide that are very skilled in making these devices, but they are still individual devices made one by one.
When it comes to wafer-scale integration, there are various different challenges to overcome. We are focusing on how to overcome those scientific and deeply interesting challenges on the journey from the single device to a fully operational mass production. I am pleased this is being recognised by major journals and it is also important for students and postdocs, because they are really starting to appreciate how important it is to do things on a larger scale with respect to making a single device in the lab. However, more progress still needs to be made.
At the other end of the challenges, we know that there could be up to 5,000 materials that are layered like graphene. Of these 5,000 materials, around only ten to 15 have been studied to a certain degree, and only two or three have been studied with half the effort that has been put into graphene. All of the others have not been studied at all. There is, therefore, considerable scope for an enormous amount of research for decades to come. With this in mind, researchers are calling for new technological approaches to explore this space. For example, possible suggestions have included a robotic assembly of layered materials, and using AI to carry out data mining.
Finally, a major consideration is the regulatory aspects, including standardisation and REACH registration. I am pleased to see that the companies working with the Flagship are very engaged with these. For example, there is a REACH consortium, consisting mostly of graphene-based companies in the Graphene Flagship, that is working on REACH registration to be able to sell within the European Union. So, this is a very exciting time.
Then there are new frontiers for the integration of layered materials in quantum technologies. This is something new, seen across the Graphene Flagship and the Quantum Flagship, and it has become clear that materials such as transition metal dichalcogenides and boron nitride are ideal platforms for the generation of single photons that can be used in quantum devices. This is a very new science and technology area which started being explored at the end of 2015. Now, many groups are working on this and people are realising that layered materials are a promising new platform for quantum technologies.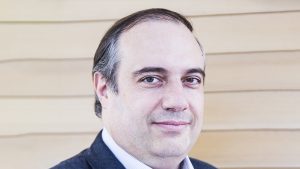 Professor Andrea Ferrari
Science and Technology Officer
and Chair of the Management Panel
Graphene Flagship
https://graphene-flagship.eu
https://www.linkedin.com/company/grapheneeu
http://www.facebook.com/GrapheneEU
@GrapheneEU
Please note, this article will also appear in the ninth edition of our quarterly publication.