Dr Corina Hebestreit, Managing Director of The European Carbon and Graphite Association (ECGA), discusses the role of graphite in the green energy transition.
Like other commodity sectors the graphite sector is challenged by new product developments as well as new policies being implemented to address supply risks and sustainability issues.
The European graphite industry is facing a number of challenges in satisfying the growing demand, particularly for battery applications, due to the specific graphite qualities required. Graphite is an anode material in lithium-ion batteries and represents 50% of its overall weight. These batteries contain both natural graphite and synthetic graphite and one of the challenges will be to increase the resource of these two variations. In 2019, graphite accounted for around 90% of all anode materials in batteries. For the period 2018 to 2023, critical materials supply chain intelligence company, Roskill forecasted a growth rate of about 29% py.
Adding to the natural graphite resource base in Europe and worldwide
In light of this development, the prospecting for graphite from Alaska to Australia has added more than 3.7bn tonnes to the global graphite resource base in recent years. Total contained graphite from identified resources is estimated to be in excess of 350m tonnes, or 245m tonnes of product covering all flake sizes, assuming a mining yield of 70%. Europe has also seen investments into new graphite mines in Sweden and Finland in addition to Norway. Several new natural graphite mines are under development in North America, Africa and Asia – most are for flake graphite, spurred by excitement around batteries and graphene.
However, China remains the largest supplier of natural graphite worldwide, currently accounting for about 70% of production, while Brazil, India, Canada, and North Korea, Tanzania, and Mozambique collectively make up 30% of the market.
Batteries
Due to its combination of metallic and non-metallic properties, natural graphite is used for a wide variety of applications including those in the automotive industry, electric vehicle batteries and fuel cells, amongst other things. High-tech emerging applications such as fuel cells and lithium-ion batteries will require flake or high-grade synthetic graphite. These sectors have seen and will continue to see exceptional growth rates, the largest growth will come from the batteries sector at 10% to 15% py.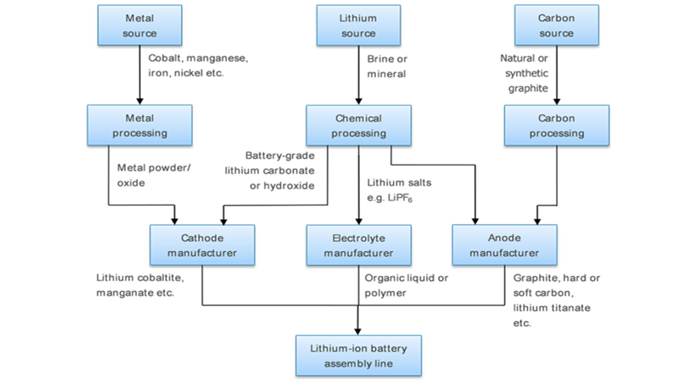 EU policies
Graphite: a critical raw material
On 3 September last year, the European Commission released its long awaited fourth edition of the Critical Raw Materials (CRM) list and action plan, identifying those commodities that have a high relevance for Europe's economy and a high risk of supply disruption. The new list now includes 30 substances, which is a record number of materials, and natural graphite is one of them. But natural graphite has also been recognised as a critical raw material by Japan and the US in their assessments. Overall, the EU is a net importer of natural graphite and imports around 100,000 tonnes per year mainly from China, Tanzania, and Mozambique. Increasingly other sources within the EU and outside of the EU are coming onstream.
The EU's policy is focusing on two goals: investing in EU sources and supply chains and the diversification of supply from non-EU sources whilst also putting a focus on sustainability and innovation.
Due to Europe's growing concerns about the resilience of its economy and supply chains, as well as the issues around the sustainability of its imports, the EU is going to increase its efforts to ensure the sustainability and the due diligence reporting of its companies importing goods from outside of the EU. In the past few years import streams have changed and the European imports of battery materials has been diversified.
The European graphite industry's response to this will be a cooperation with importers on sustainability standards and possible certification. The European Carbon and Graphite Association is currently hosting a working group of graphite mines around the world to discuss the sustainability standard in terms of sustainability, corporate governance as well as carbon and environmental footprint.
In the eyes of the European policy maker, batteries and their associated technologies are pivotal in achieving carbon neutrality by 2050, in line with the objectives of the European Green Deal and circular economy. Graphite materials, both natural and synthetic, are an integral part of the EU's strategy for decarbonisation, performing as a reliable and safe material able to provide sufficient energy density for many applications, including batteries in electric vehicles. For synthetic graphite production, which is highly electricity intensive, improvements can be made predominantly by 'greening' the national electricity grids. The industry continuously works on implementing best and new technologies to foster progress. The European graphite industry is therefore working intensely to increase the energy efficiency and decarbonisation of its own synthetic graphite processes as far as possible.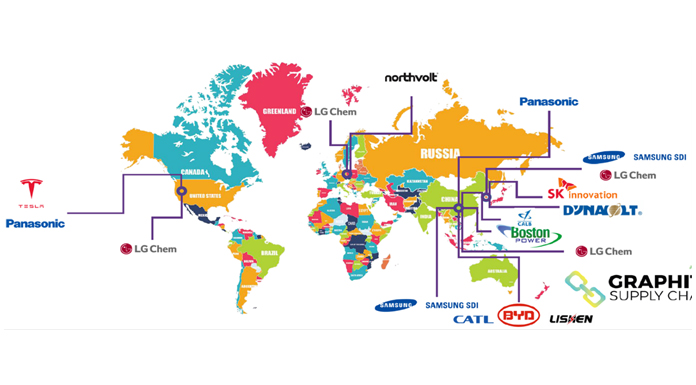 Horizon Europe and innovation challenges
In its attempt to revise the EU Batteries Regulation, on 10 November 2020, the Commission adopted the first action plan milestone: a proposal to modernise the EU legislation on batteries. The aim is that batteries placed on the EU market are sustainable, circular, high-performing, and safe throughout their entire life cycle. Furthermore, that they are collected, repurposed, and recycled, becoming a true source of valuable raw materials.
The European Battery Alliance (EBA), which was founded in 2019, has published a roadmap on how to achieve innovation for the battery supply chain and has identified a series of research and innovation measures to be implemented.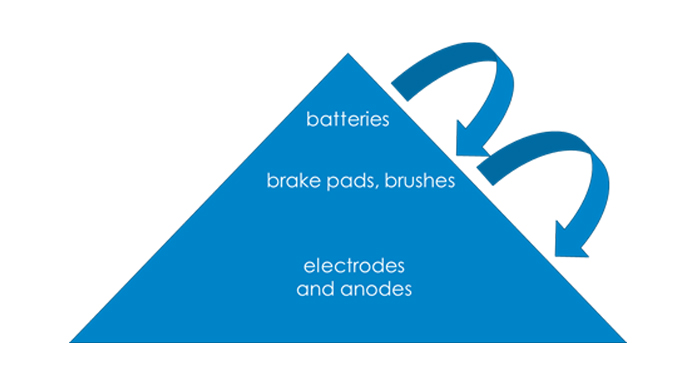 Sustainable extraction and processing of battery grade raw materials
In order to be at the forefront of technological development innovations, in processes and unit processes are required. These should aim at improved recoveries, increased amount of recovered battery elements, improved product purity and quality, improved impurity removal, and improved battery material recovery. Most batteries from e-mobility in the future will return not because they need to be repaired, or they are damaged or defective, but because they are underperforming to function in an electric car, or the consumer wants to buy a new car model.
Along the same lines, the EU intends to revise the end-of-life vehicles directive (ELVs) and increase the sustainability of cars by requiring that most ELV parts and materials are reused or recycled. This initiative proposes improved collection, treatment, and recycling of ELVs, its parts and substances.
This poses specific challenges for the graphite industry since the collection of the new electric batteries will only gradually reach an economy of scale to make recycling economically profitable and currently graphite is not separated from the other metals and is not much recycled yet.
Once separated, the recycling of graphite today is technically feasible into other applications, such as for example carbon brushes for electric charging stations for public transportation or windmills. The true challenge, however, will be to reprocess it to a degree which would allow to return it to the battery application.
There is a clear need to develop holistic material and energy efficient recycling processes that can recover more battery materials with reduced levels of environmental and CO2 footprints. The objective should be to improve the recovery of Co, Ni, and Cu as well as efficient recovery of Li, graphite, Mn, Al, F, and P, maximising the value of the recovered materials. Closed-loop recycling and vertical integration back to battery materials production should be attempted, although some less valuable fractions could be downcycled to other uses. The holistic aim is to keep materials as long as possible in the economic cycle. The European graphite industry is considering preparing a major research project in this area and is looking for partners in industry and research.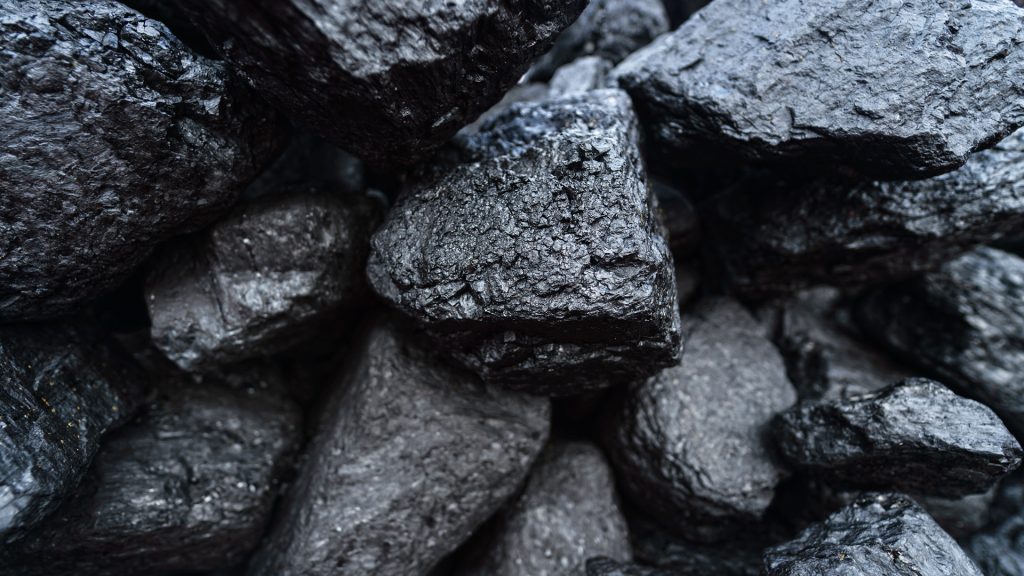 Circularity and reuse
In the future, most batteries from e-mobility will return not because they need to be repaired, or they are damaged or defective, but because they are underperforming to function in an electric car, or the consumer wants to buy a new car model. Instead of sending these batteries into 'retirement' they might still be used in a less demanding application (second life). In this sense, industrial batteries from e-vehicles (mobile application) could be transformed into other applications after use. For this to happen, safety of these operations, traceability and monitoring of these batteries and proper diagnosis of these batteries needs to be guaranteed. It is evident that there is a variety of safety issues related to the second use. Jointly with battery producers, the experts of the industry are working on new solutions and applications. The industry has a bright future and is on the move to address these challenges.
Dr Corina Hebestreit
Managing Director
European Carbon and Graphite Association (ECGA)
www.ecga.net
Please note, this article will also appear in the sixth edition of our quarterly publication.